RECMS Parent Orientation
Wednesday, August 23
Grades 5-6 ~ 8:00-8:45 with a Meet and Greet from 8:45-9:30
Grades 7-8 ~ 2:00-2:45 with a Meet and Greet from 1:15-2:00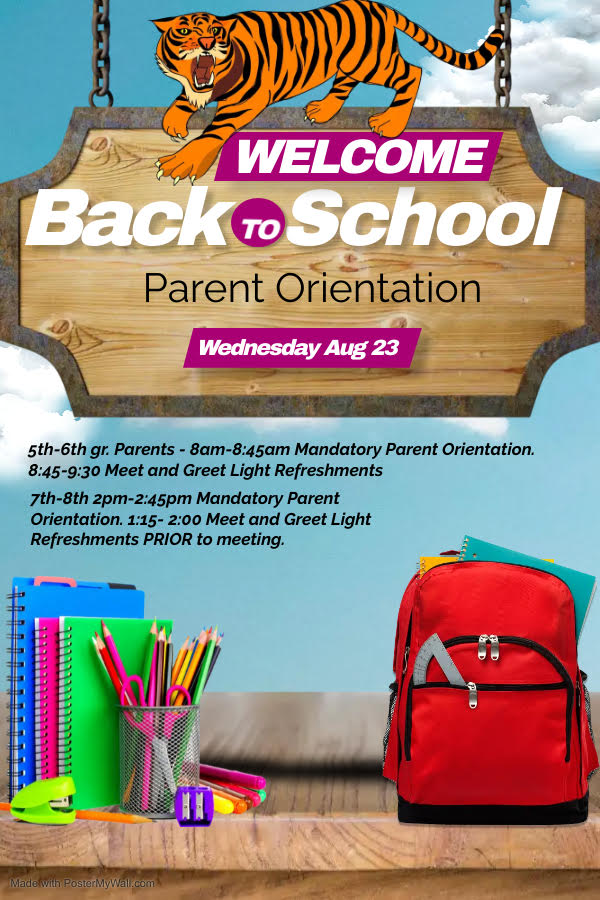 RECMS News and Event Gallery
8th Grade Graduation and Dance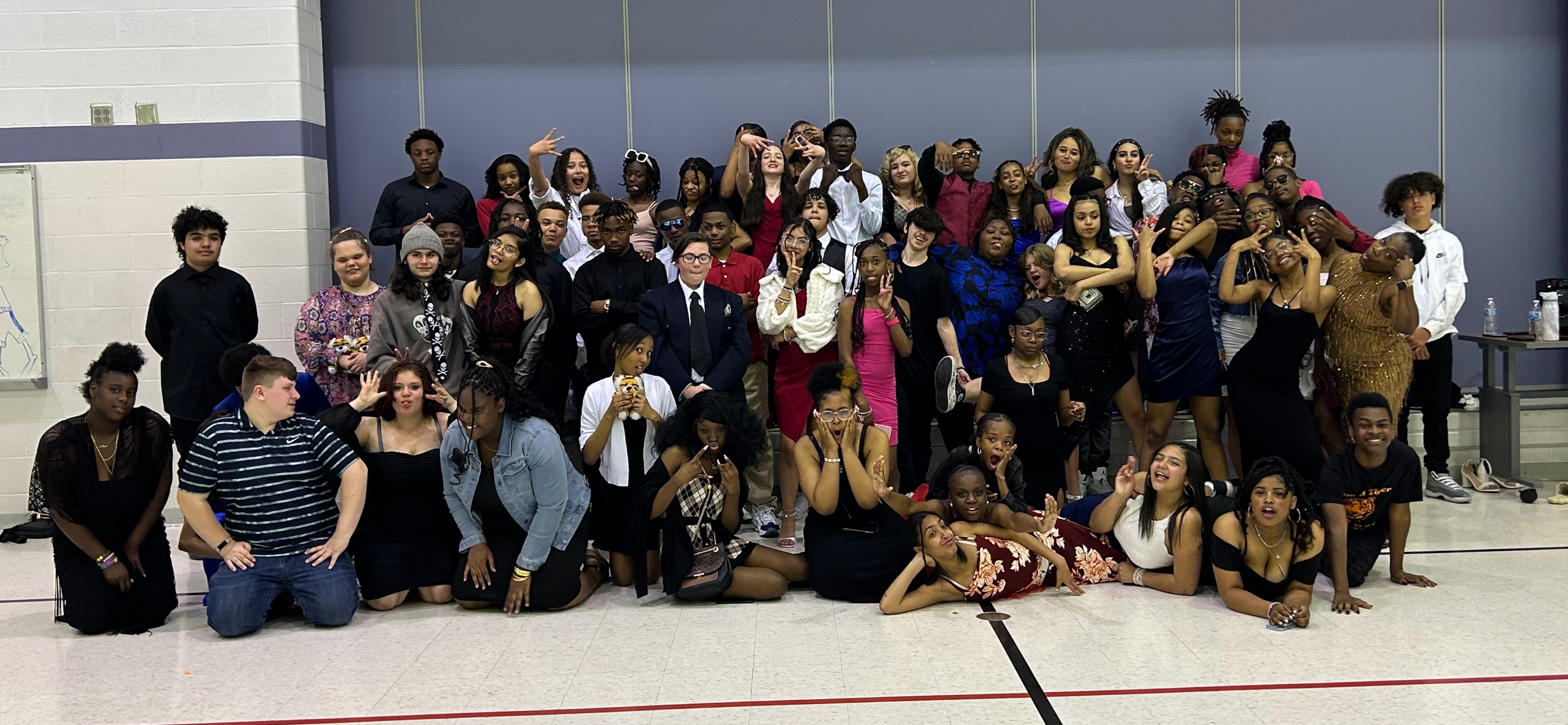 2023 8th Grade Grads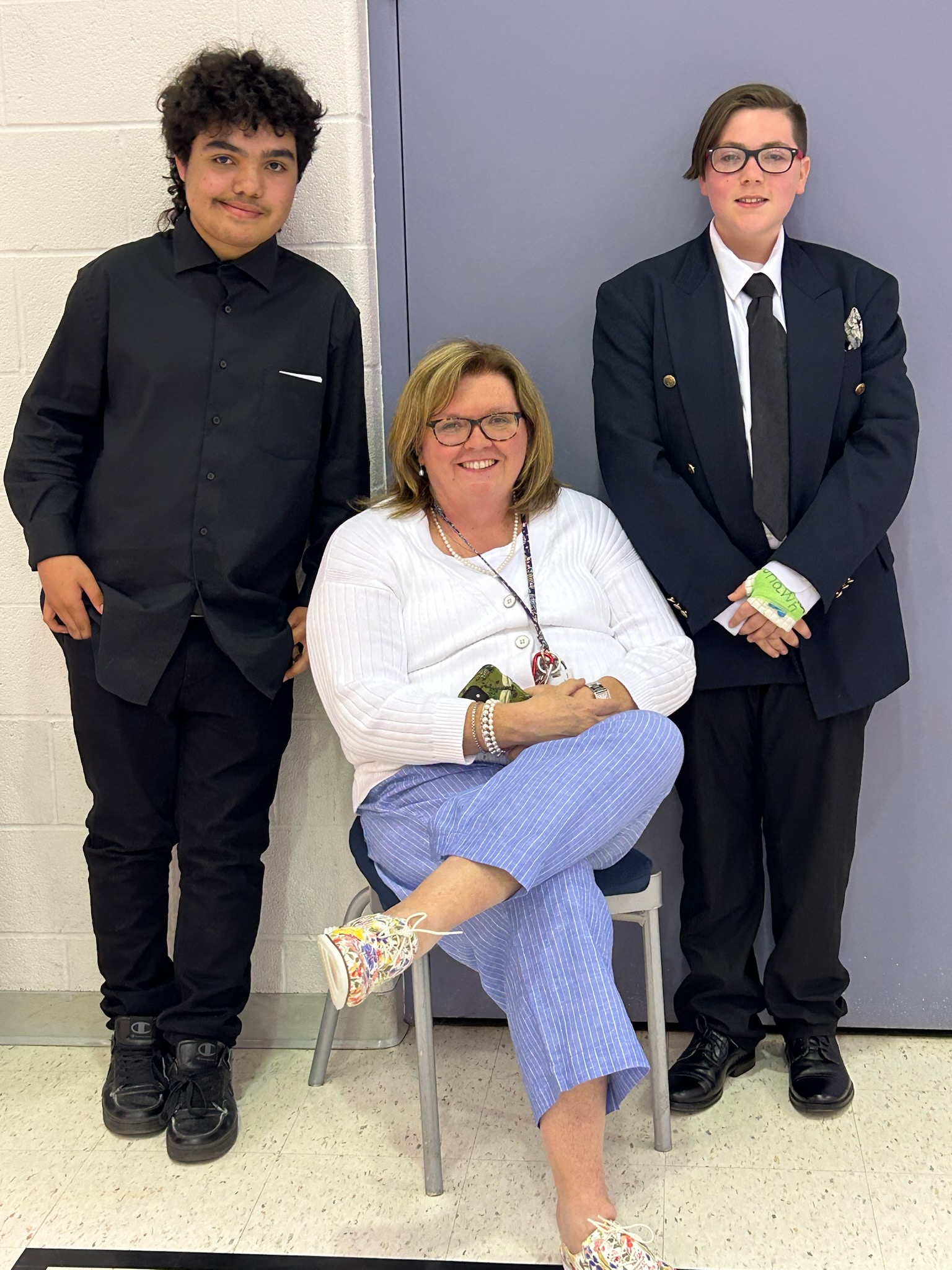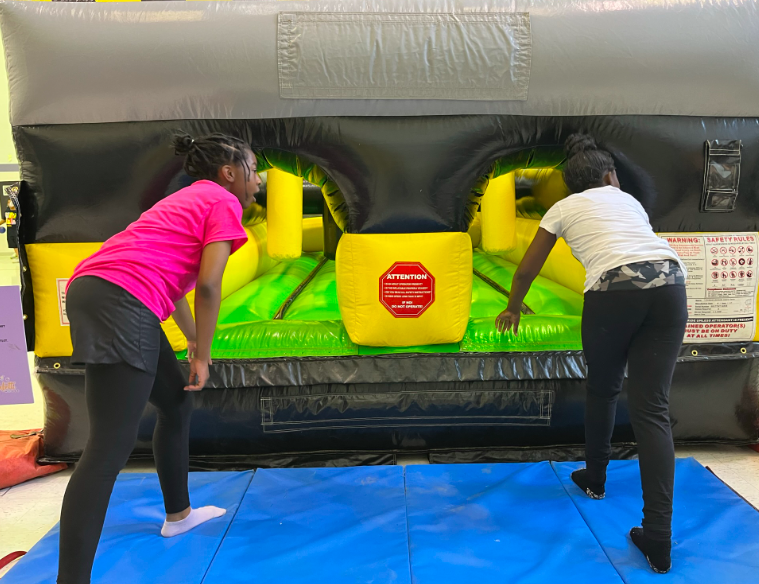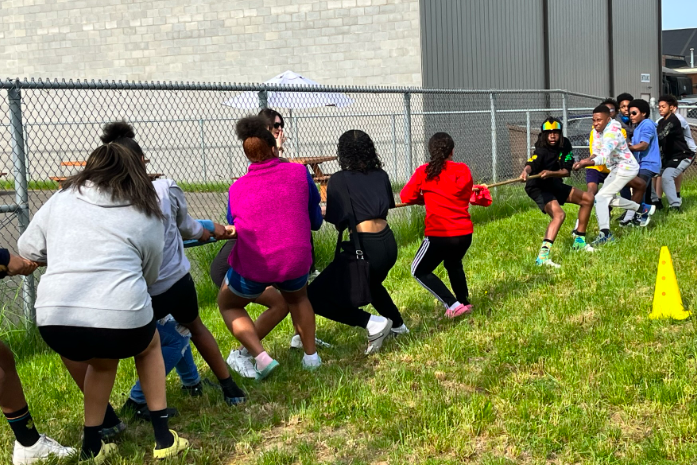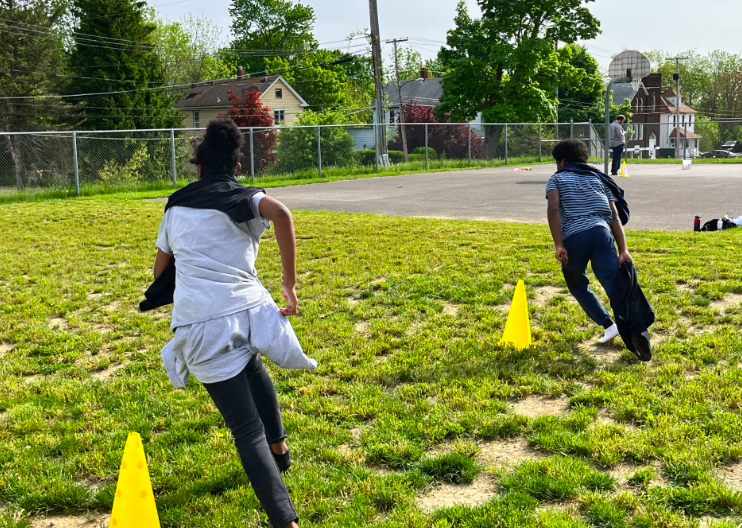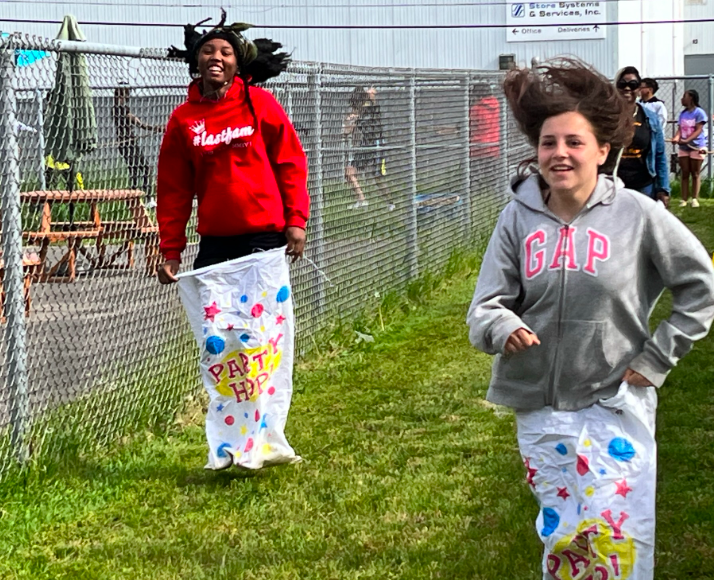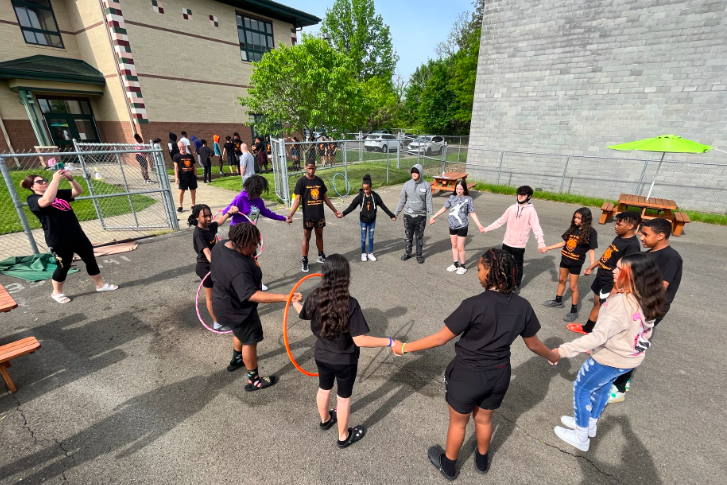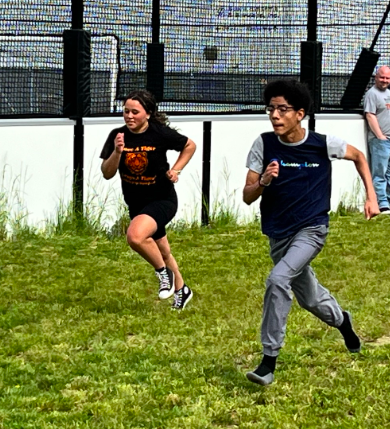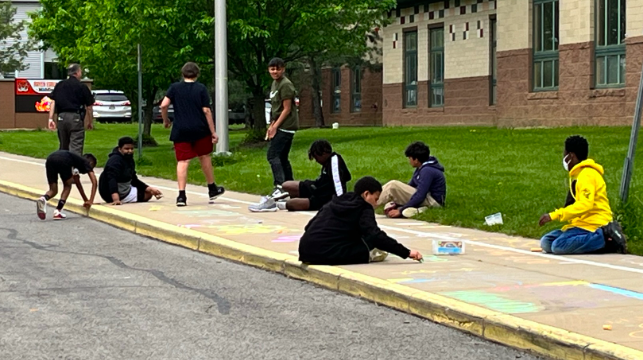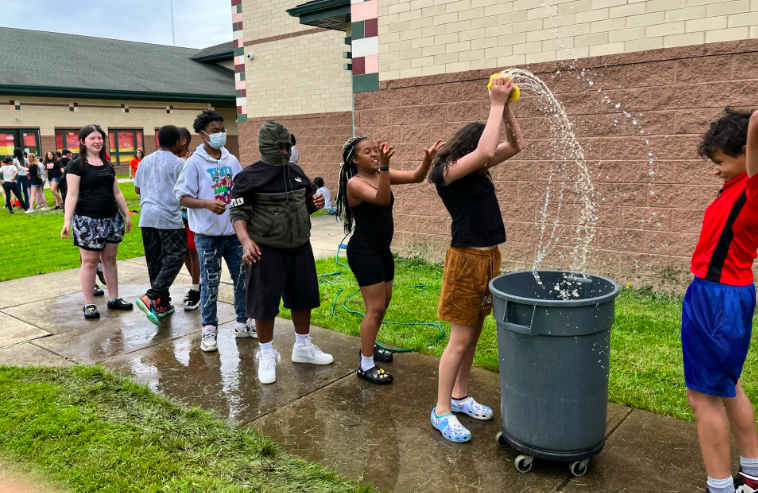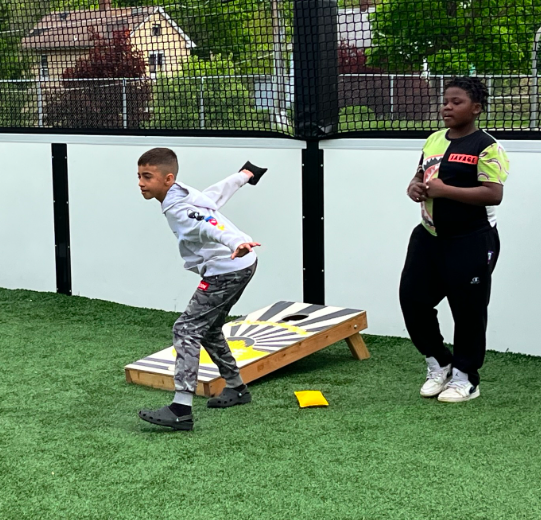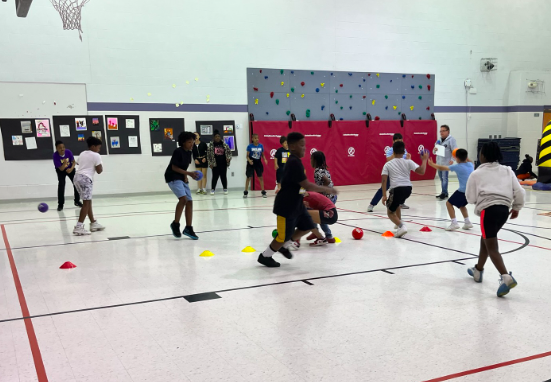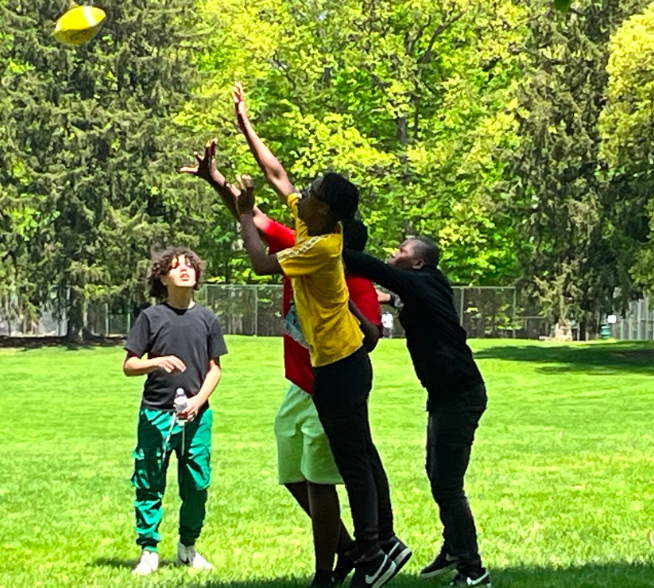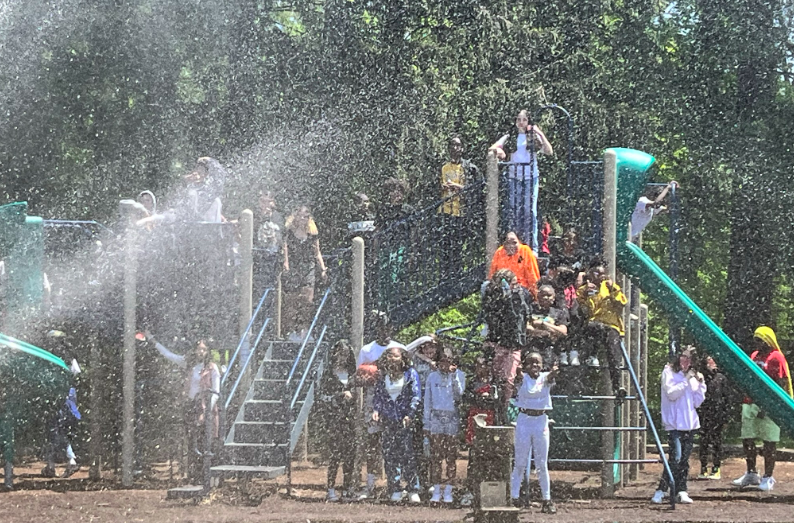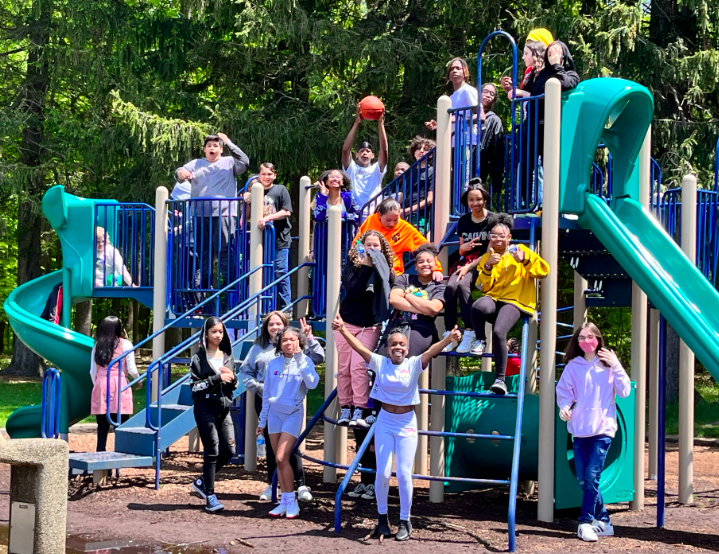 RECMS Presents The Lion King Jr.

Performances will be open to the community on Thursday and Friday starting at 6PM. Tickets are $5 at the door.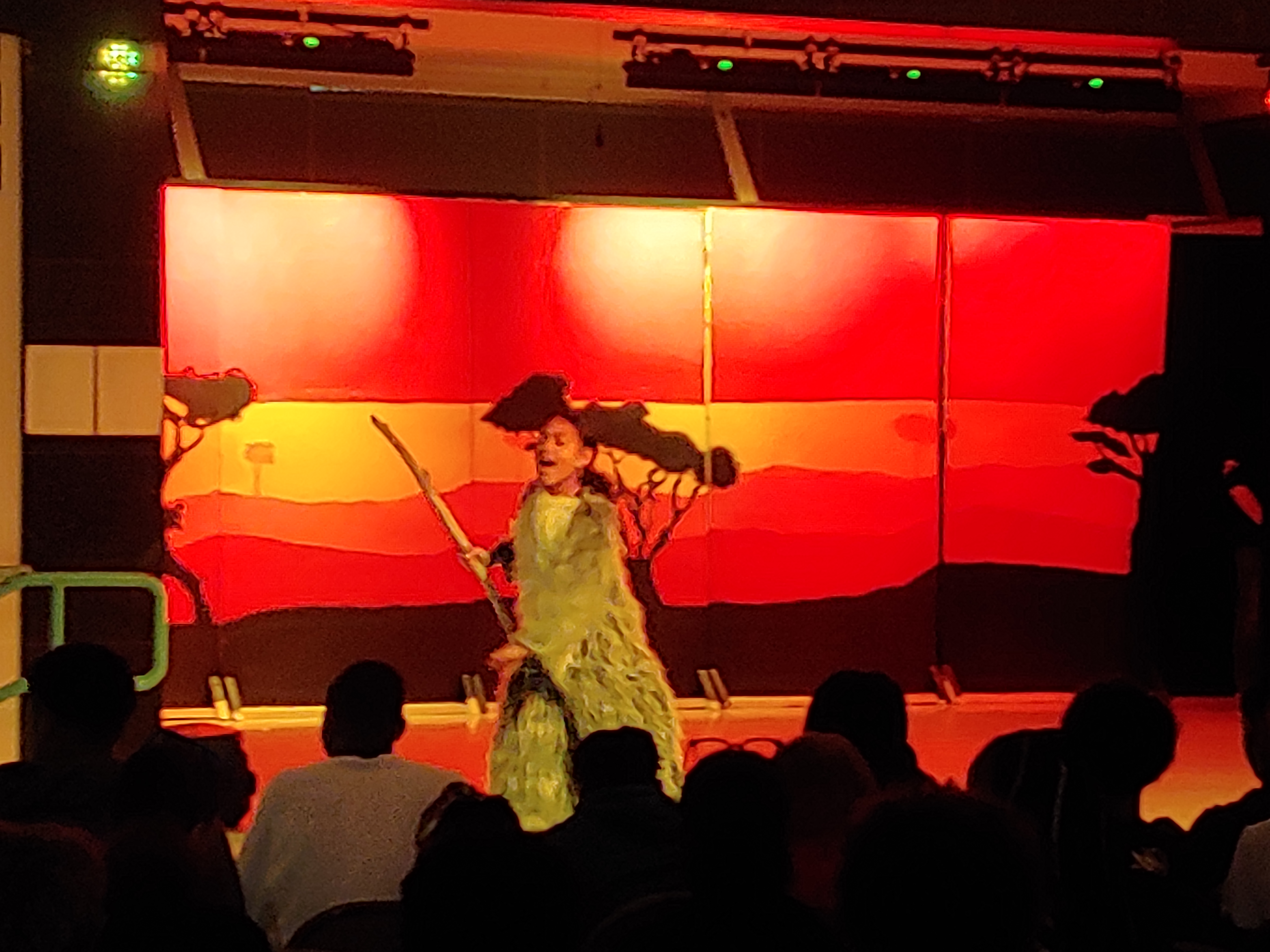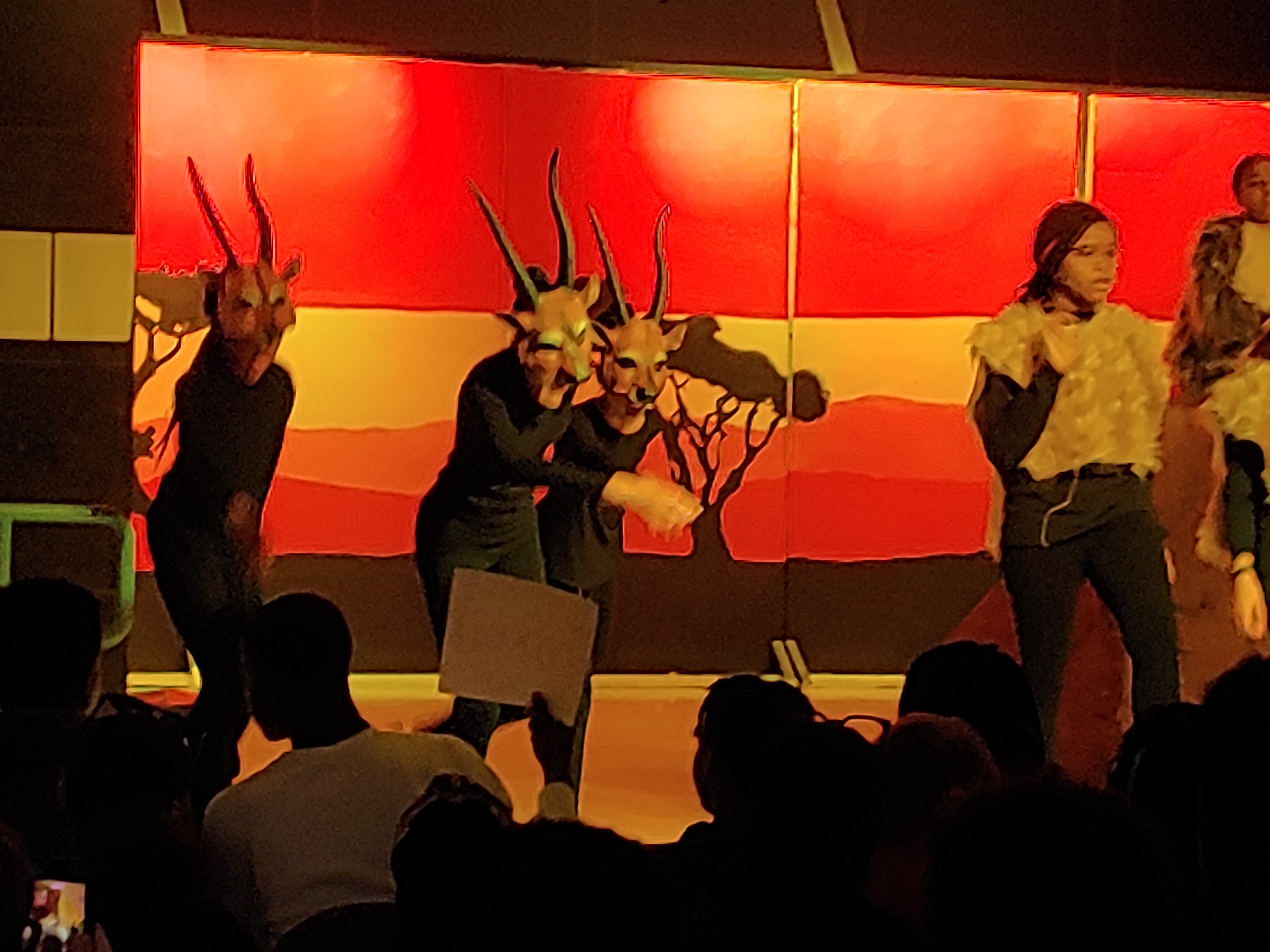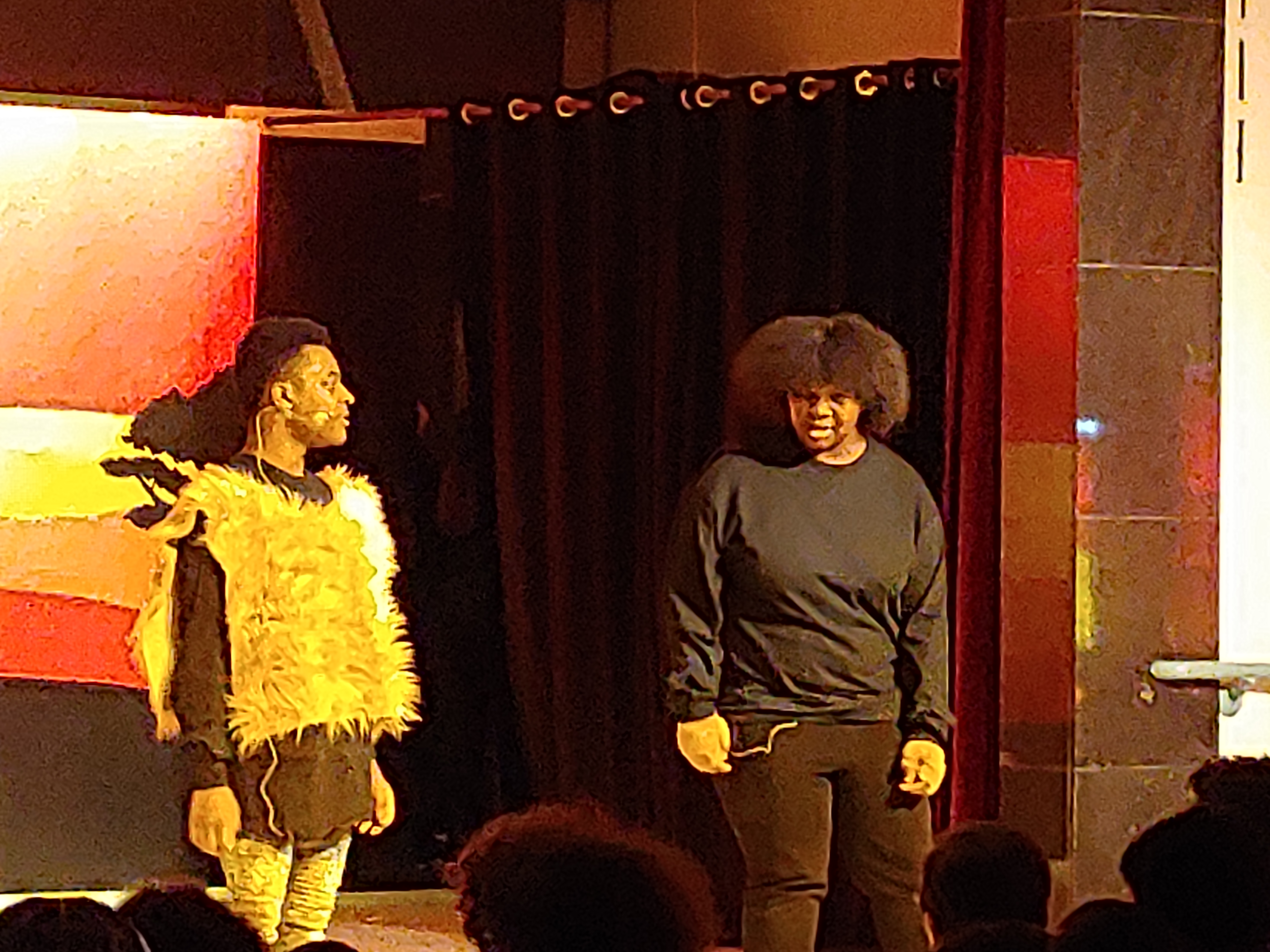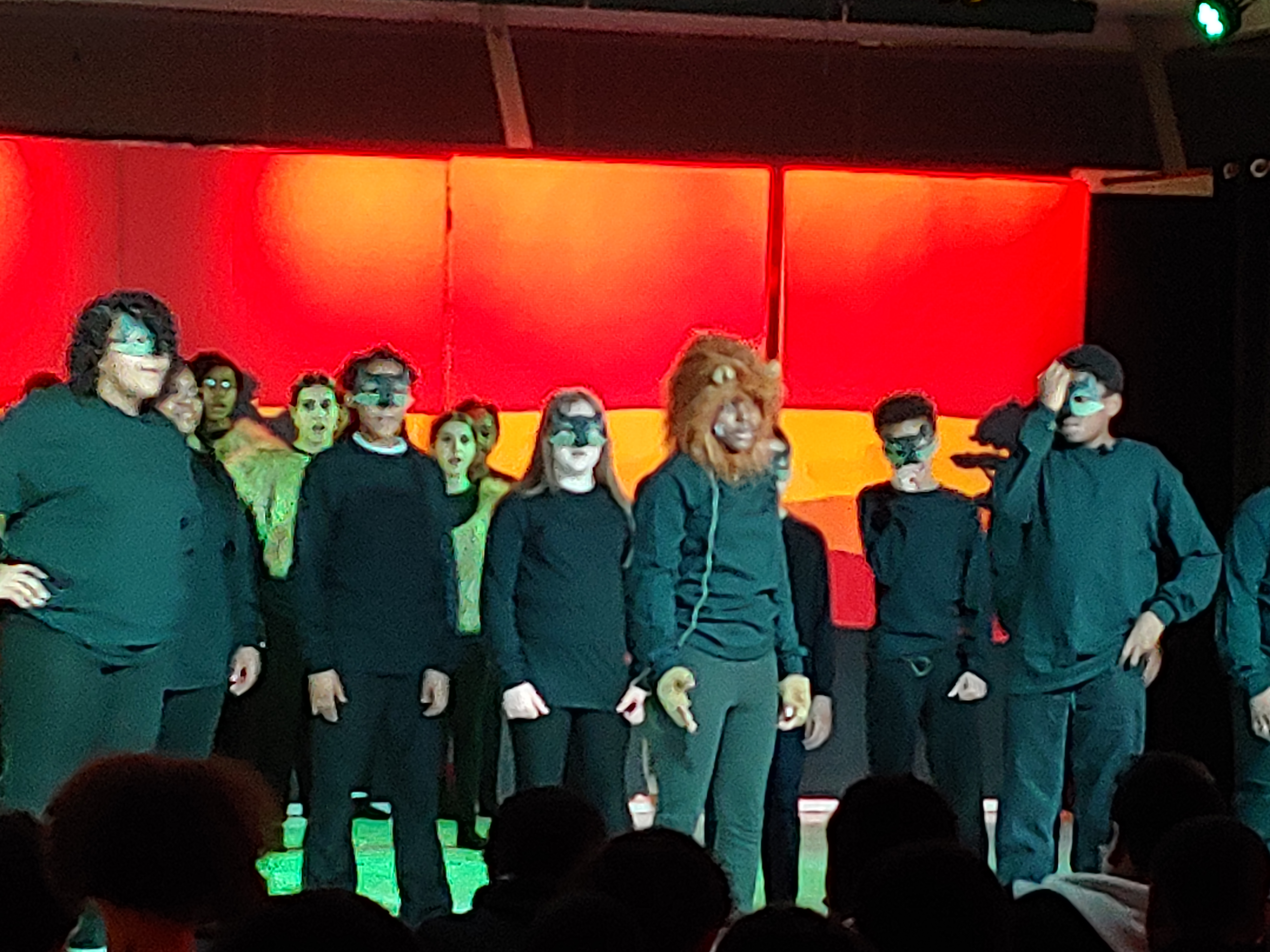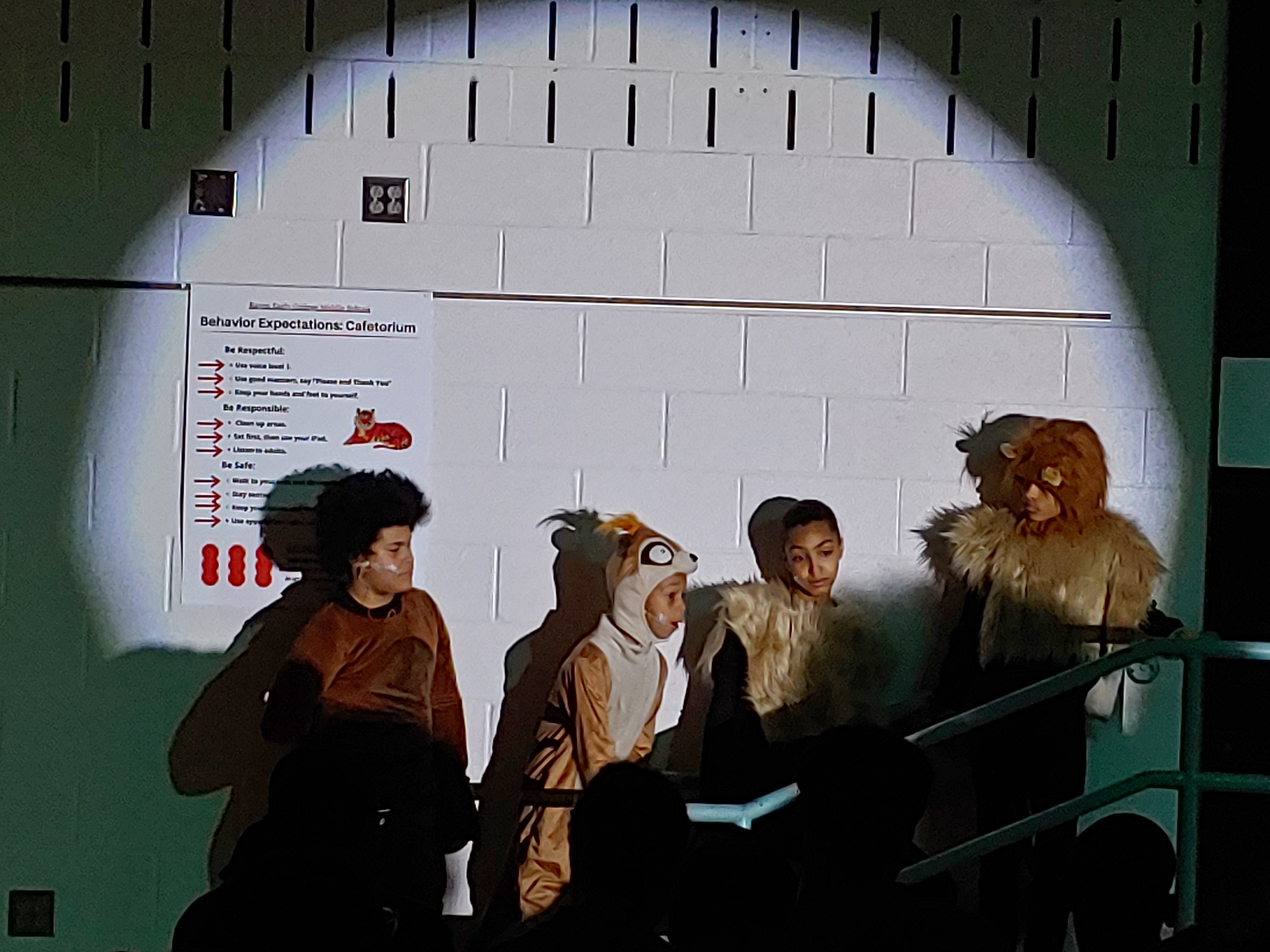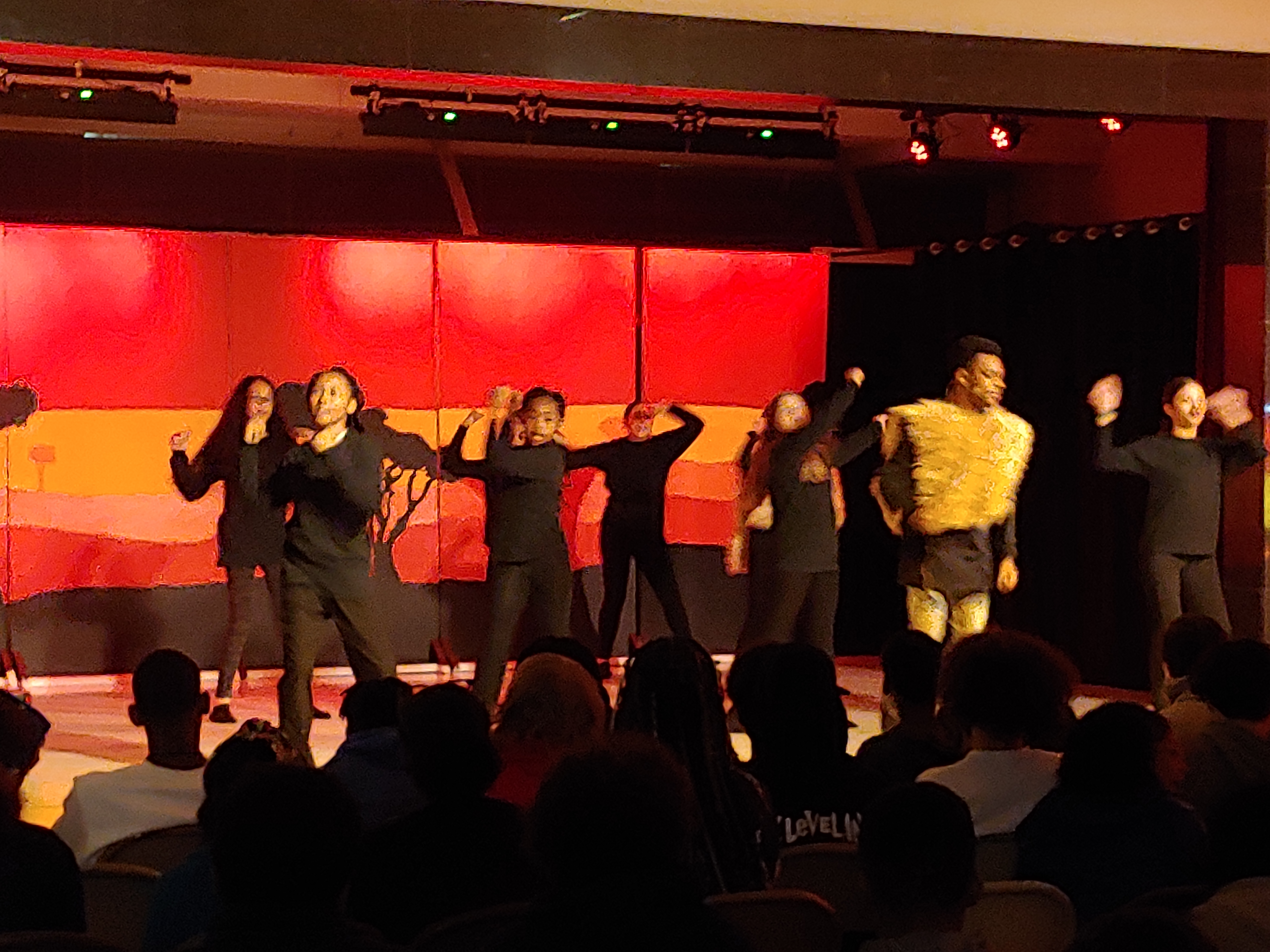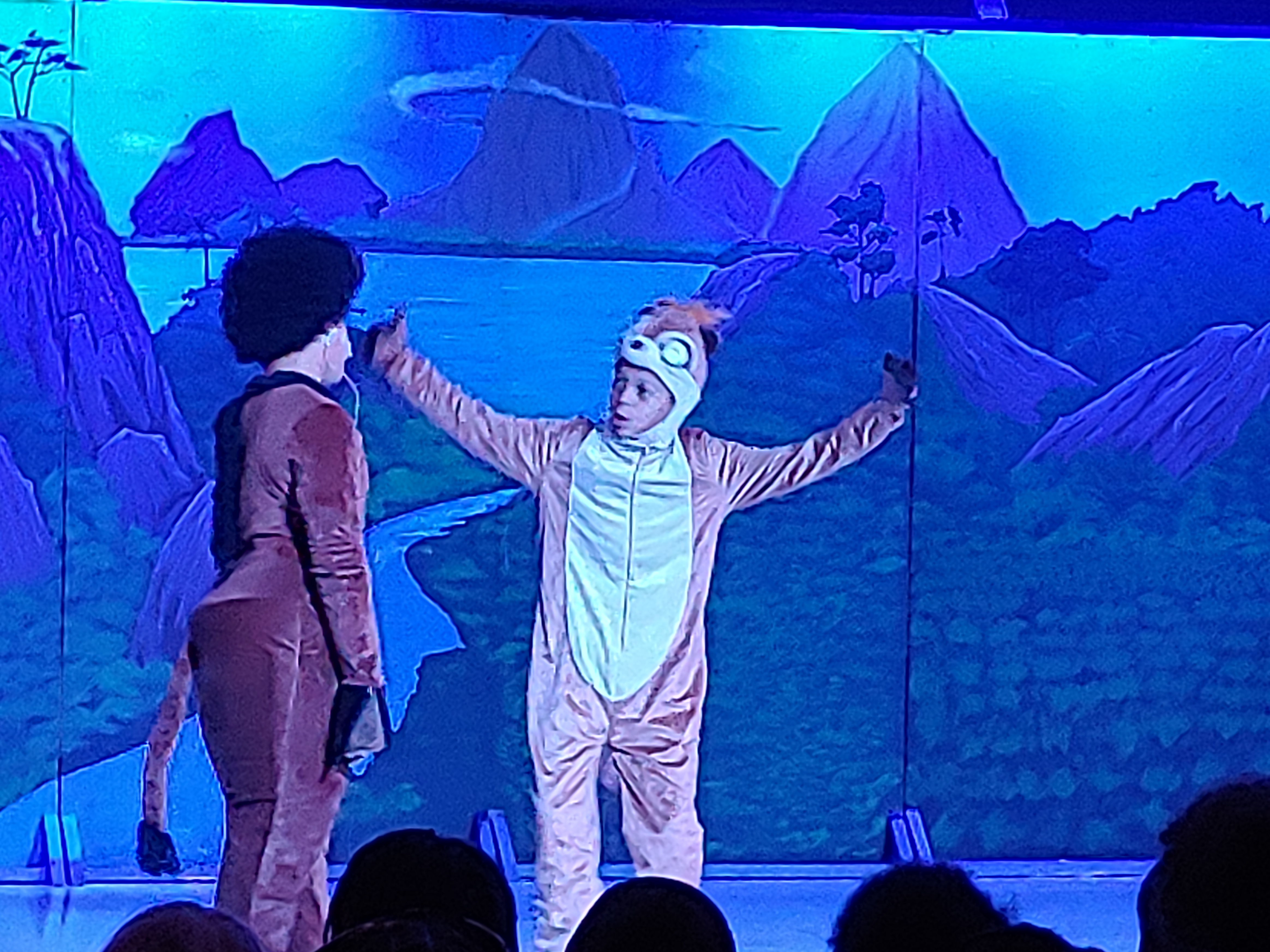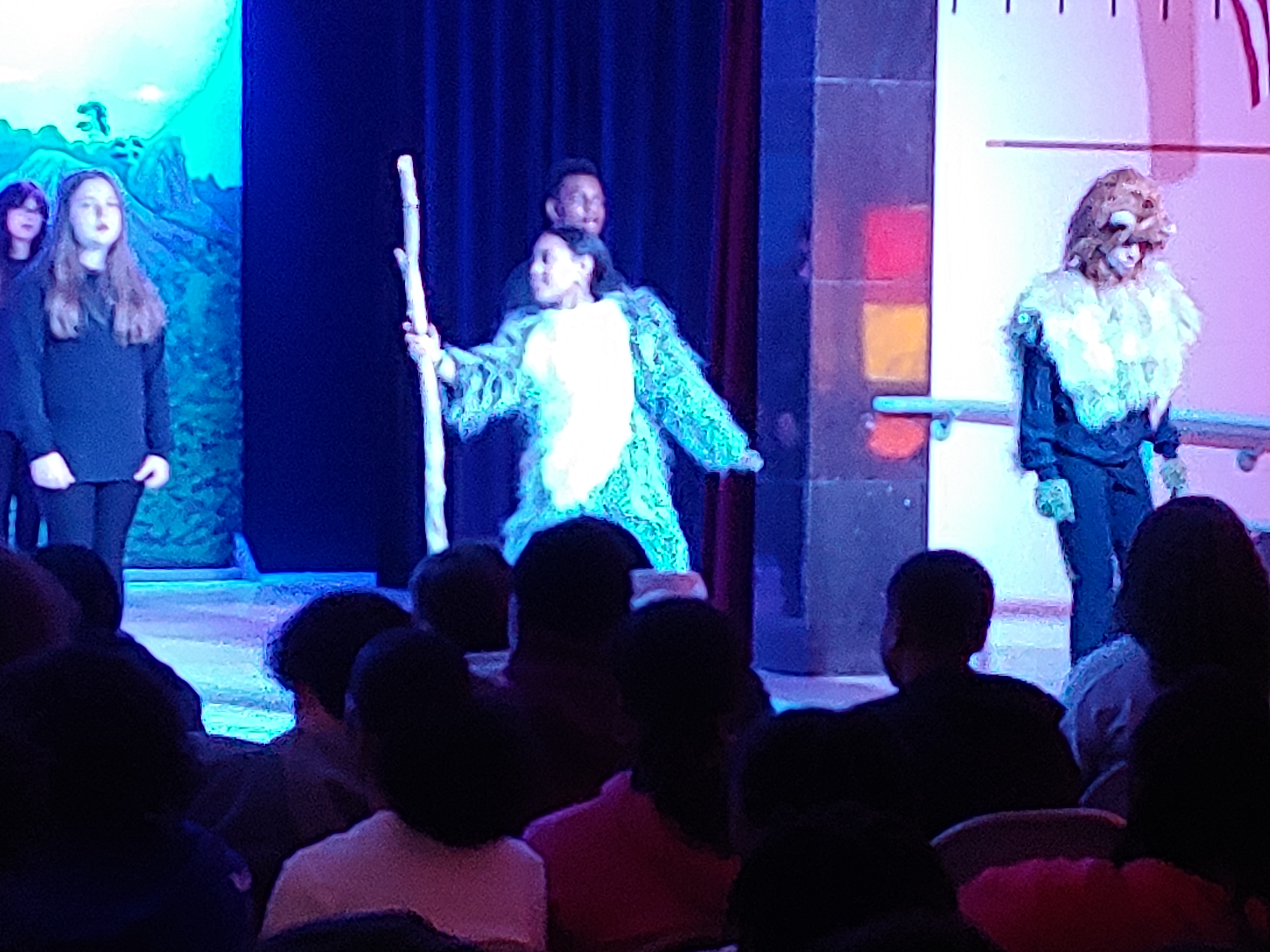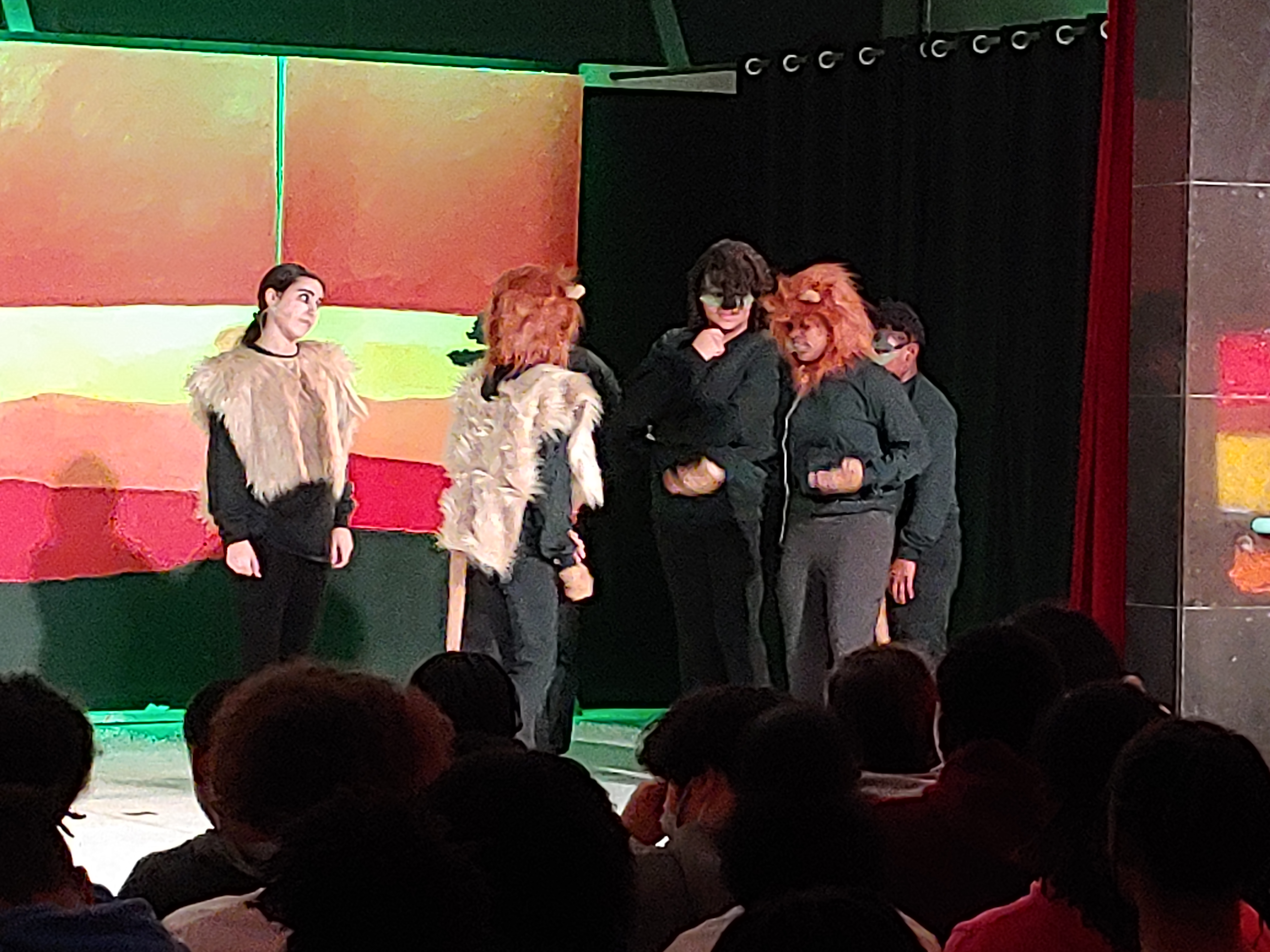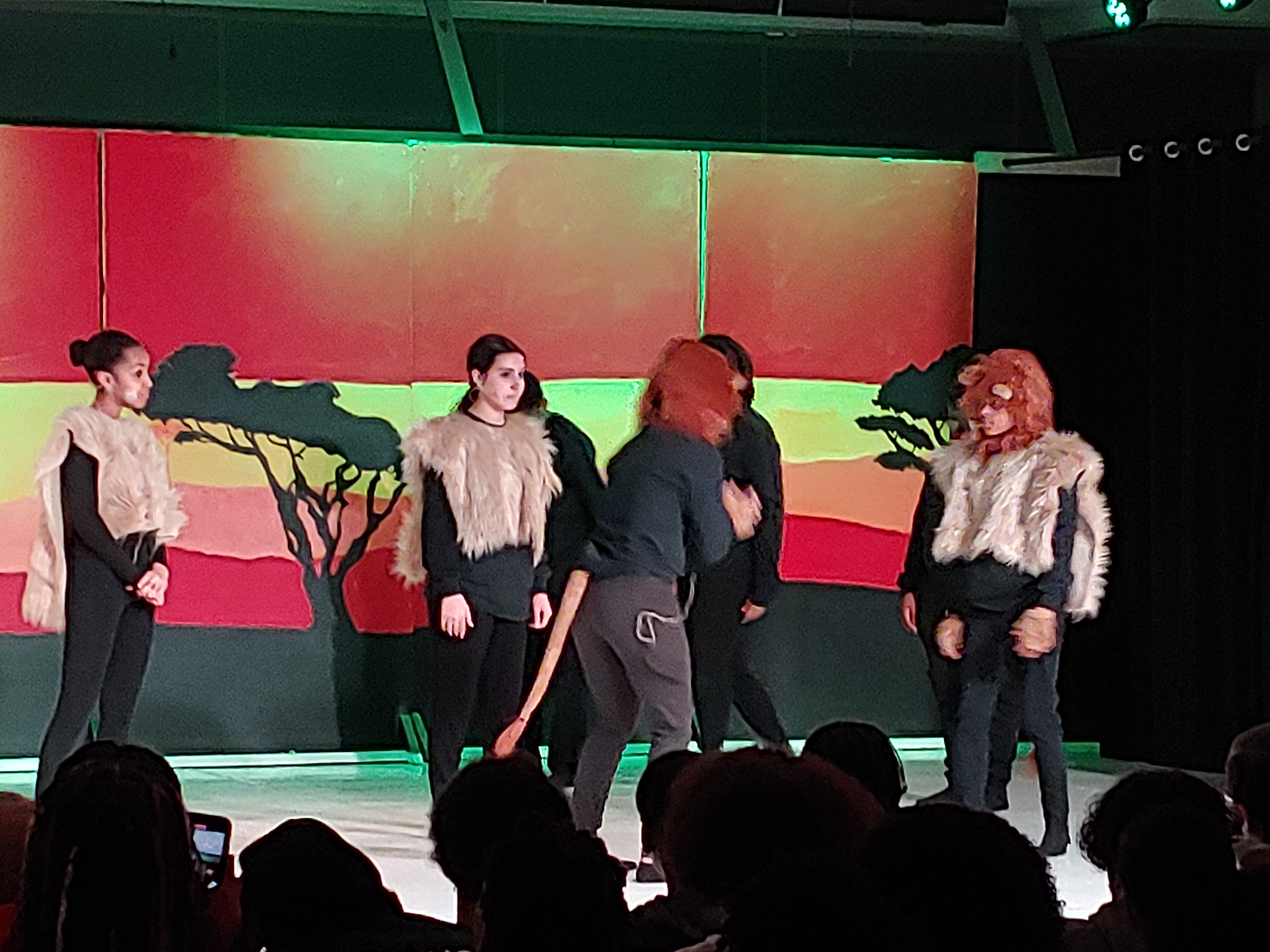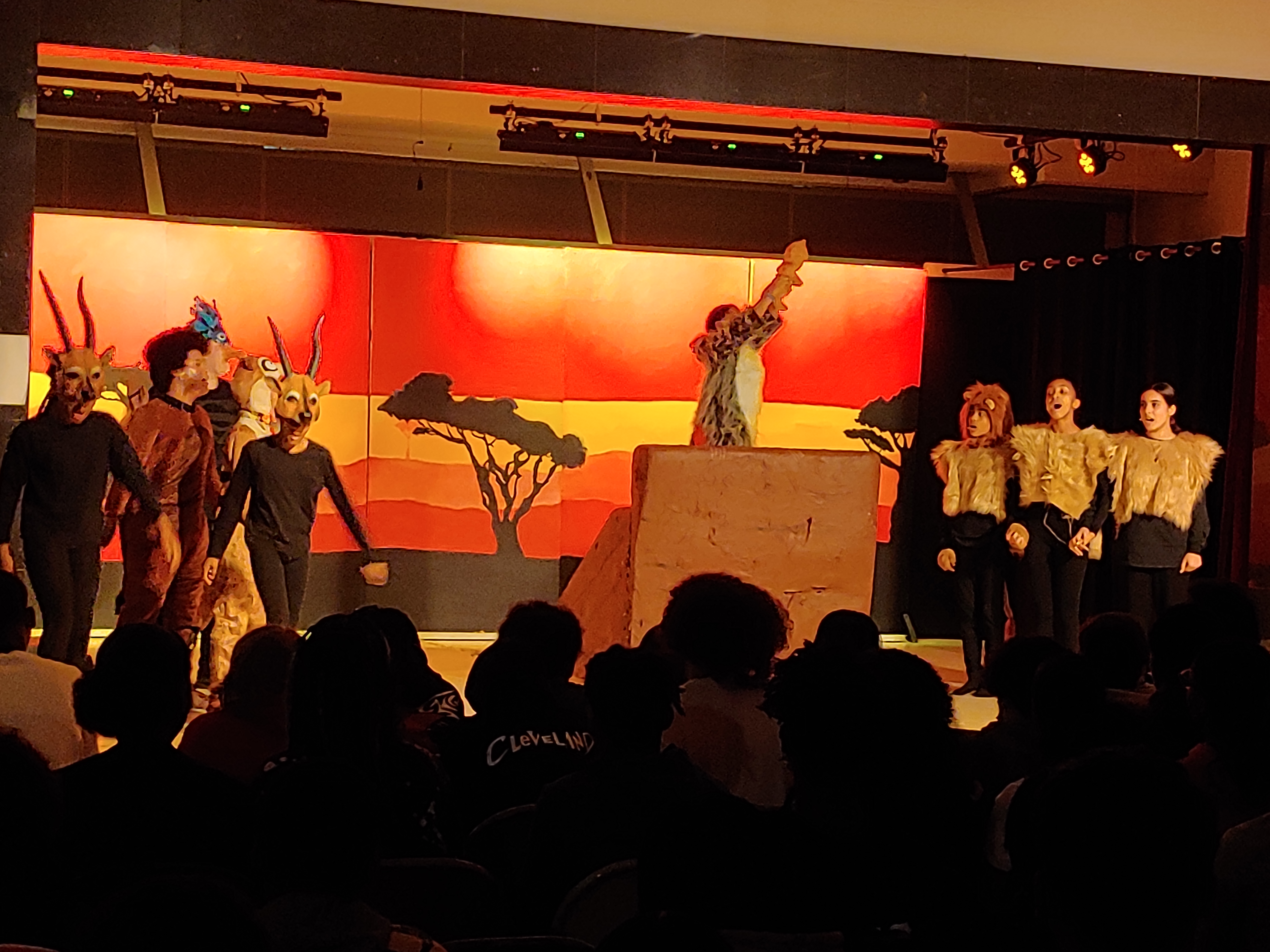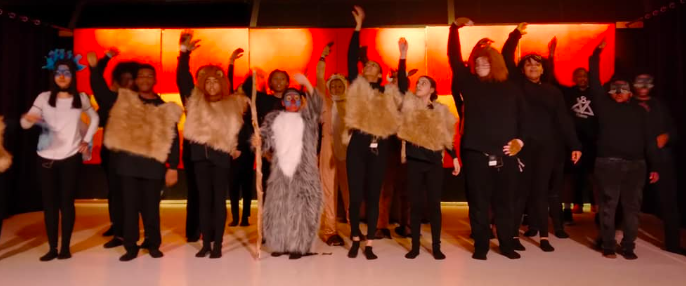 Congratulations Tay! 94.7 Shining Star!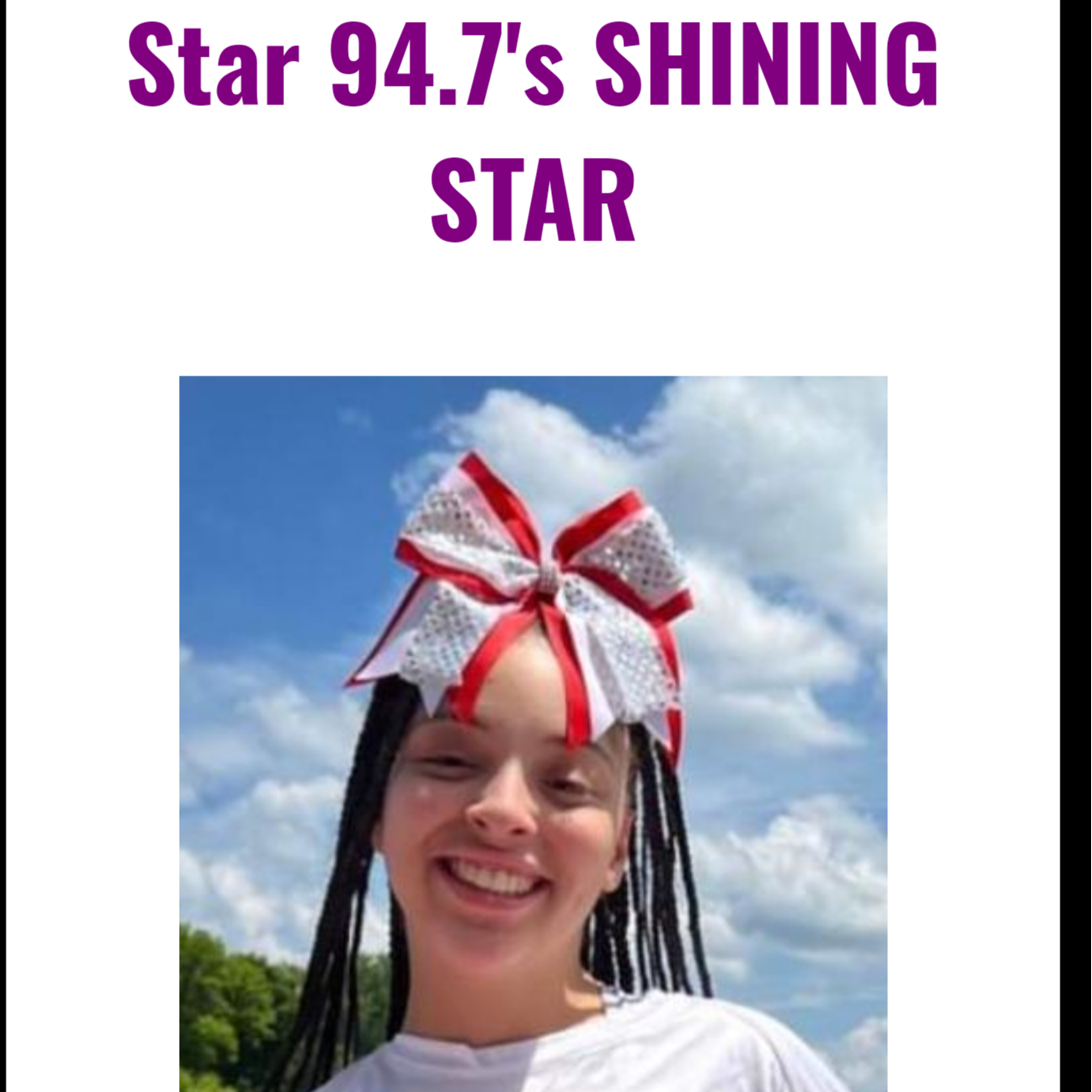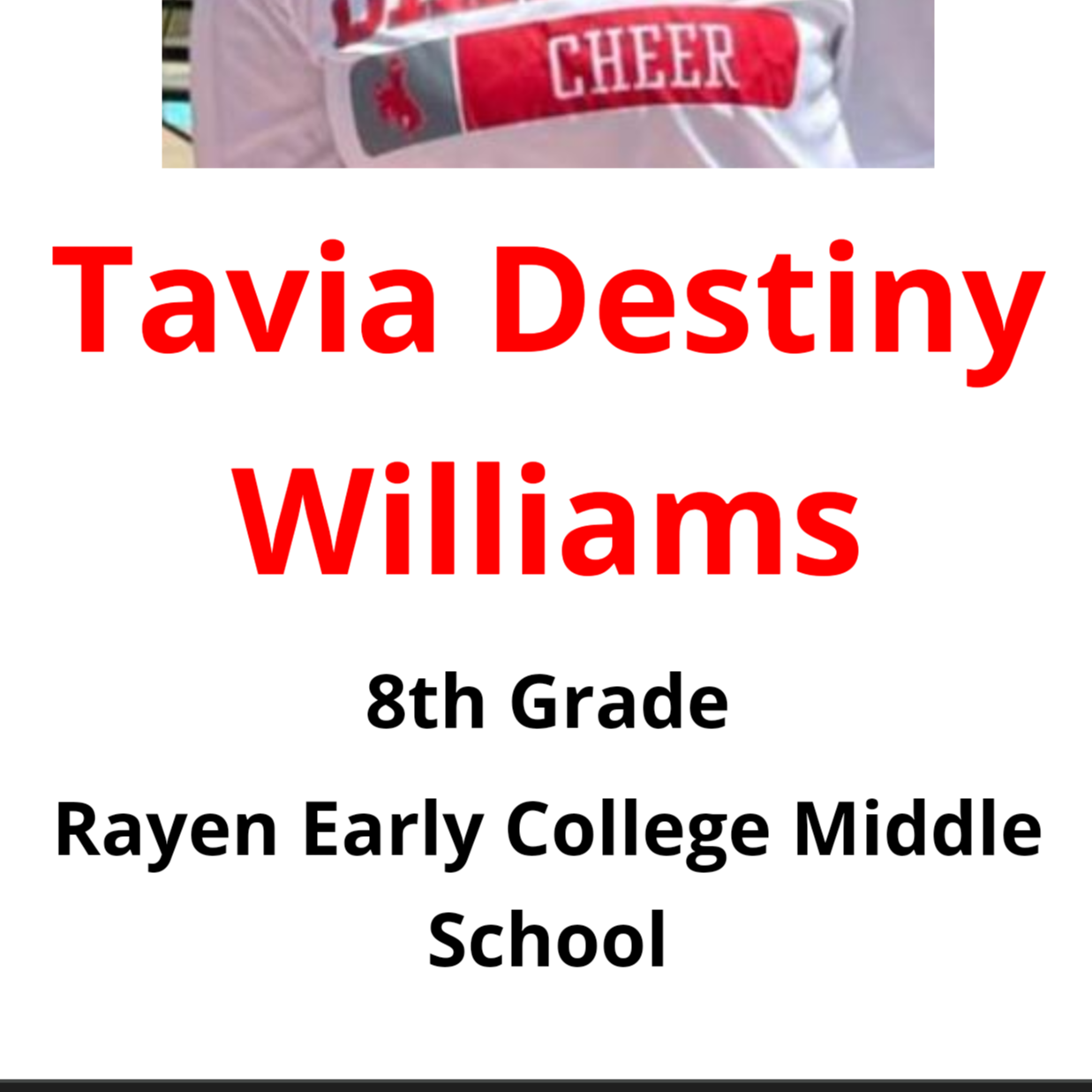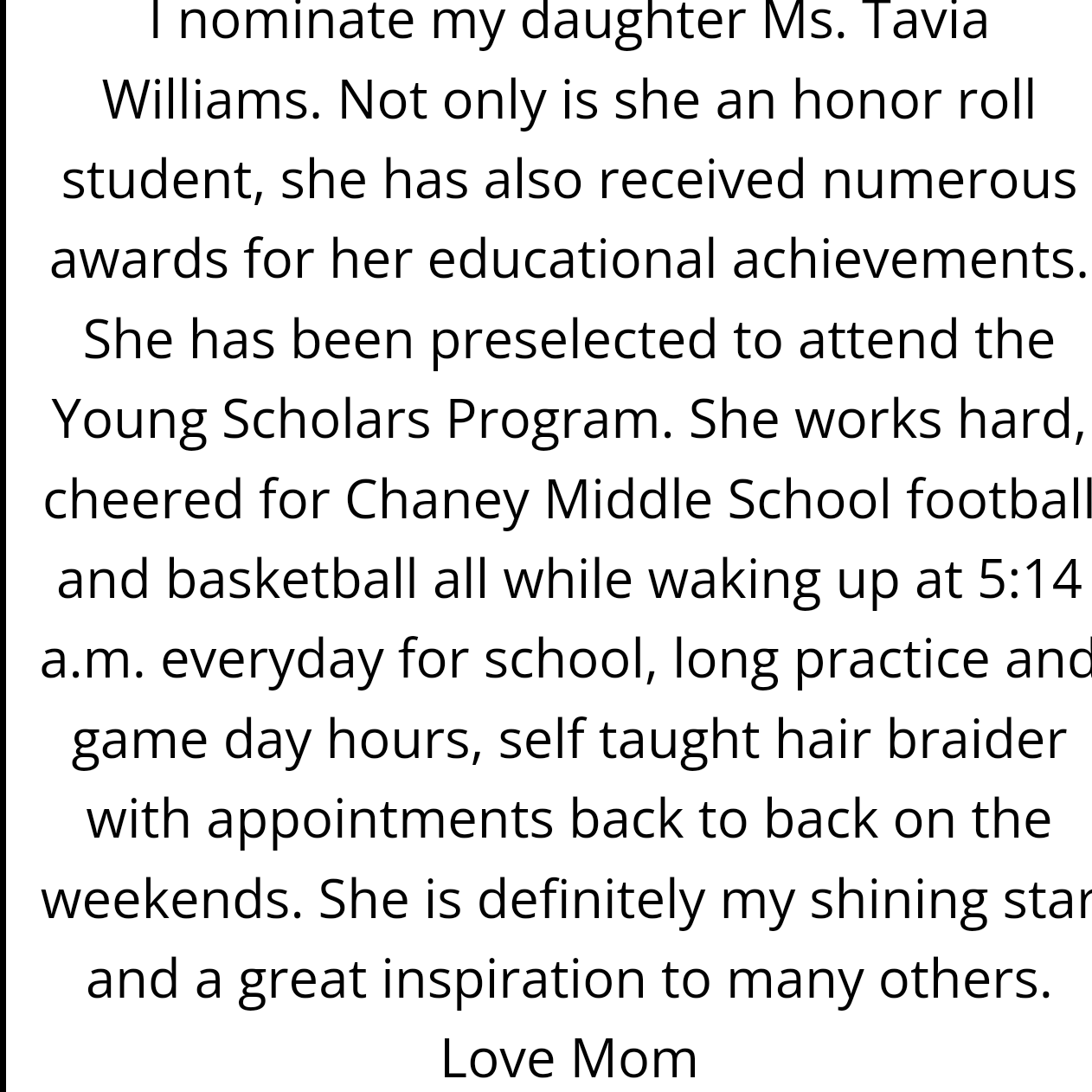 Mr. Youngblood Visits with Home Design Participants!
We have about 14 scholars participating in a Tinkercad Home Design Contest. A winner will be selected before school is out. We are looking to plan a trip to OSU for the group to see the 3D printer that prints homes! Scholars are doing amazing work in Tinkercad!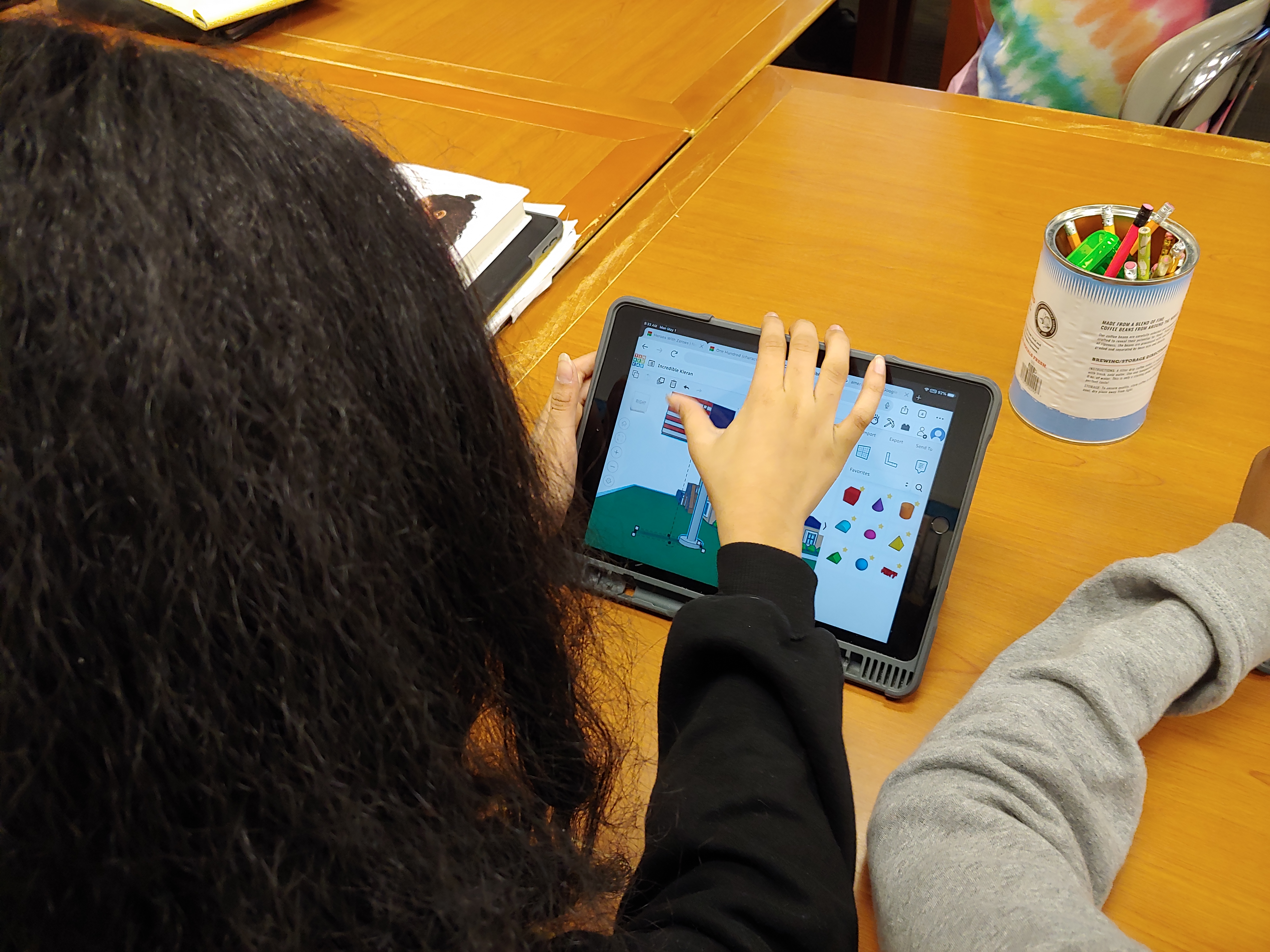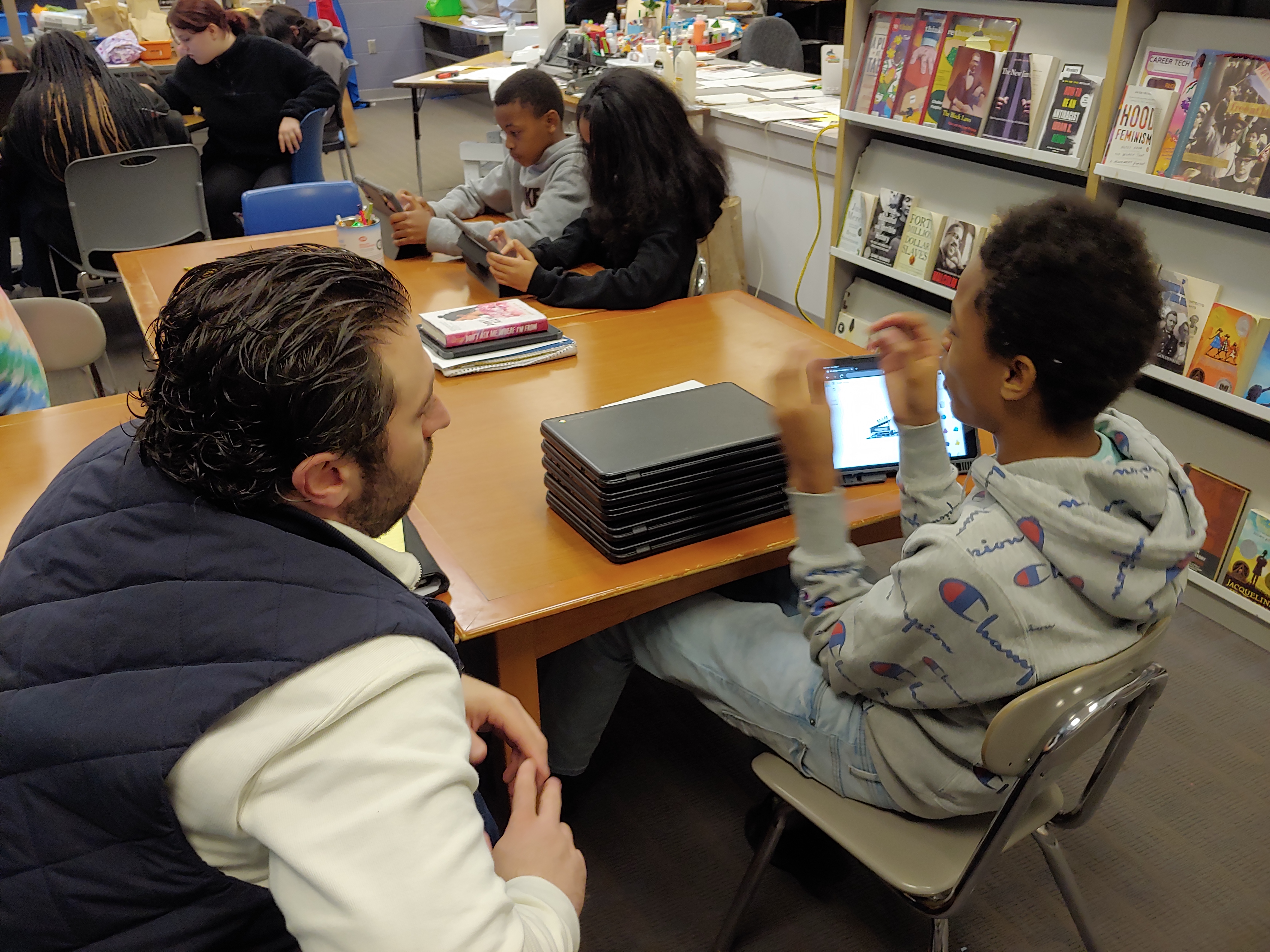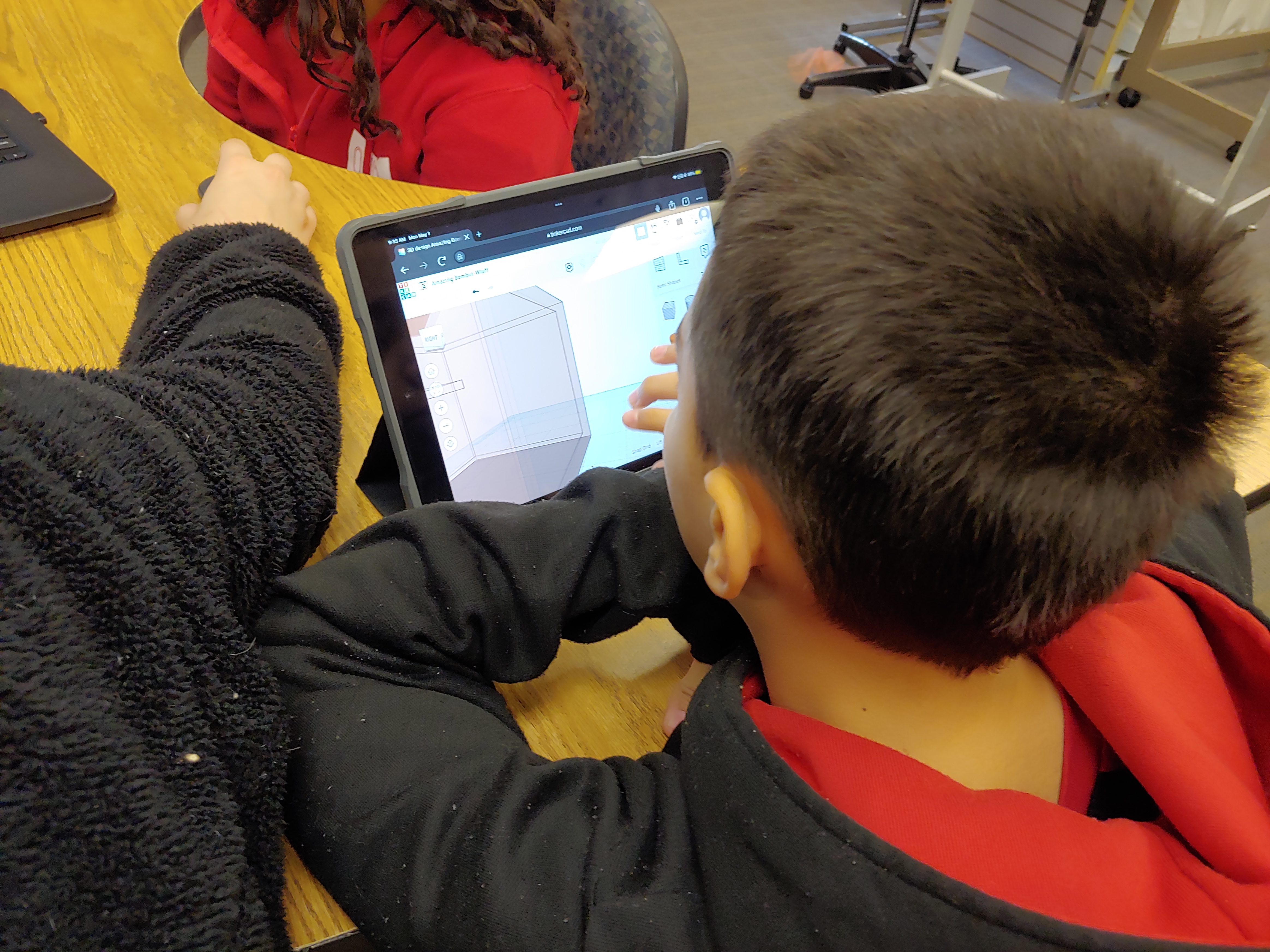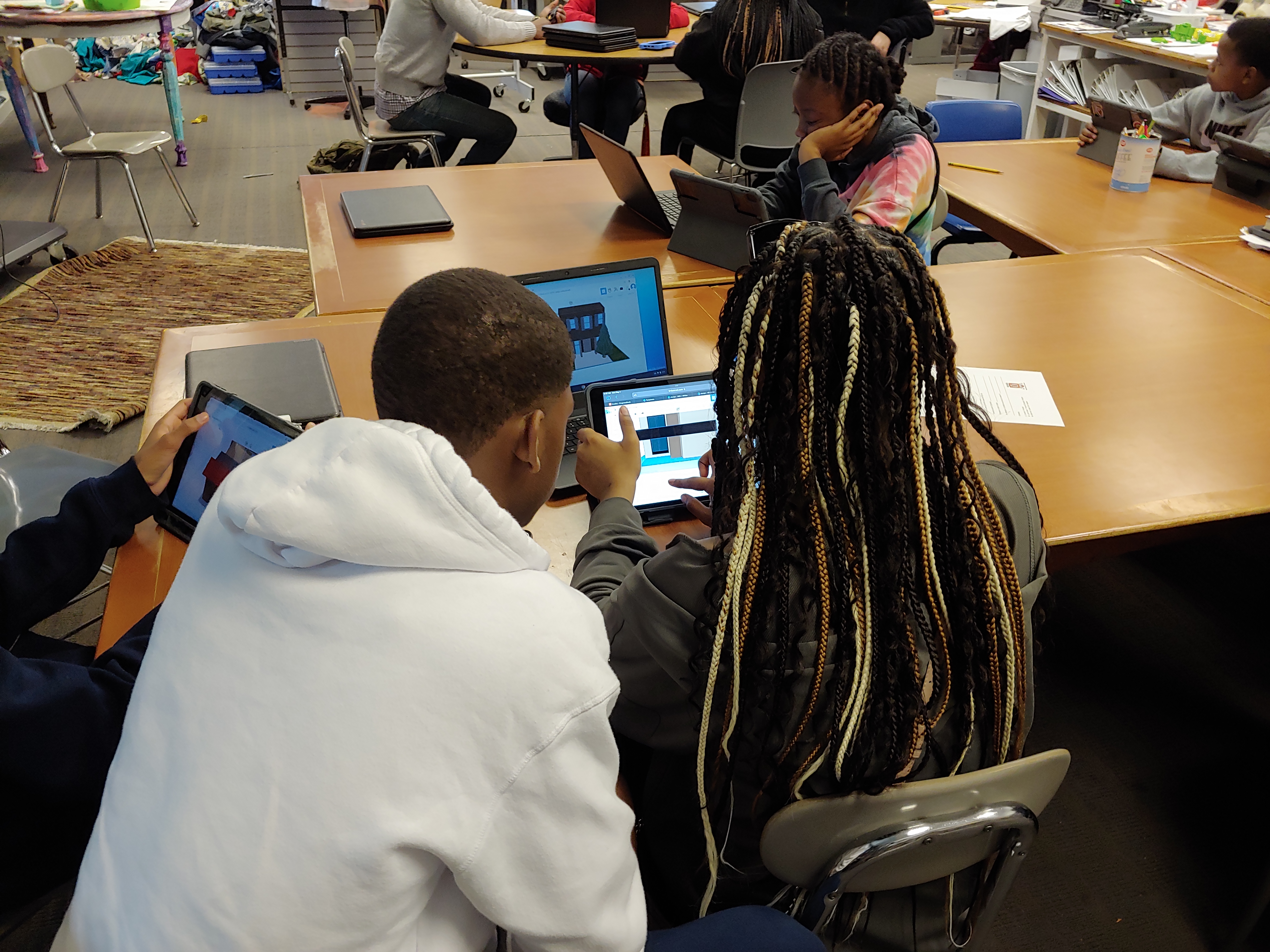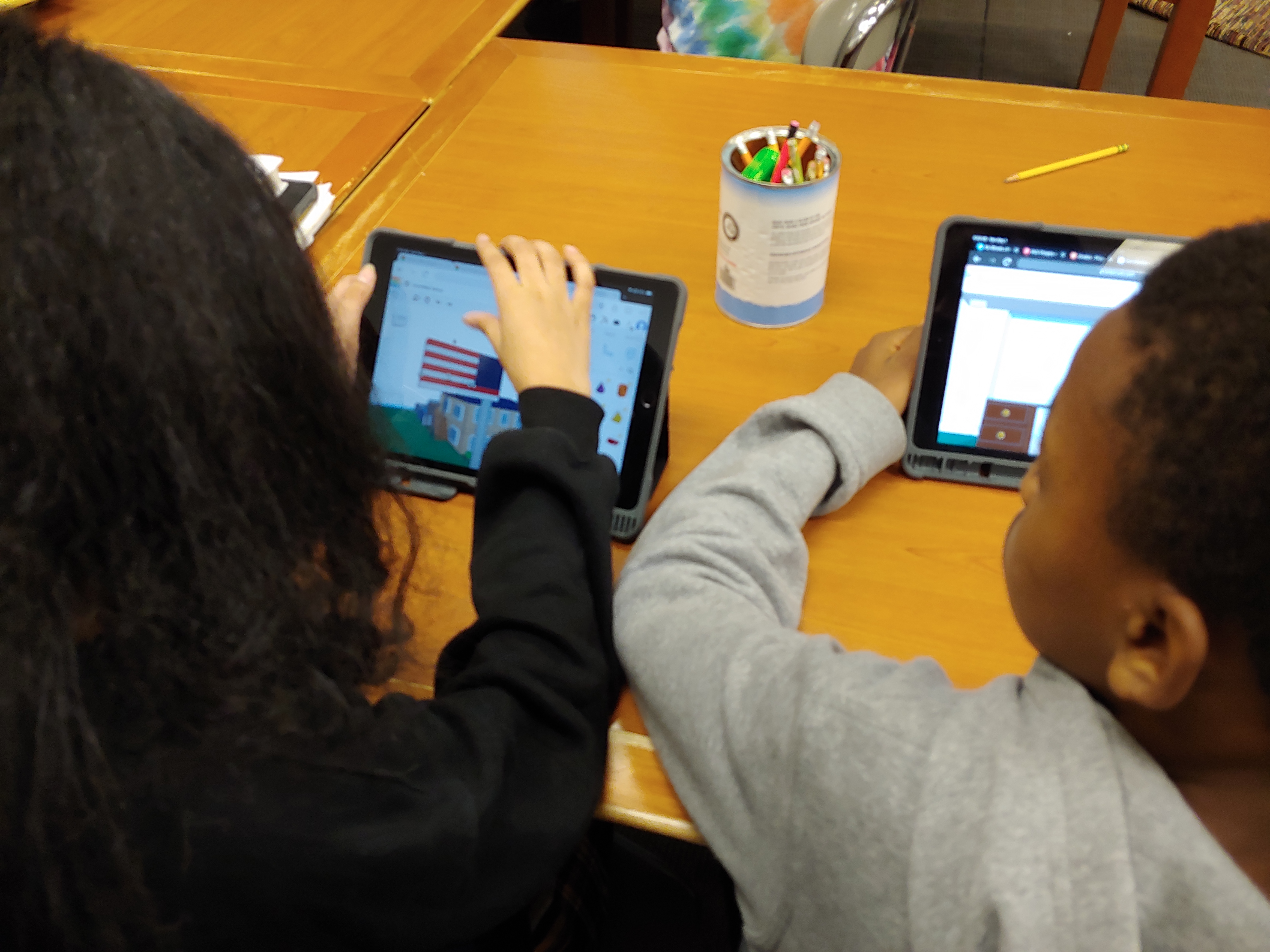 5th Grade Travels to Pluto in Virtual Reality
Megan Payich come into our classroom to introduce virtual reality education and it was a blast. Our students got to travel to Pluto, explore, and learn all about it.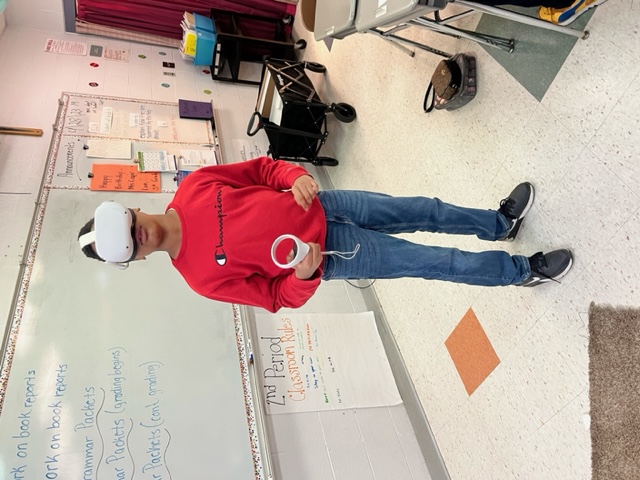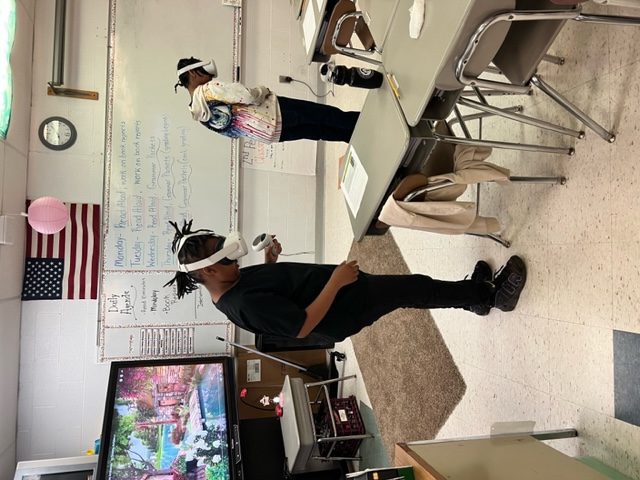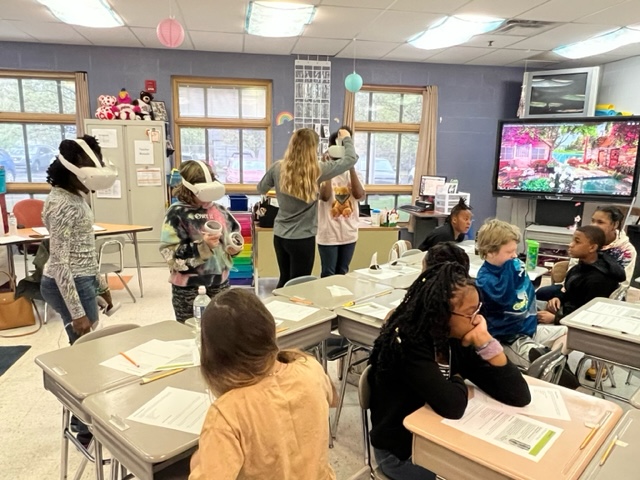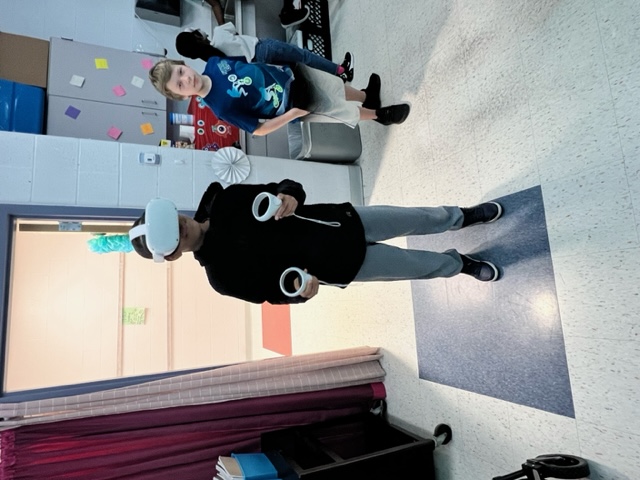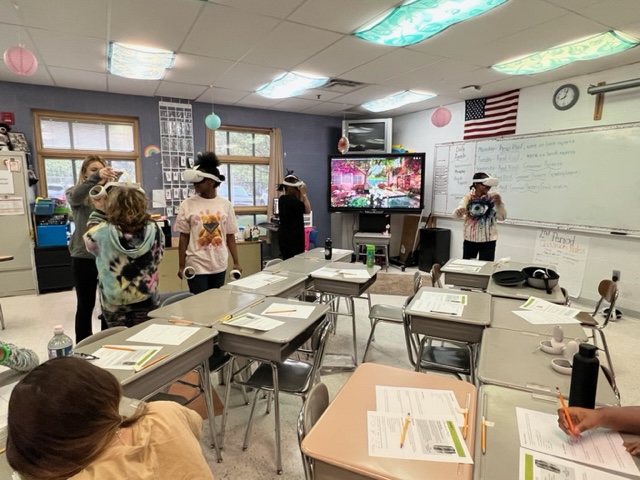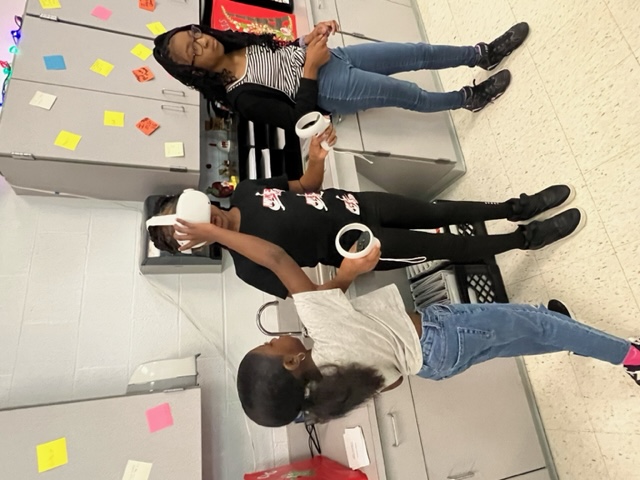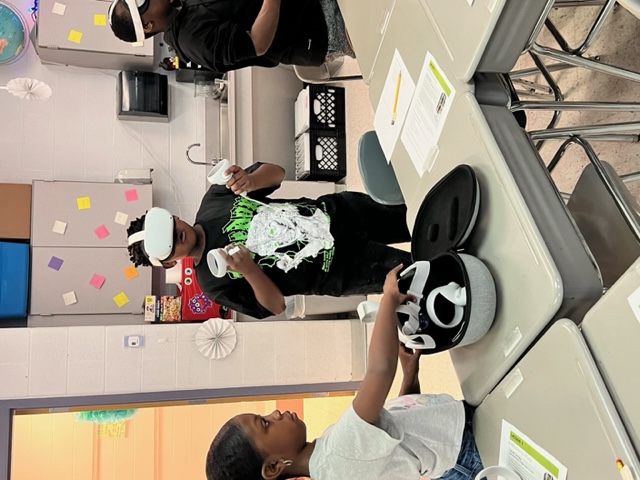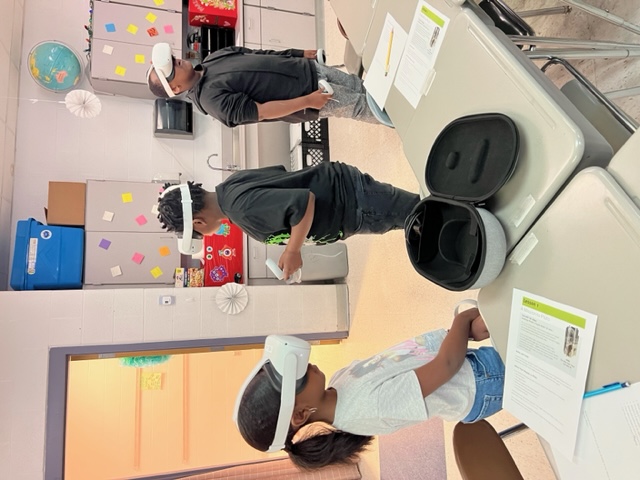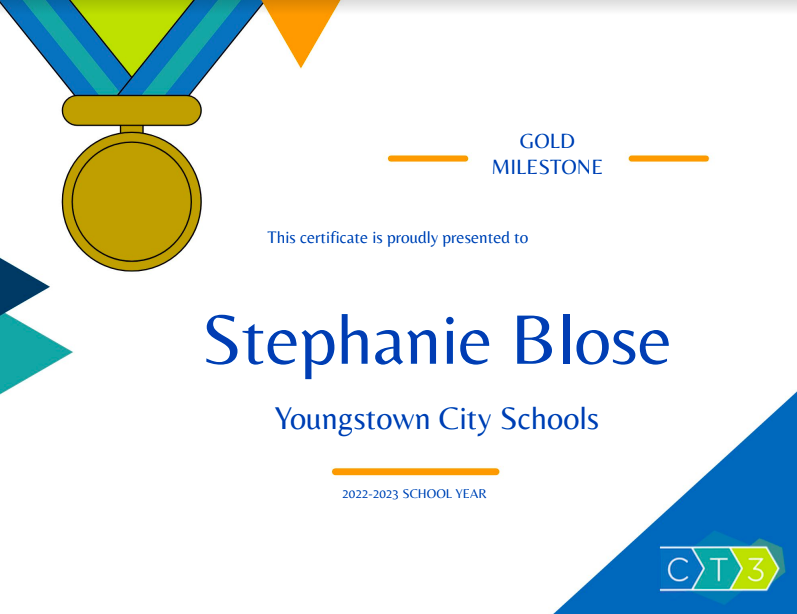 Congratulations Mrs. Blose!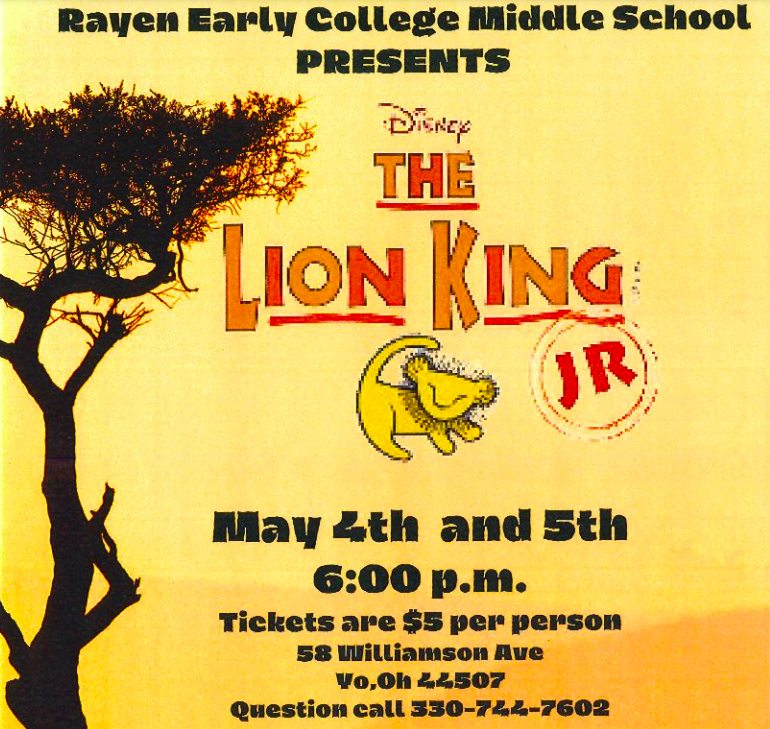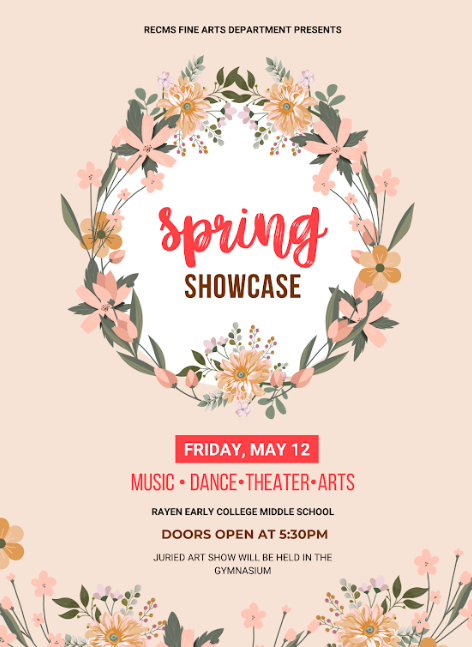 Ms. Janice Kelsey, from the 1963 Children's March Visits REC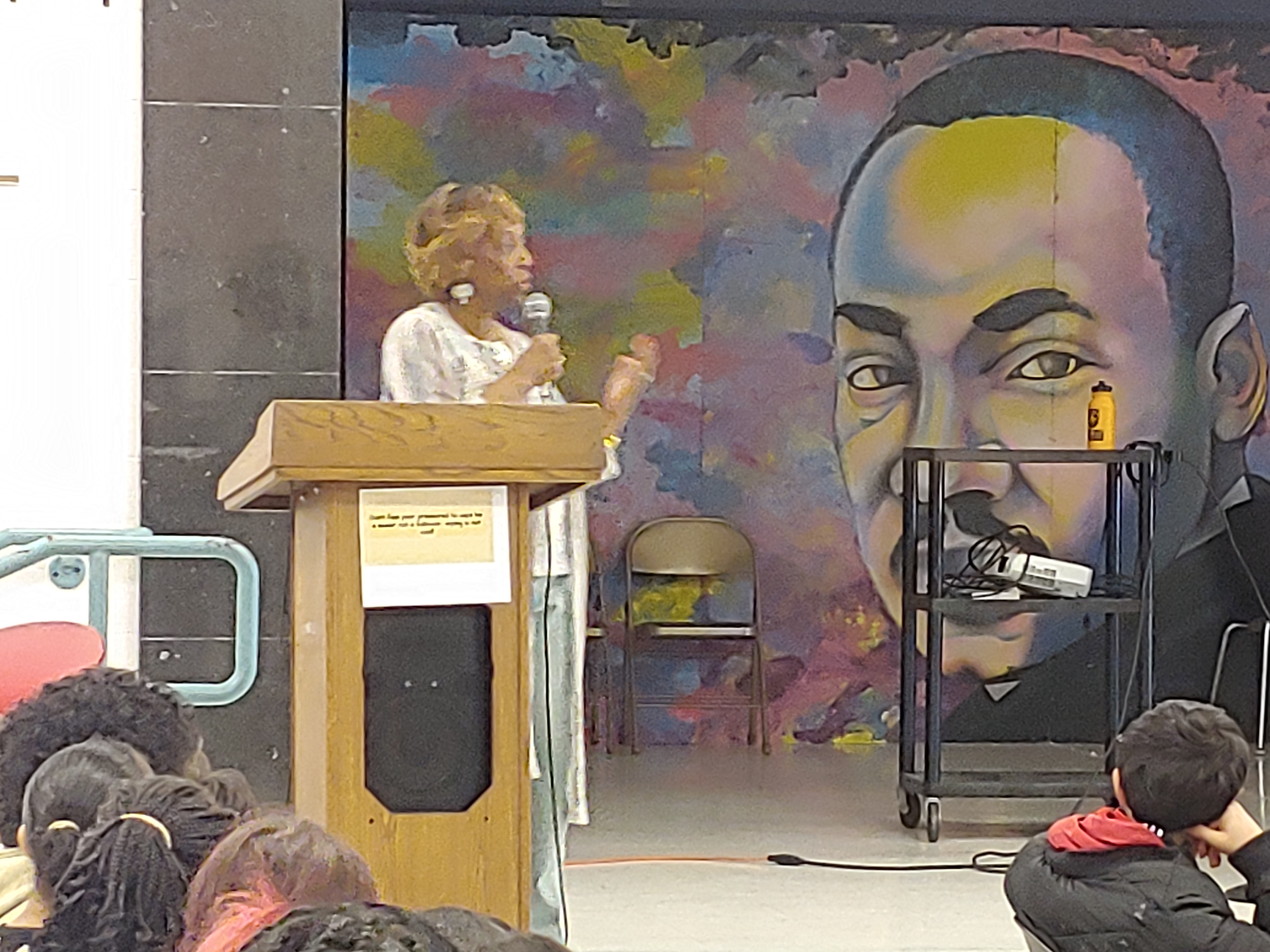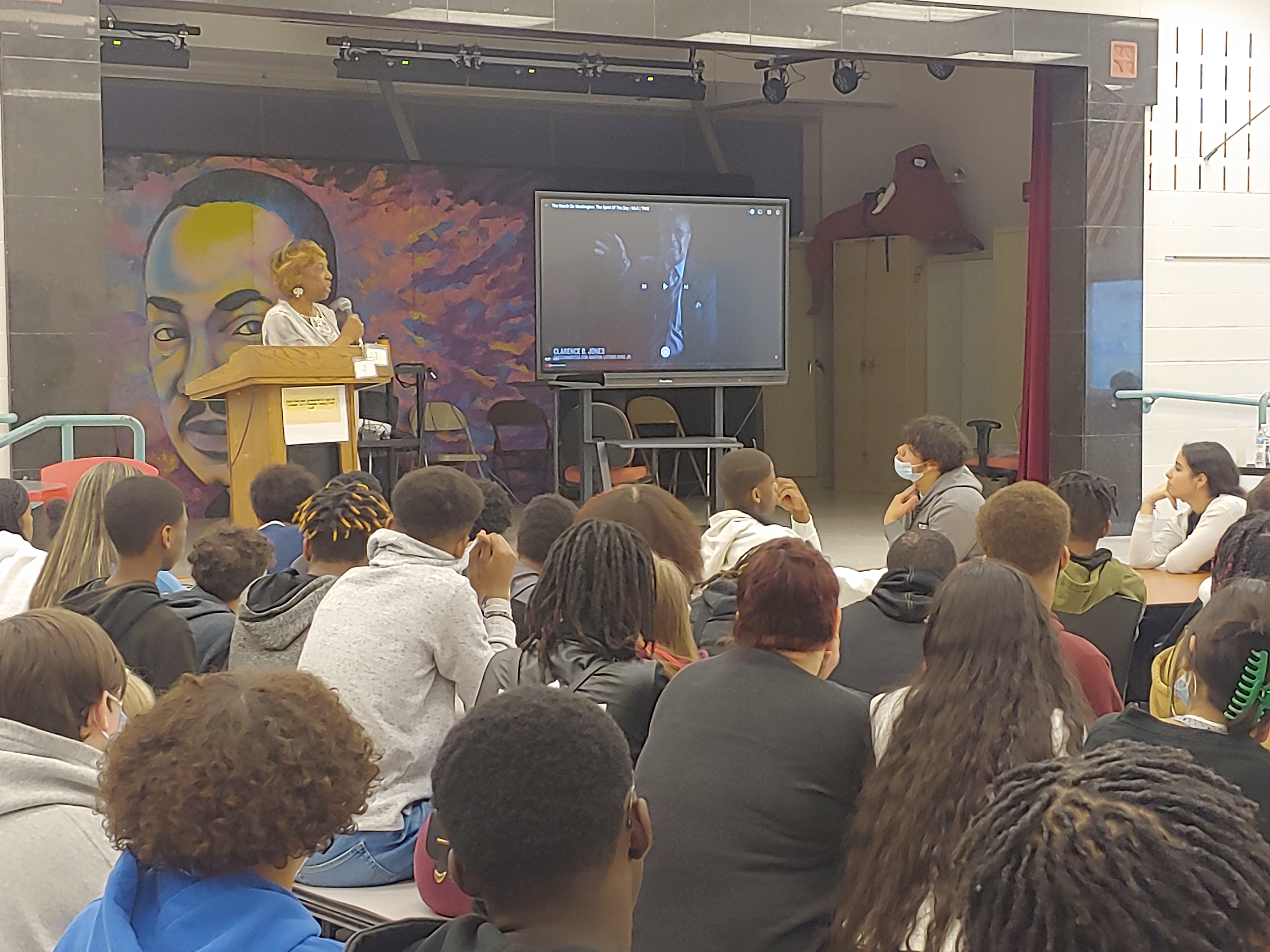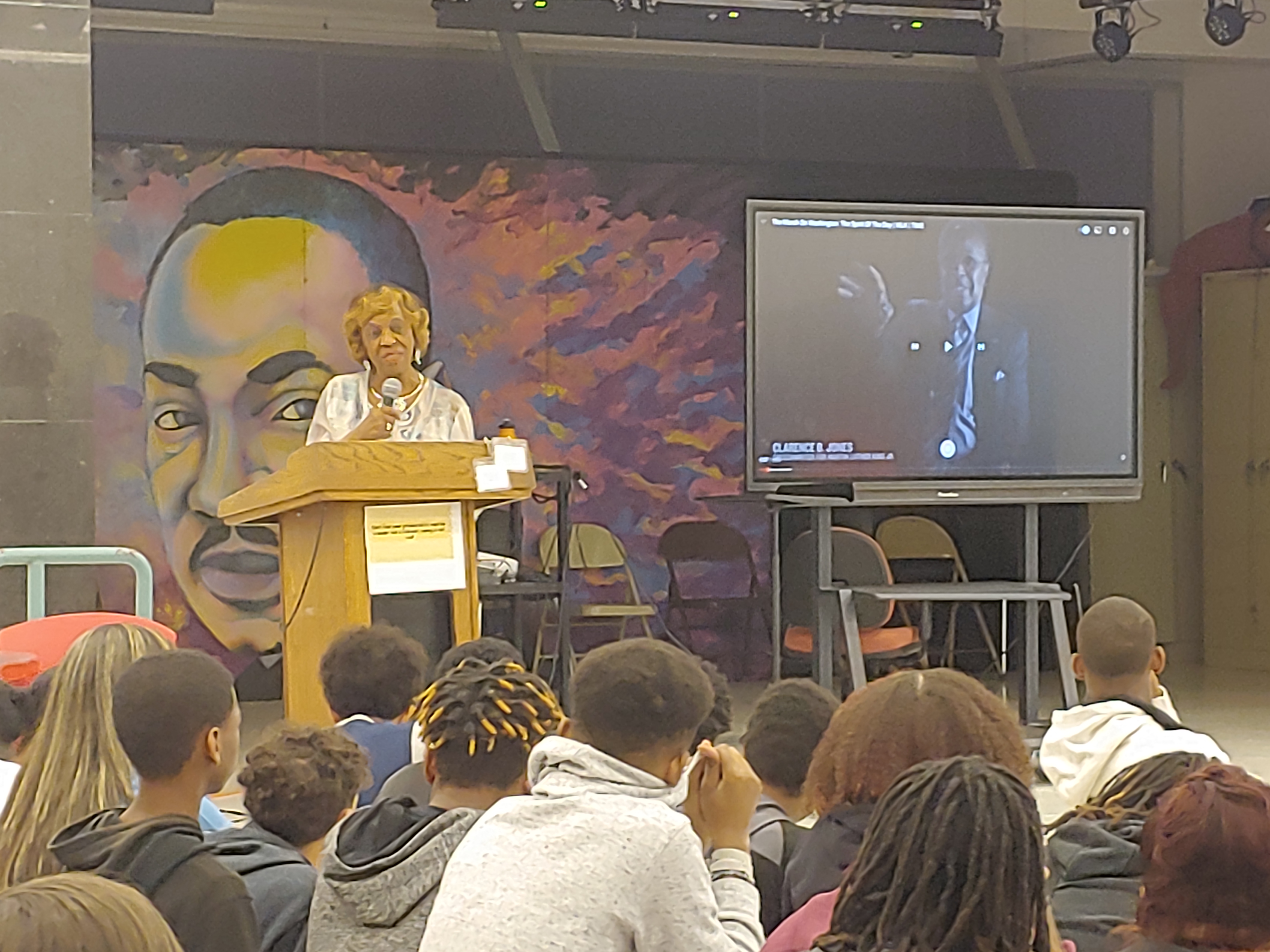 Mr. Bryant Youngblood visits 6th and 8th grades!
Welcome to the TinkerCad Home Design Competition!
We're excited to see your creativity and innovative ideas for designing a beautiful home using TinkerCad. Here are some guidelines for the competition:
Eligibility: The competition is open to all 6th, 7th and 8th graders who have access to TinkerCad and are interested in home design.
Submission Requirements: Participants must design a complete home using TinkerCad.
Originality: Participants must create an original design that has not been submitted in any previous competitions. Any copyrighted or trademarked material used in the design must be properly attributed.
Evaluation Criteria: The designs will be judged based on the following criteria:
a. Creativity and originality
b. Aesthetics and visual appeal
c. Use of TinkerCad tools and features
d. Home functionality (doors,windows)
Deadline: The deadline for submitting the design is May 12. Late submissions will not be accepted.
Prizes: The top two designs will win cash prizes of $100. And the top 5 will win a trip to The Ohio State University in Columbus, OH.
We hope these guidelines provide you with the necessary information for submitting your entry in the TinkerCad Home Design Competition. Best of luck!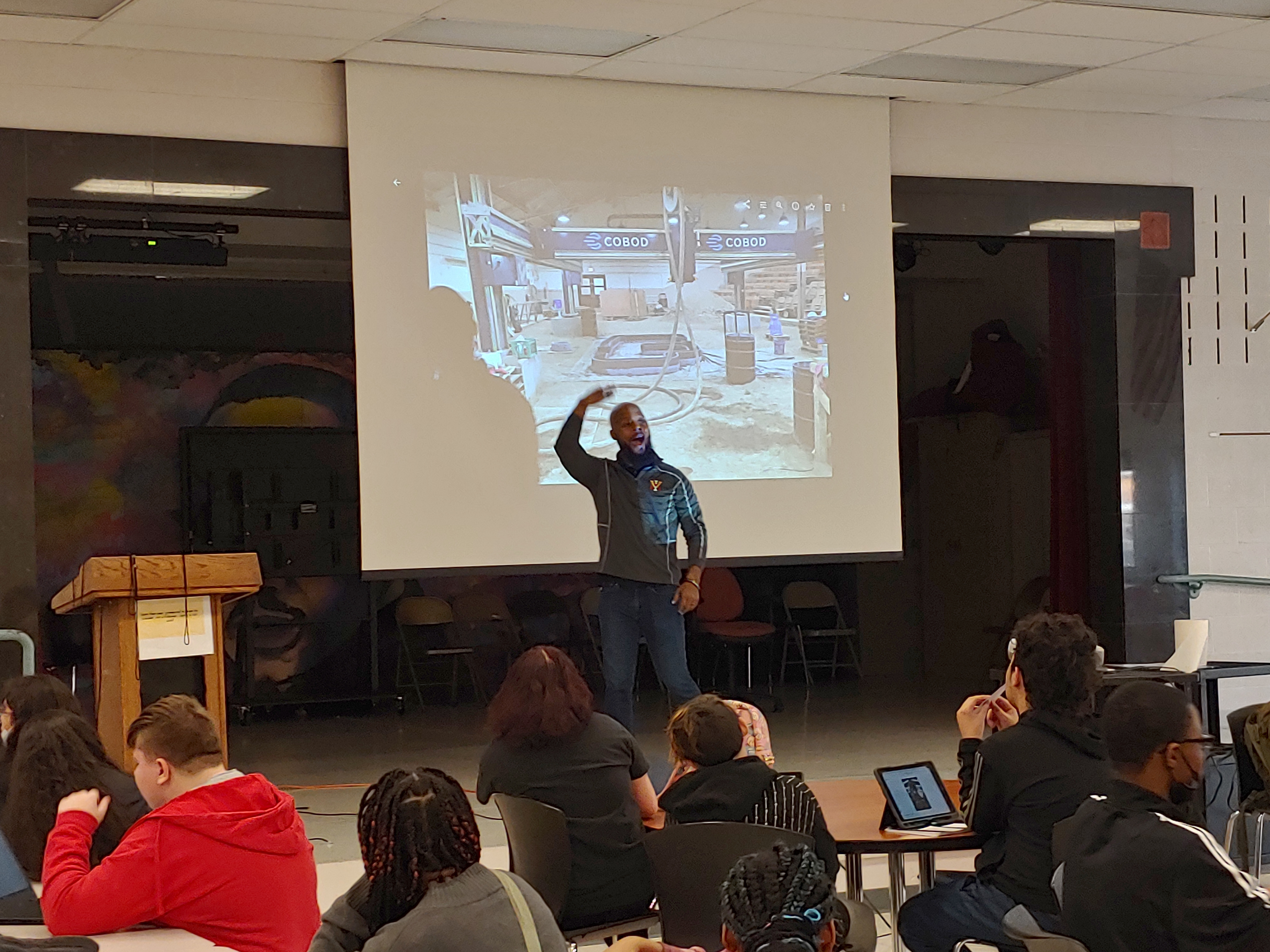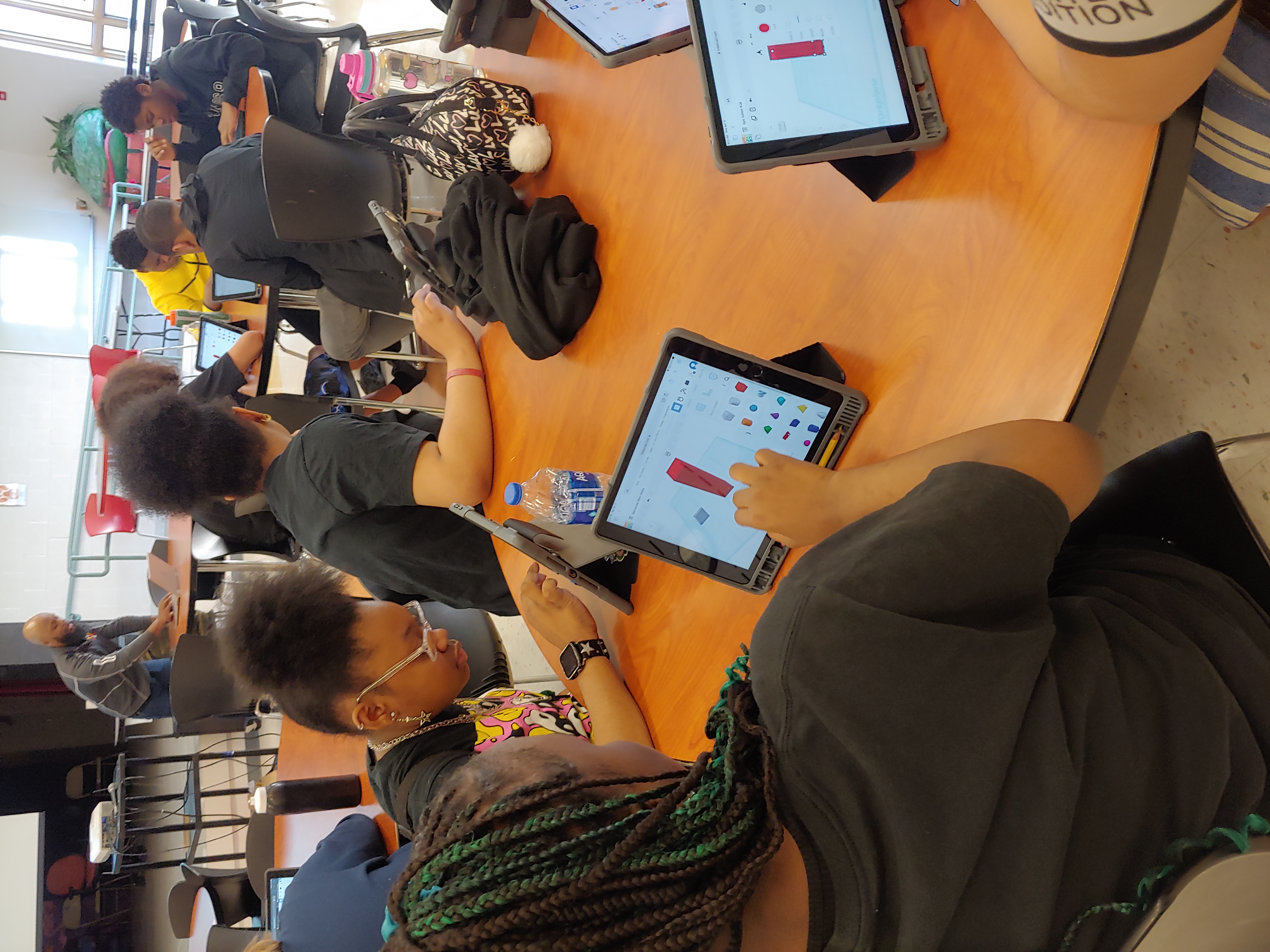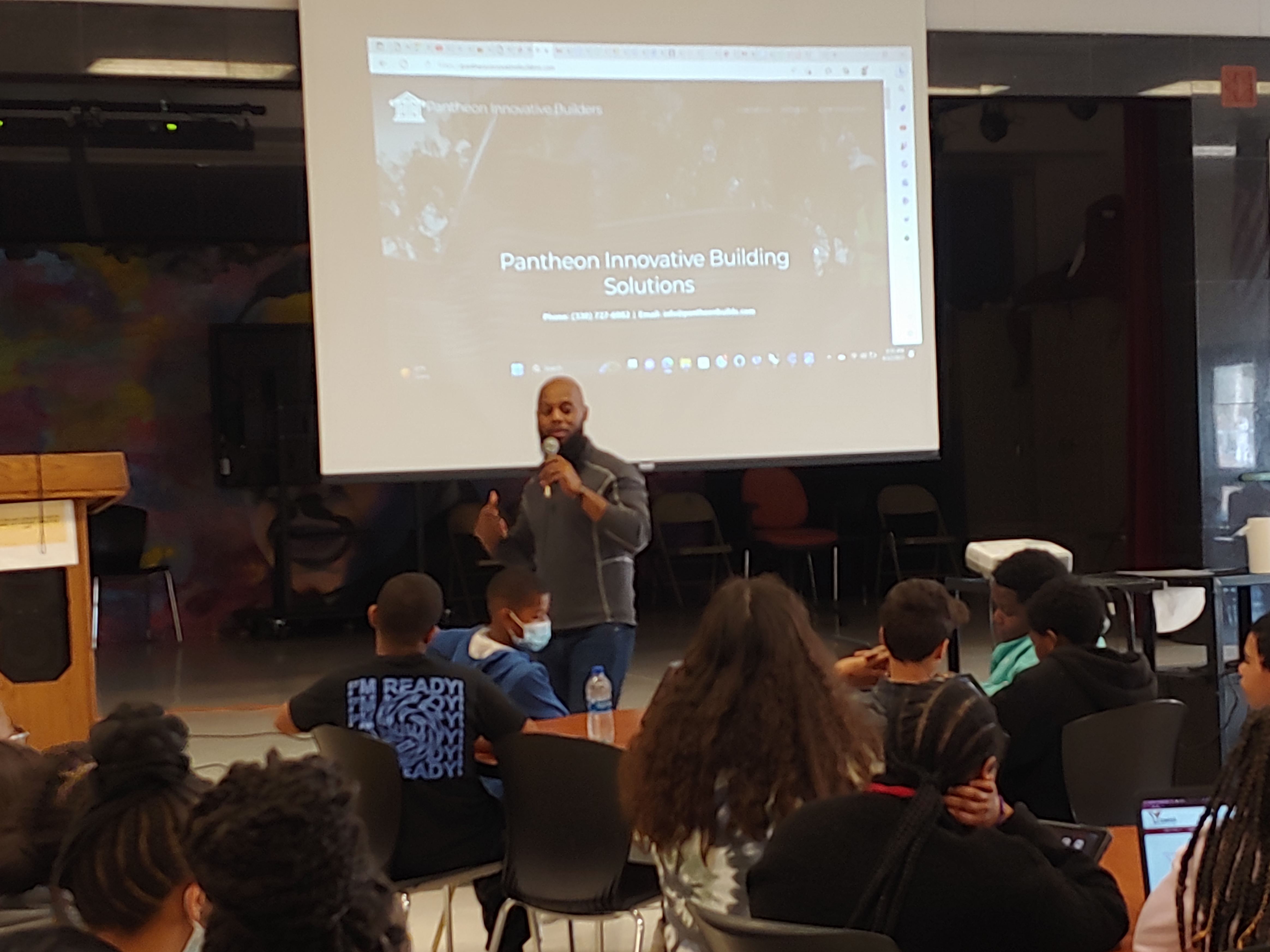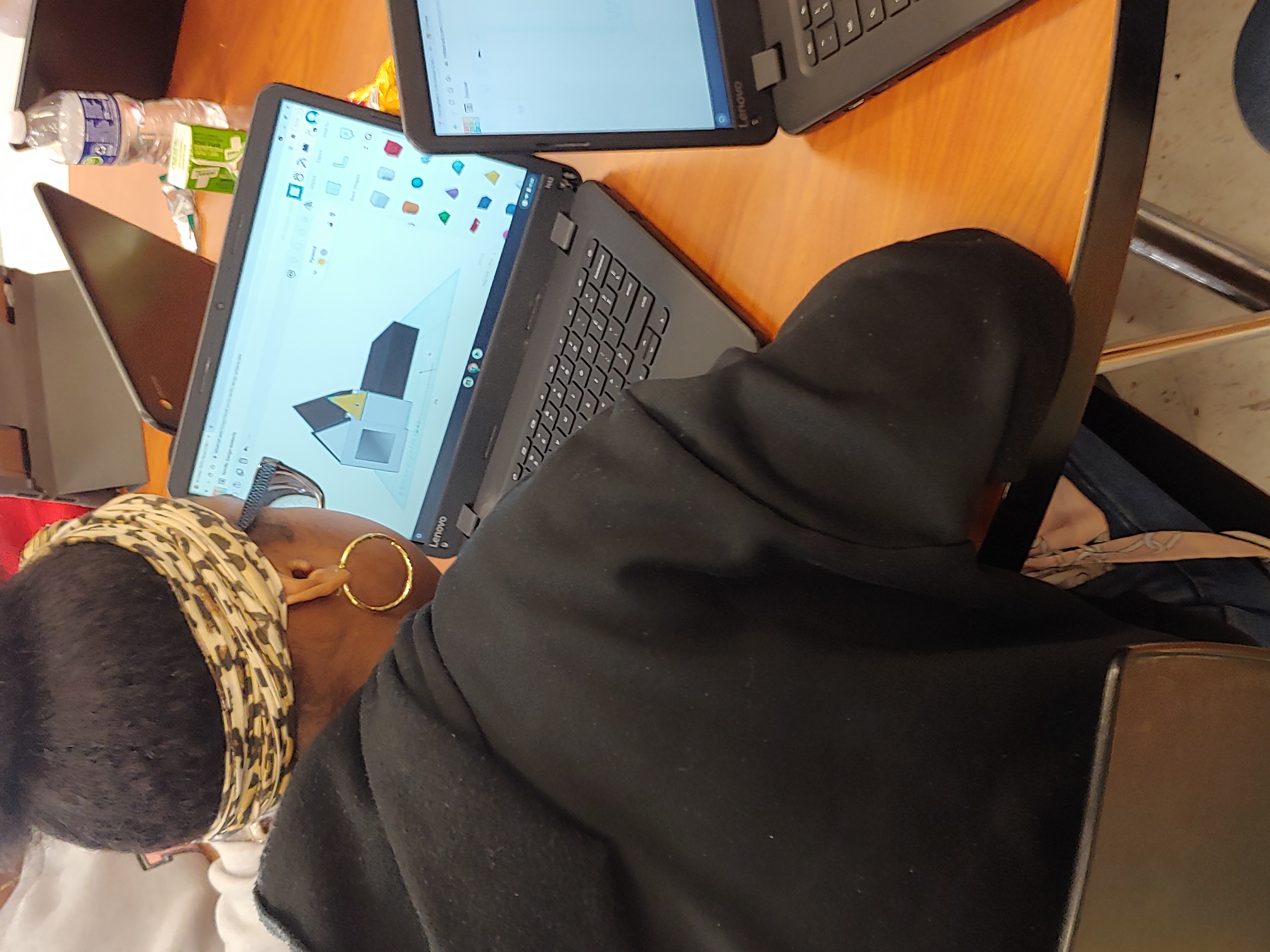 Right to Read-Pie a Teacher in the Face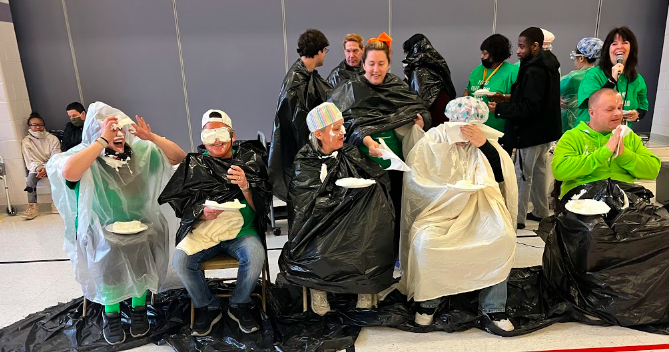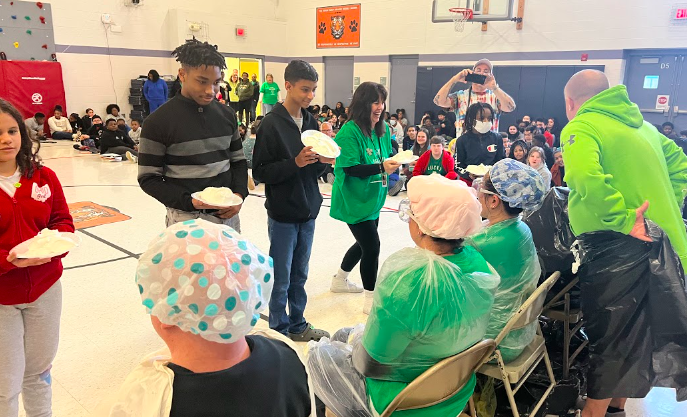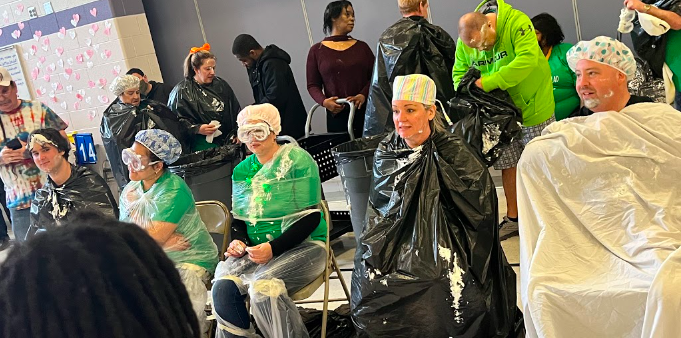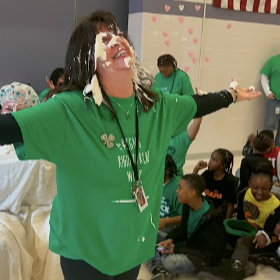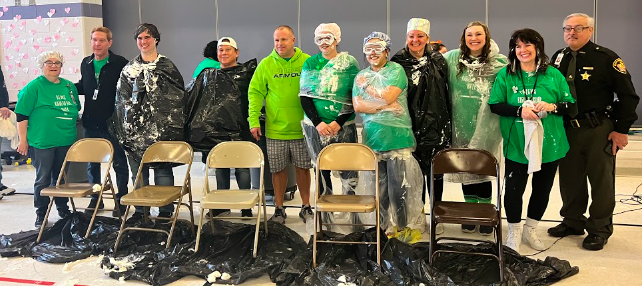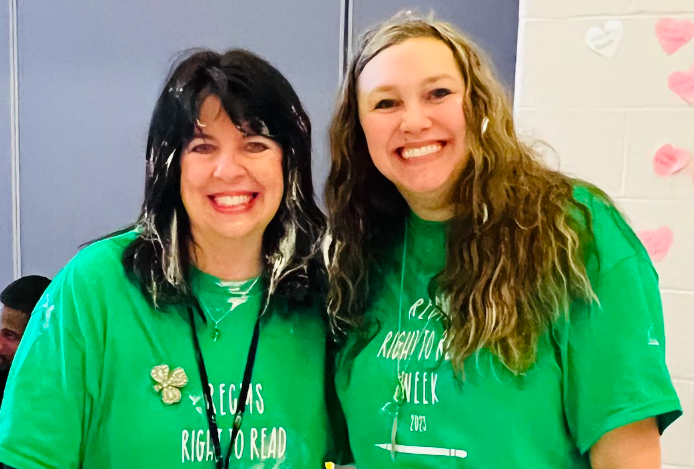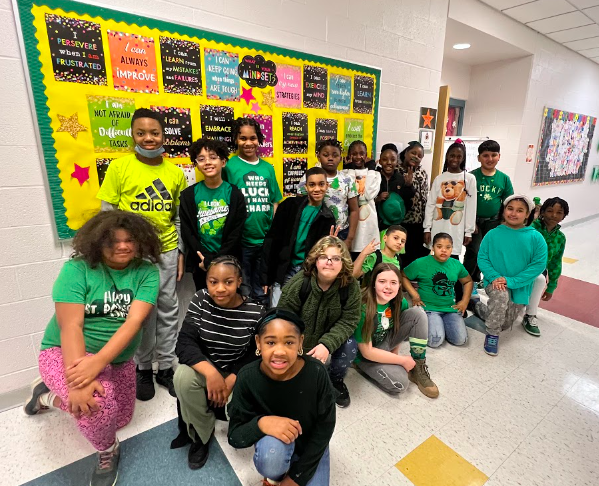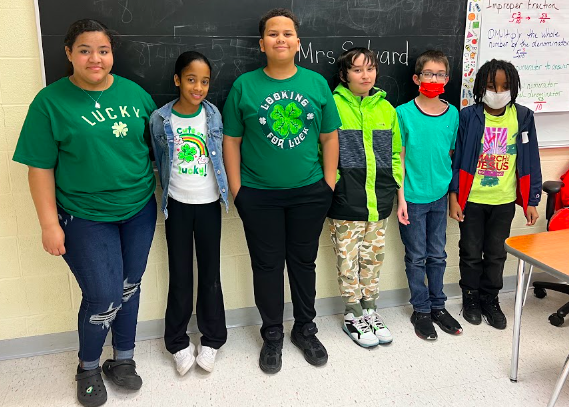 Right to Read Week-Get Wild About Reading!
The scholars dressed up as their favorite animal to get " Wild About Reading."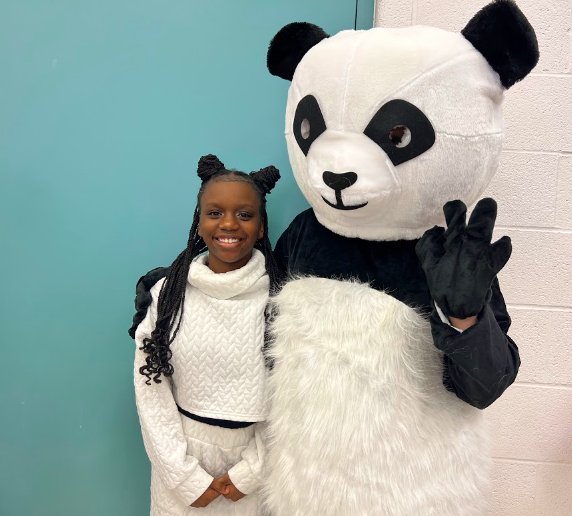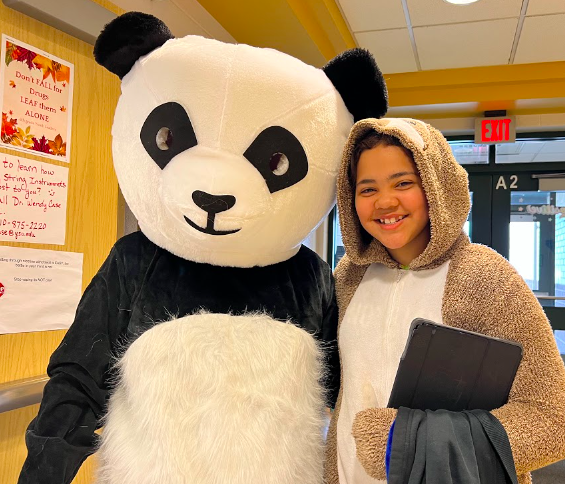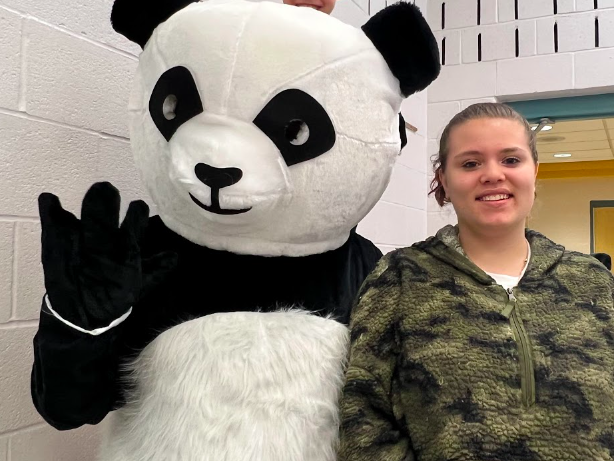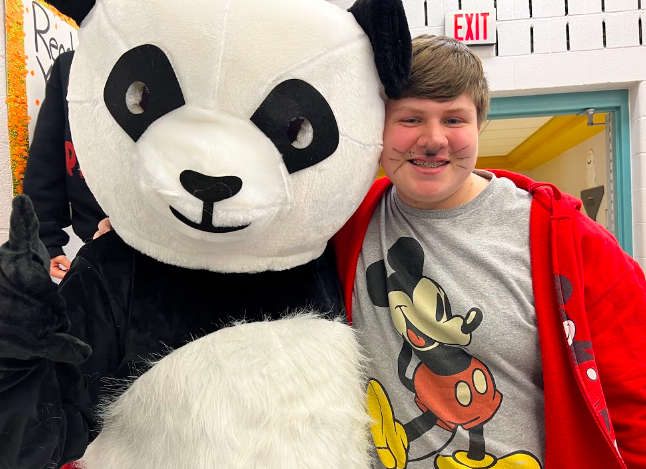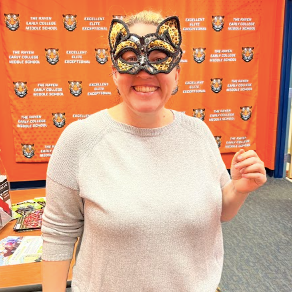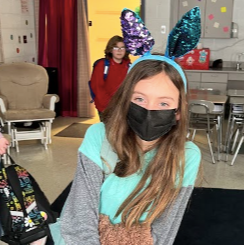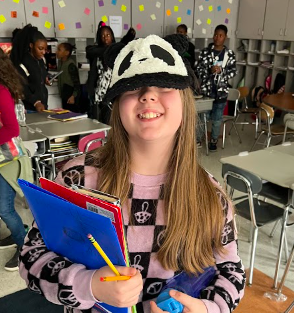 Outback Ray came to visit. He talked about the importance of literacy in his career and how it's important to be educated when handling wild animals. The kids enjoyed his interactive show and the animal encounters.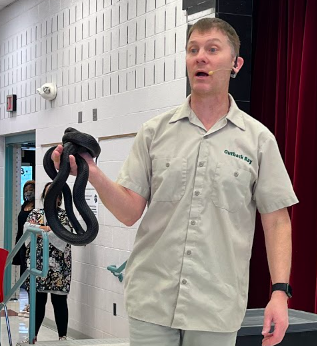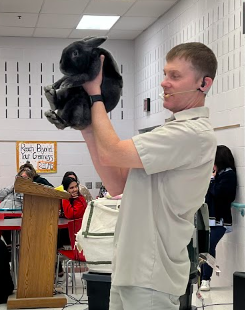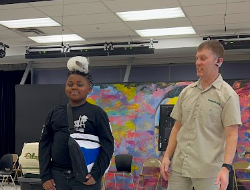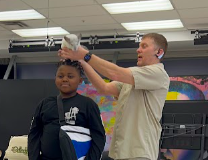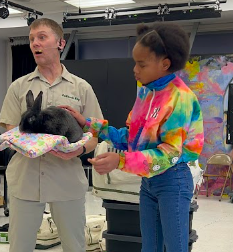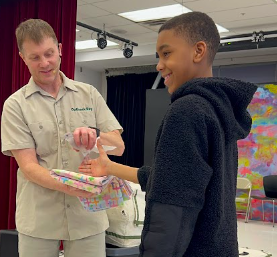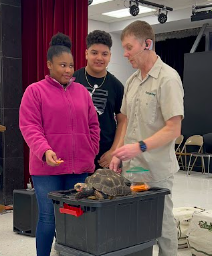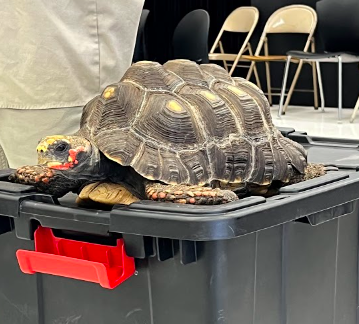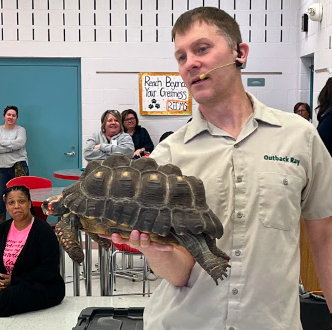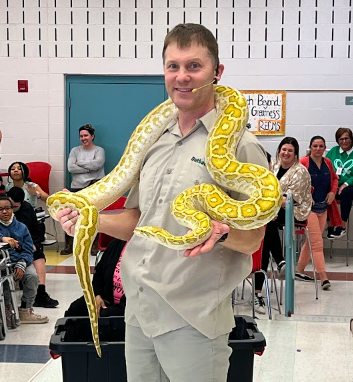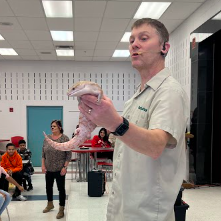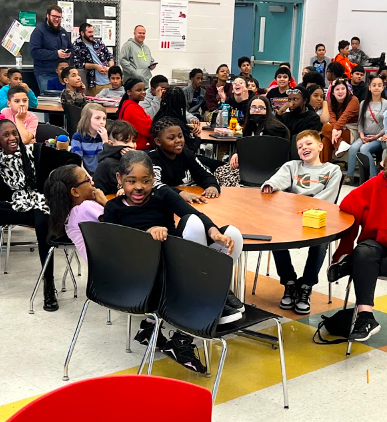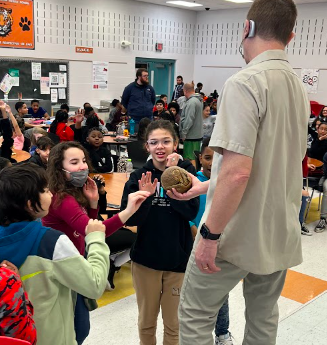 Right to Read-Guest readers with Gary Rivers
We also had a very special video message from the CW's Nancy Drew STARS, Riley Smith and Maddison Jaizani. They addressed our school and talked about the importance of literacy. They explained how they use it in their daily lives and in their own careers.
Here is the link to watch the special celebrity video message.
A HUGE shoutout to Riley Smith and Maddison Jaizani for taking the time to make a video for RECMS. We are so thankful for their support and continued encouragement for our school to be successful.
Mariah as a guest on the Mix 98.9 show.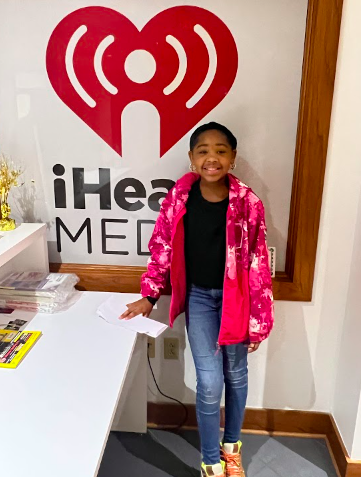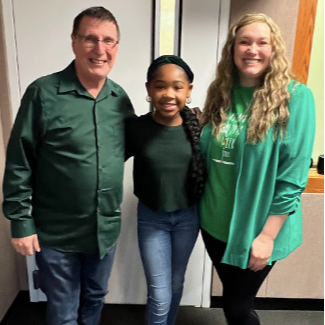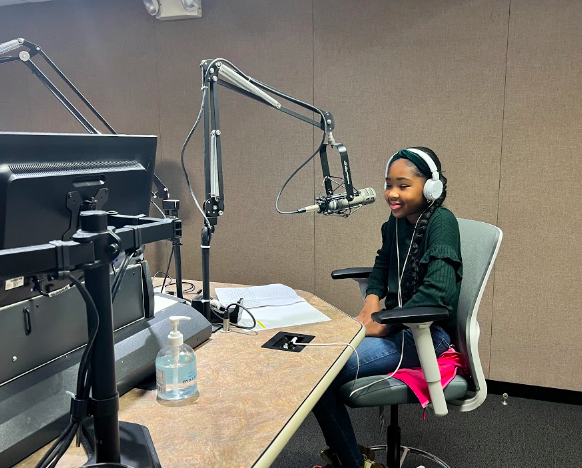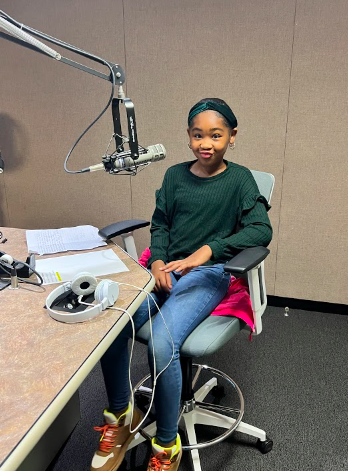 Colleen as a guest on the Mix 98.9 show.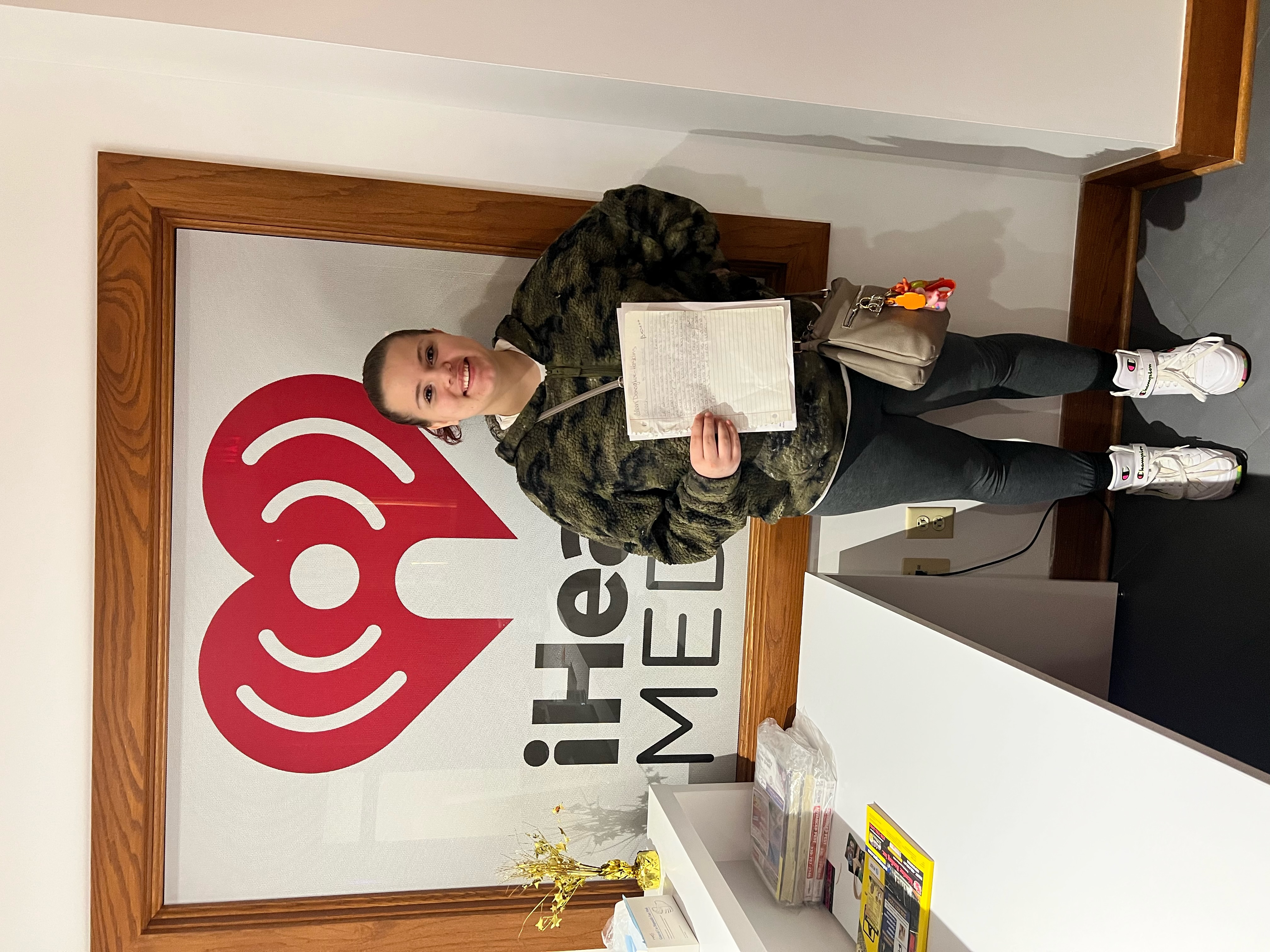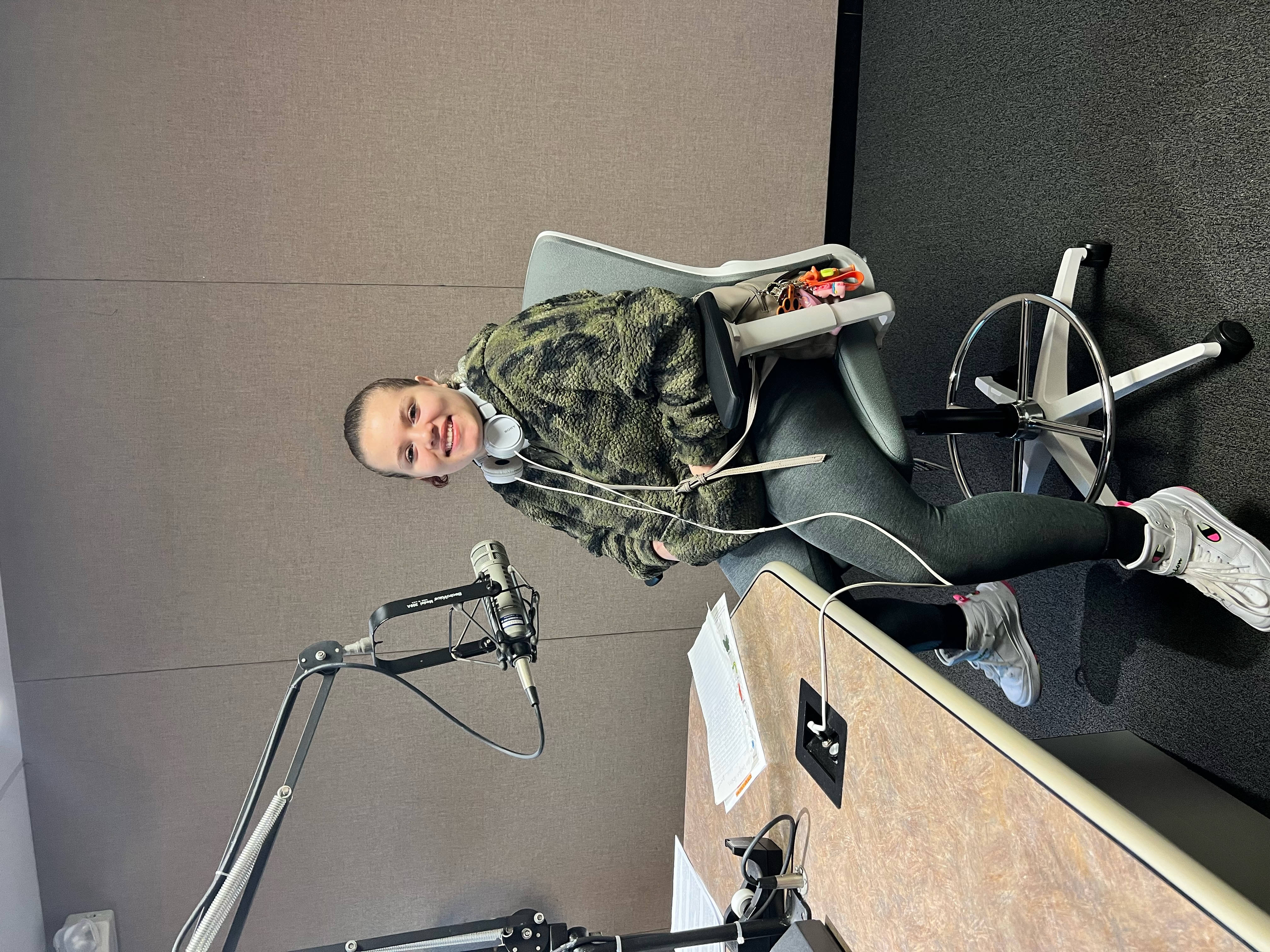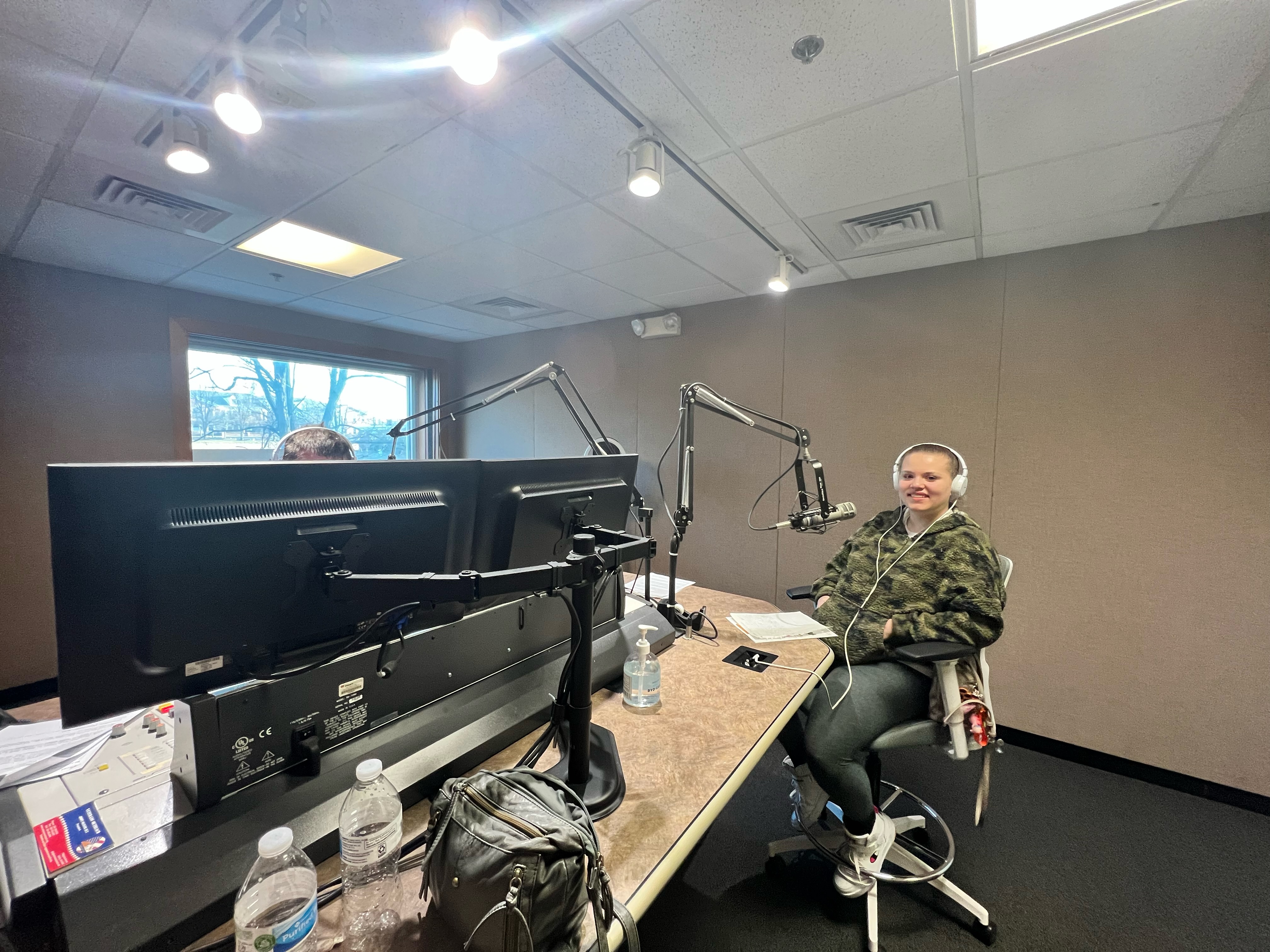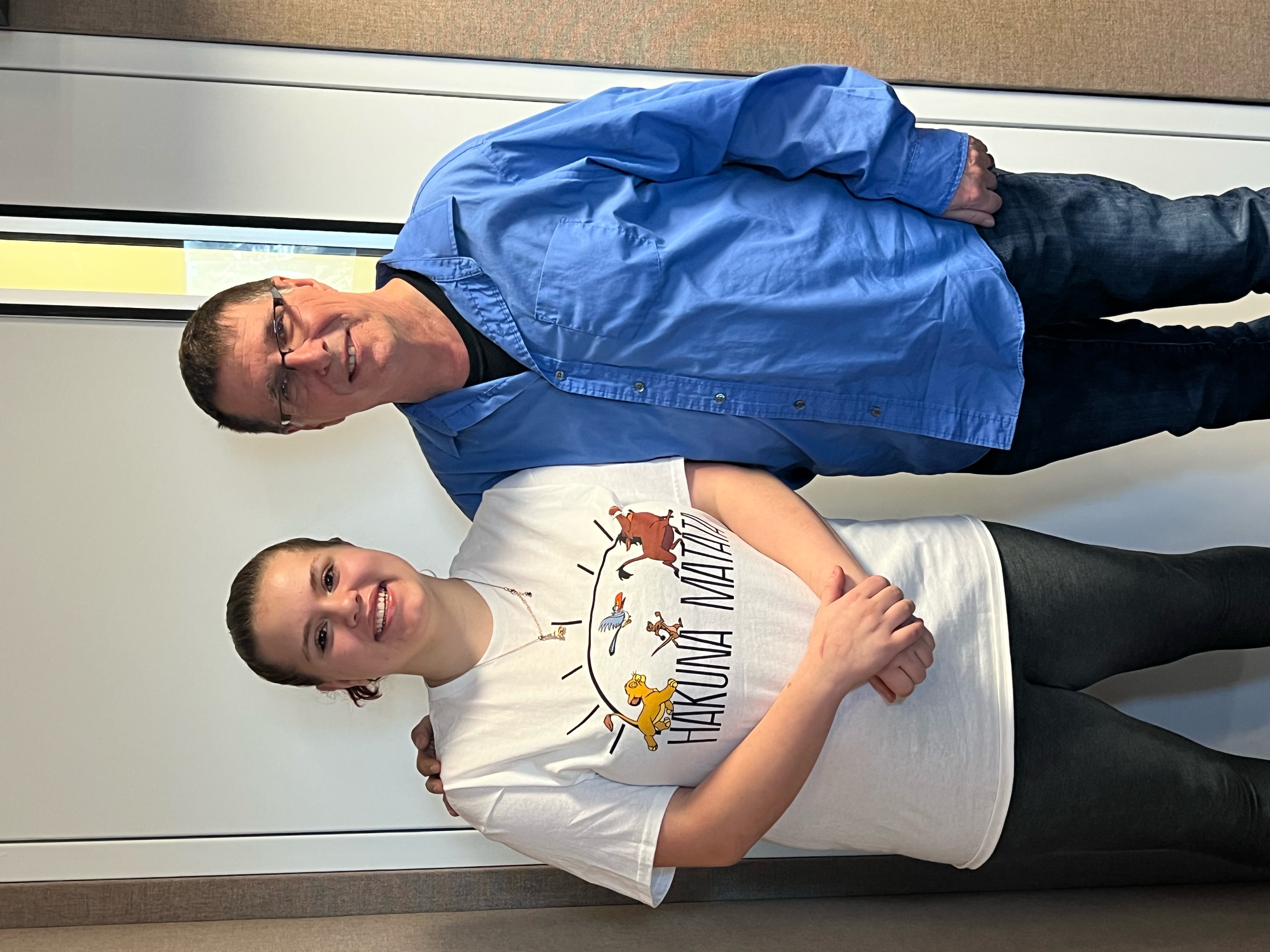 Arianna's day to be a guest on the Gary River's show.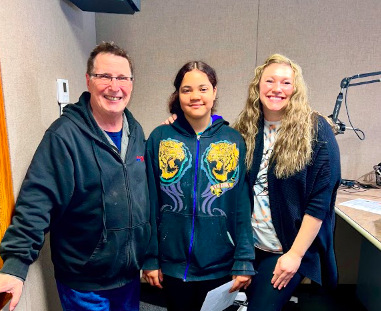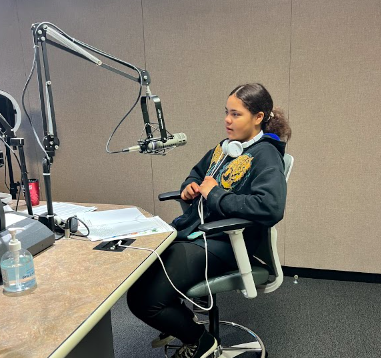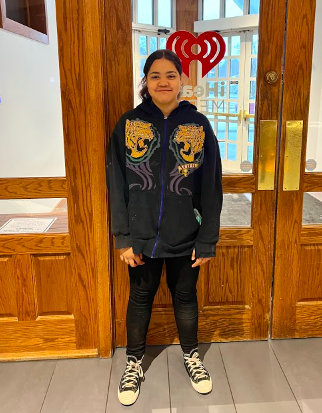 Nevaeh's day to be a guest on Mix 98.9 with Gary Rivers.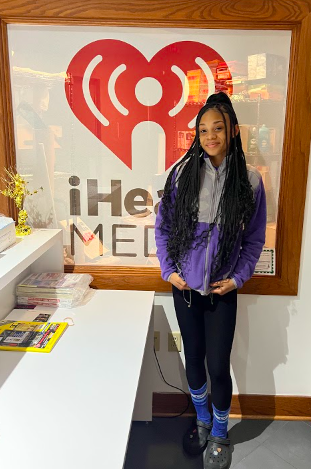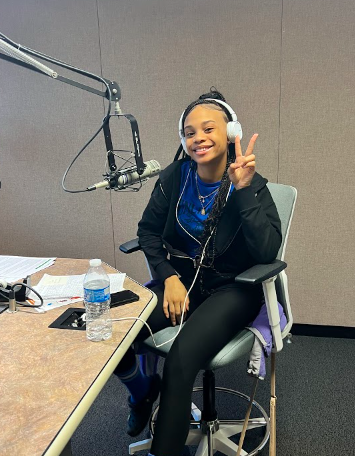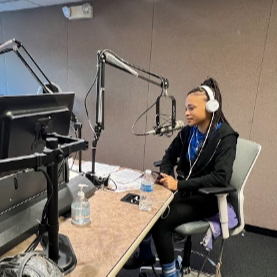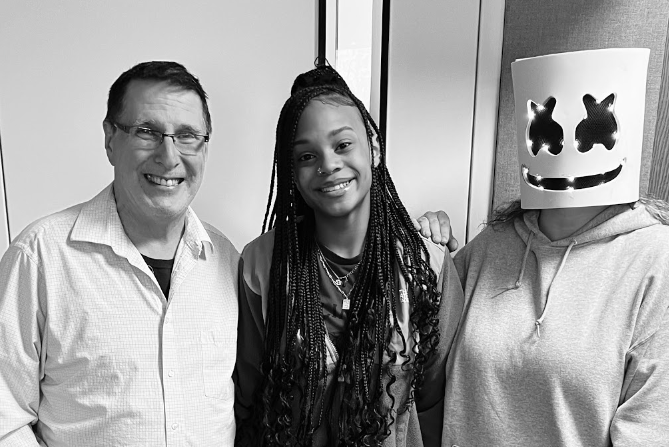 Kick-off Testing Rap Show for RECMS & Red Carpet Day!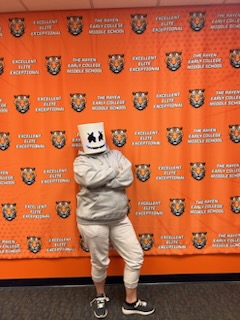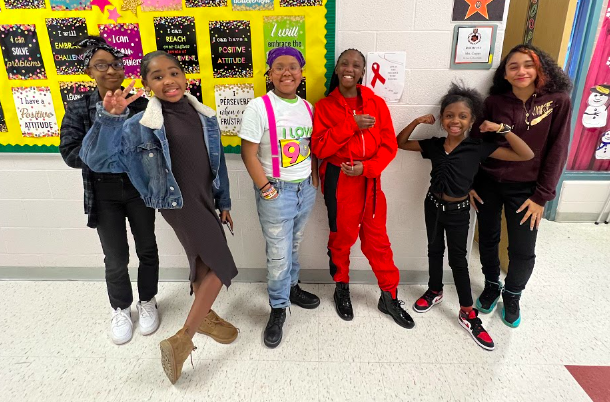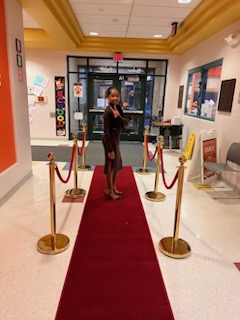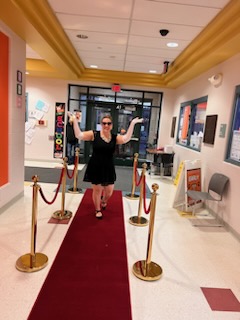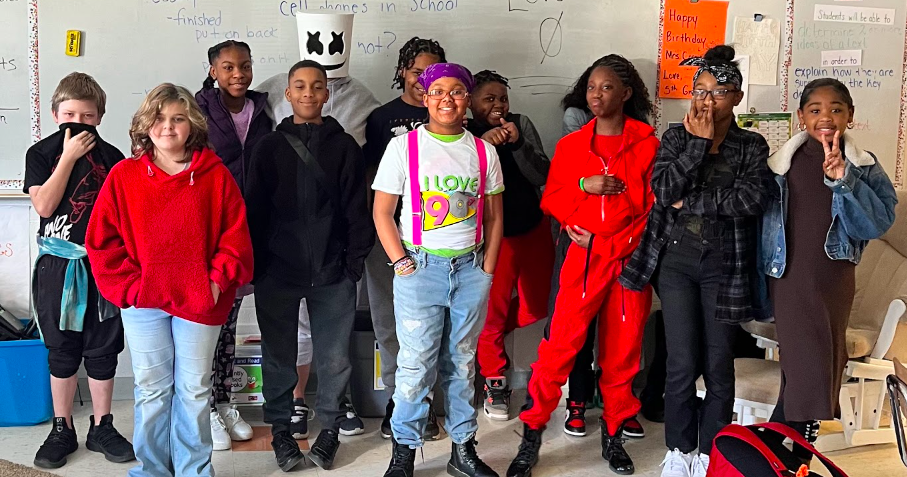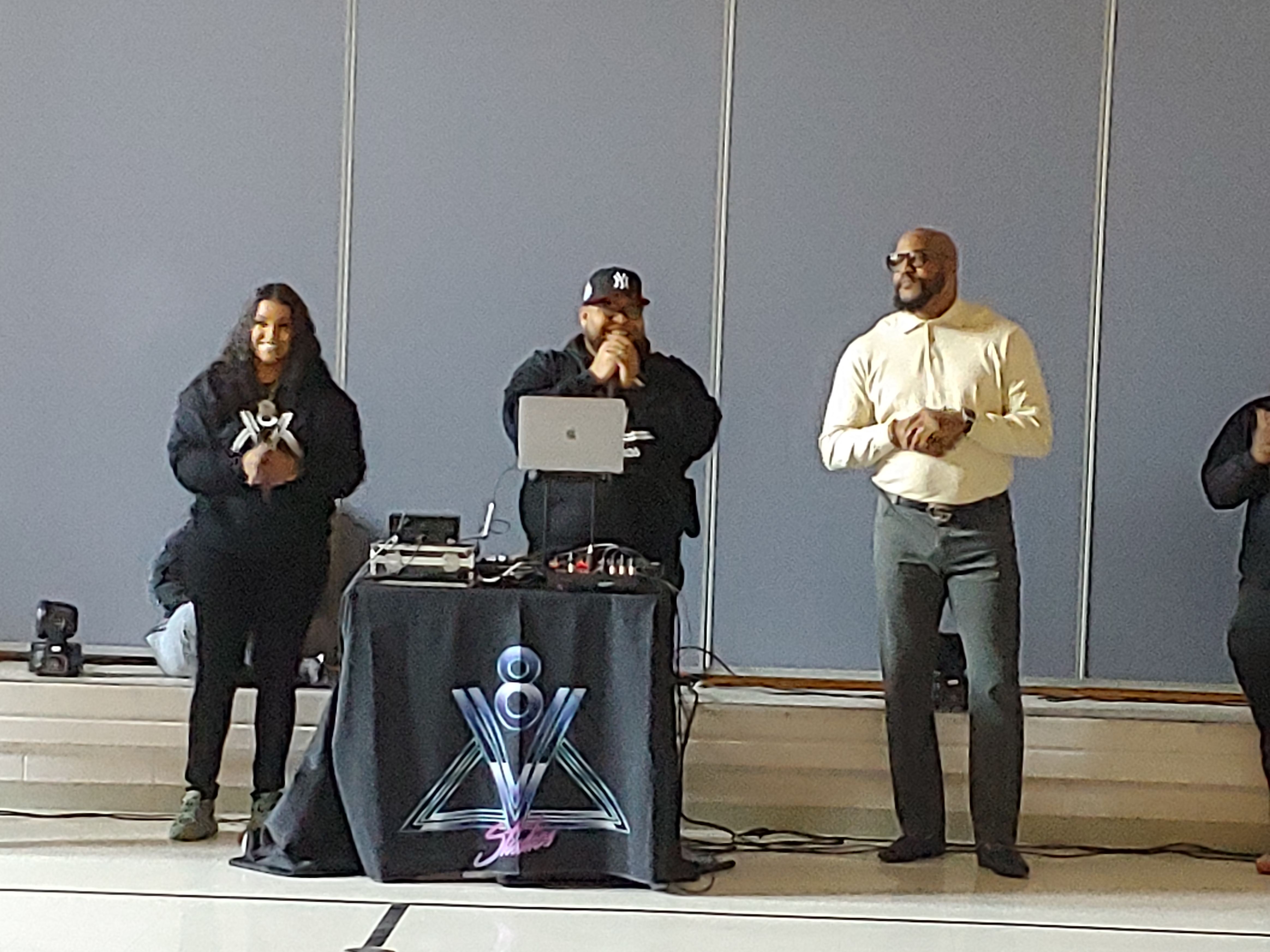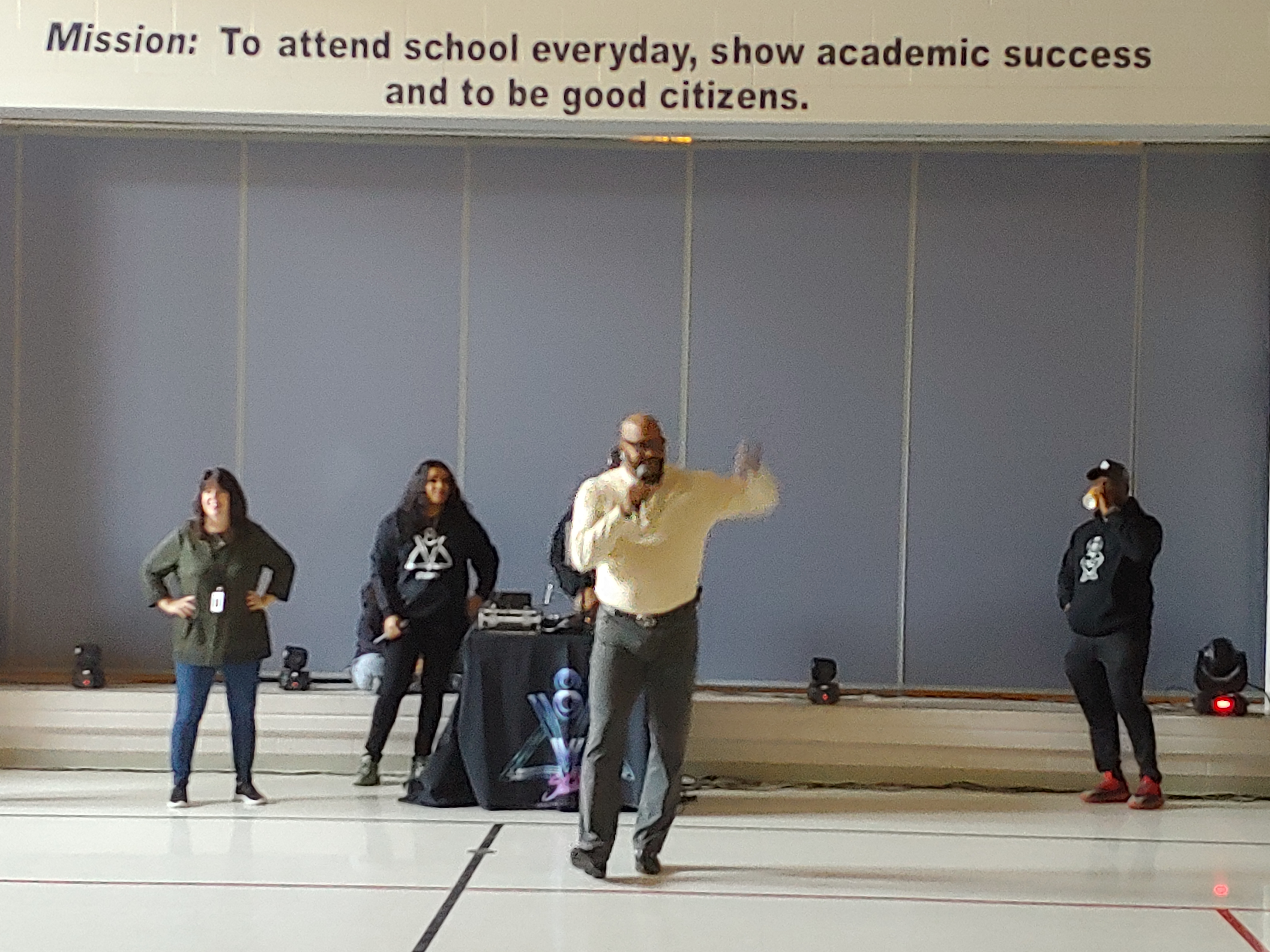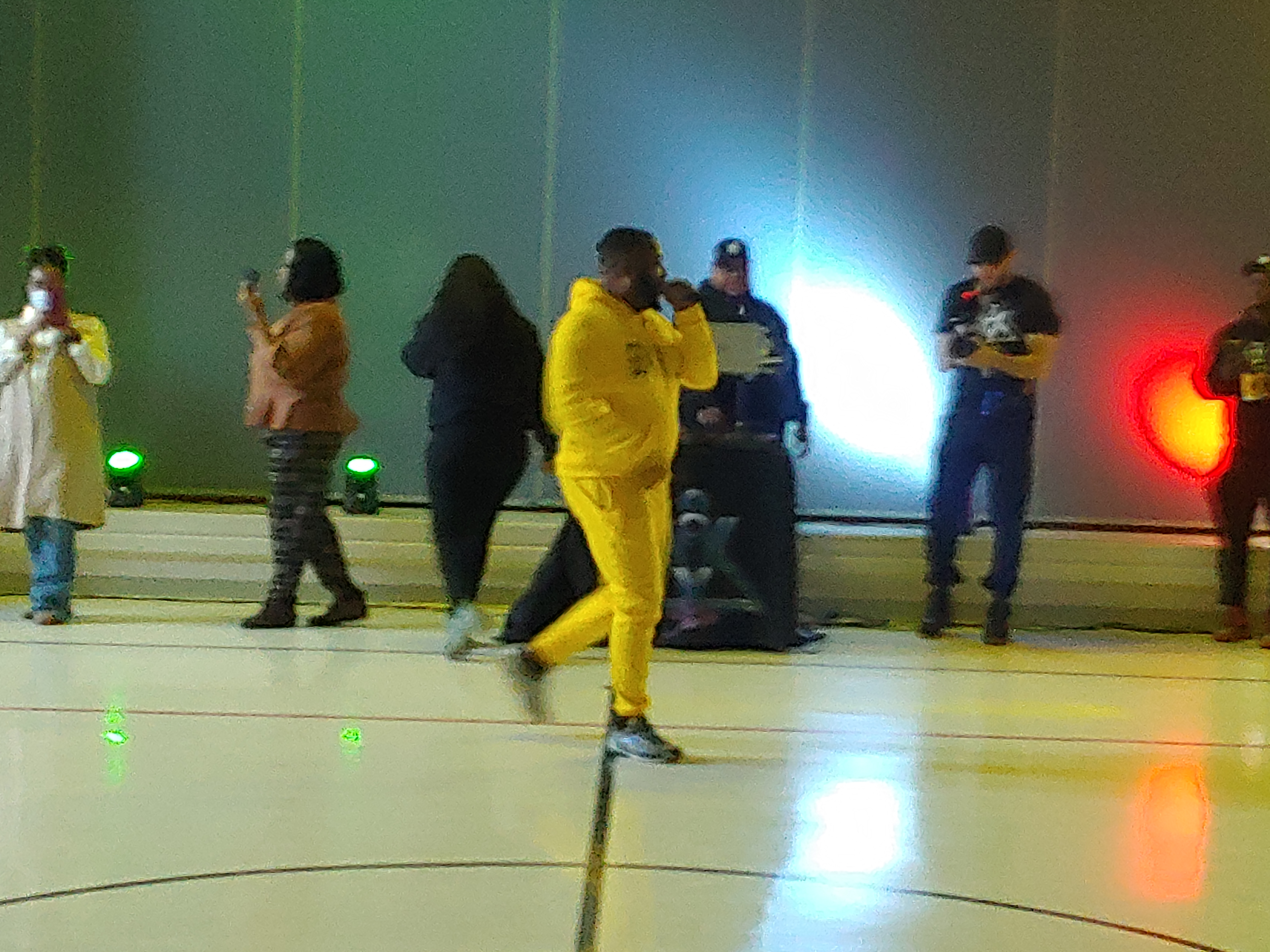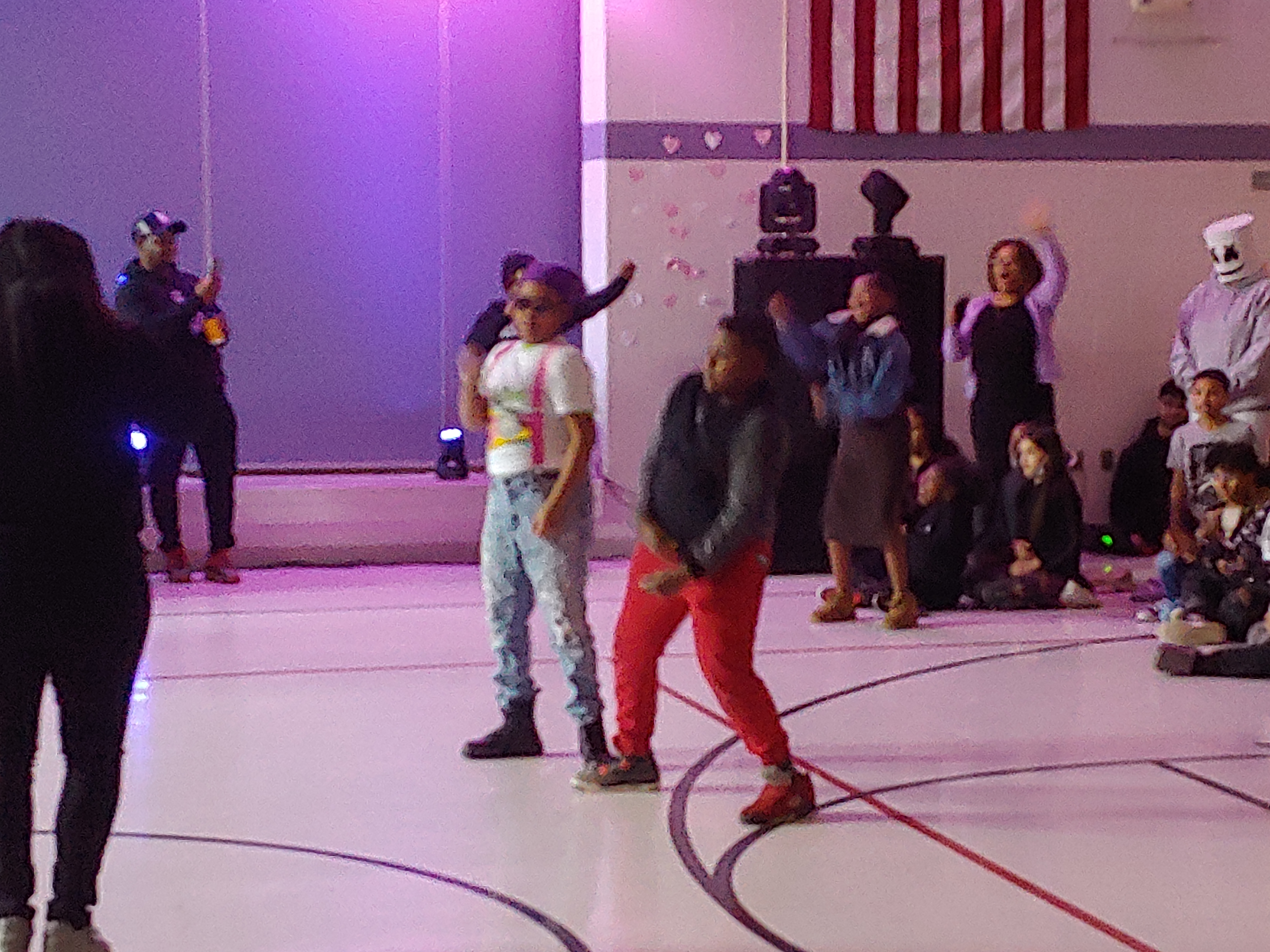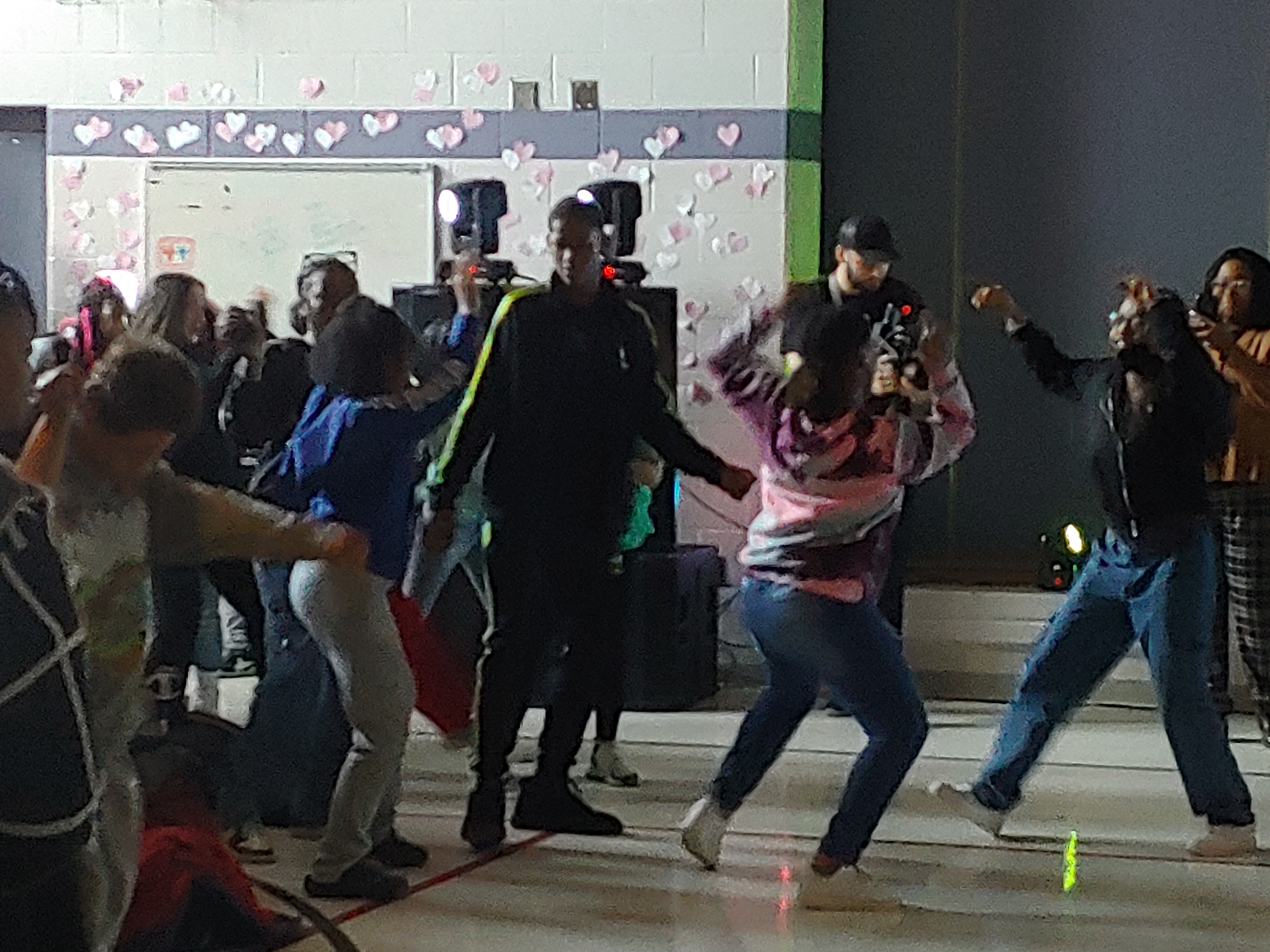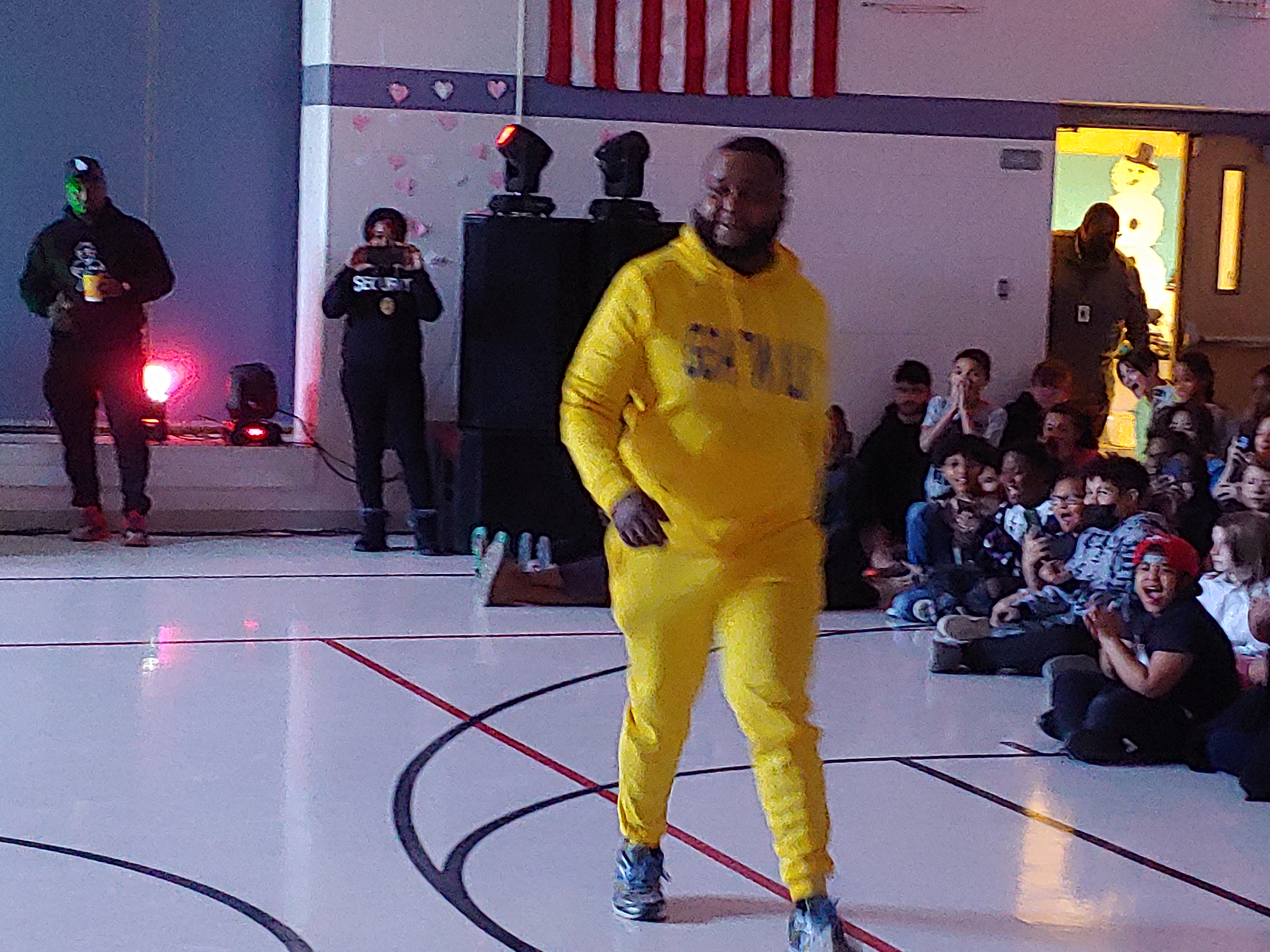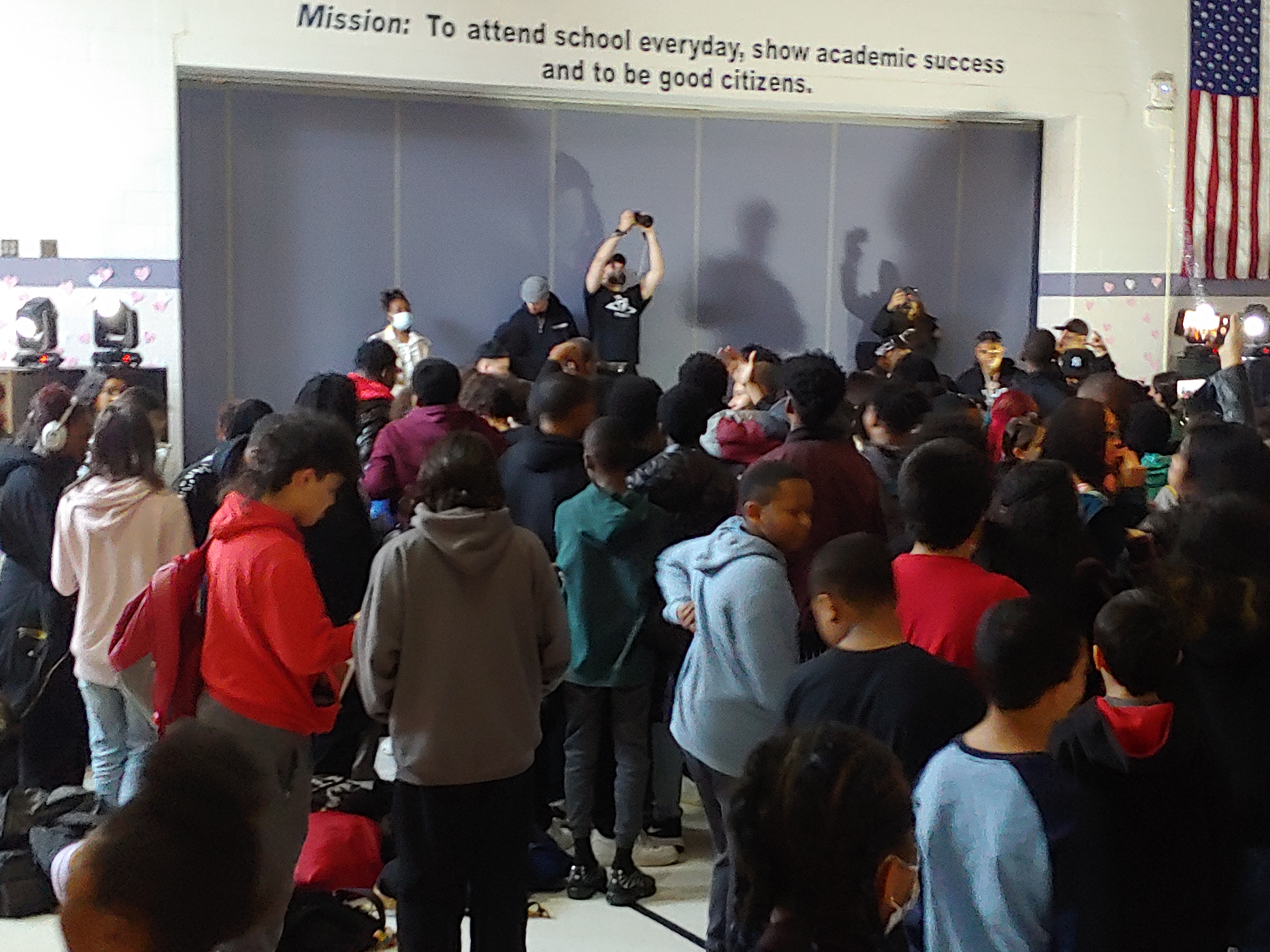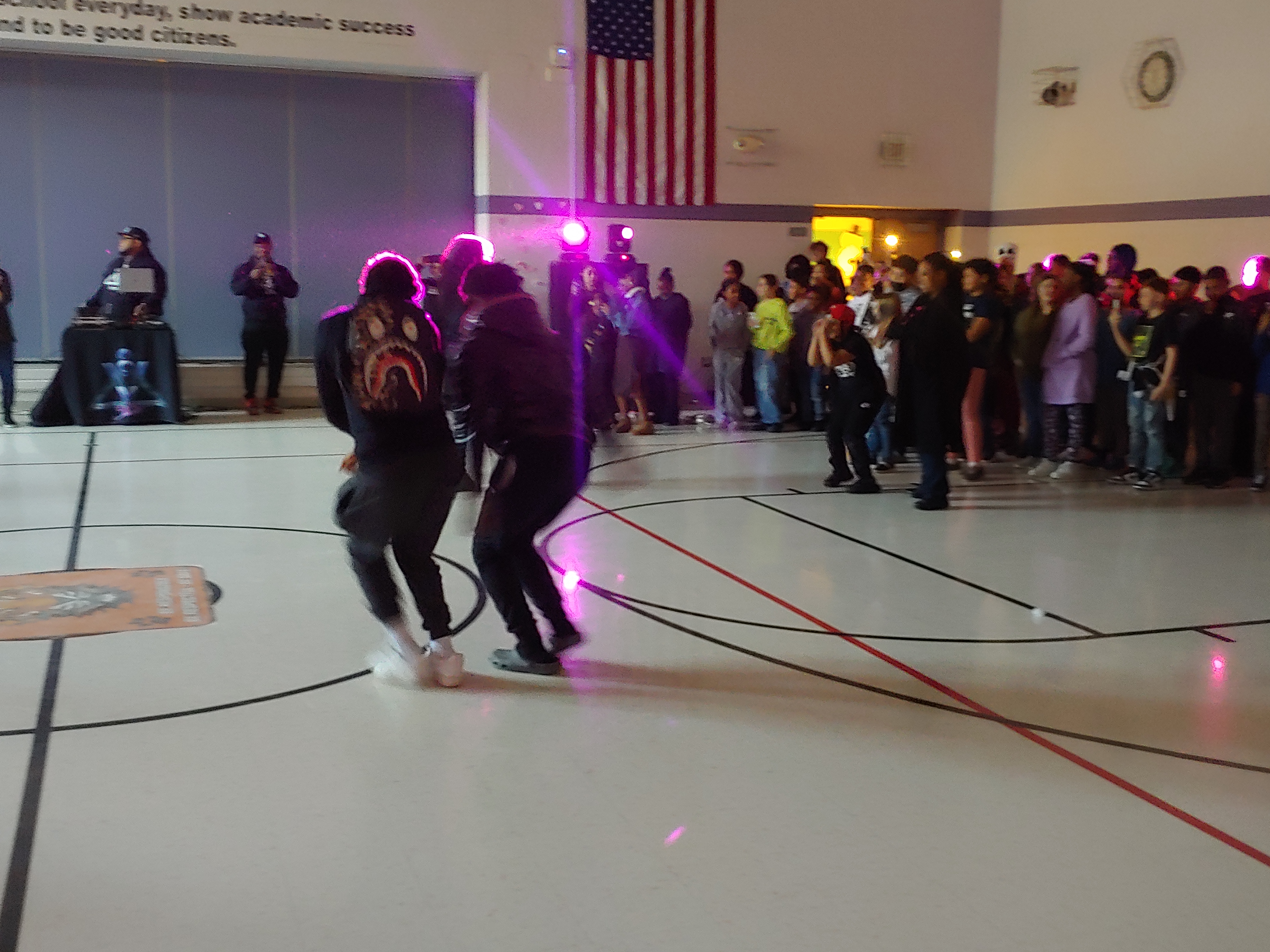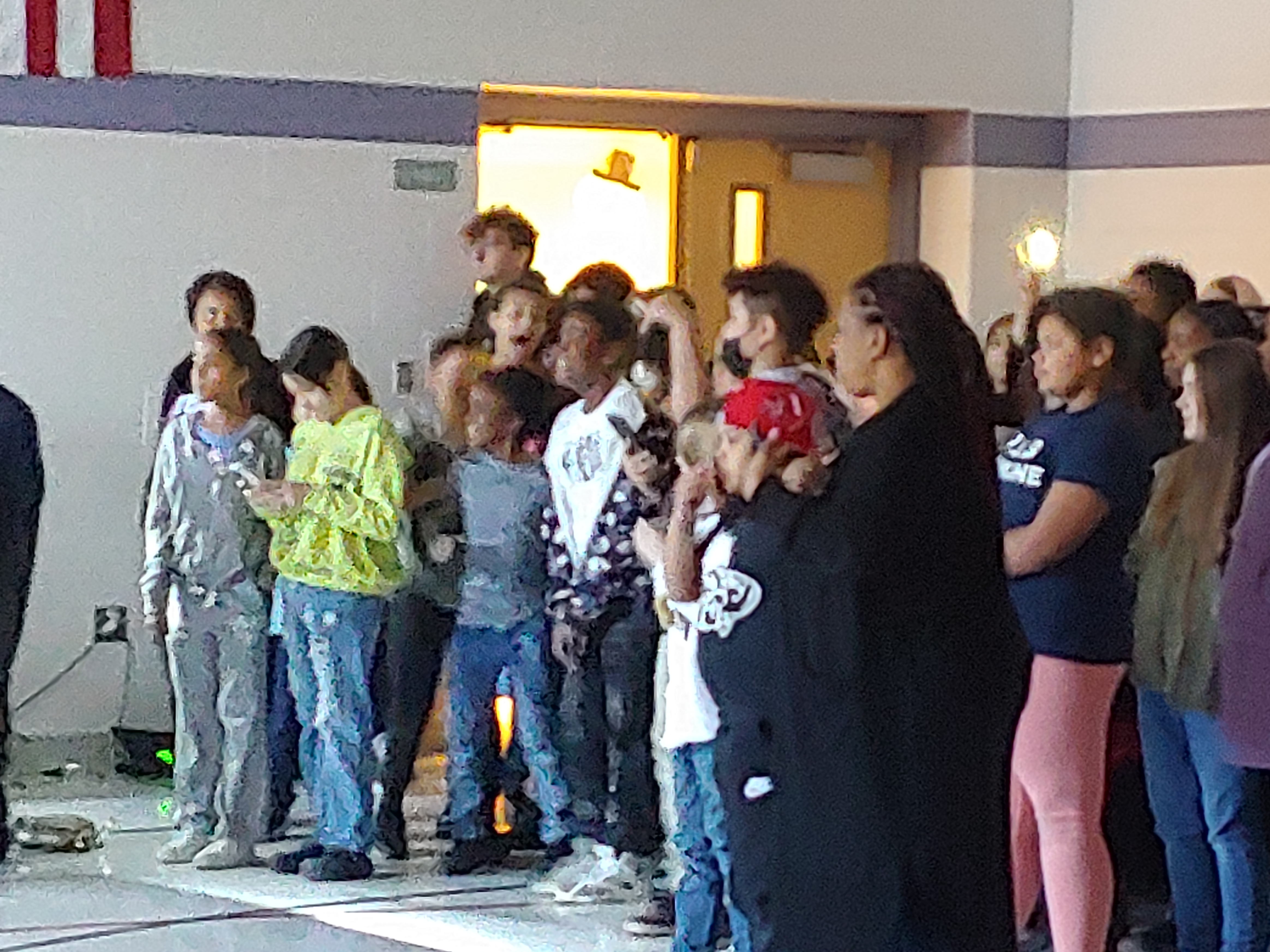 Right to Read Book Character Day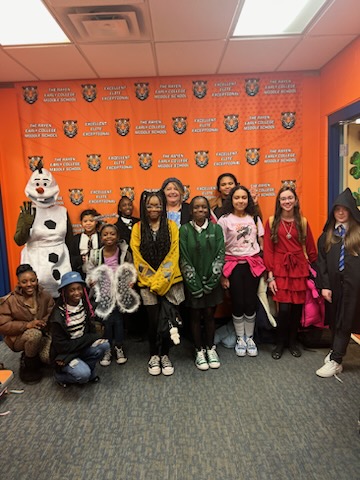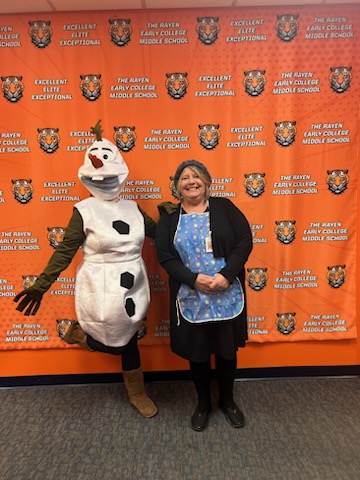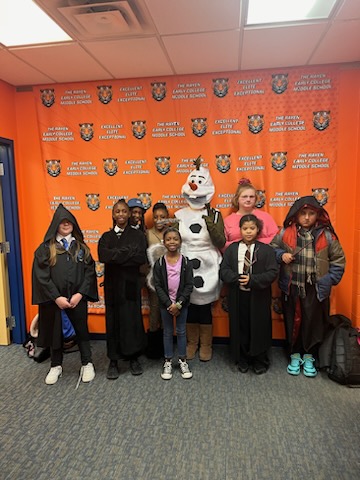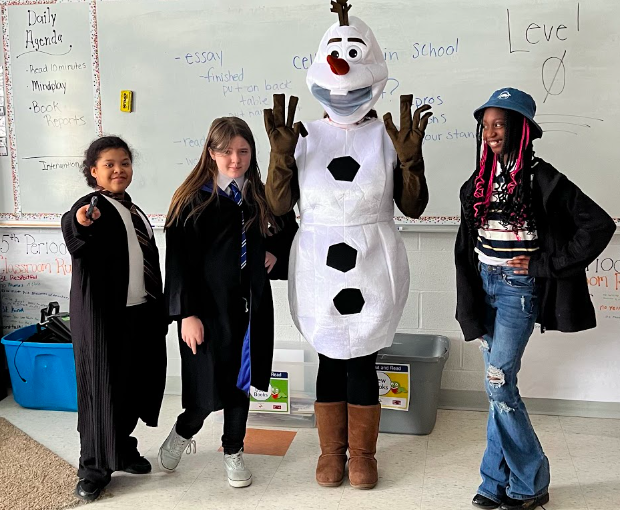 Right to Read Week Kick-Off!
Busy day for RECMS! Mrs. Cooper and fifth grade student Kayden were guests on Mix 98.9 with Gary Rivers to promote Right to Read Week at RECMS!

The Phantoms Hockey players visited the fifth grade classes and some students were lucky enough to win free tickets to an upcoming hockey game. Shane and Chase talked to the kids about the importance of literacy in the classroom as well as in hockey, college, and future careers.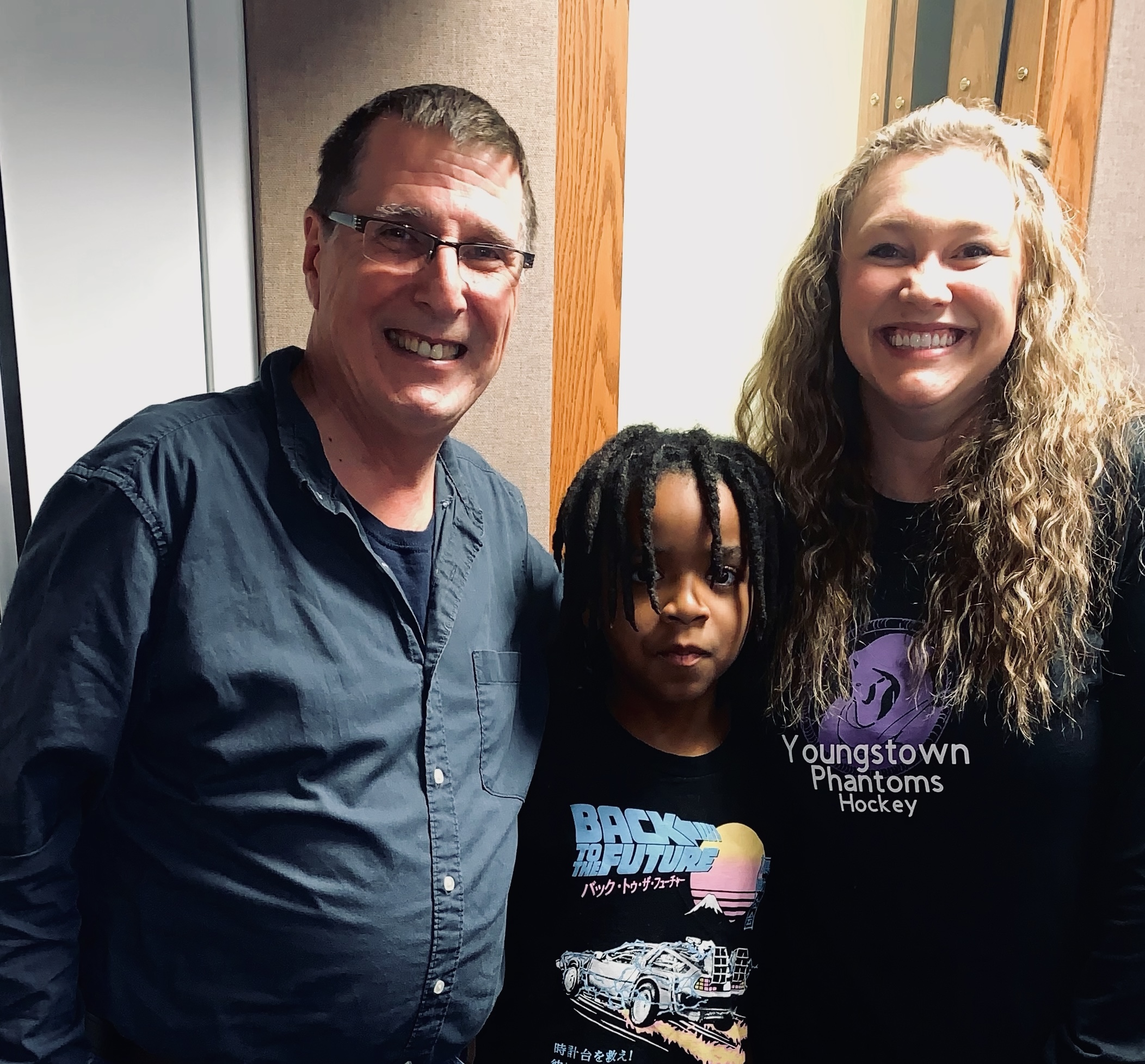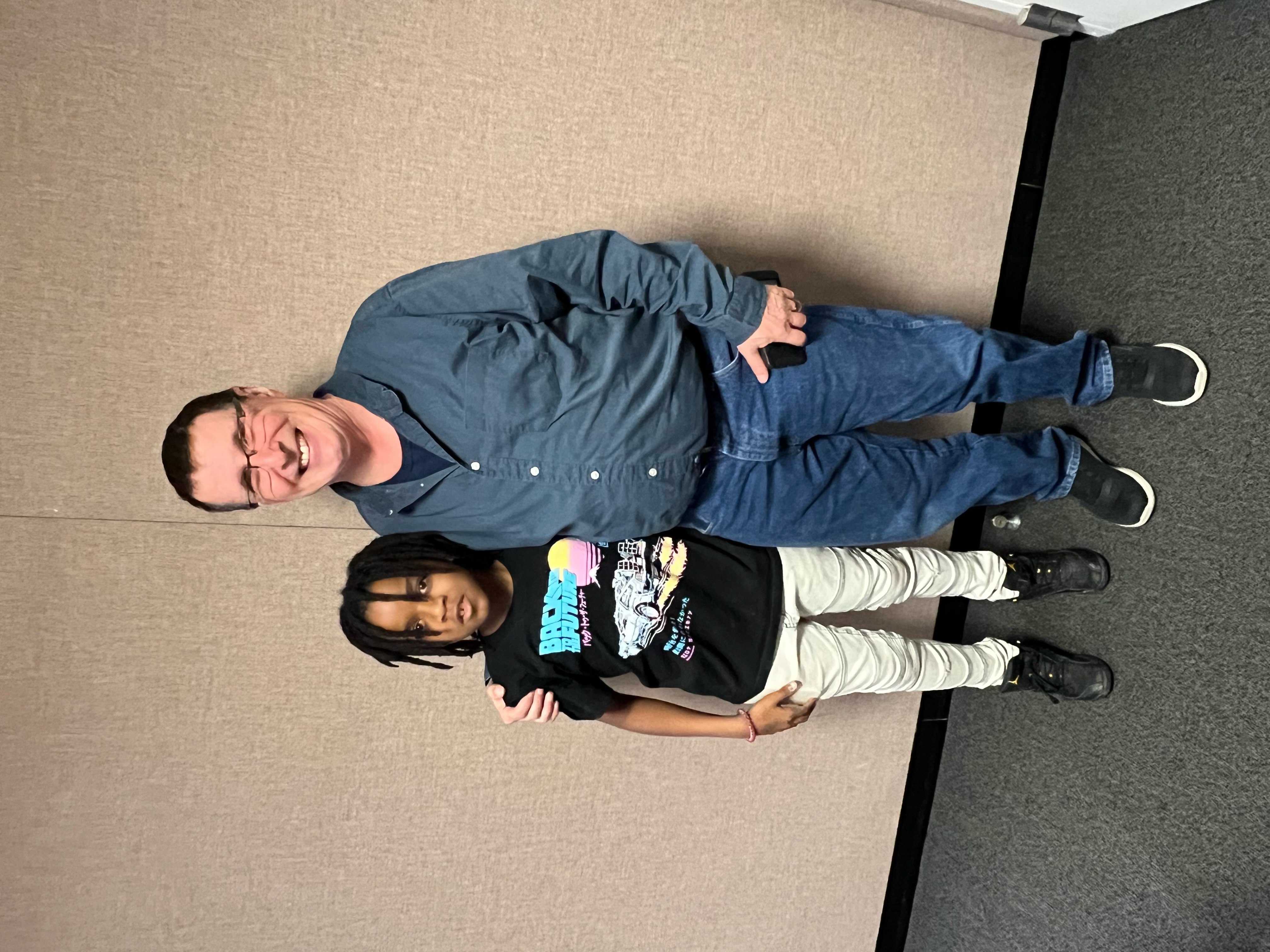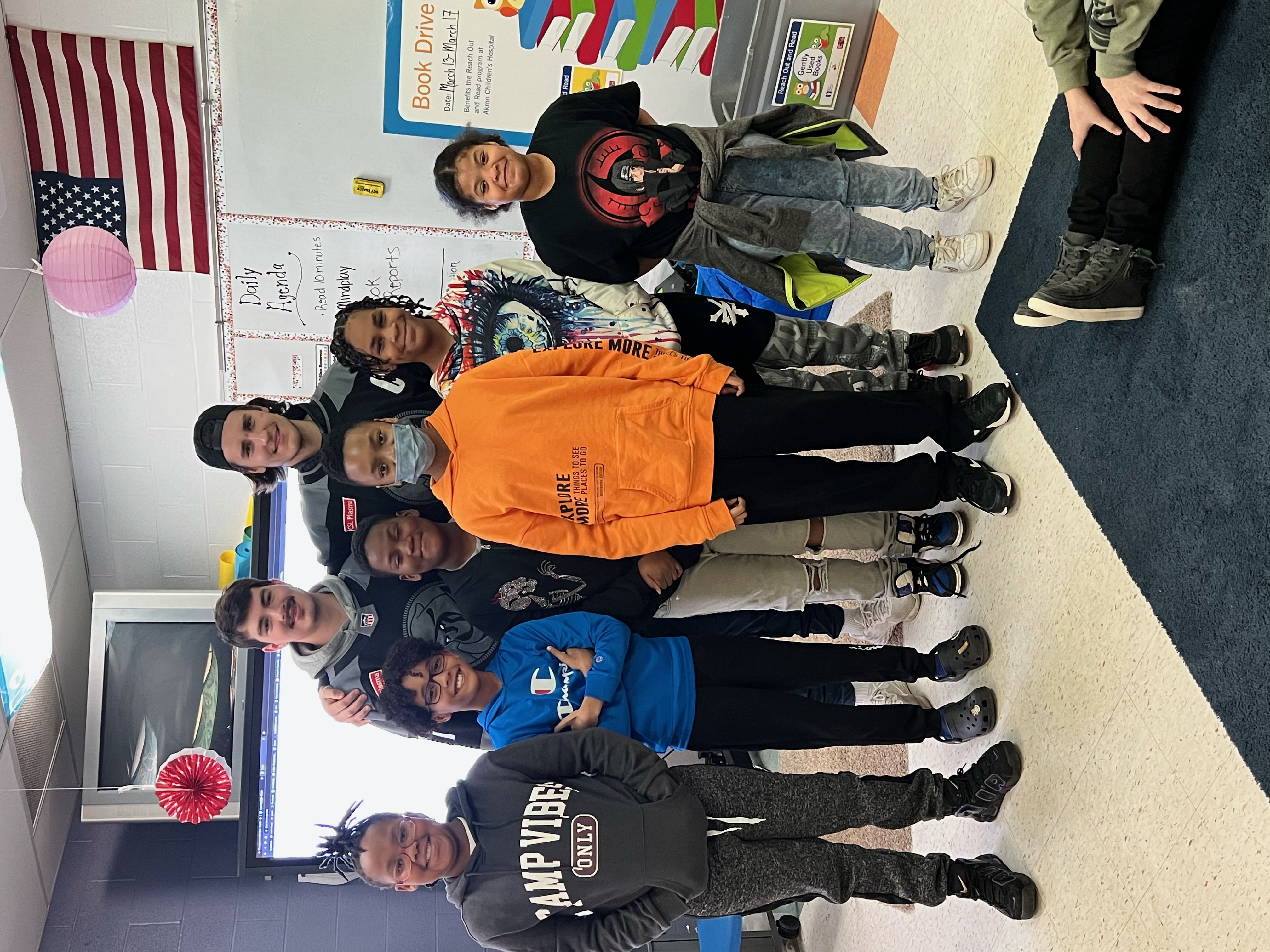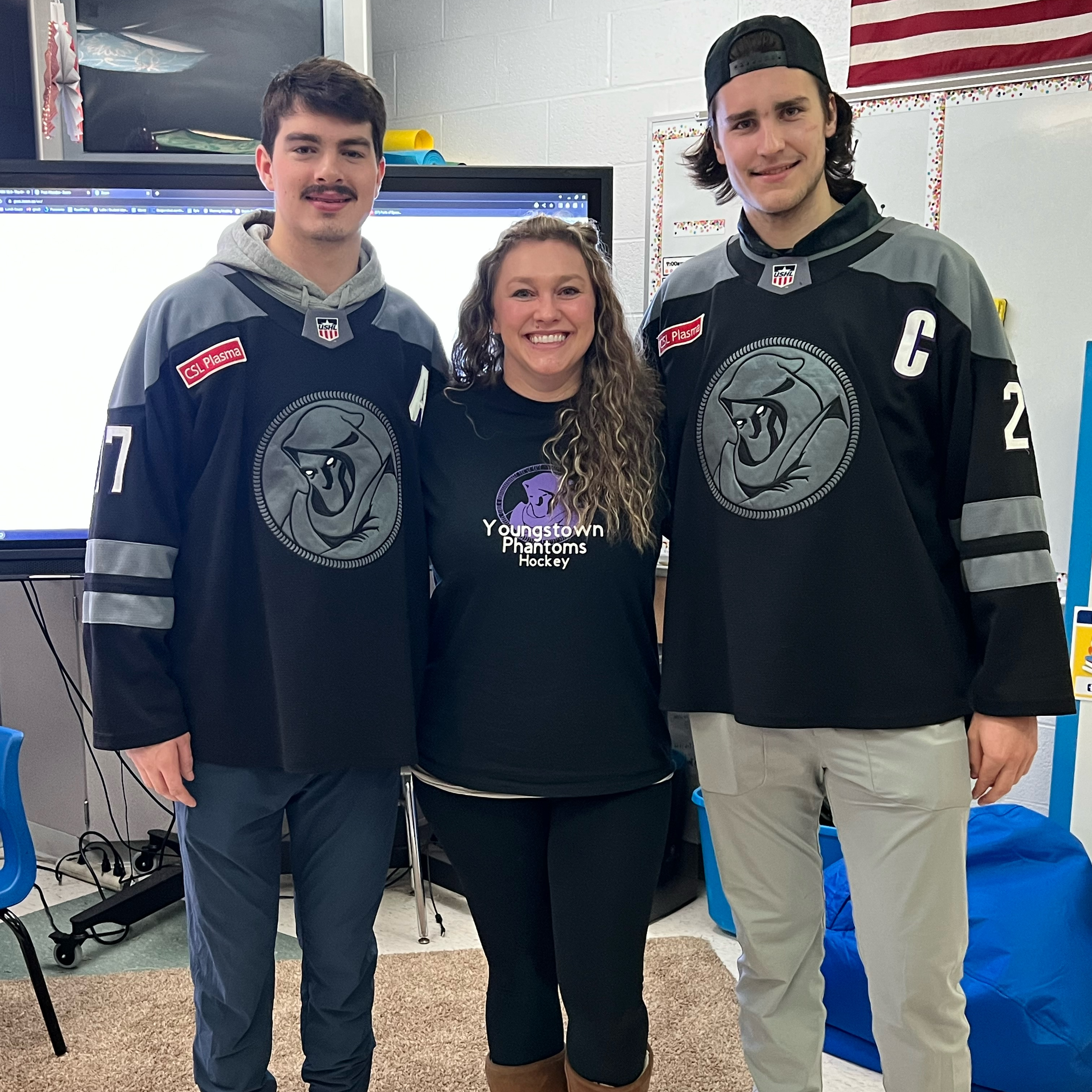 Congratulations to the winners of the Literacy Essay Contest! The following students will have their chance to shine as a guest DJ on Mix 98.9 with Gary Rivers from 8:00 - 8:35 AM during our Right to Read Week Celebration (March 13 - March 17). Tune in to listen to our very own scholars representing RECMS! Congratulations to Kayden H. (5th grade), Mariah C. (5th grade), Arianna K. (6th grade), Nevaeh J. (7th grade), and Colleen D. (8th grade).
Be sure to participate in the fun for Right to Read Week! Some lucky participants will win prizes! Have a wonderful break!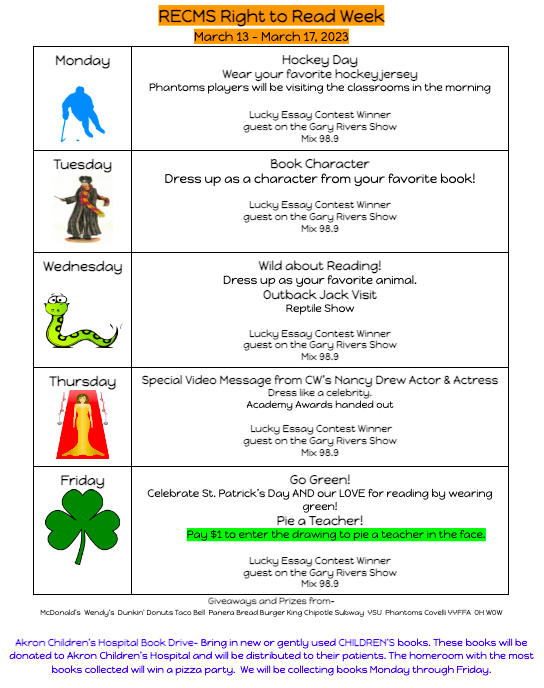 The Essay Contest Winners will be announced on Thursday. The 5 lucky winners will be a guest DJ on the Mix 98.9 Gary Rivers Morning Show. One student per day will go to the station and be on the radio from about 8:00-8:35. They will return to school immediately after that time slot. Please try to tune into the show and listen to our scholars get interviewed on the radio. https://mix989.iheart.com/
RECMS Celebrates Black History Month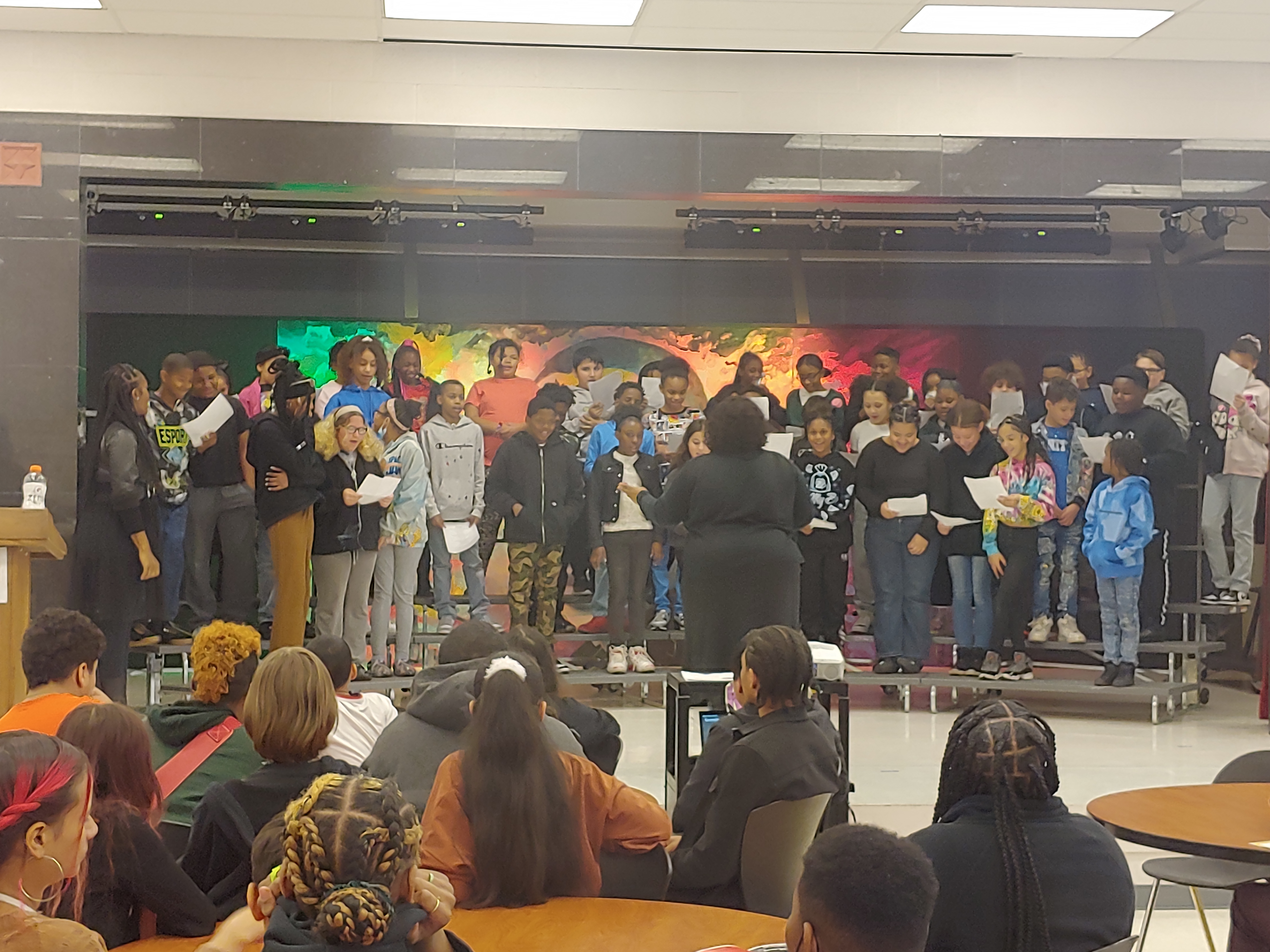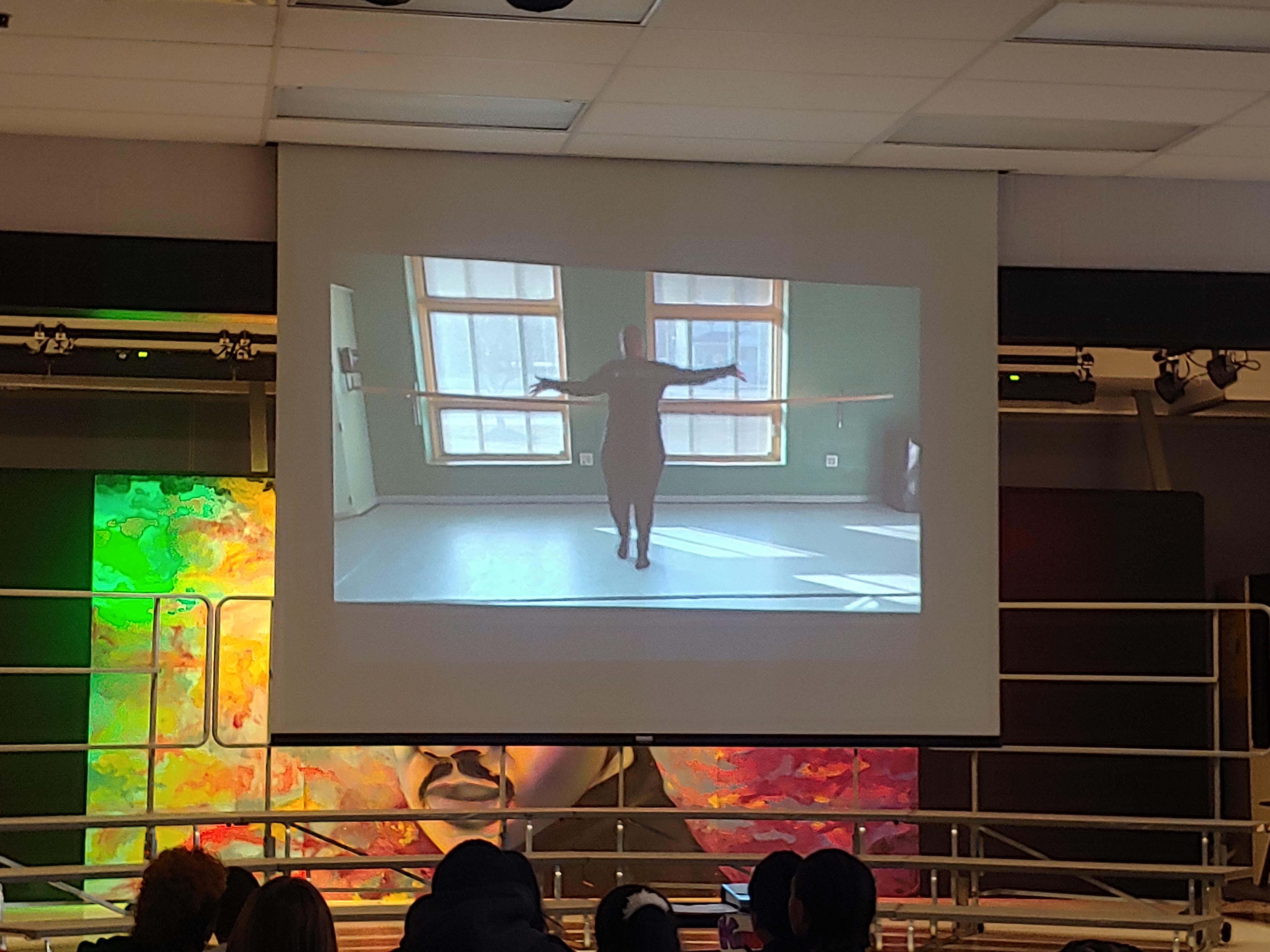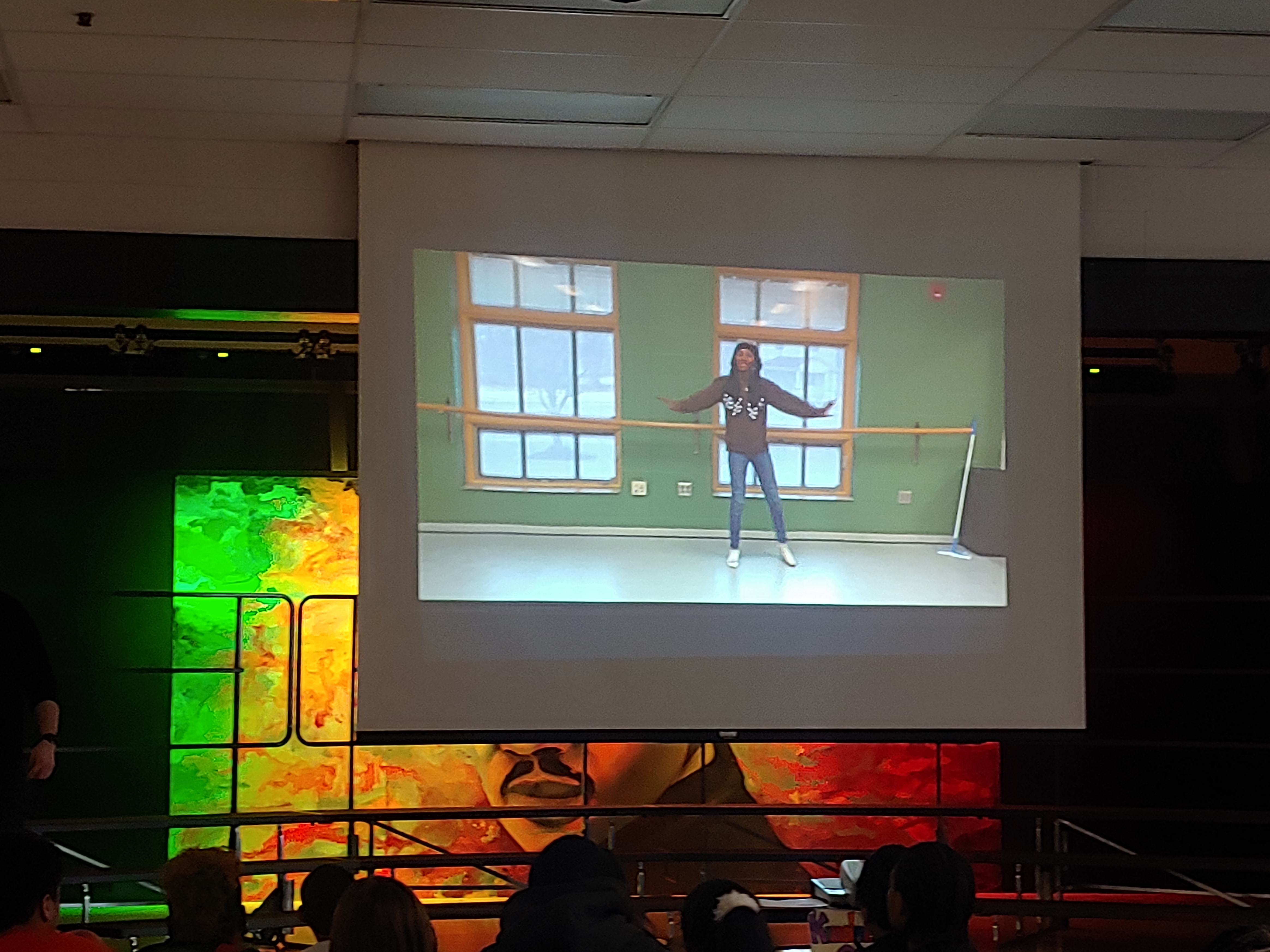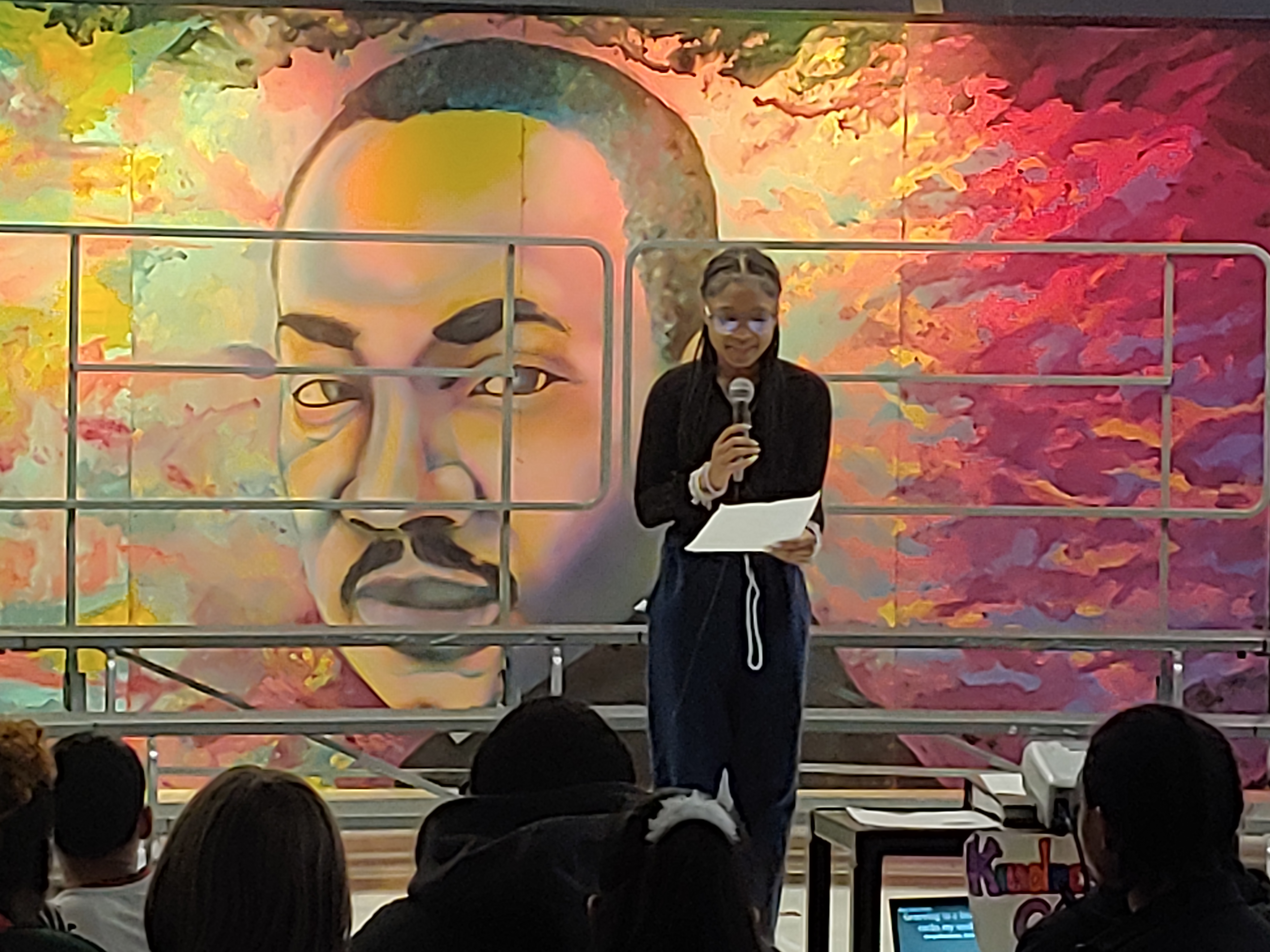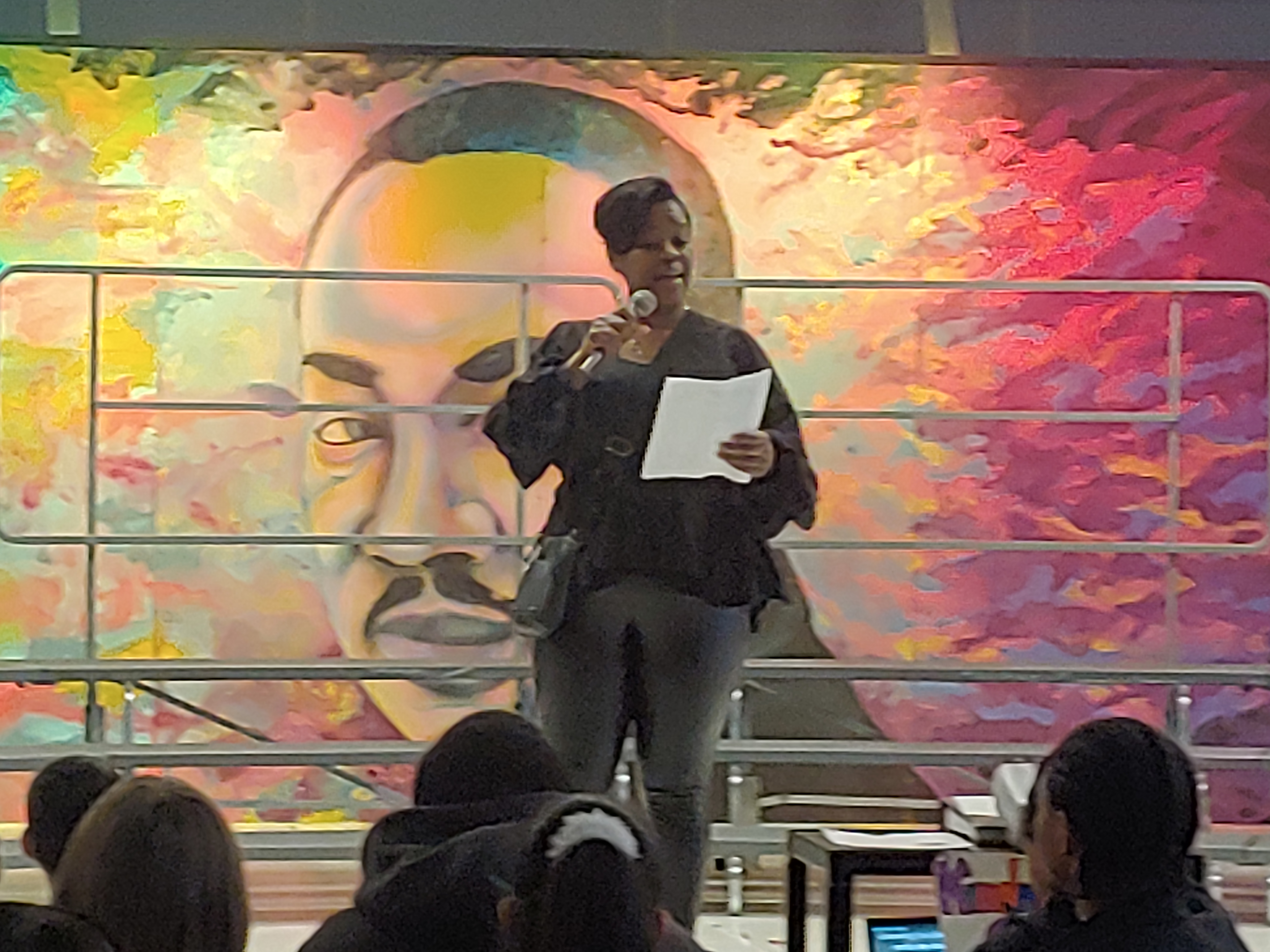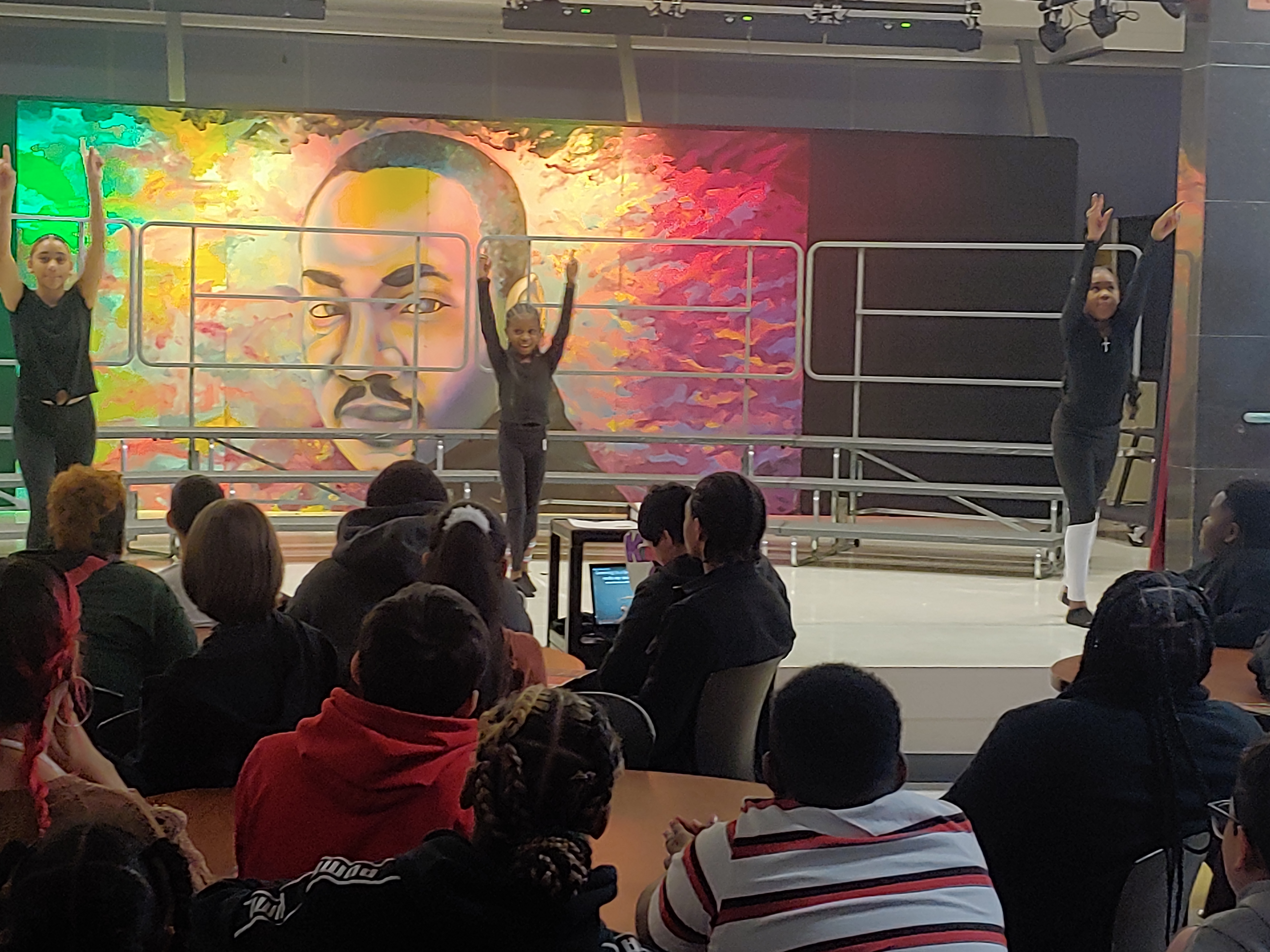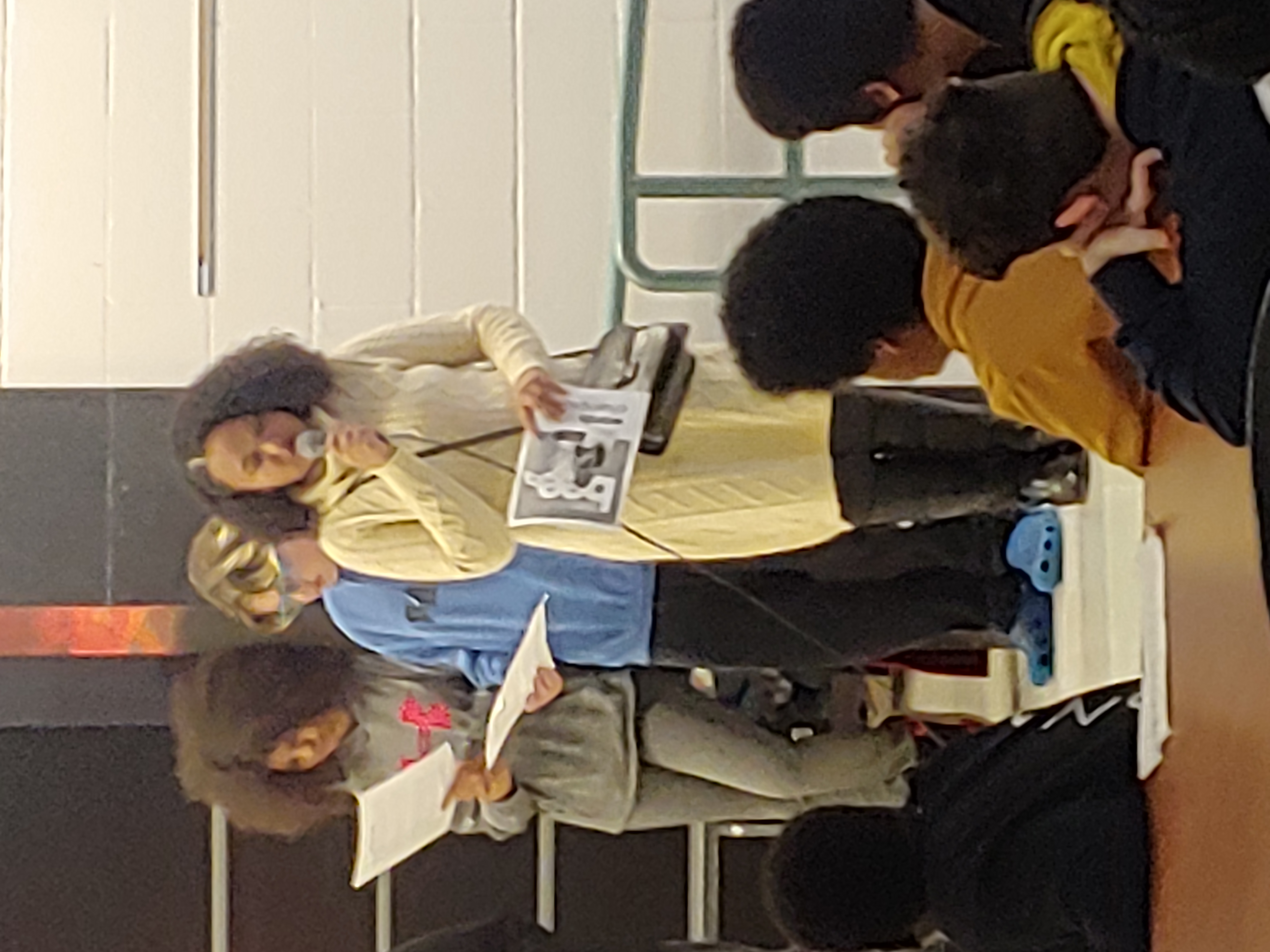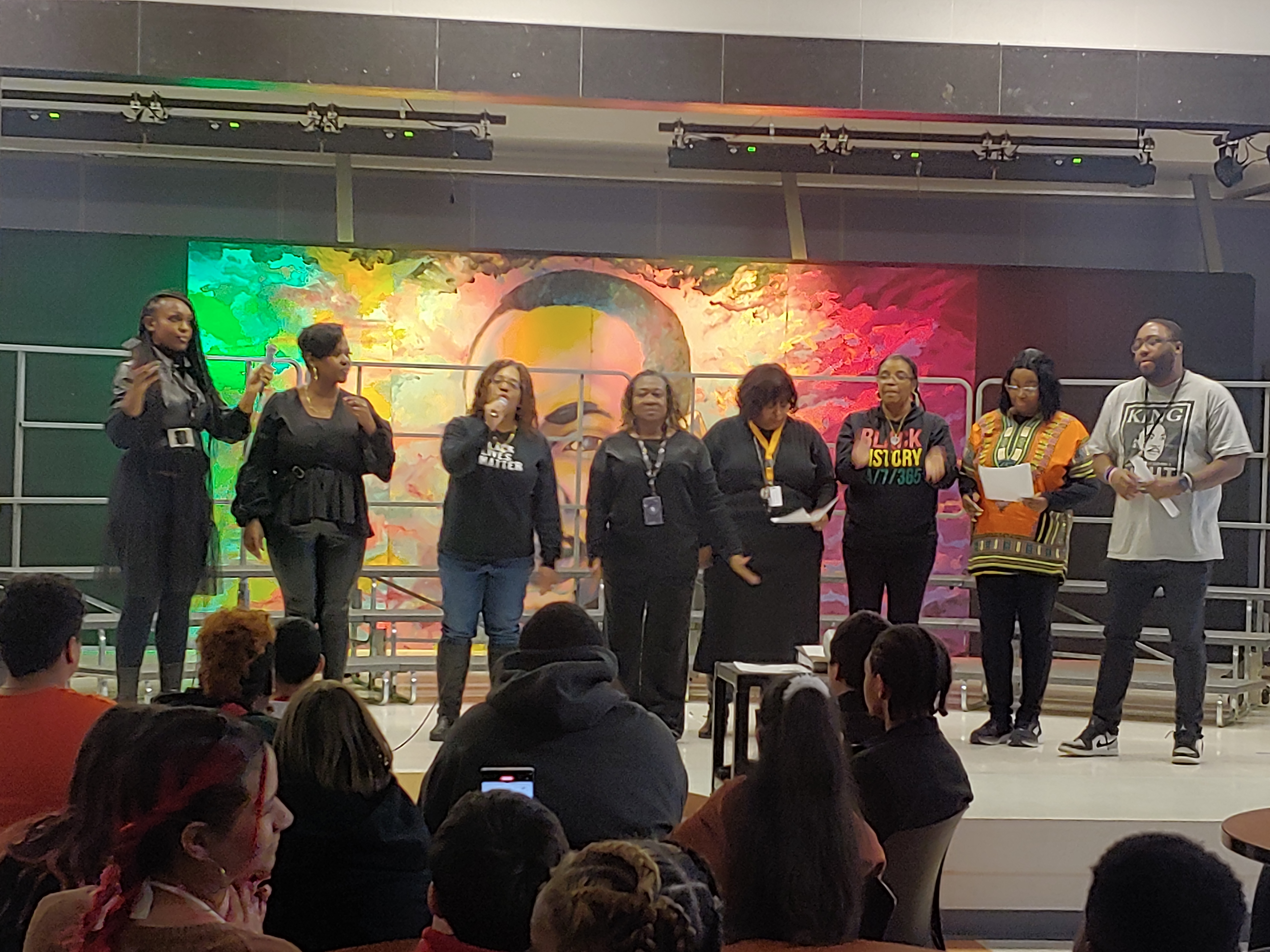 Career Tech Students go to YSU for Engineer's Week
On Friday February 24, current Career Tech Students went to YSU to attend Engineer's week, a nationwide event. Scholars interacted with things designed and built by YSU students including rockets, a buggy, canoe, battle bots, 3D printed plane and more! YSU students compete with their builds and have done well nationally and internationally in the competitions. Scholars engaged in making paper airplanes and competed on who's flew the furthest. Congratulations to Kane for his winning plane and to Loryn in 5th for representing the ladies of STEAM (only young lady in the competition.) They also built spaghetti and marshmallow towers and made little rockets they got to set off!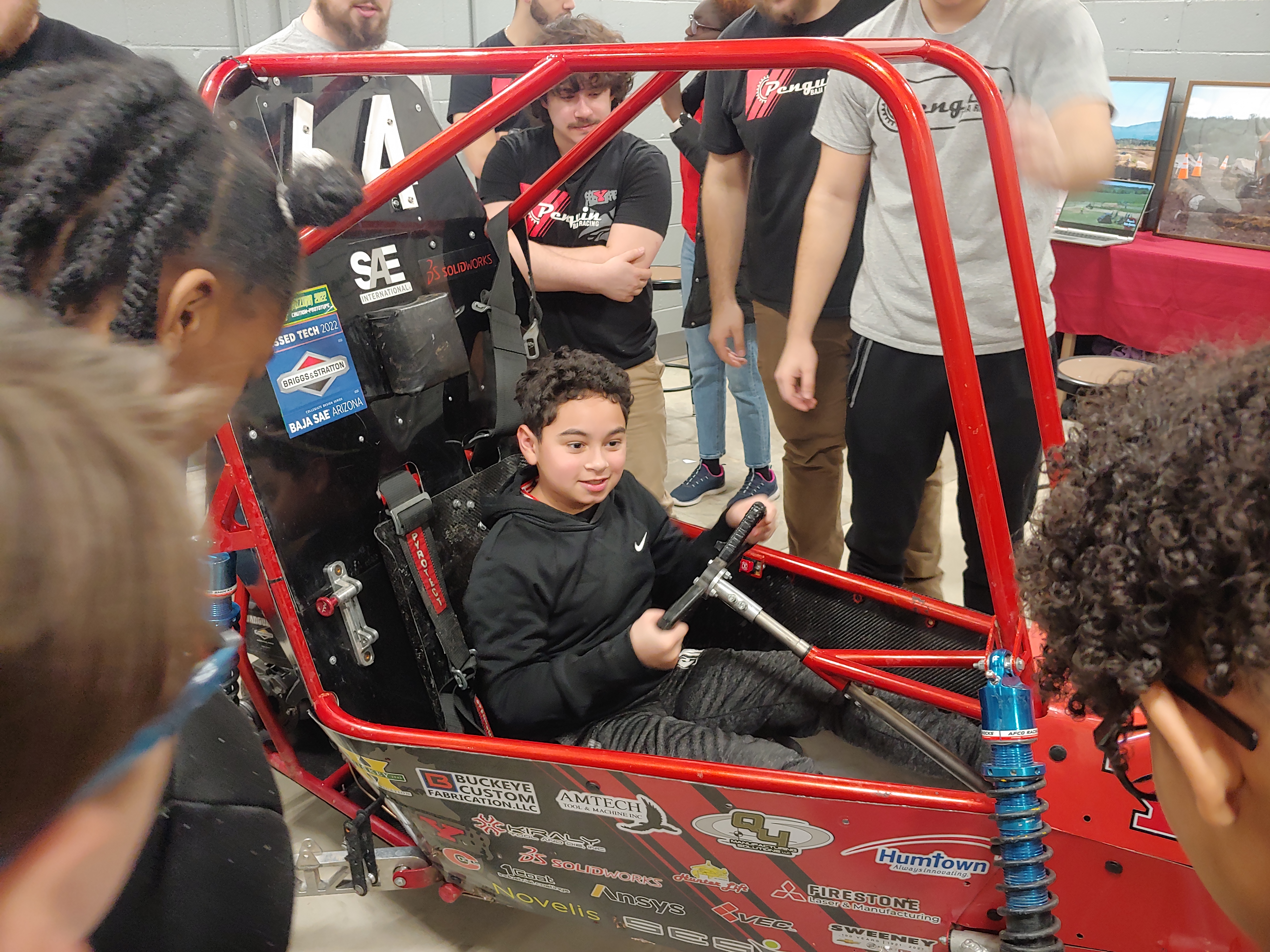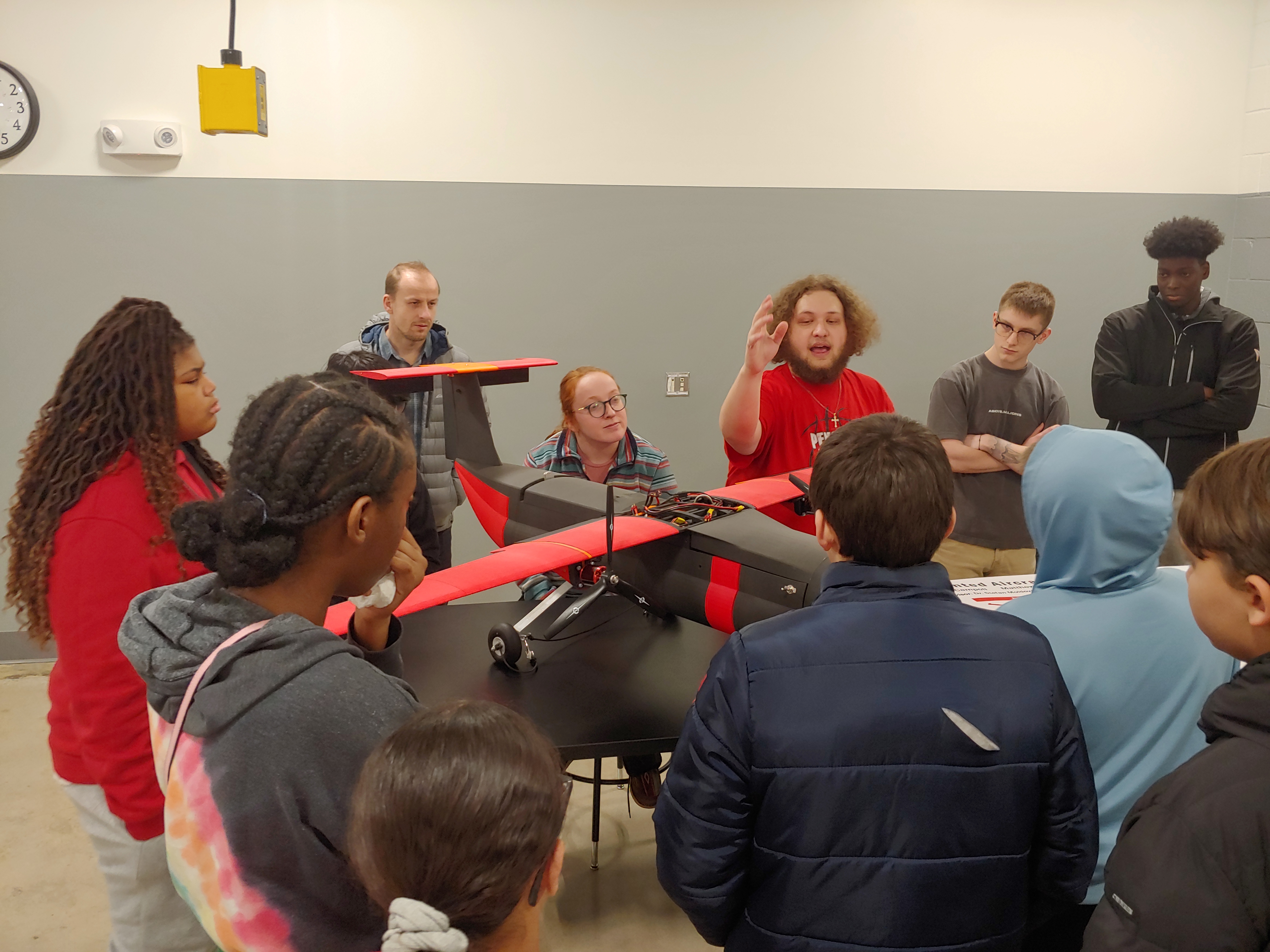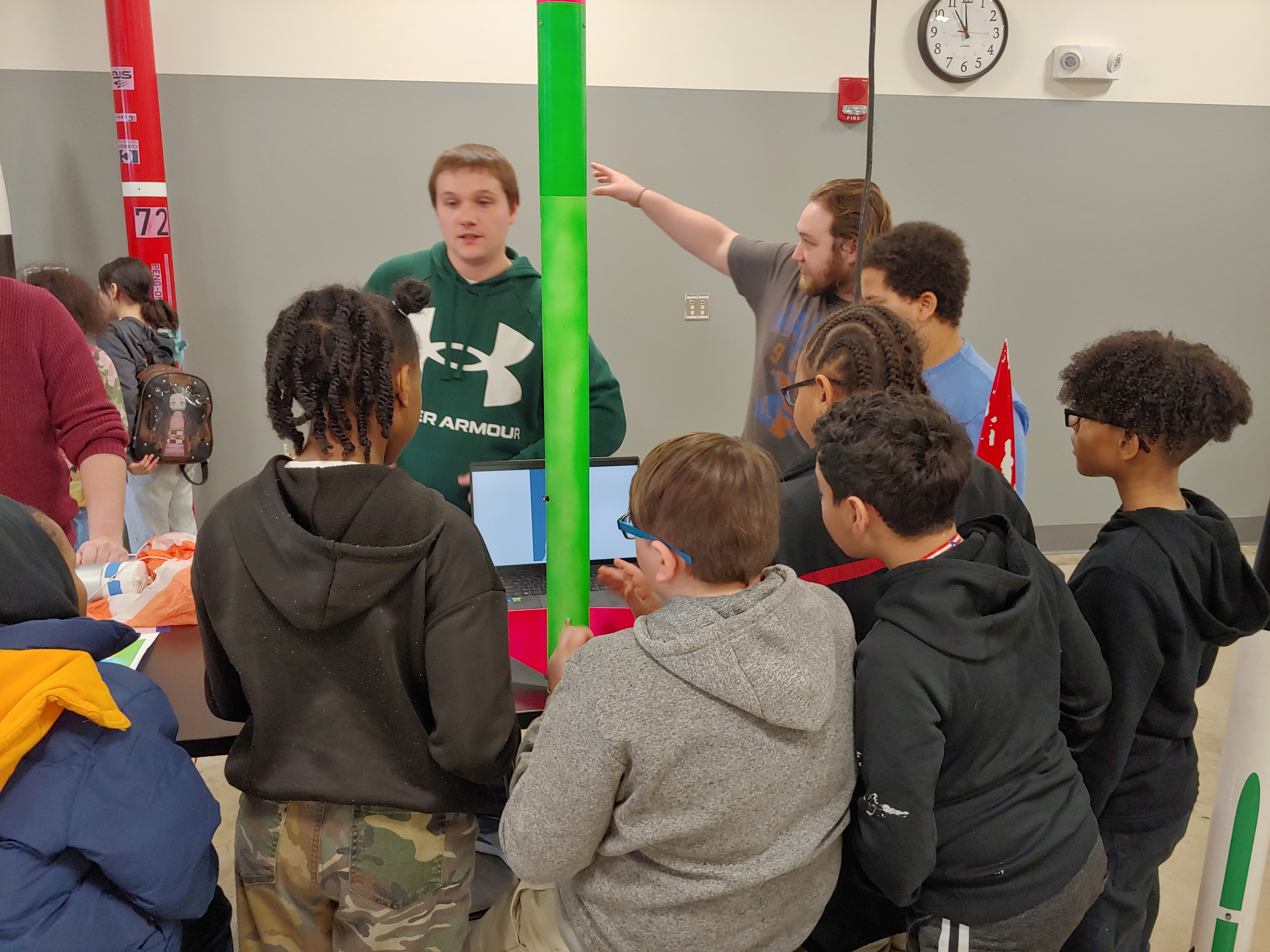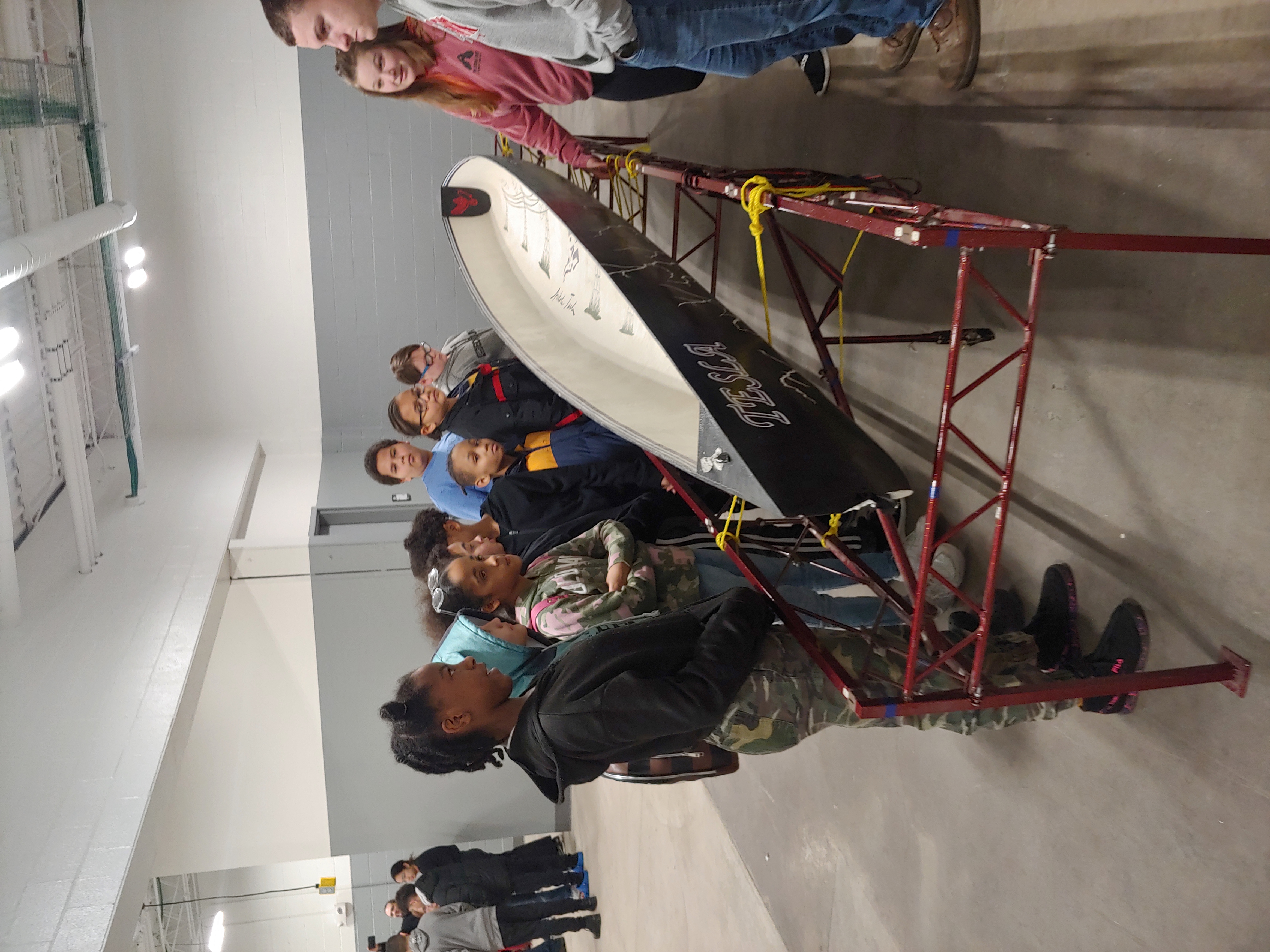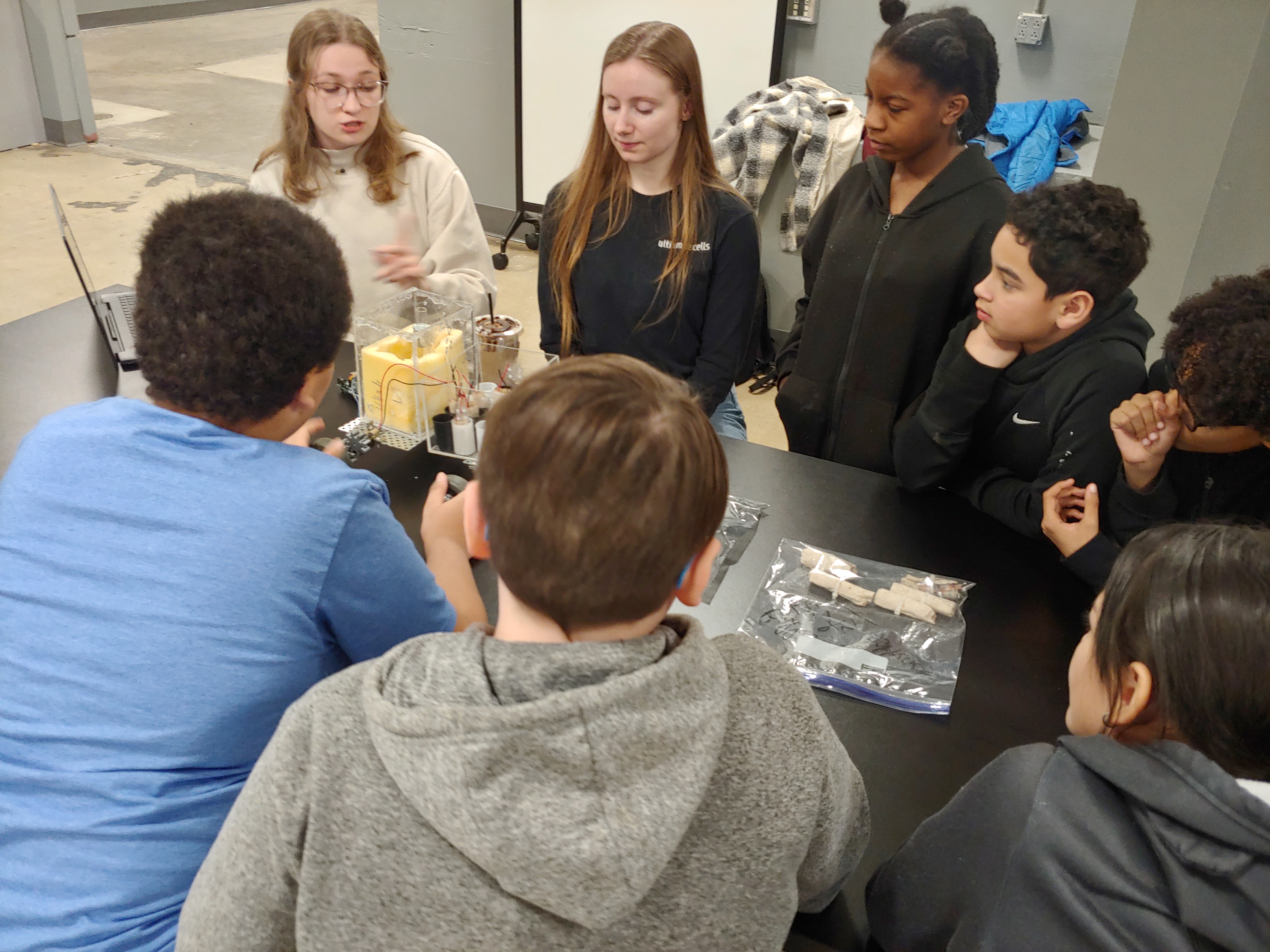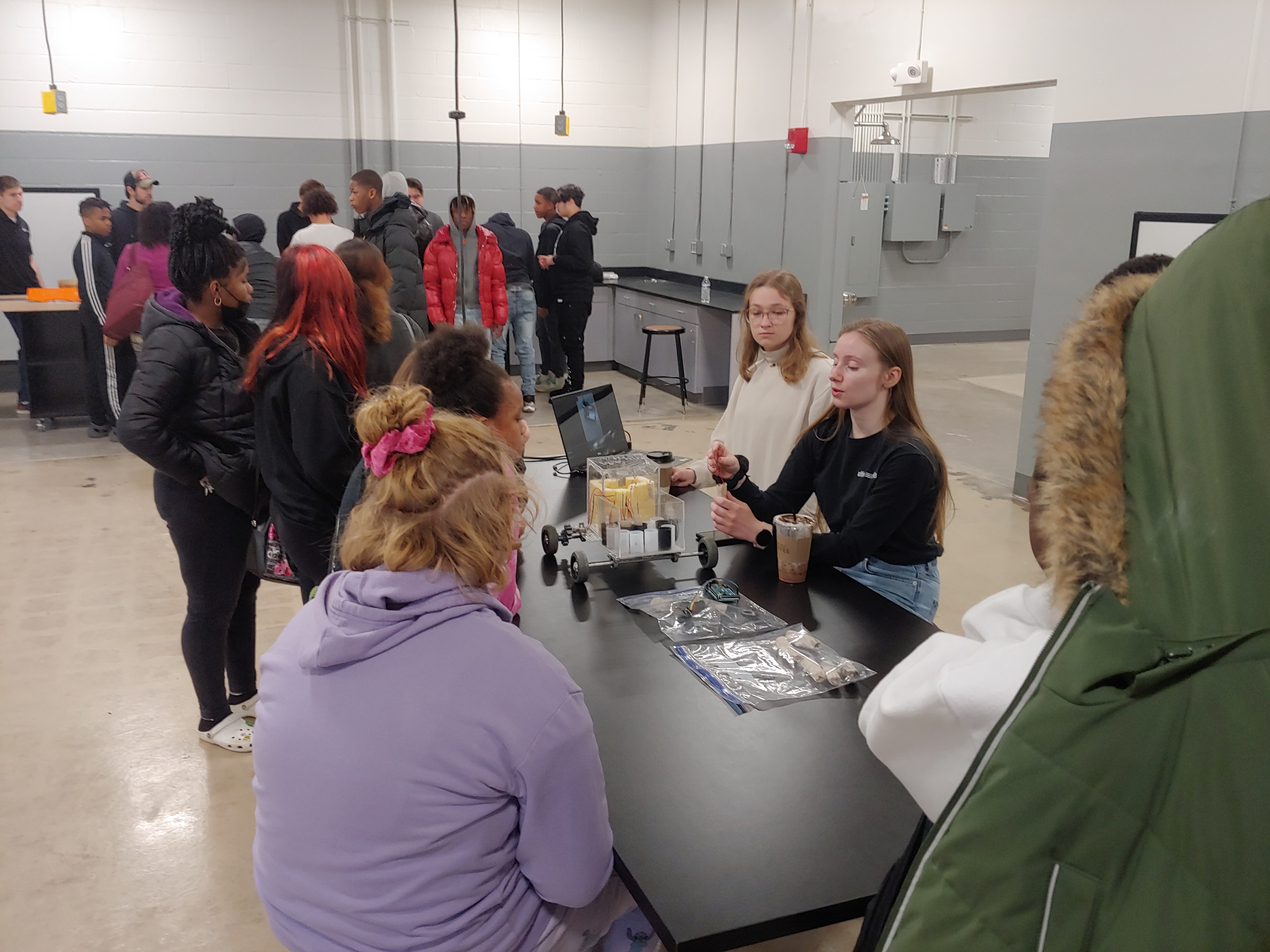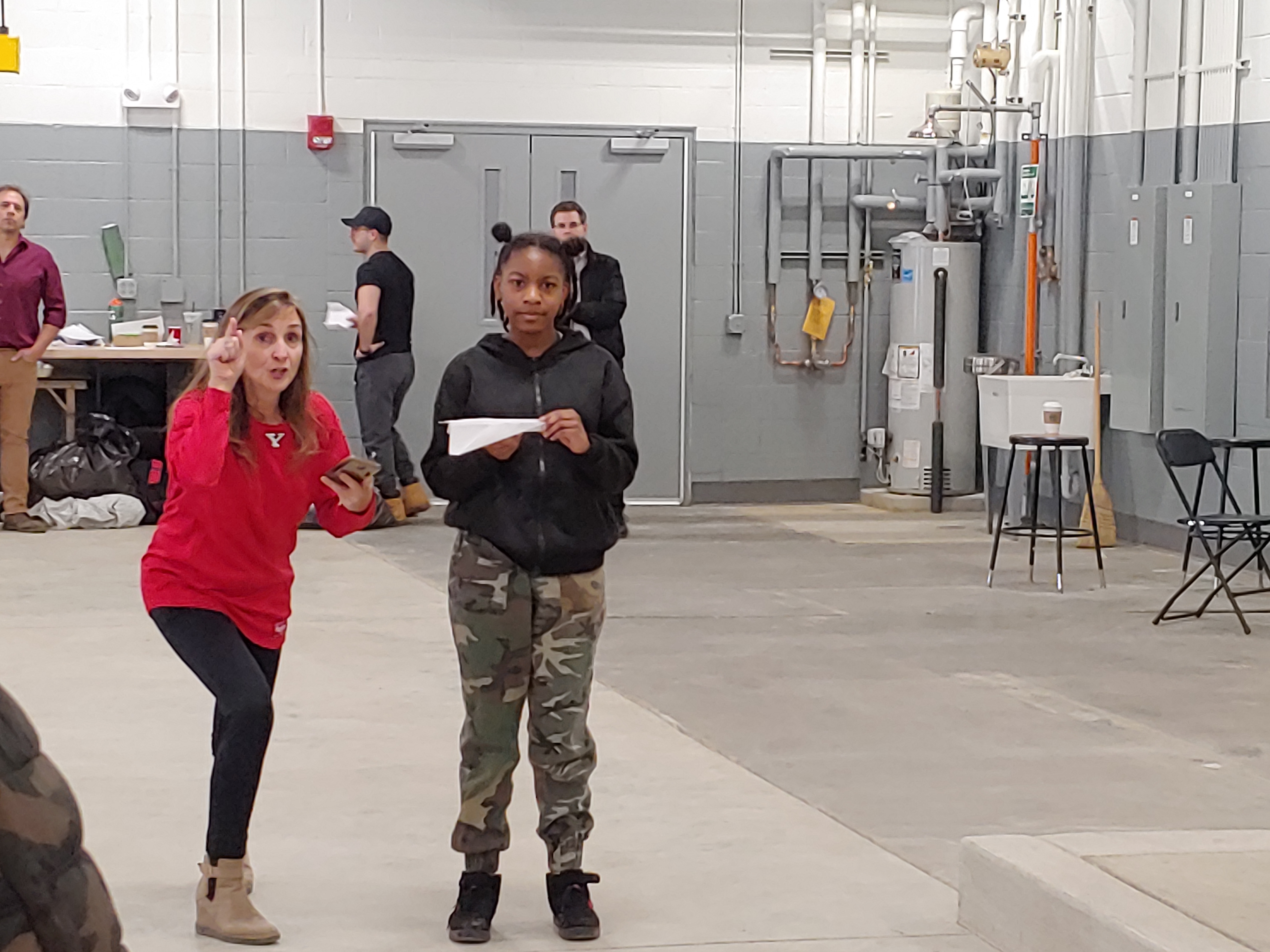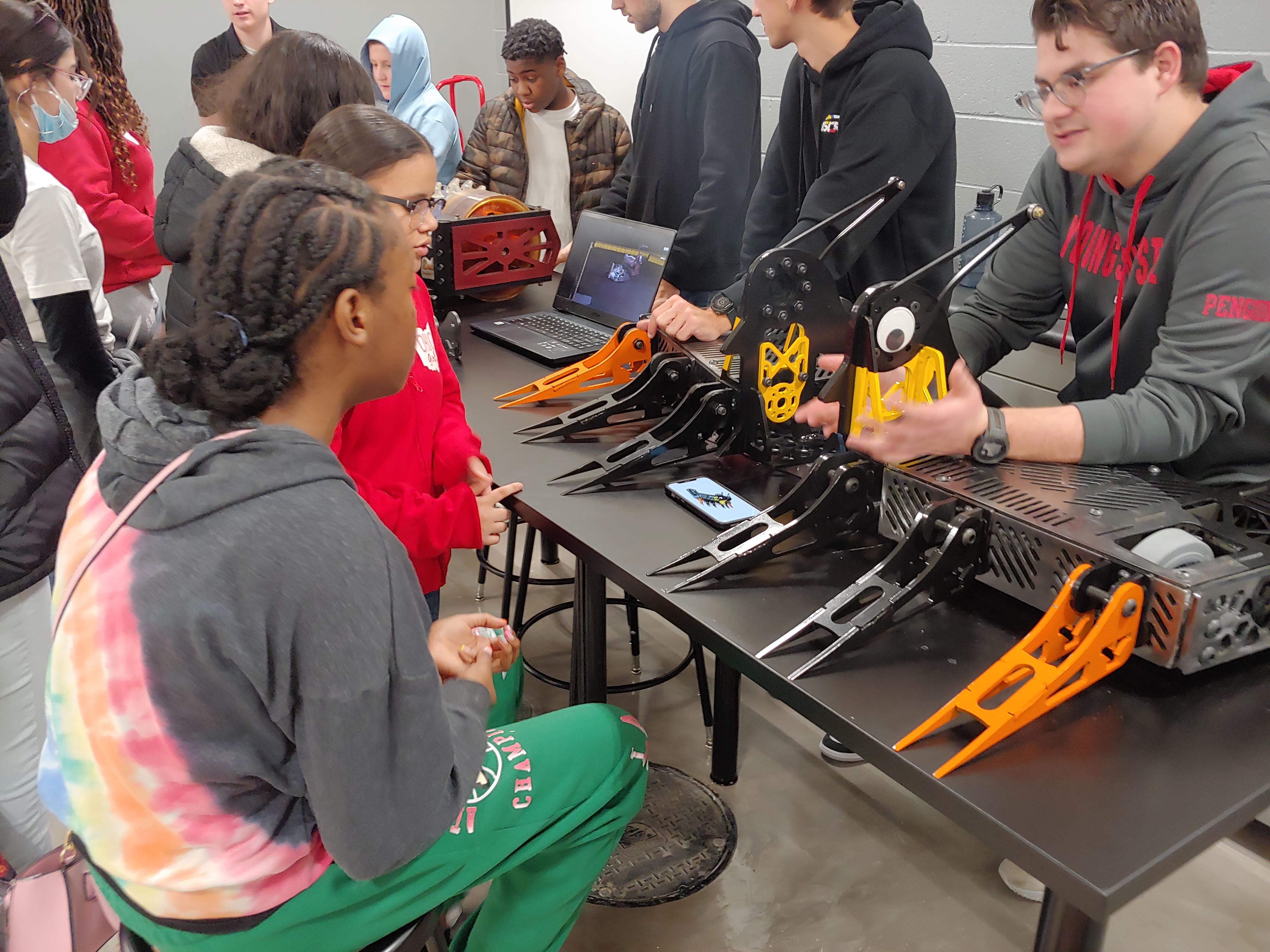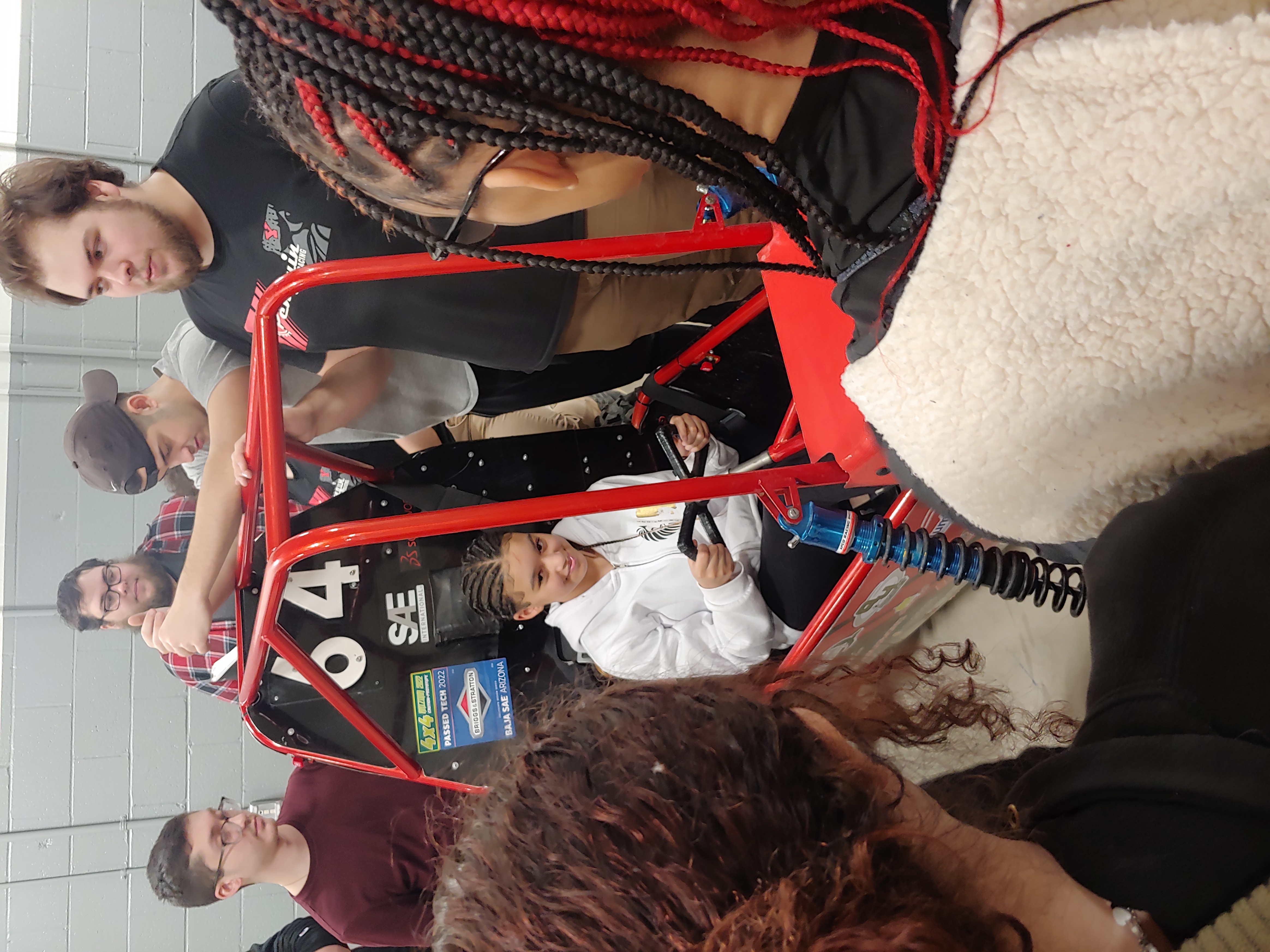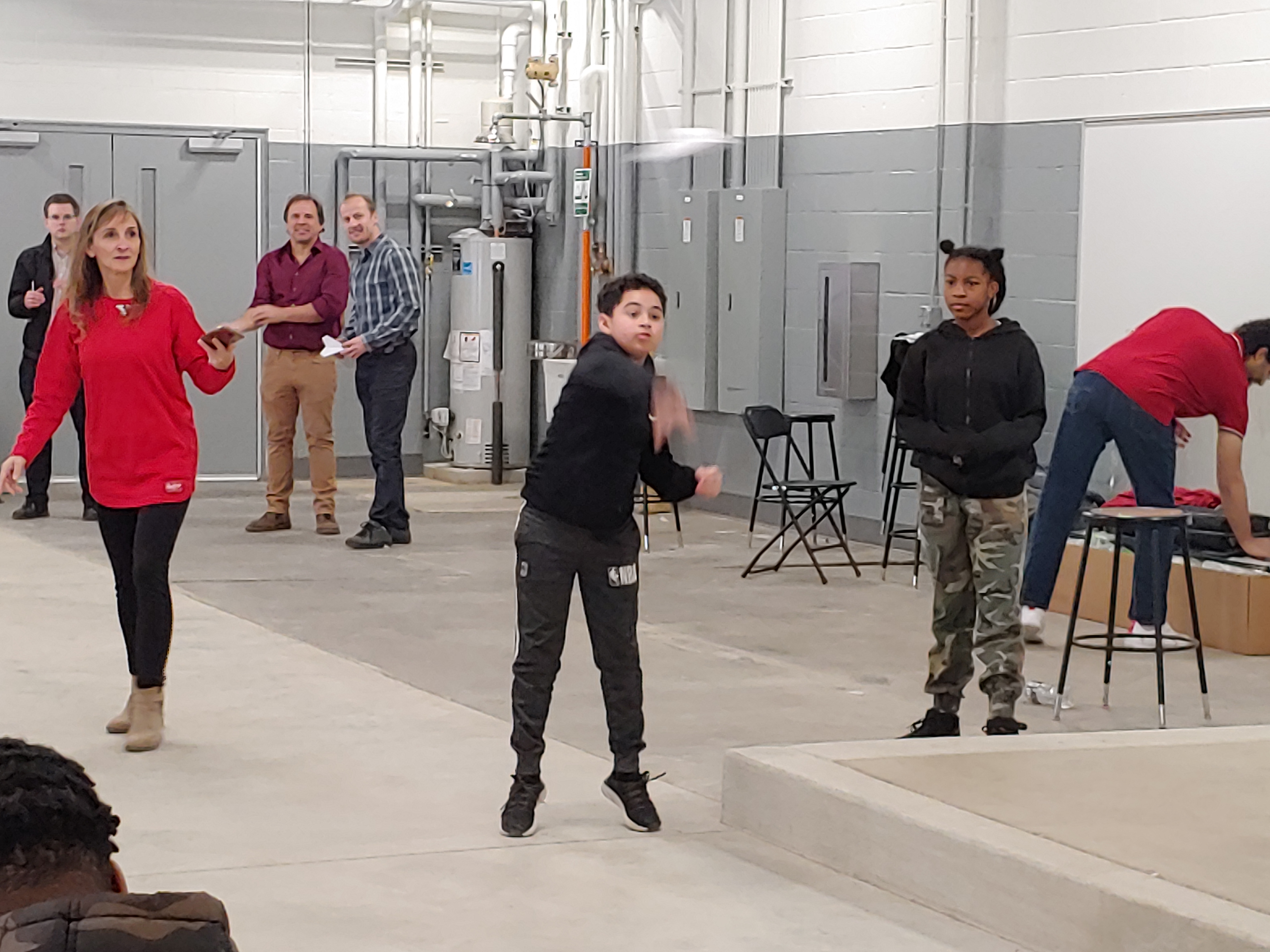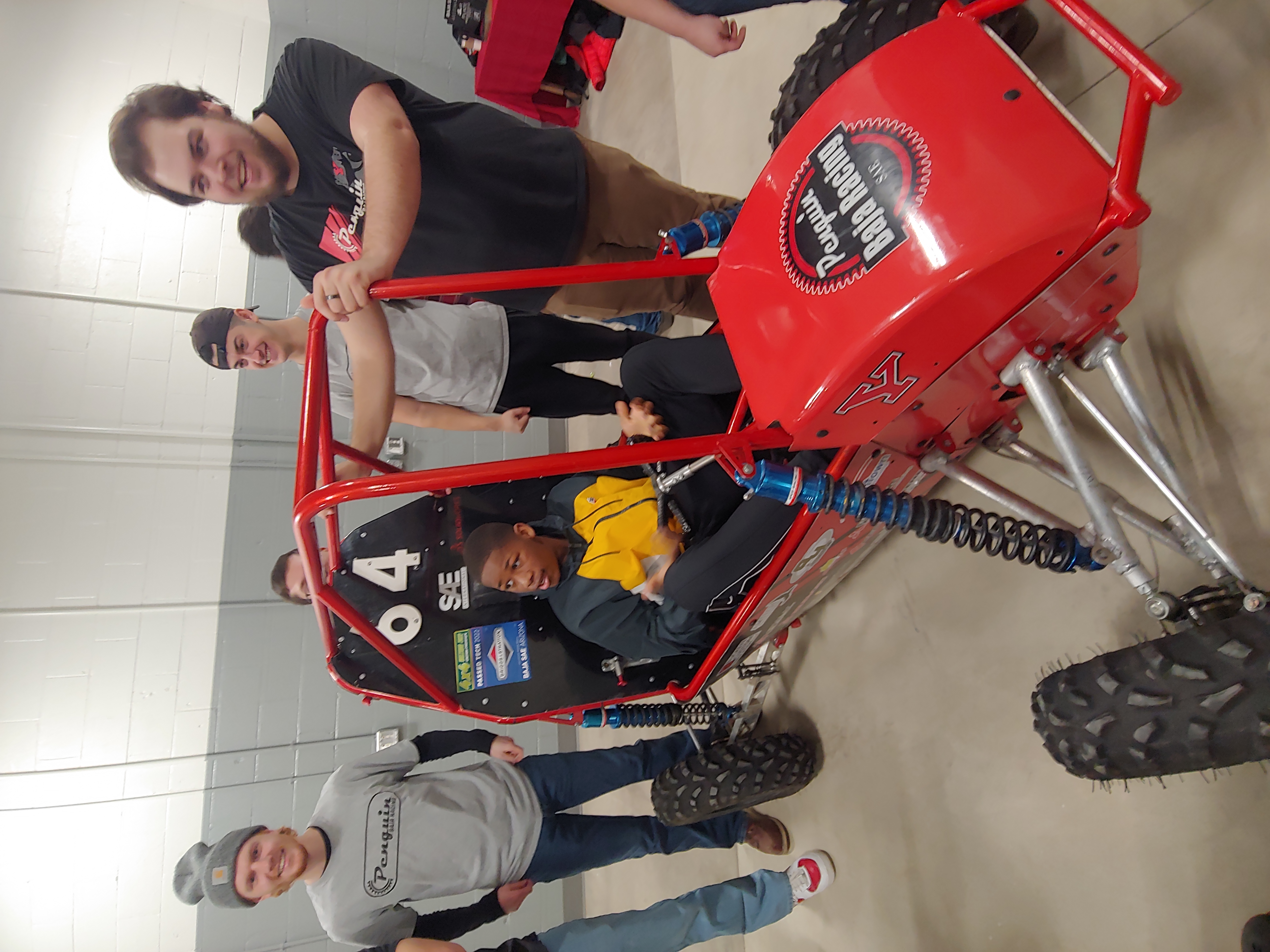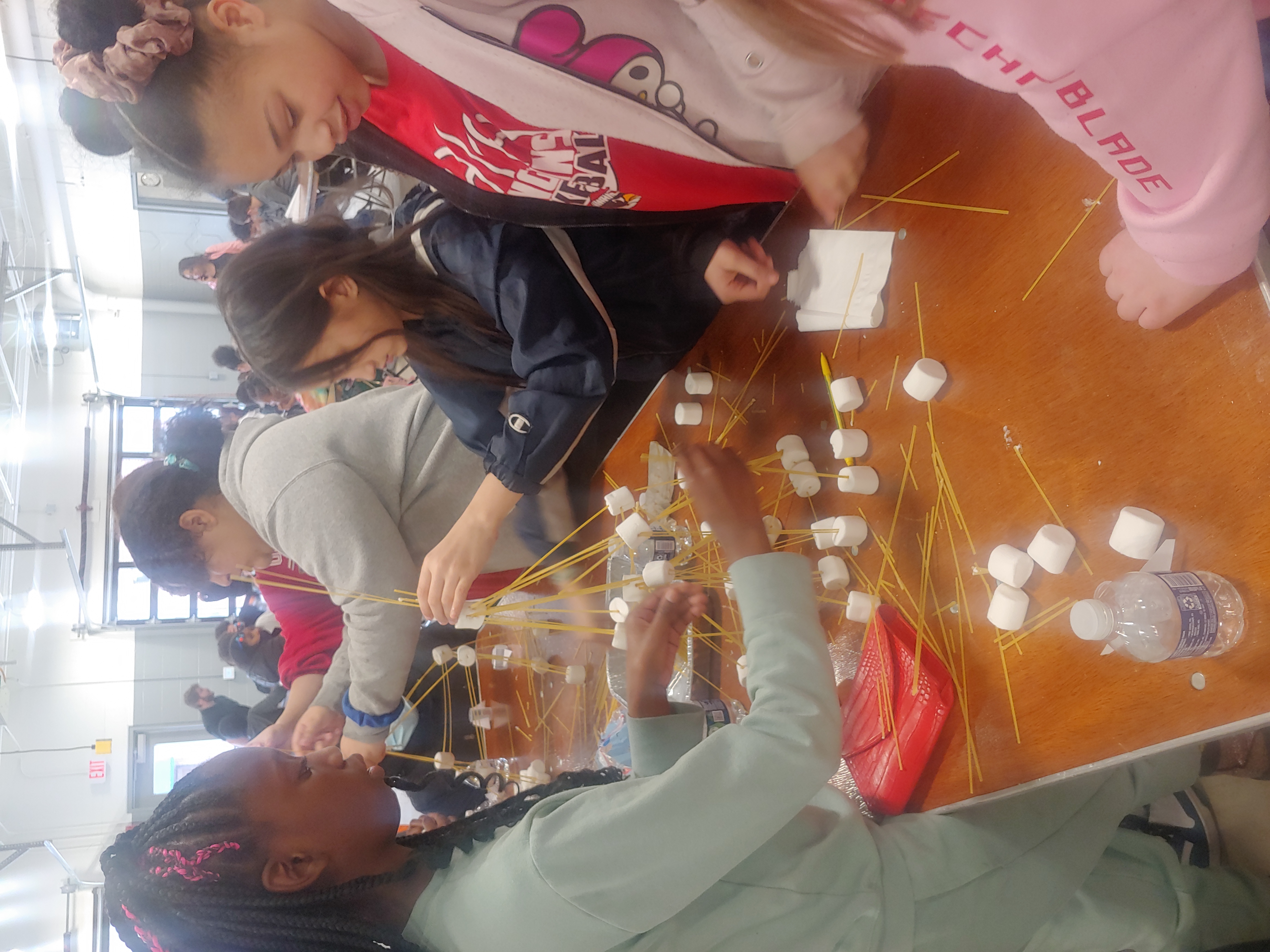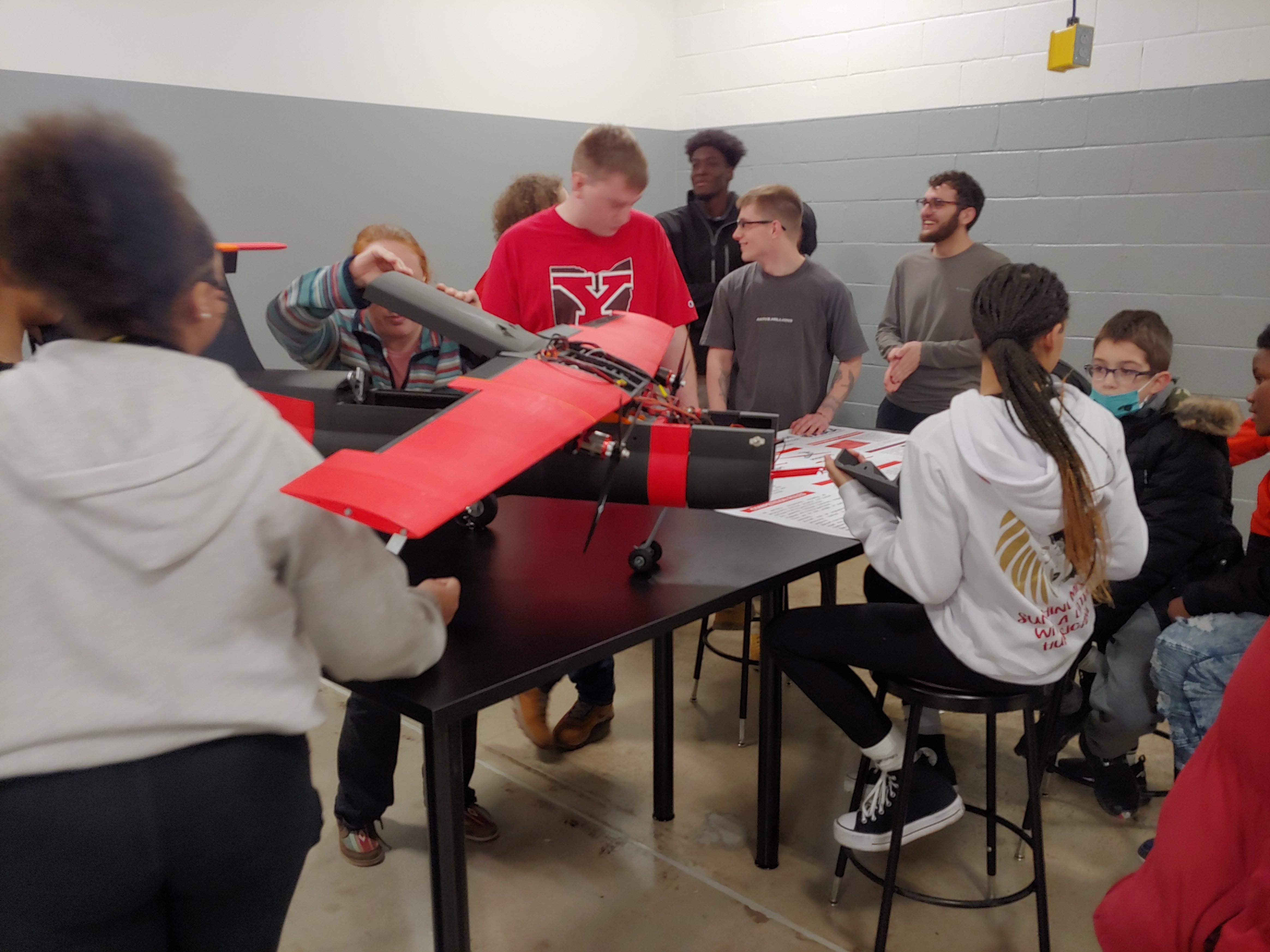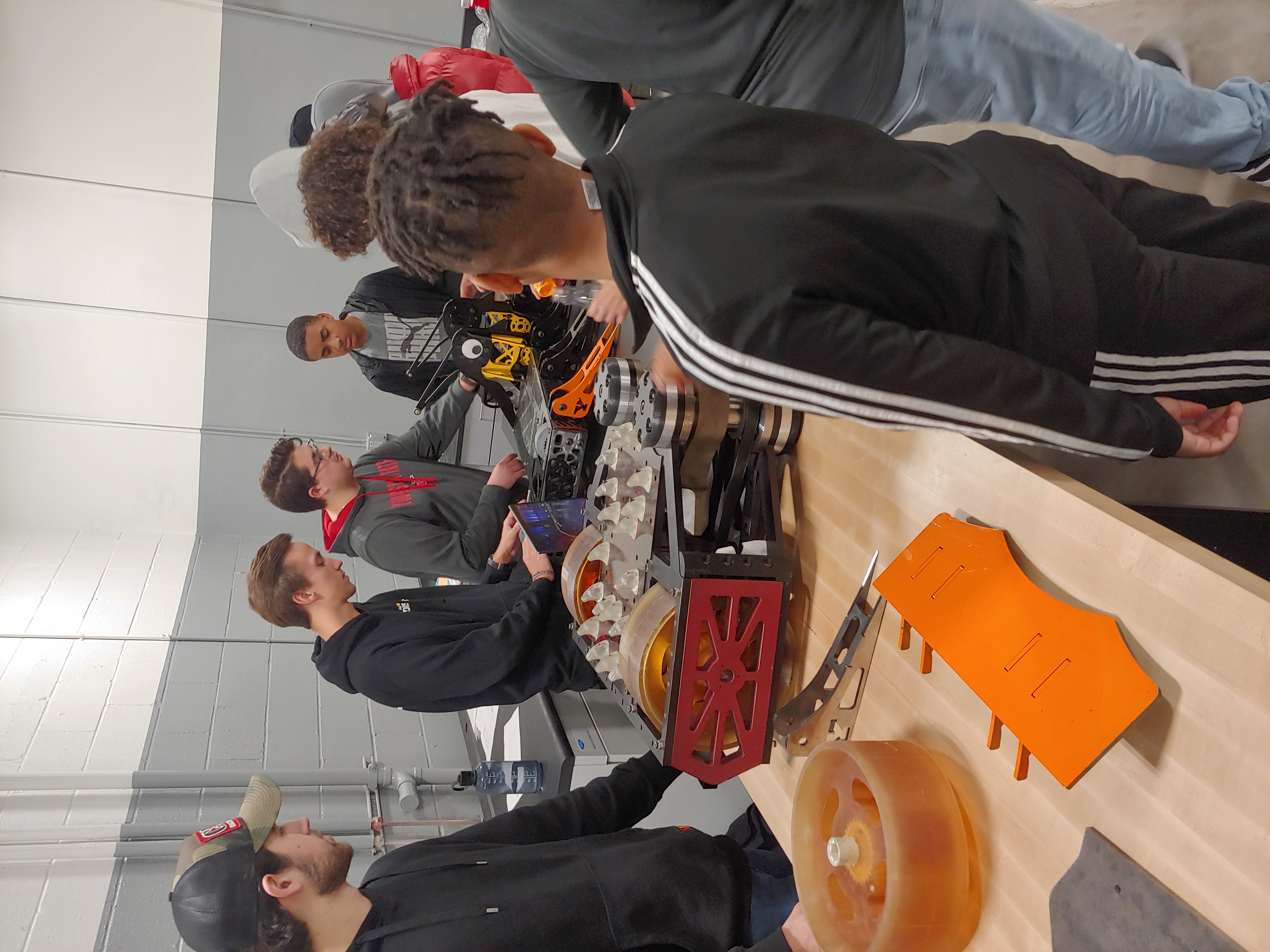 The REC Kool Boiz go to the YSU vs Green Bay Basketball 🏀 Game!
Mr. Ronnell Elkins took the REC Kool Boiz club to the YSU vs Green Bay basketball 🏀 game to watch the Penguins 🐧 beat up on the Phoenix! Our boys had a great time and even got to meet the players in the locker room for the post game victory celebration!!

These great young men attend Rayen Early College Middle School & Youngstown Community School. They represented their families and their schools really well today!
#community #school #youngstown #YCS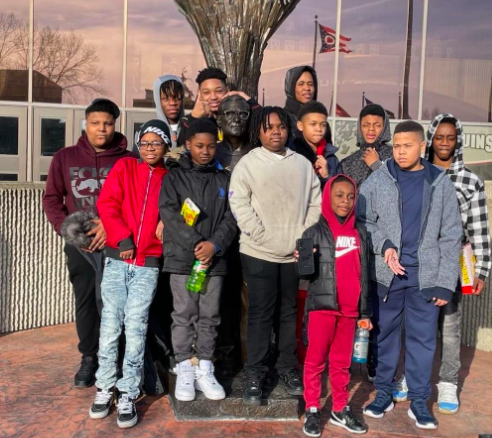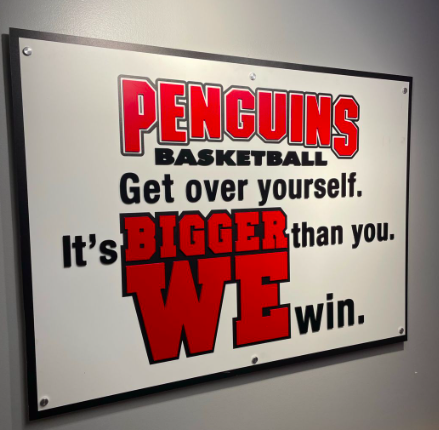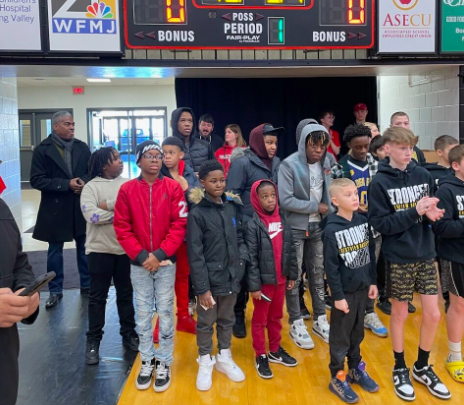 Mr. Bryant Youngblood Visits 7th and 8th Grade Career Tech
On Thursday February 16, Mr. Bryant Youngblood from Youngstown and Pantheon Innovative Builders came in to present on printing 3D houses with a goal to bring innovative building methods to construction that helps bridge the workforce gap and propel the construction industry forward and to rejuvenate Youngstown by cutting down the building costs and time to build the needed housing. He showed students what his company does and how they have partnered with OSU for research and where this 3D printer is housed and used. Education for this technology is provided by the Evolve Innovation Center, a non-profit partner. The 18 week curriculum will offer credentialing for 3D printing technologies while challenging critical thinking skills, enhancing creativity and preparing scholars for limitless opportunities in our evolving workforce.
We discussed having a design contest where students would design a home in Tinkercad. The winner would receive a cash prize and elements of the model could be used in the first 3D printed home in the state, and in Youngstown! If you dream it, you can build it! More details to come...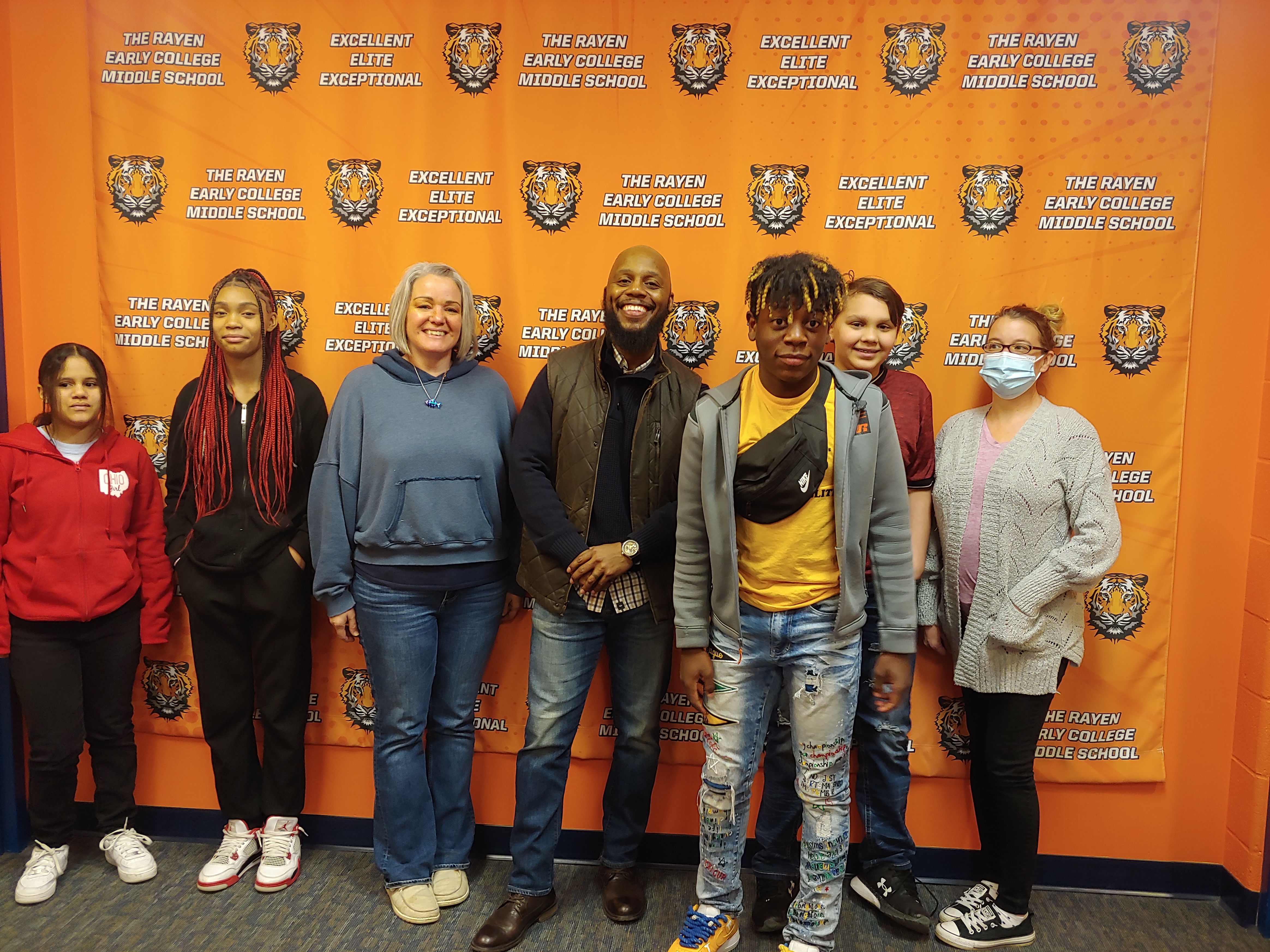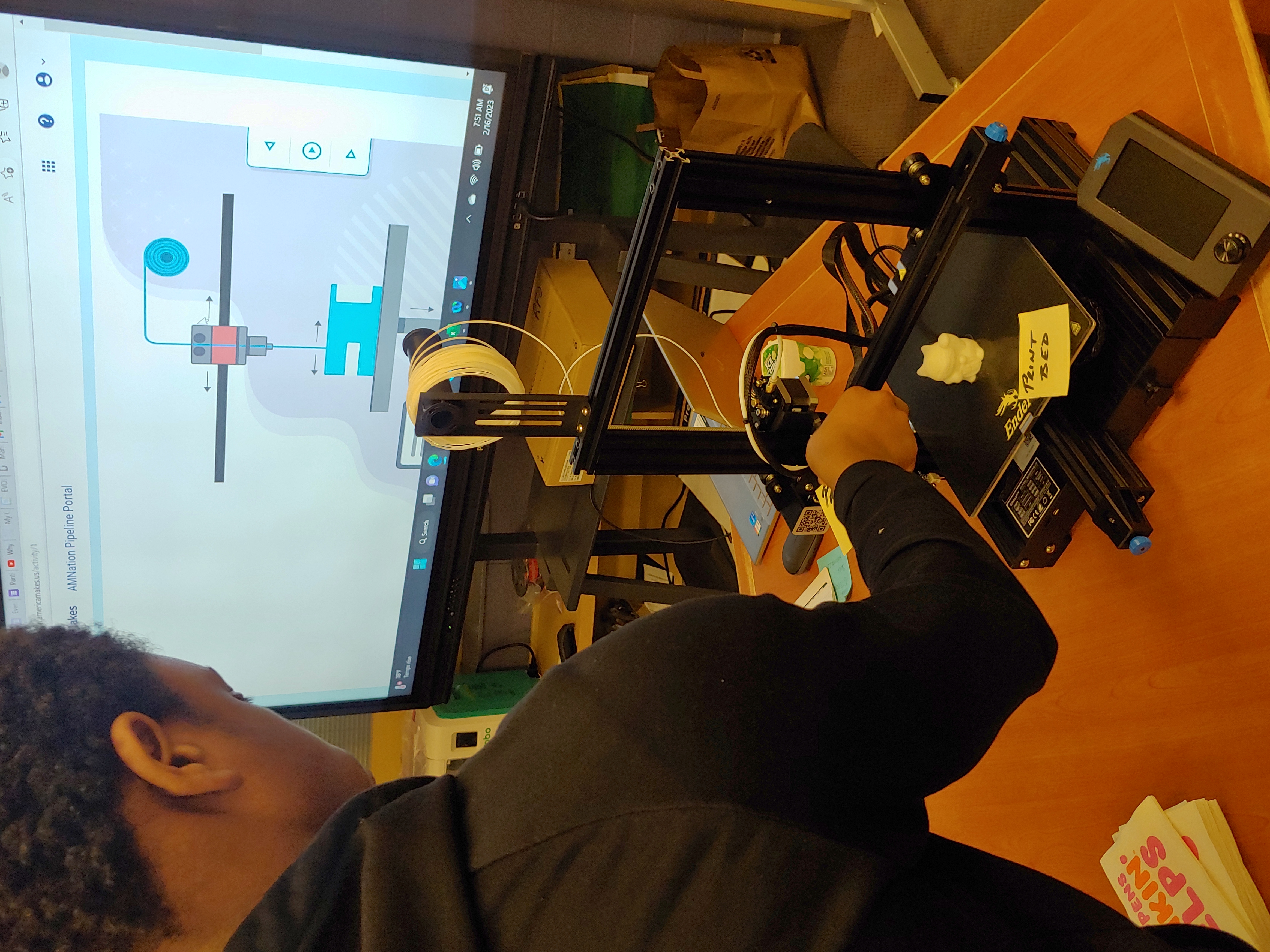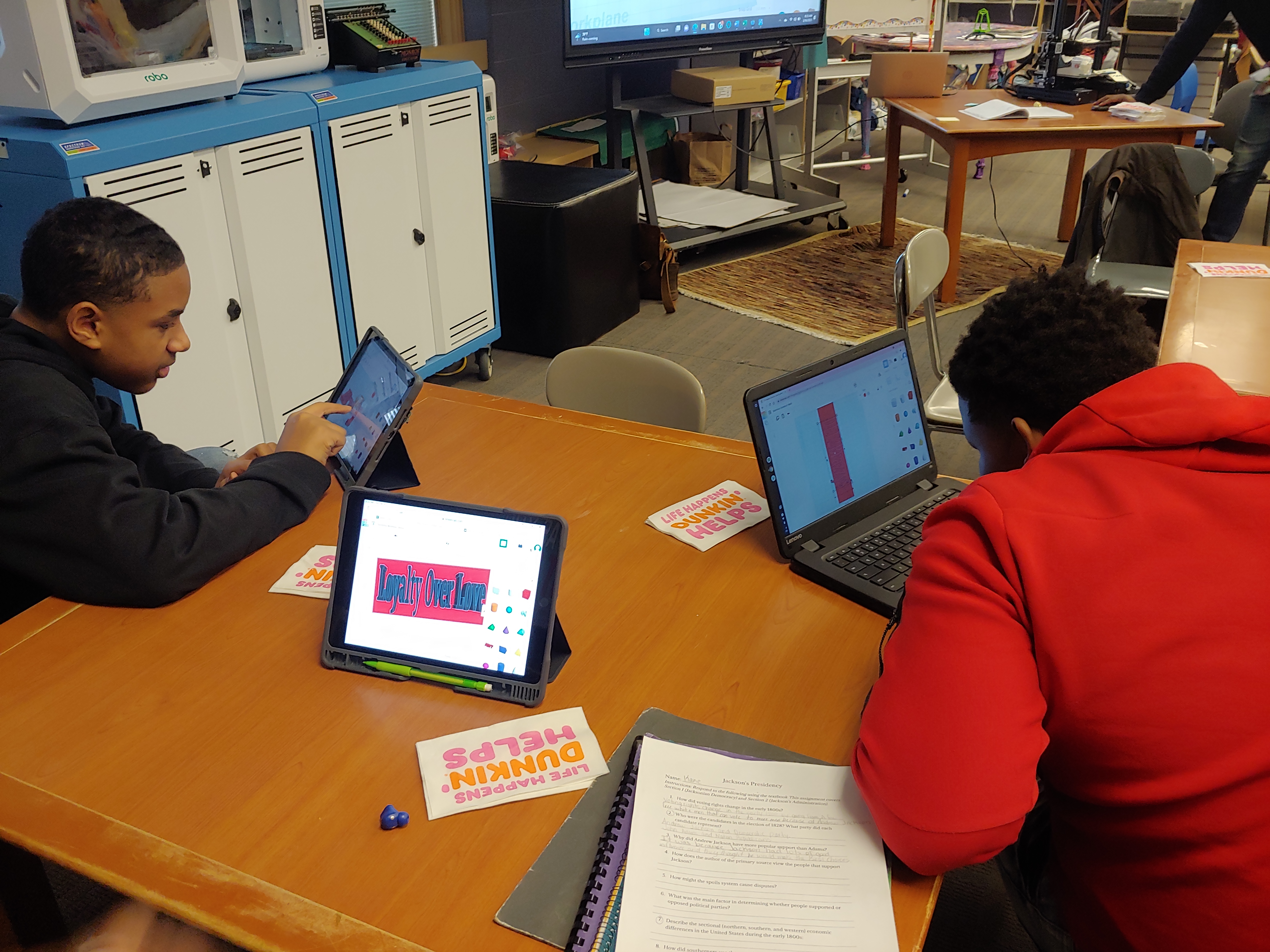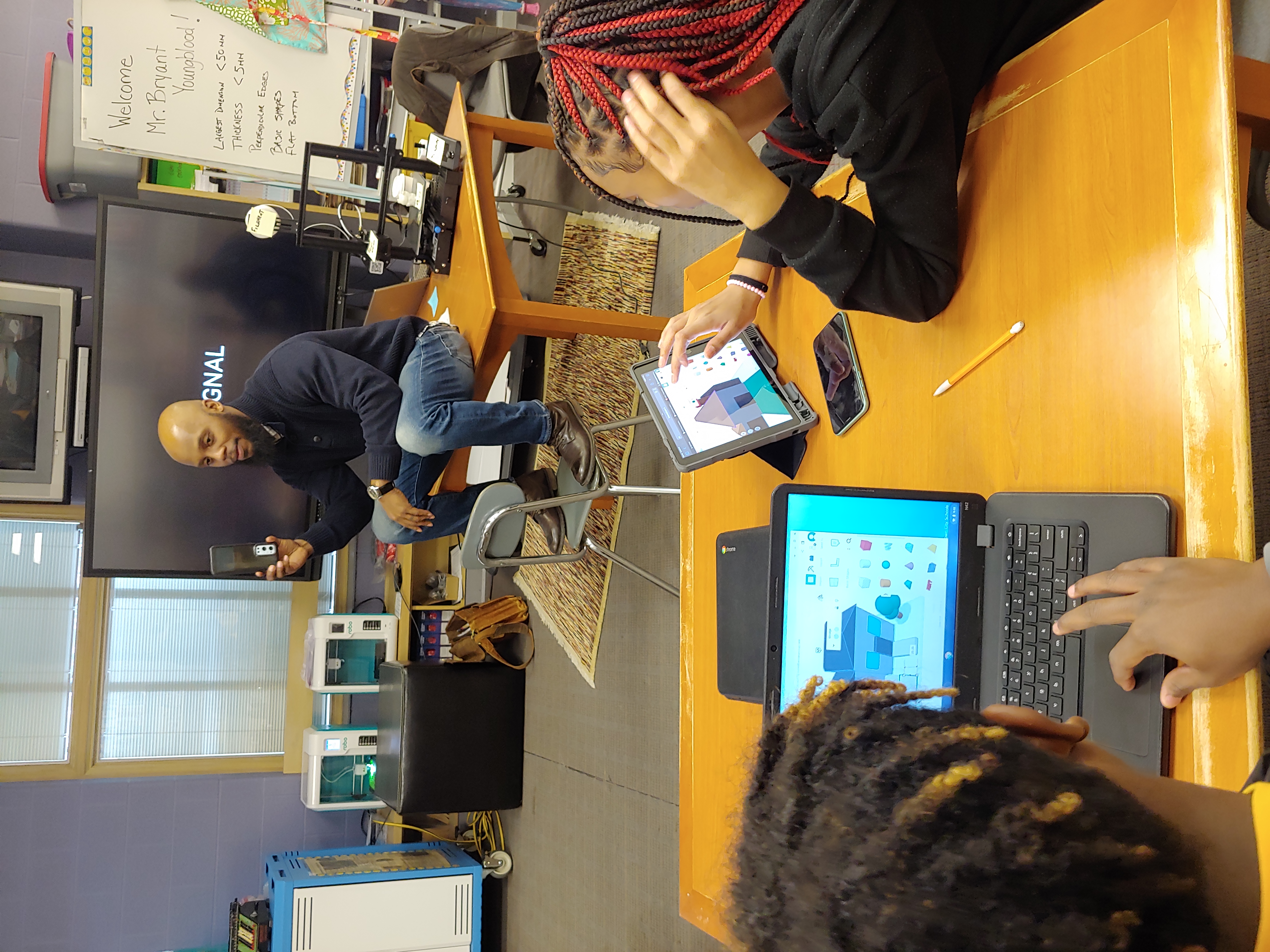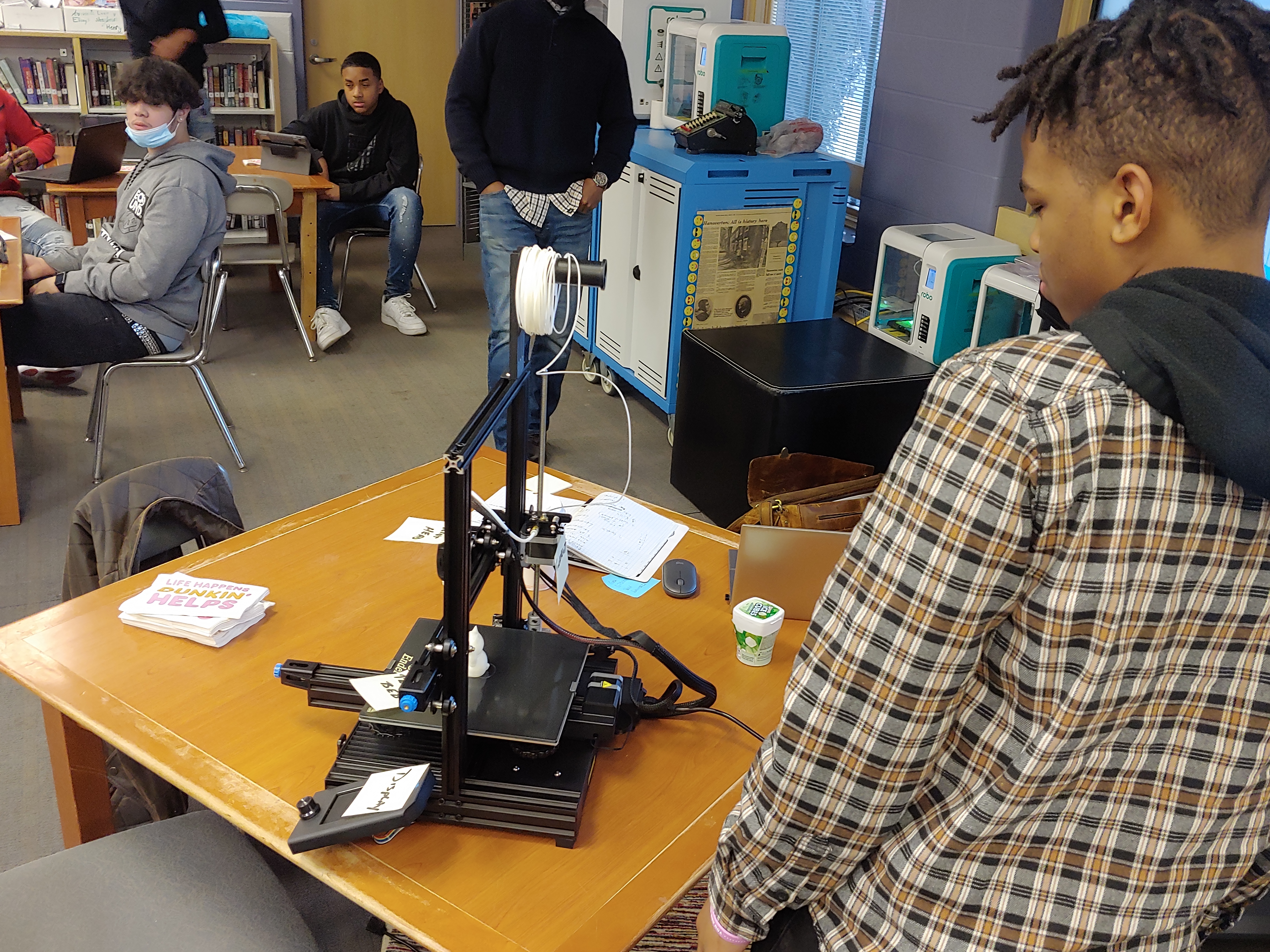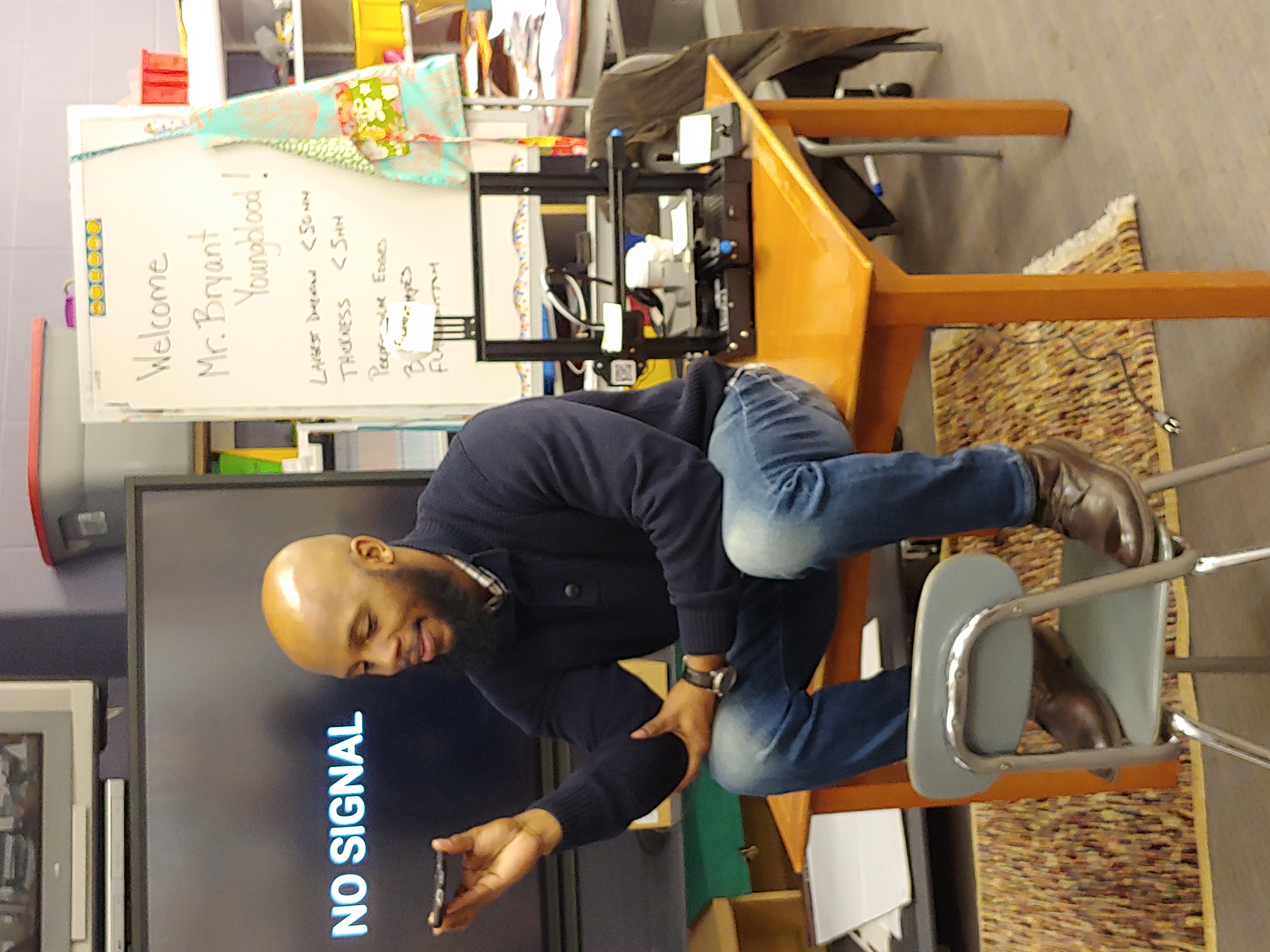 7th Grade Science Lab measurement of Ice Core Samples Paleoclimatology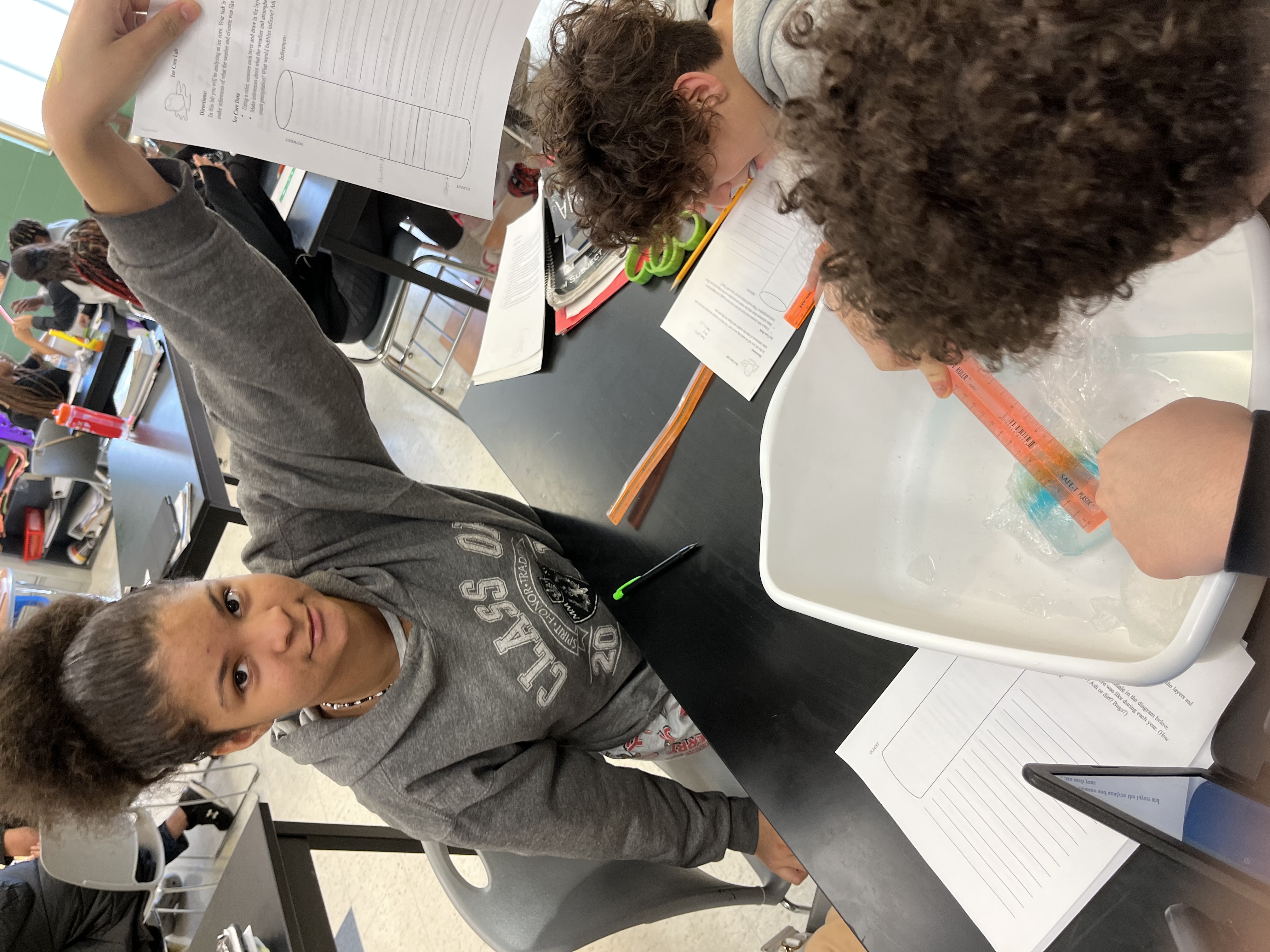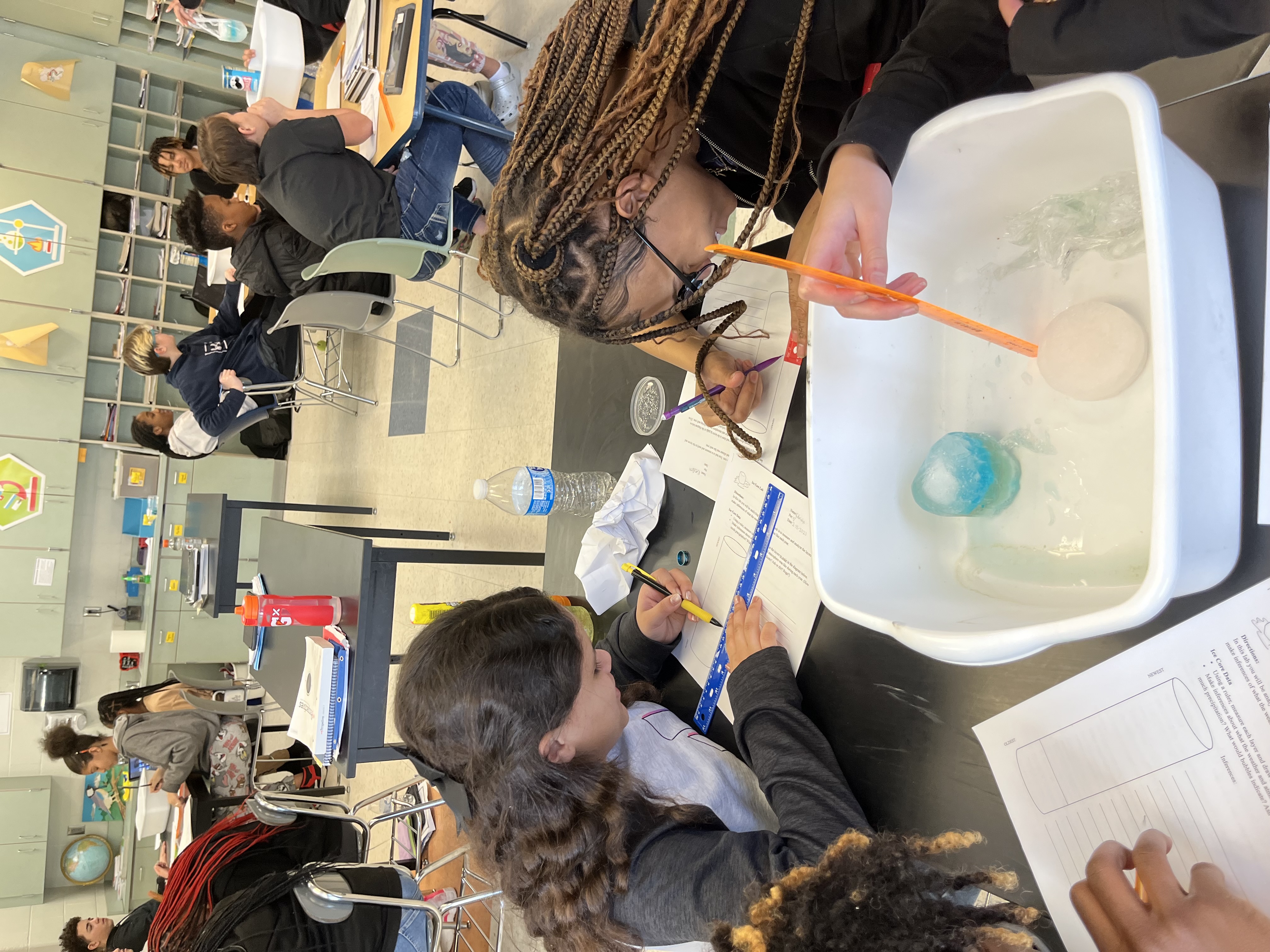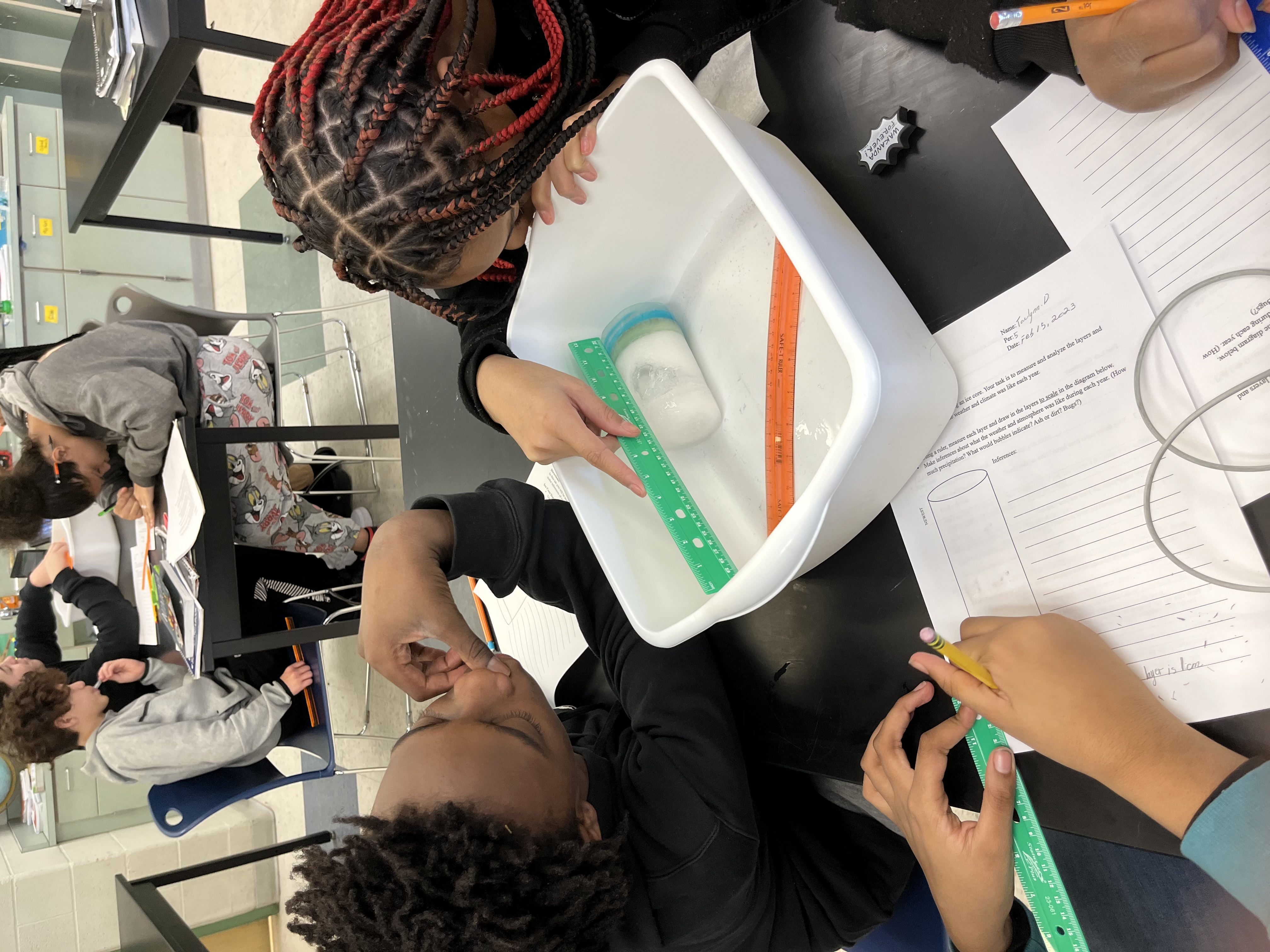 RECMS Valentine's Day Dance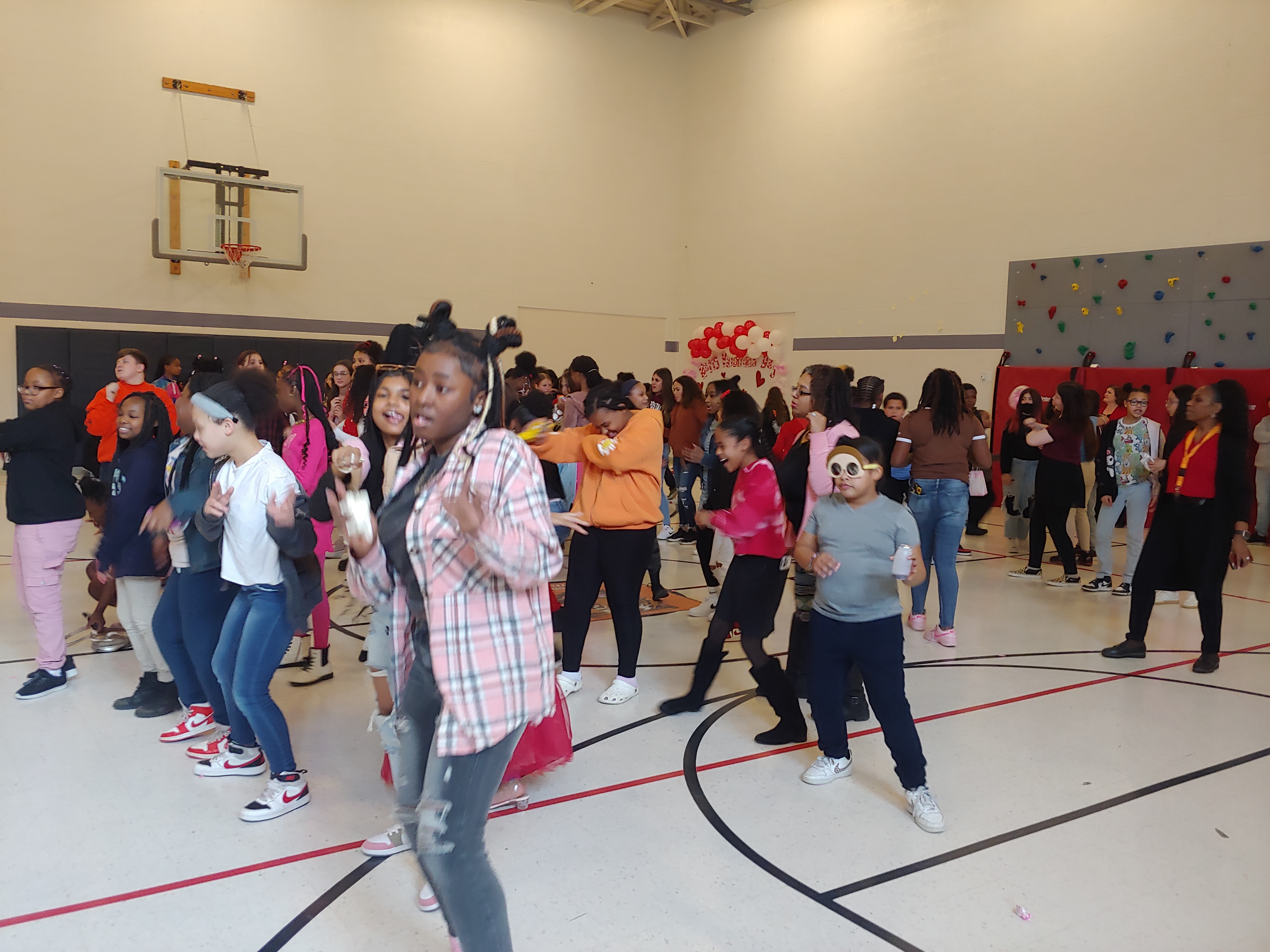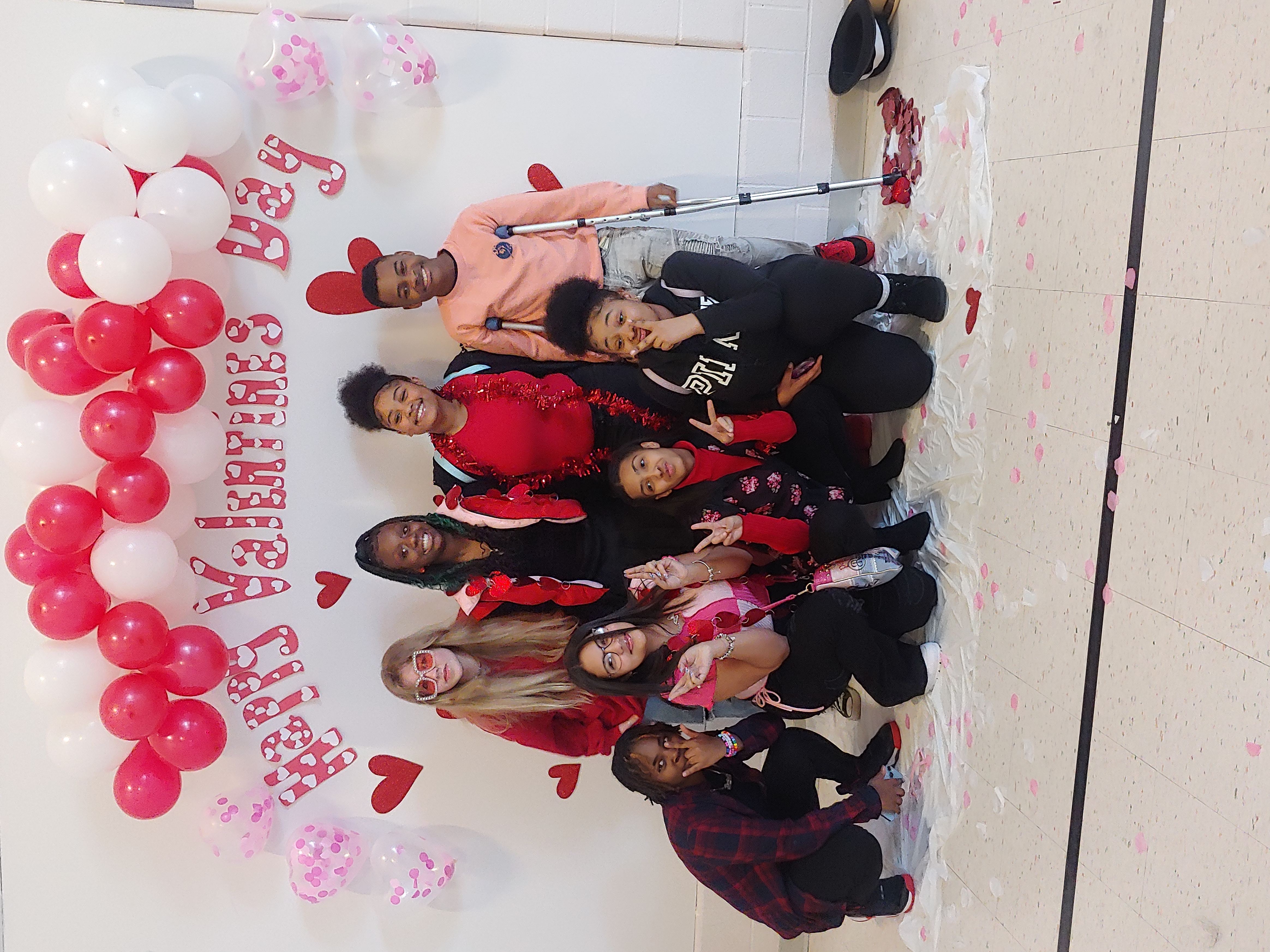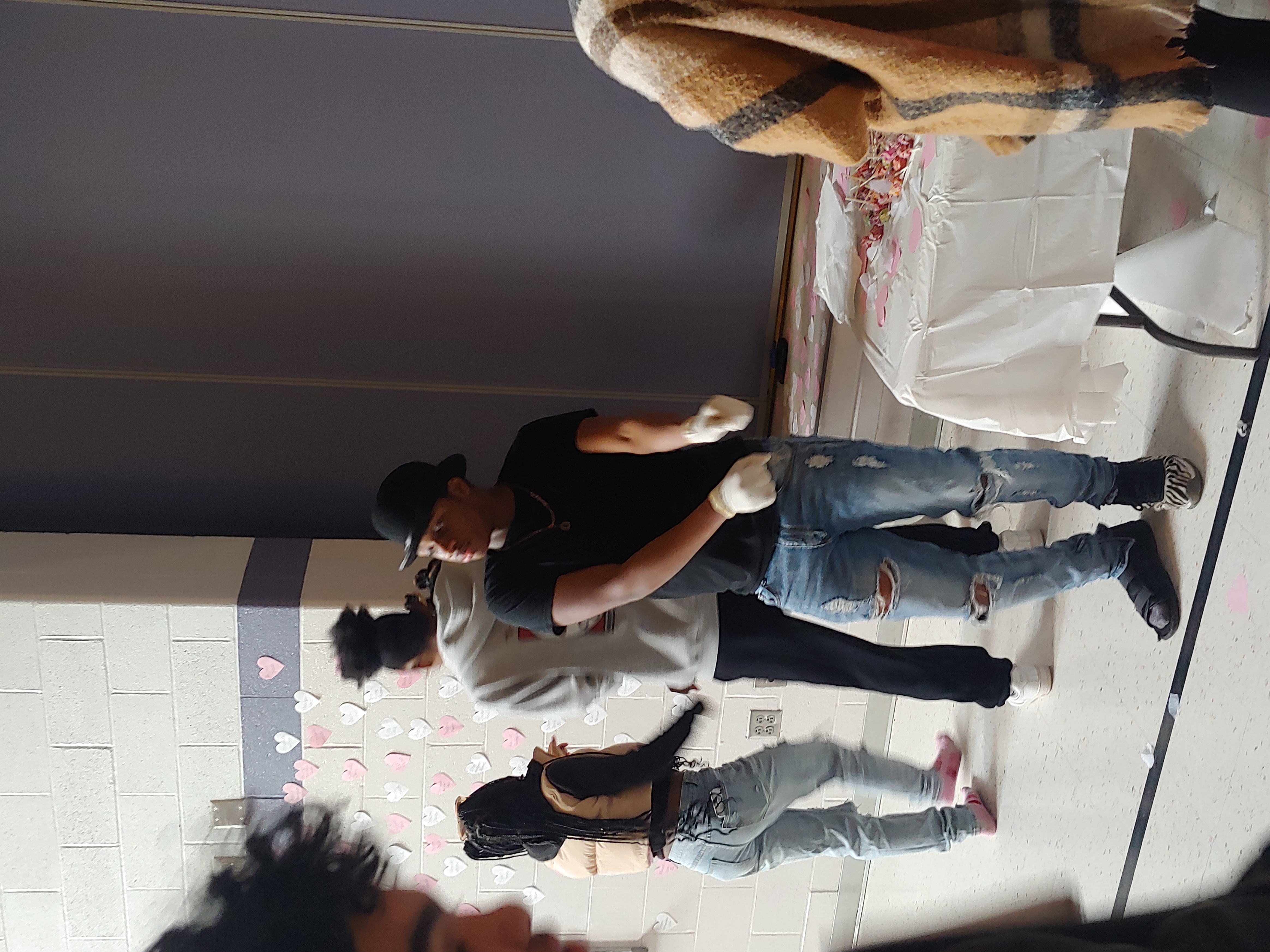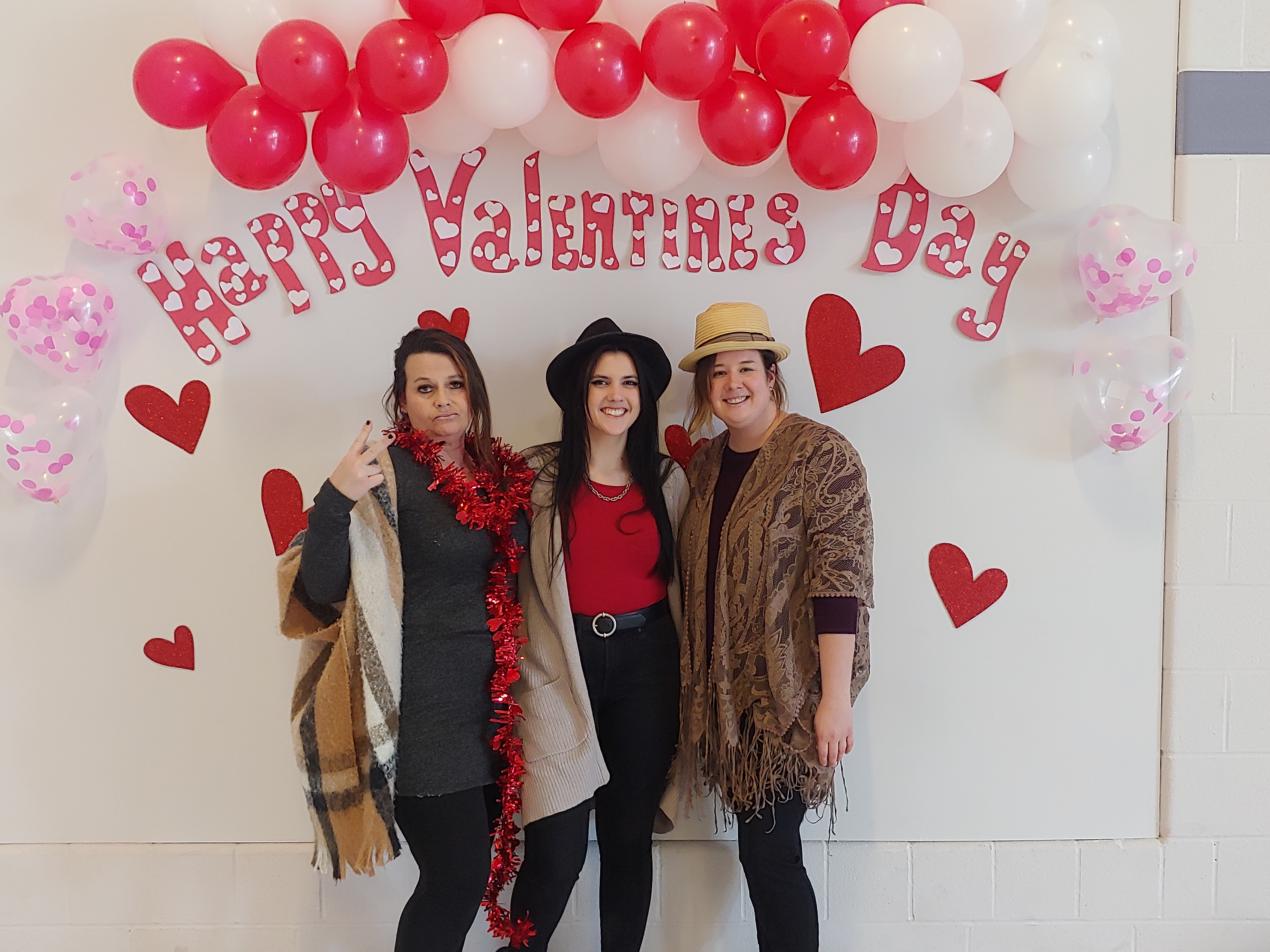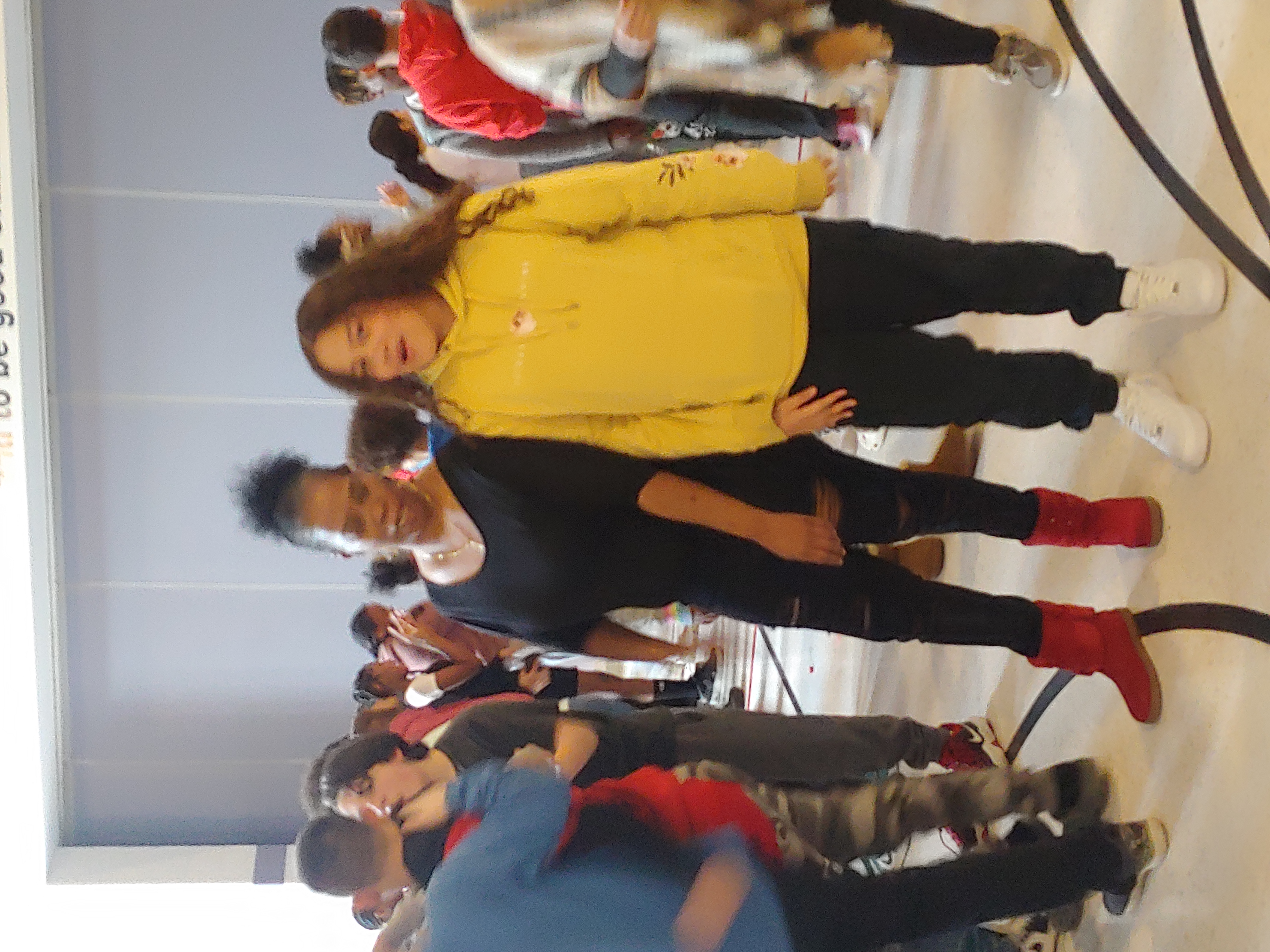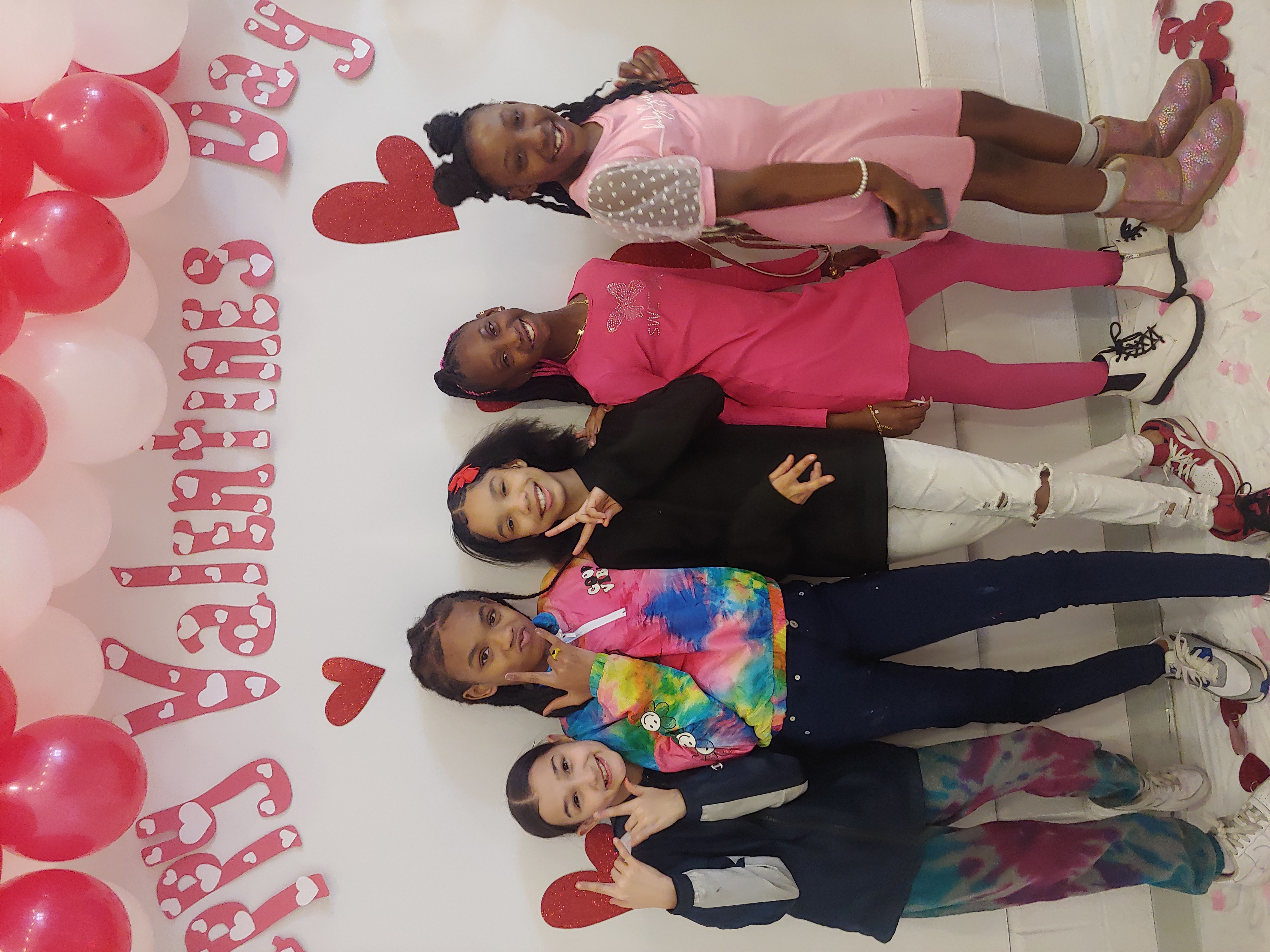 7th and 8th Graders Go to Camp Fitch
On February 10, many of our scholars went to Camp Fitch for the MBK Student Leadership Empowerment Camp lead by Mr. Kevin Douglas. 46 middle schoolers attended camp with 10 High School Mentors. Students were from REC, Chaney Middle, East Middle, and the High School Mentors were from YEC and Chaney. The camp is all about building character and integrity in kids. It's about socializing, meeting new people, trying new things, learning, having fun, discovering, learning to communicate and about Youth in Government. They learn that choices are long lasting and life changing.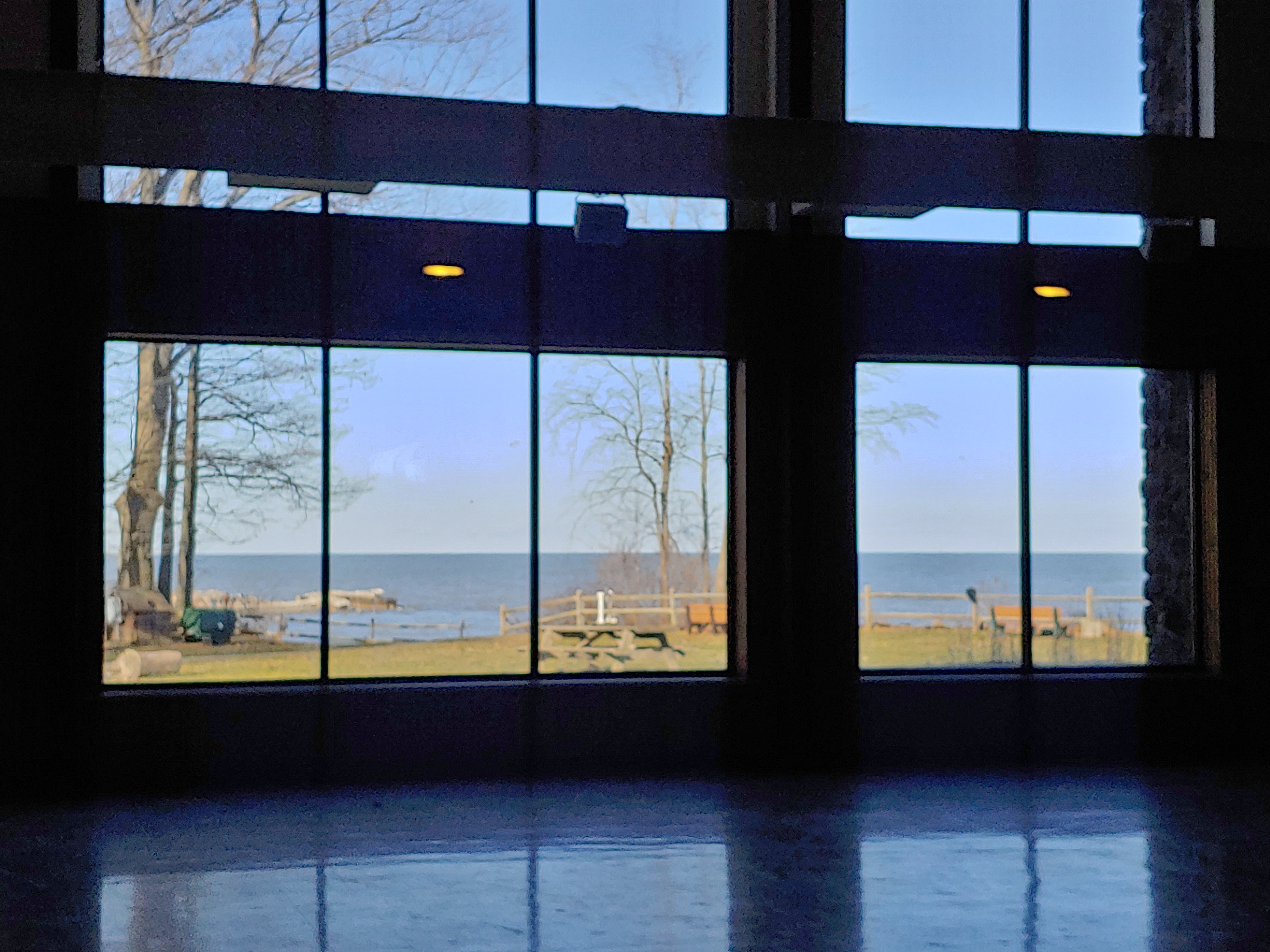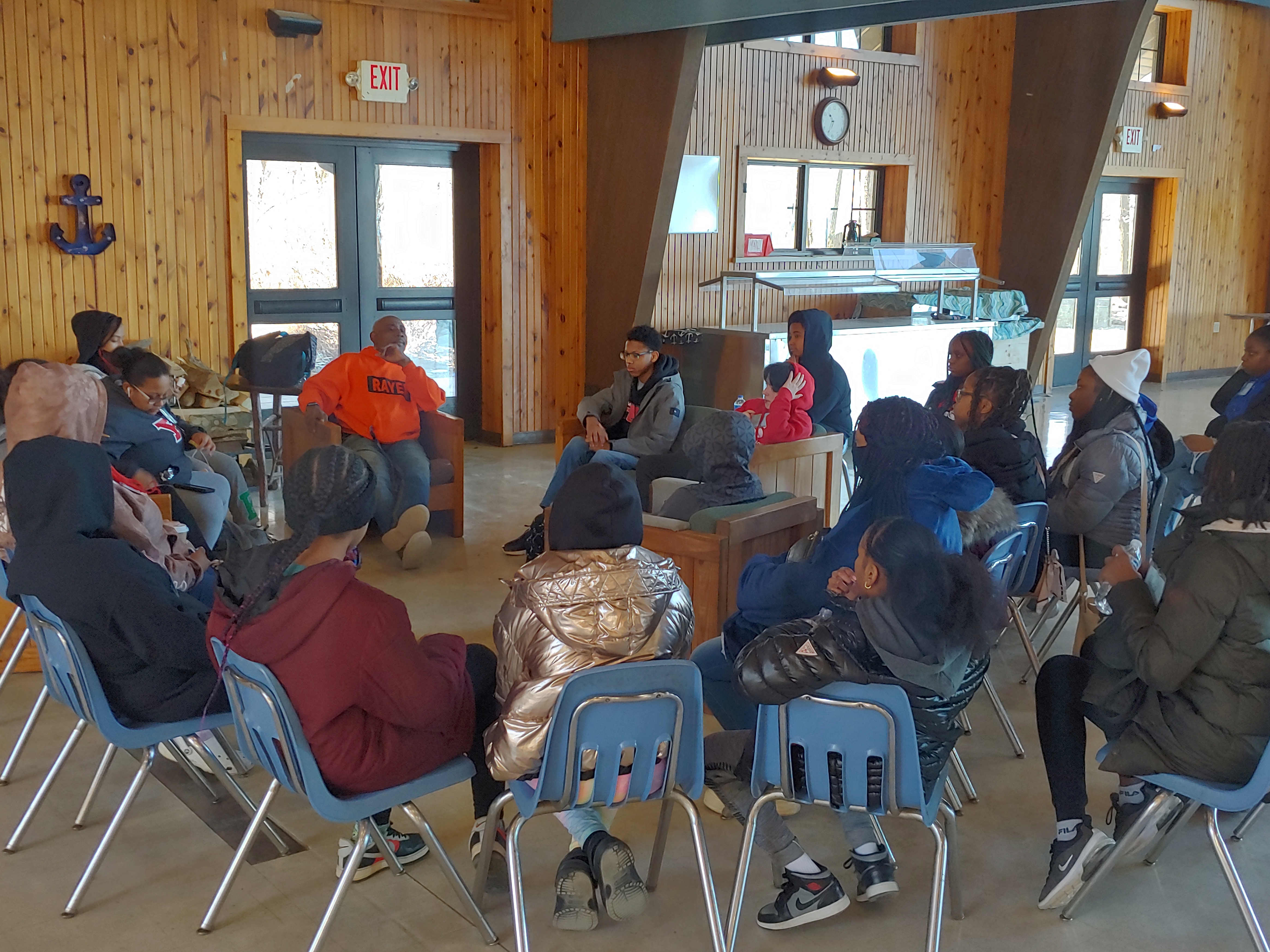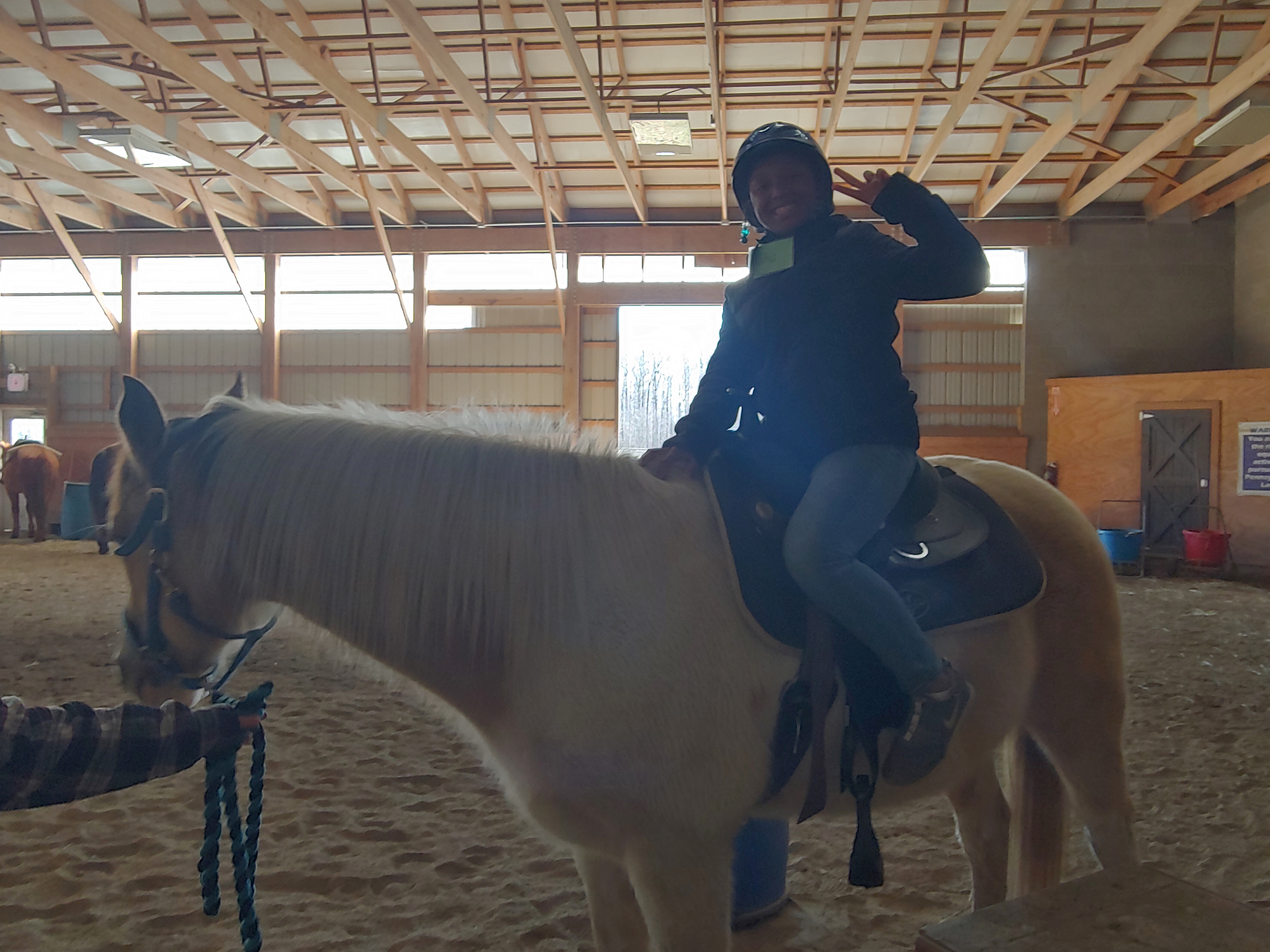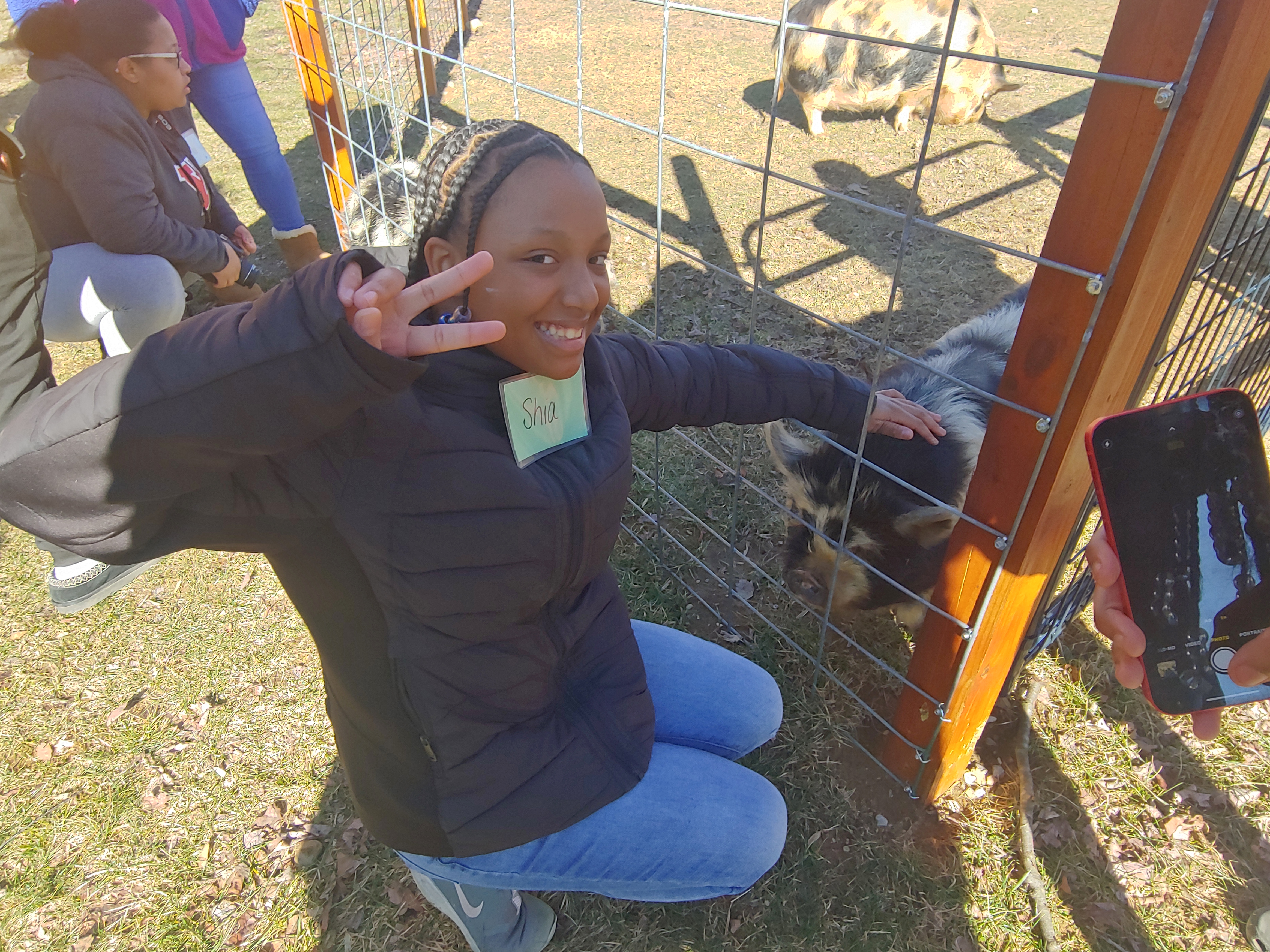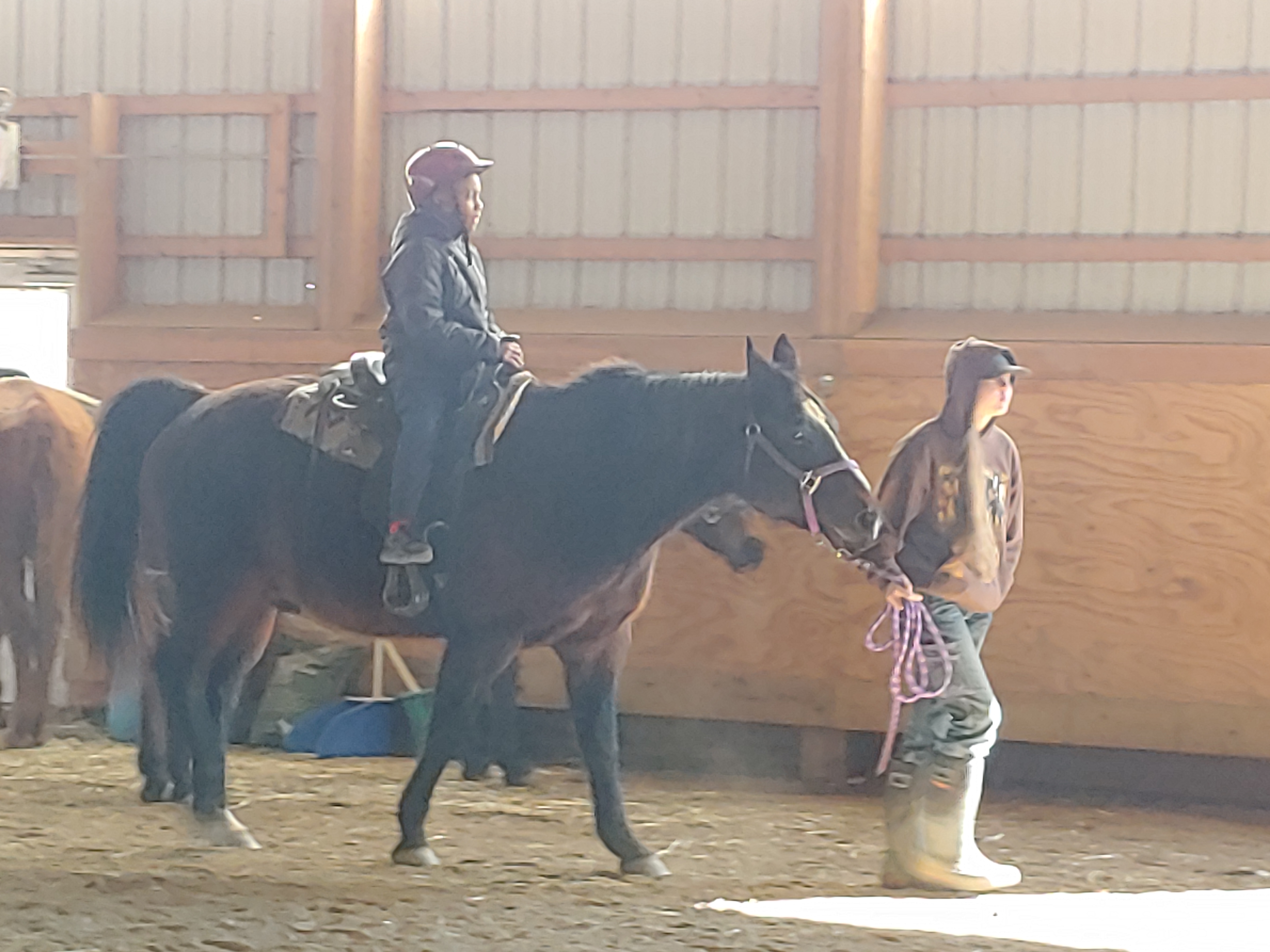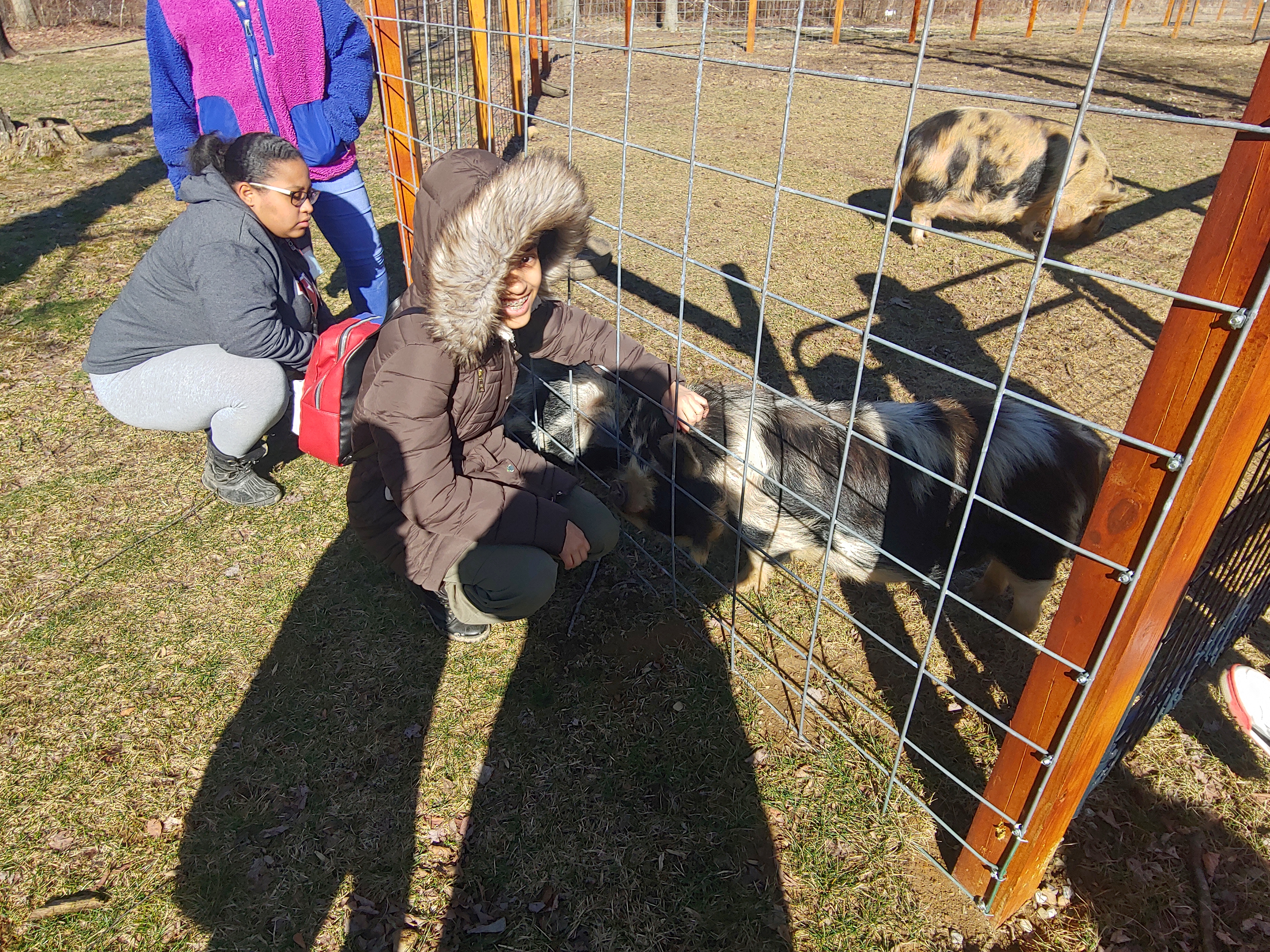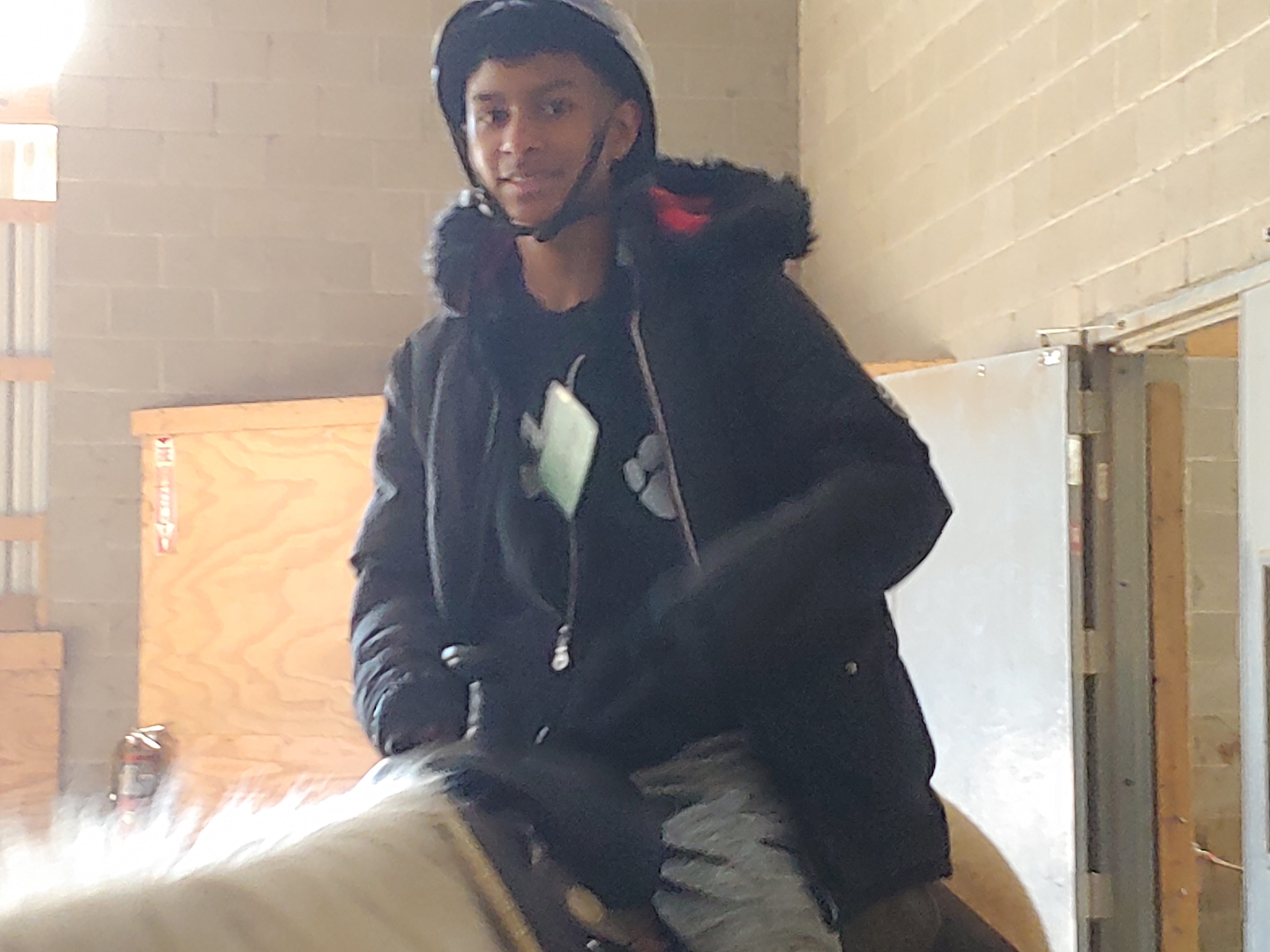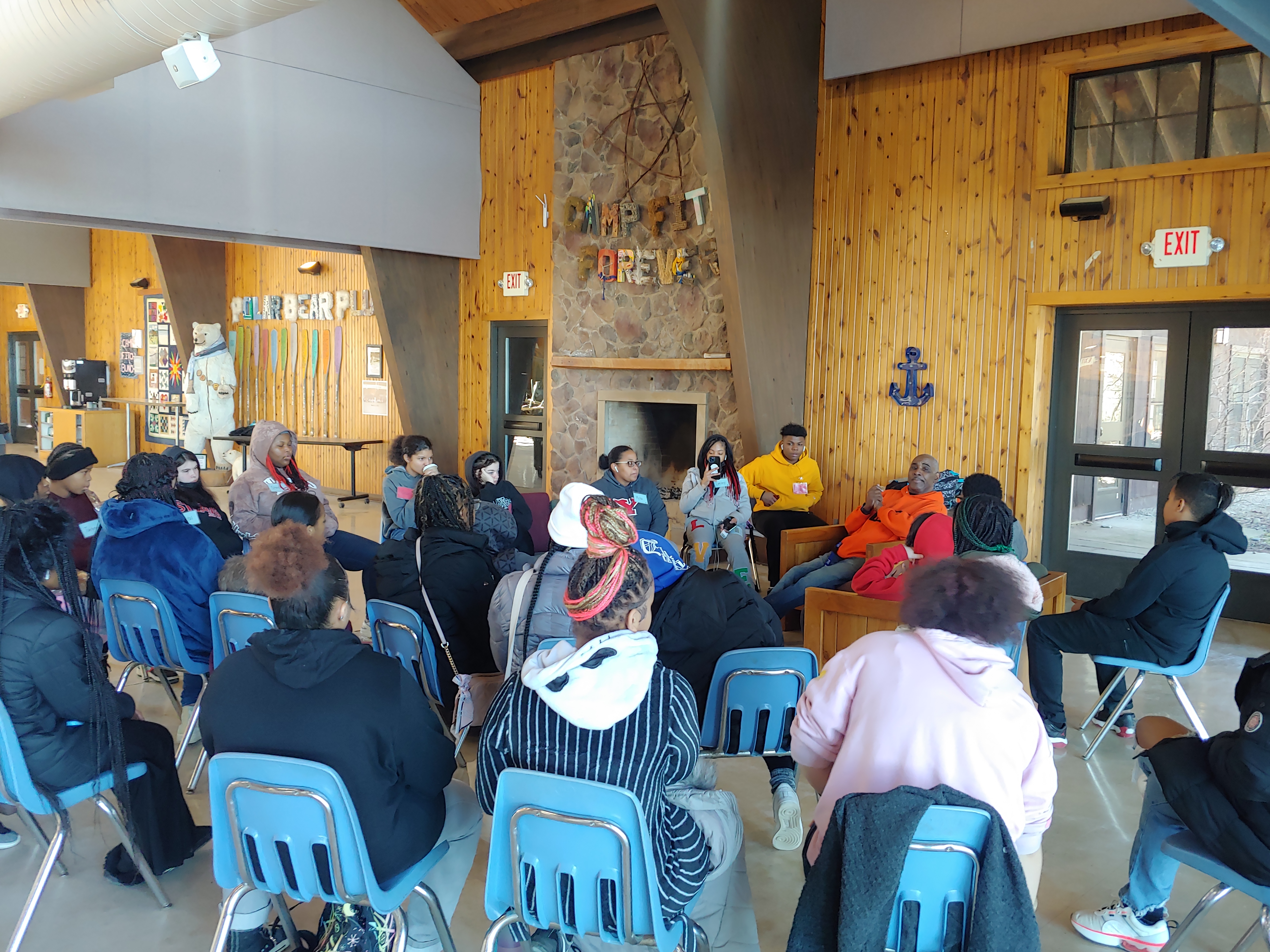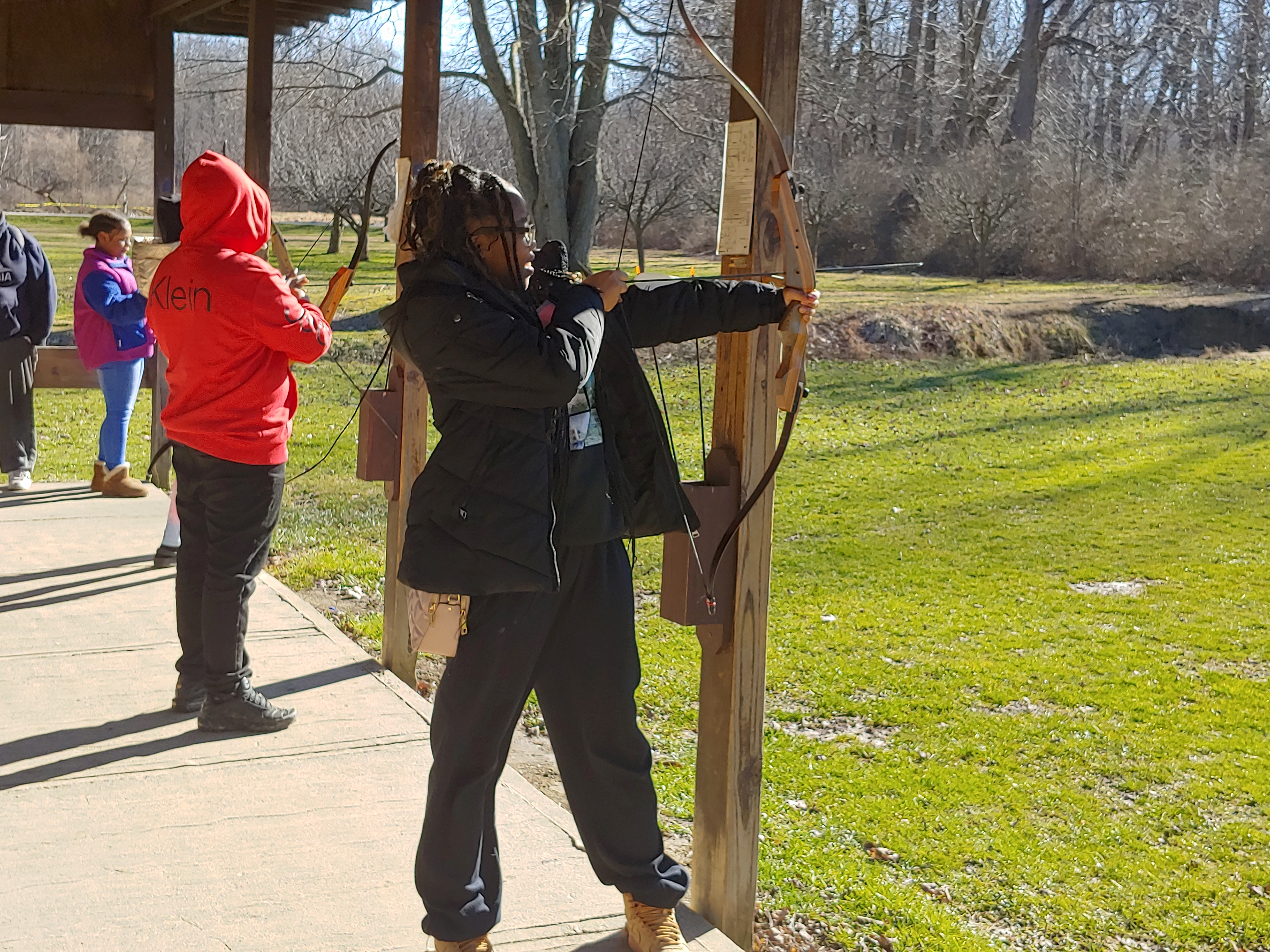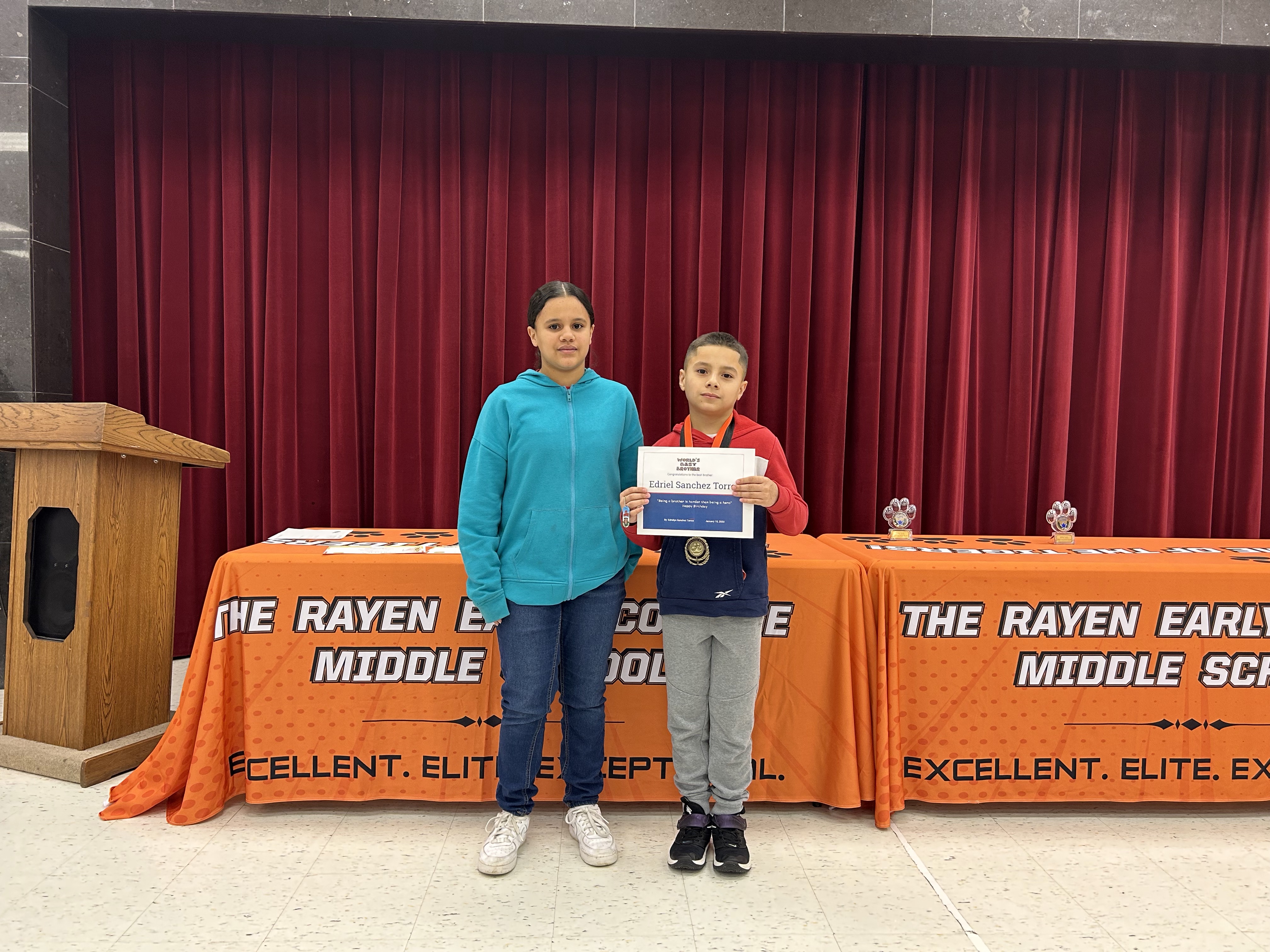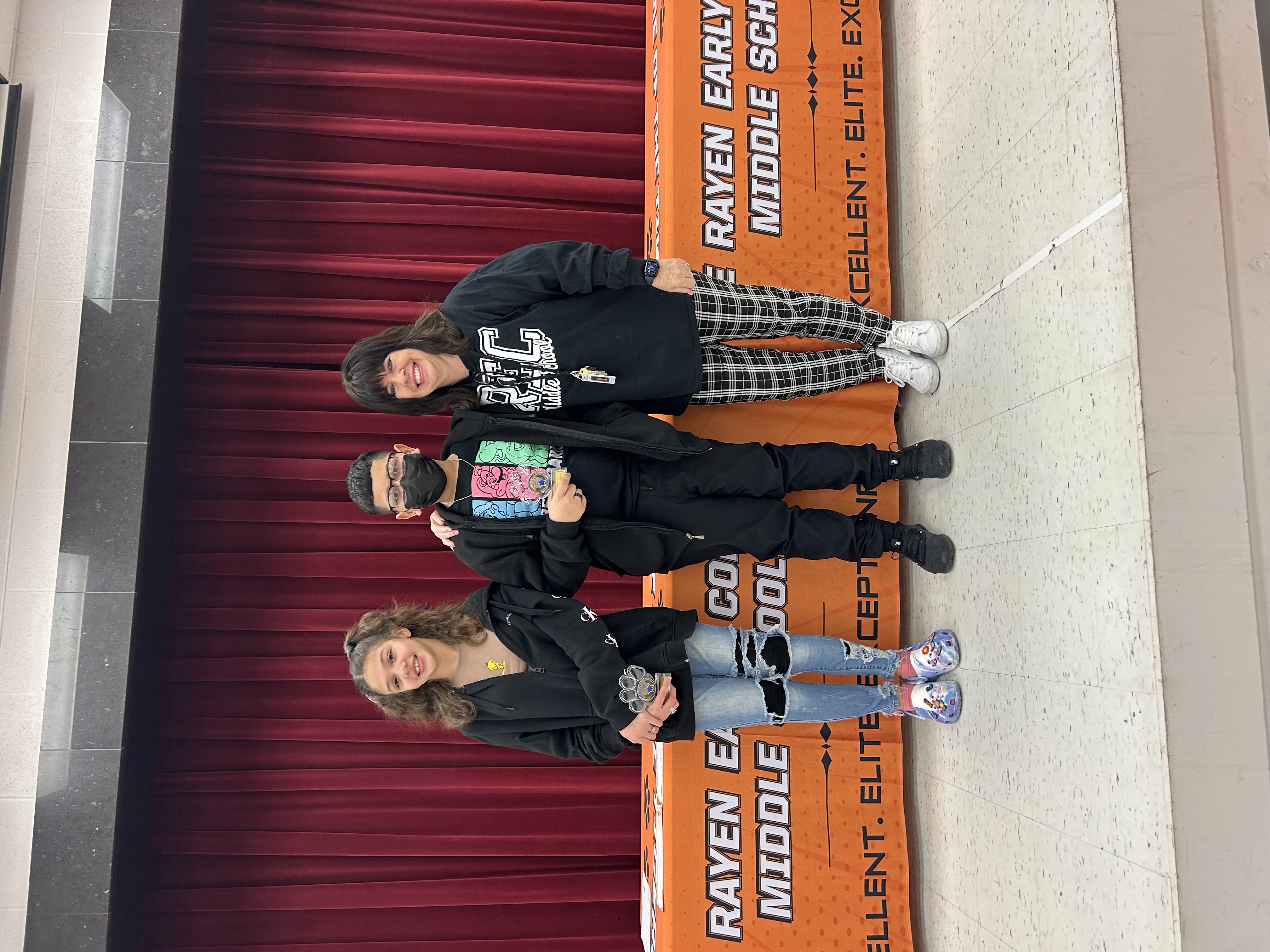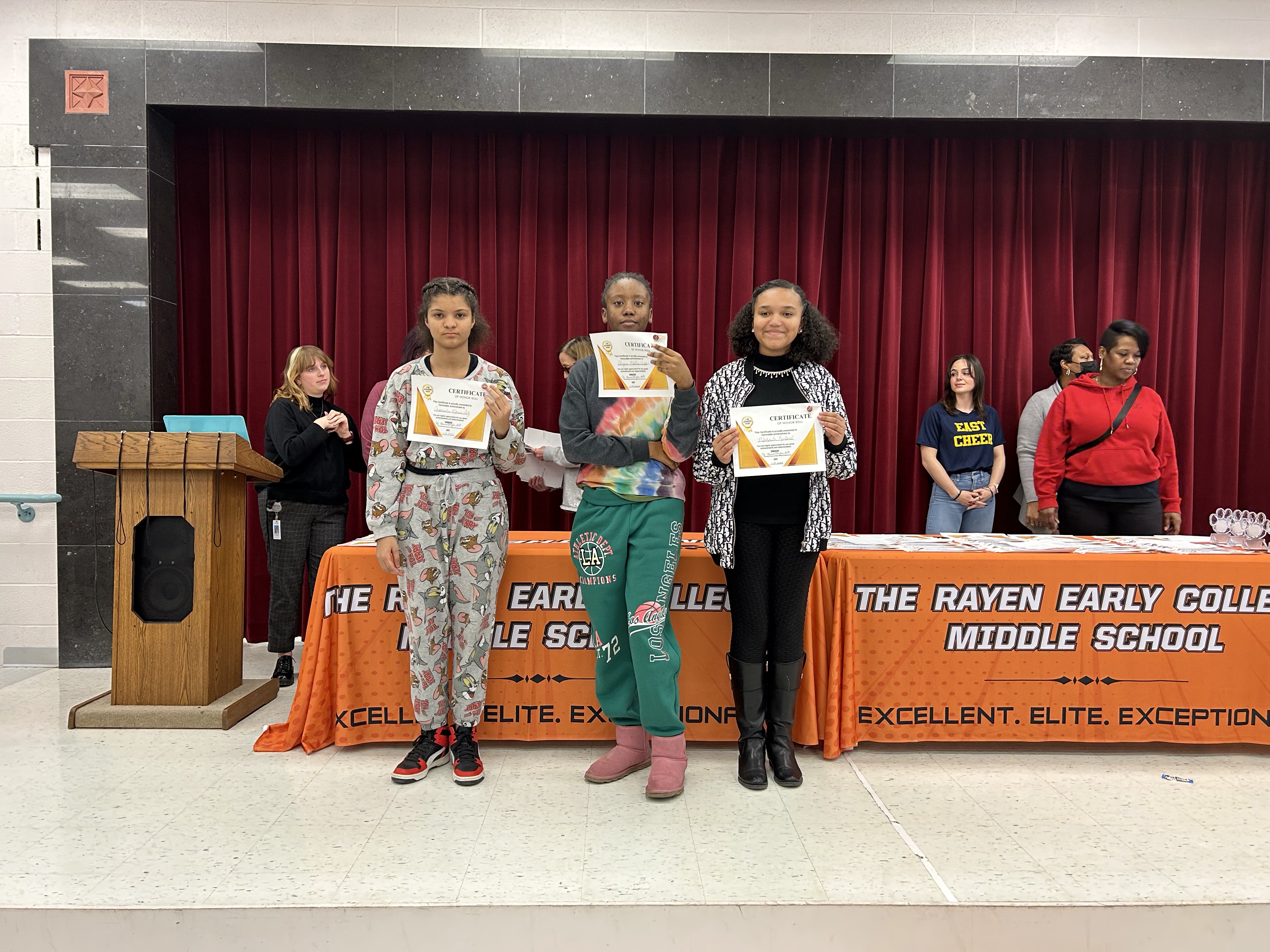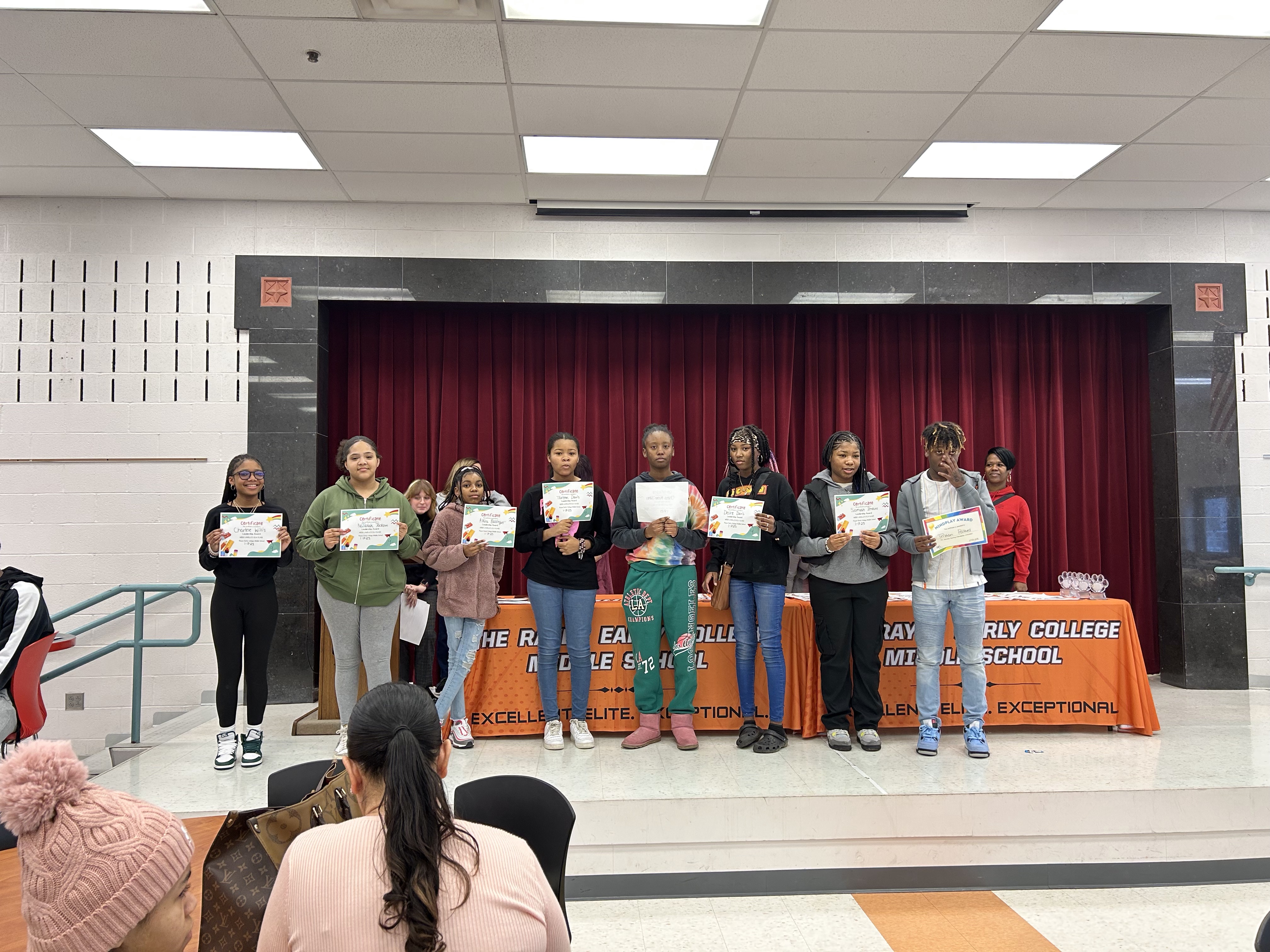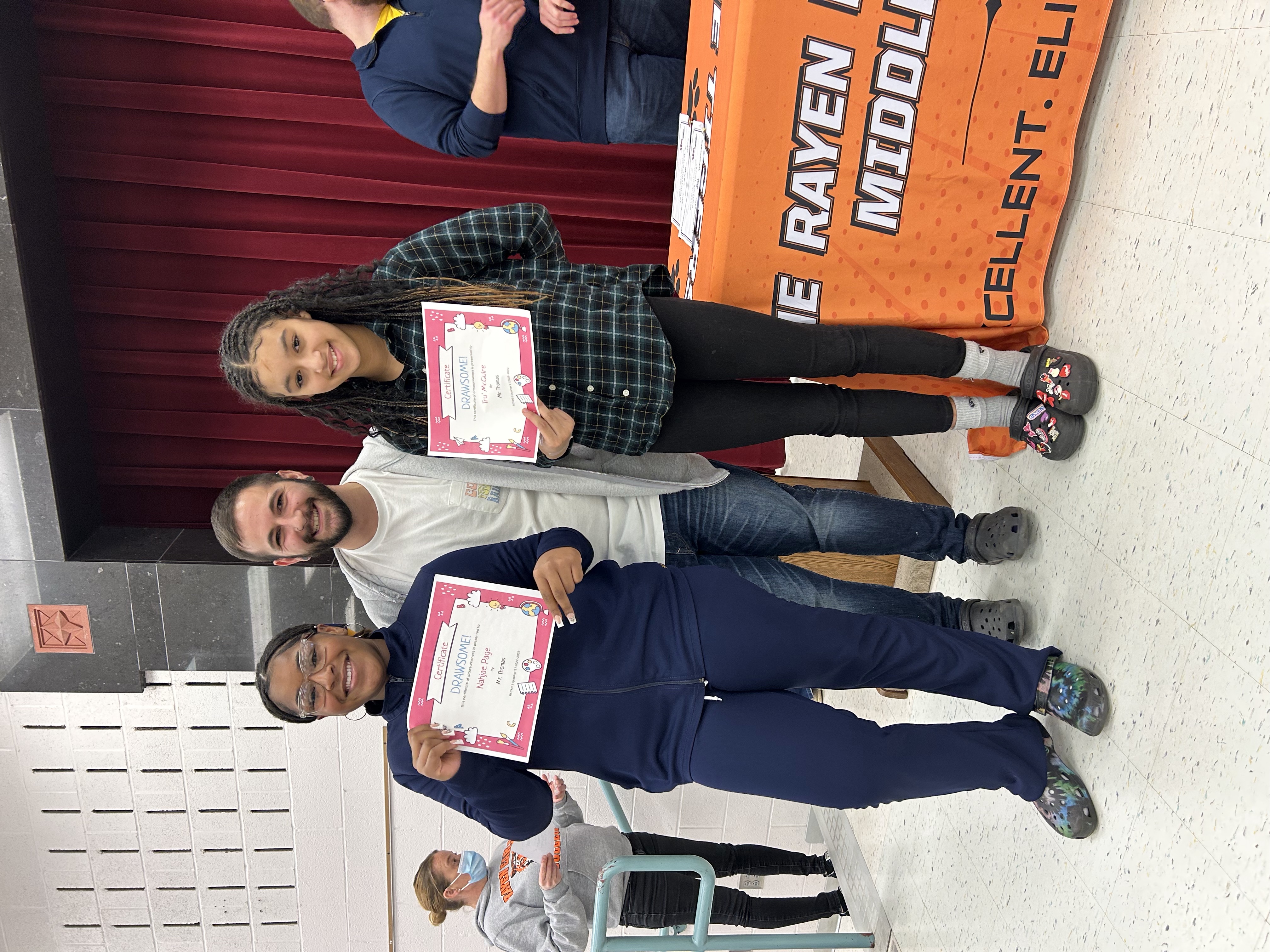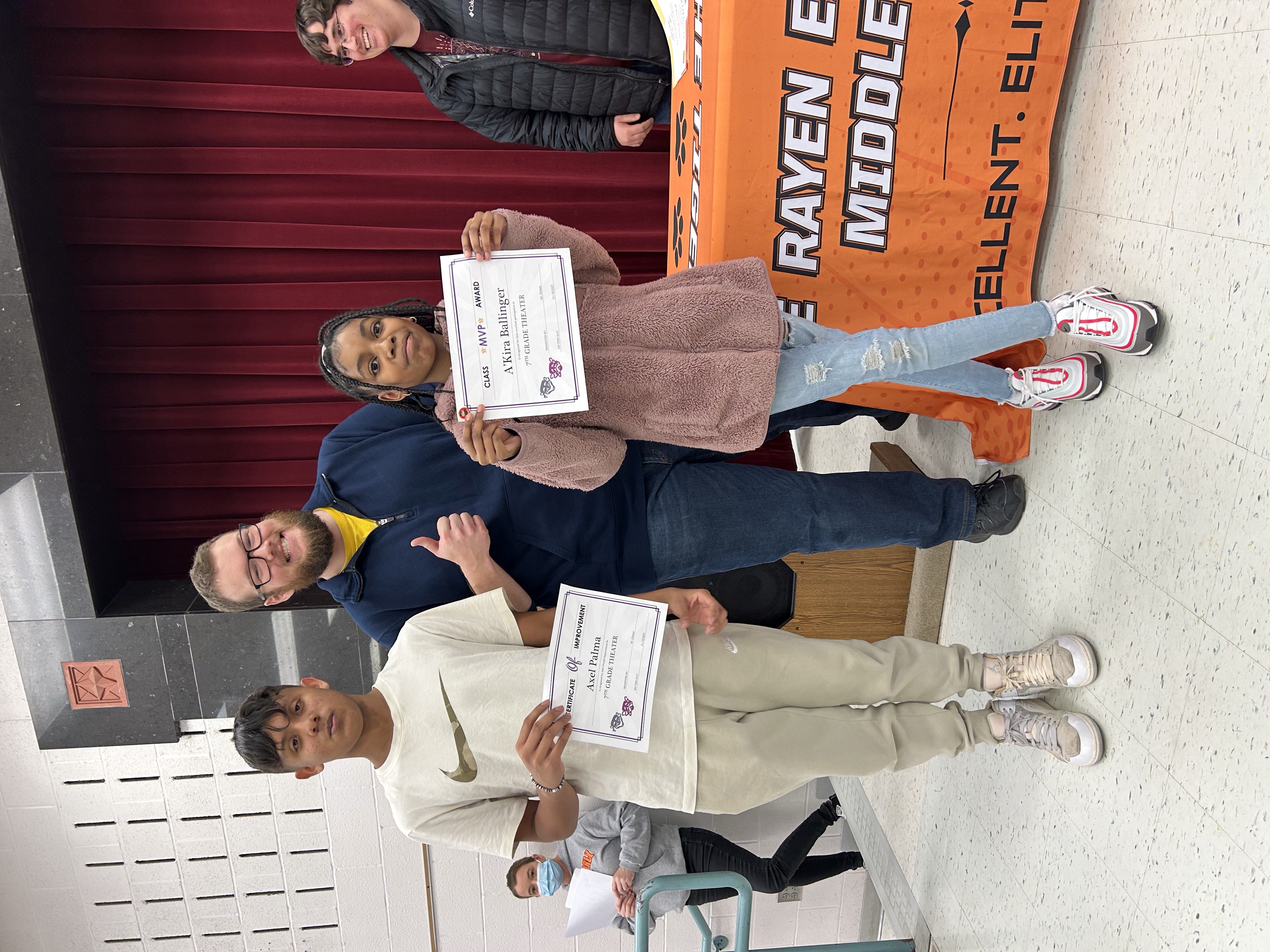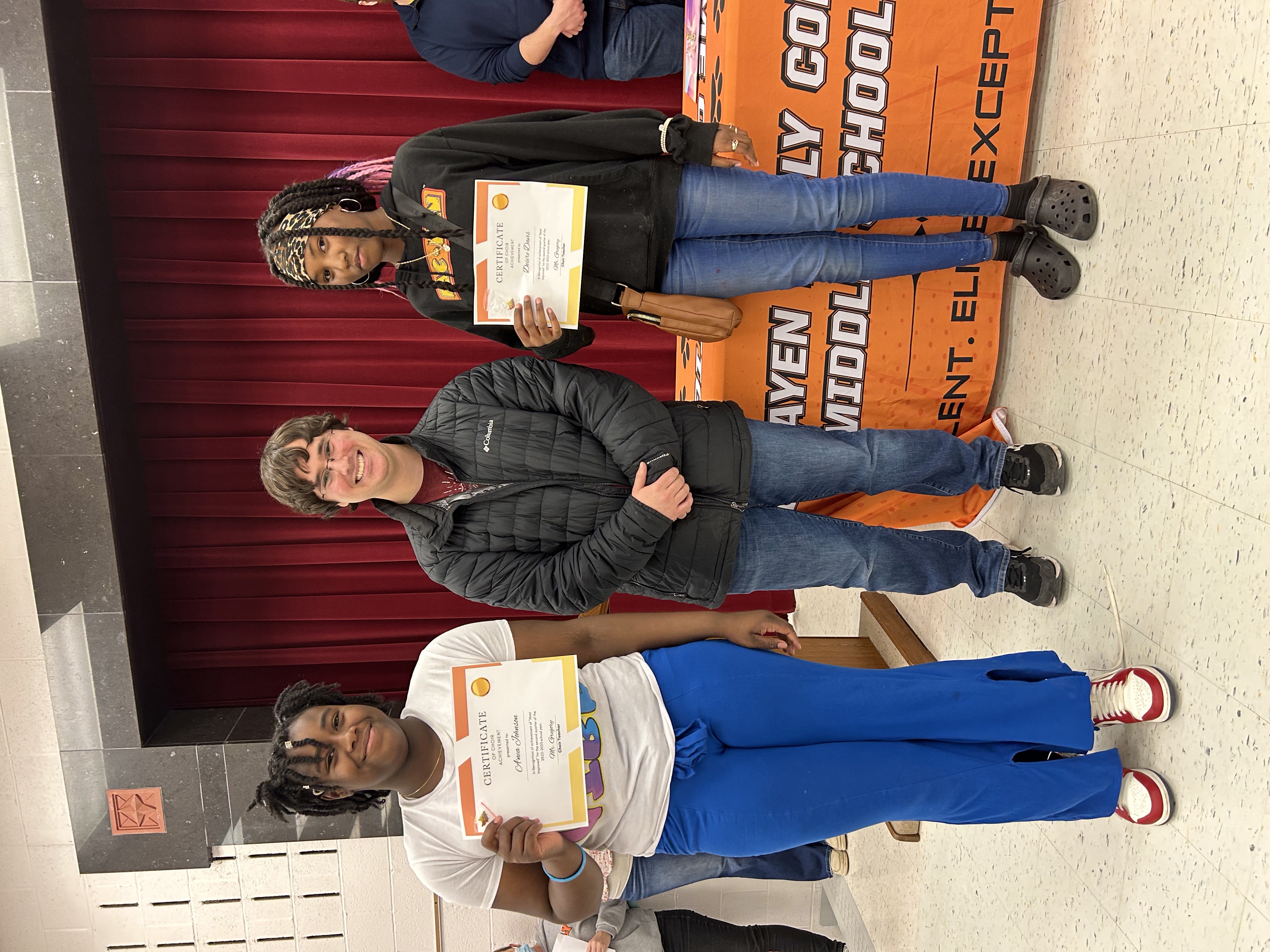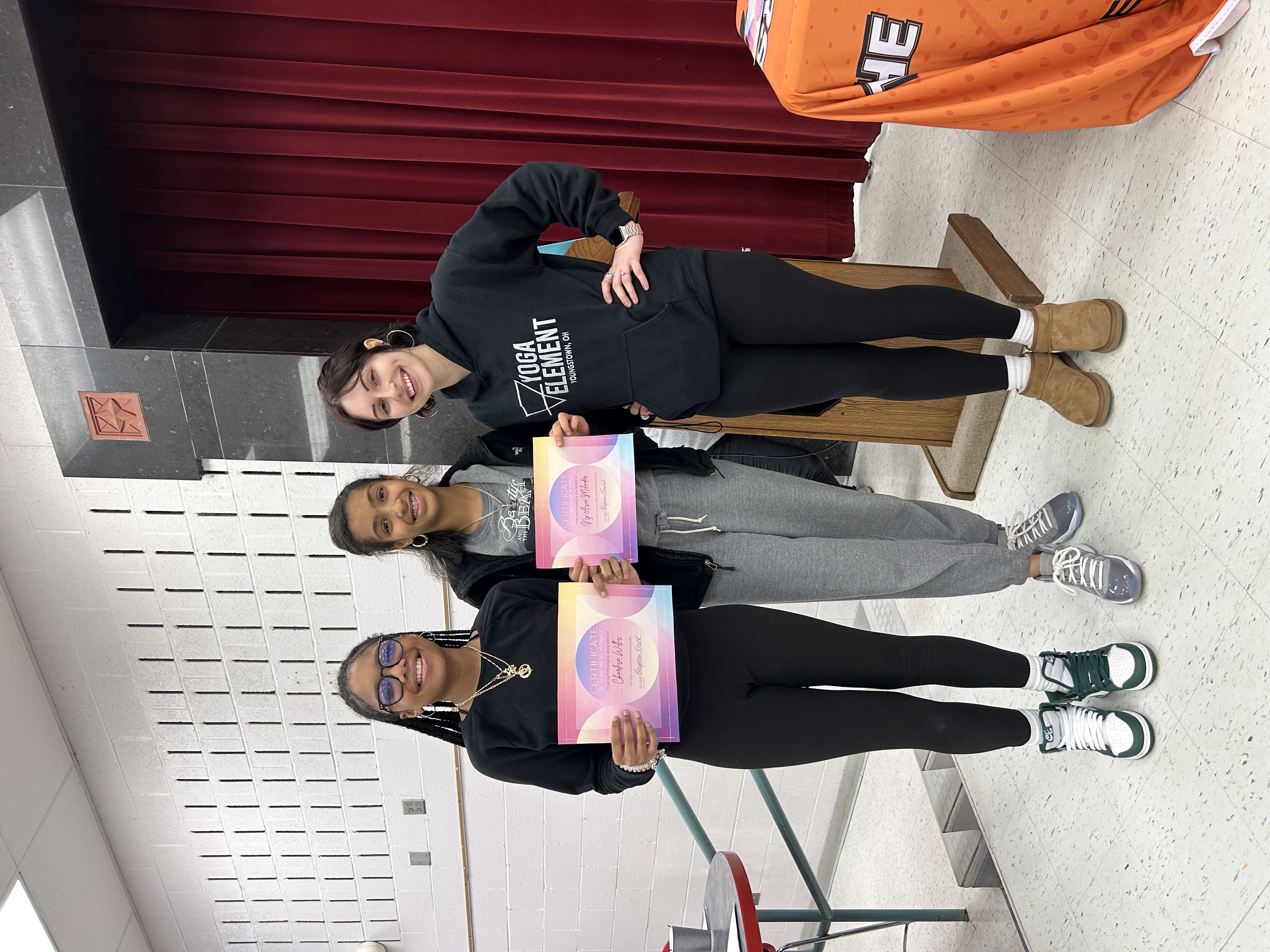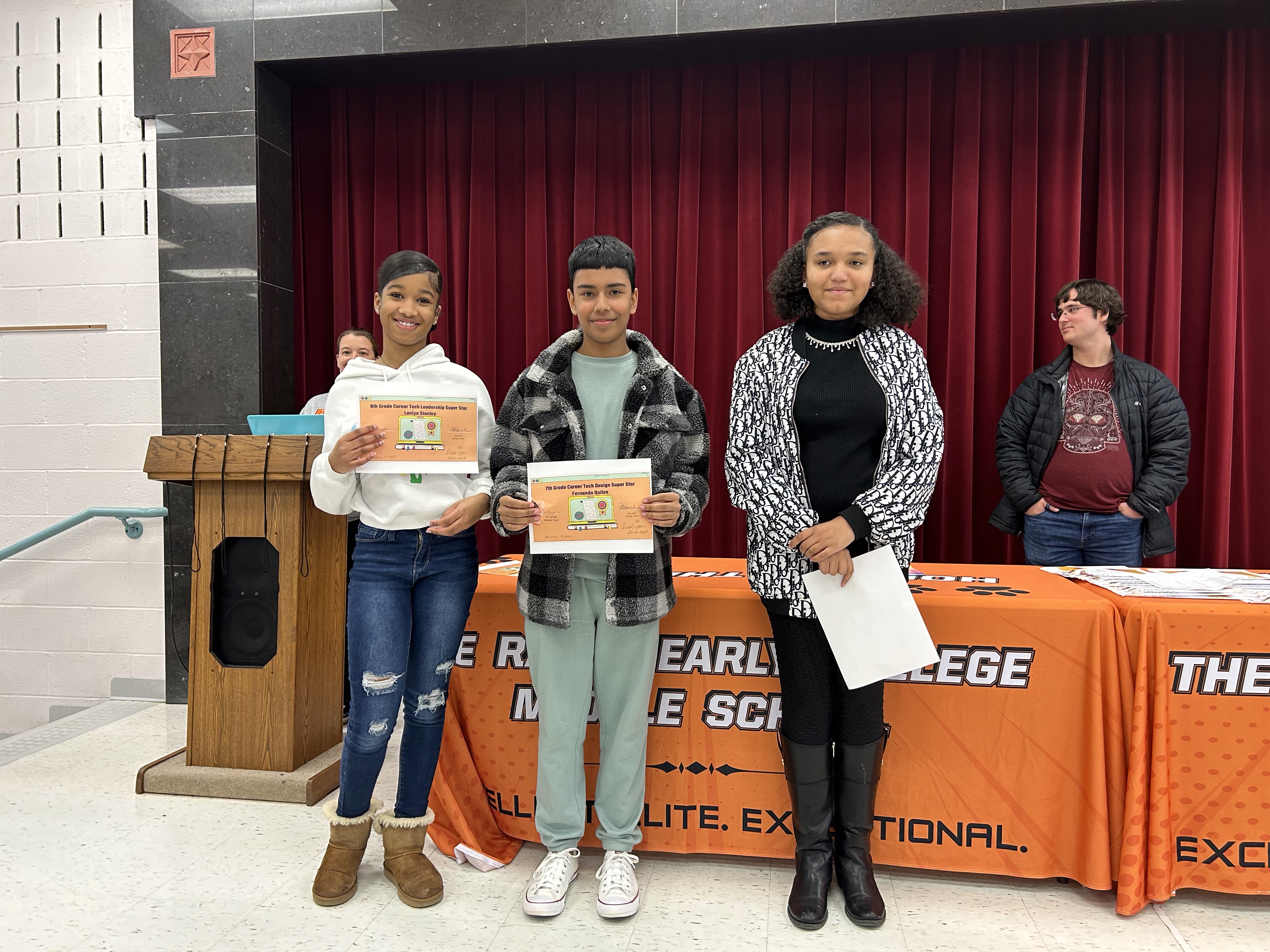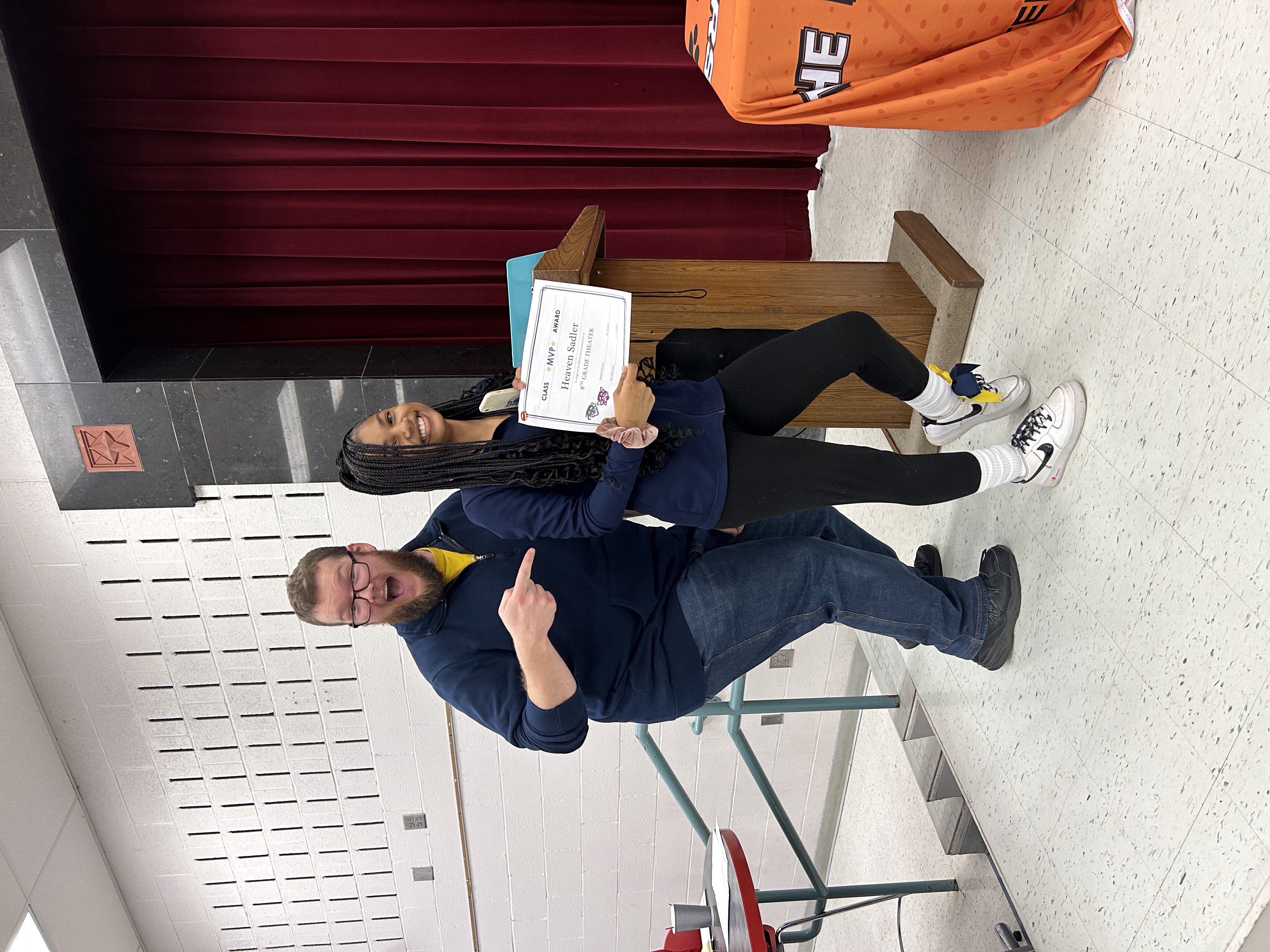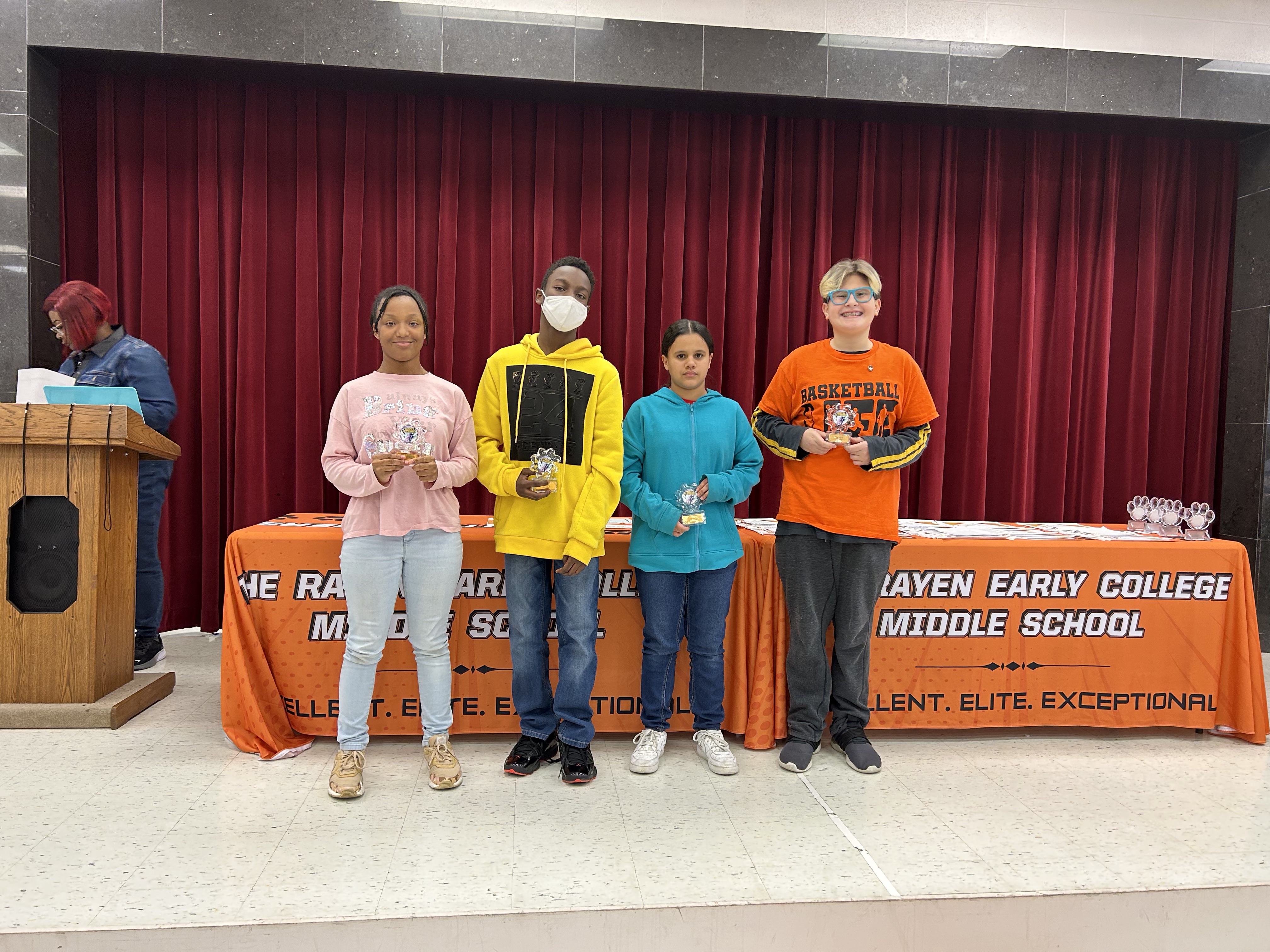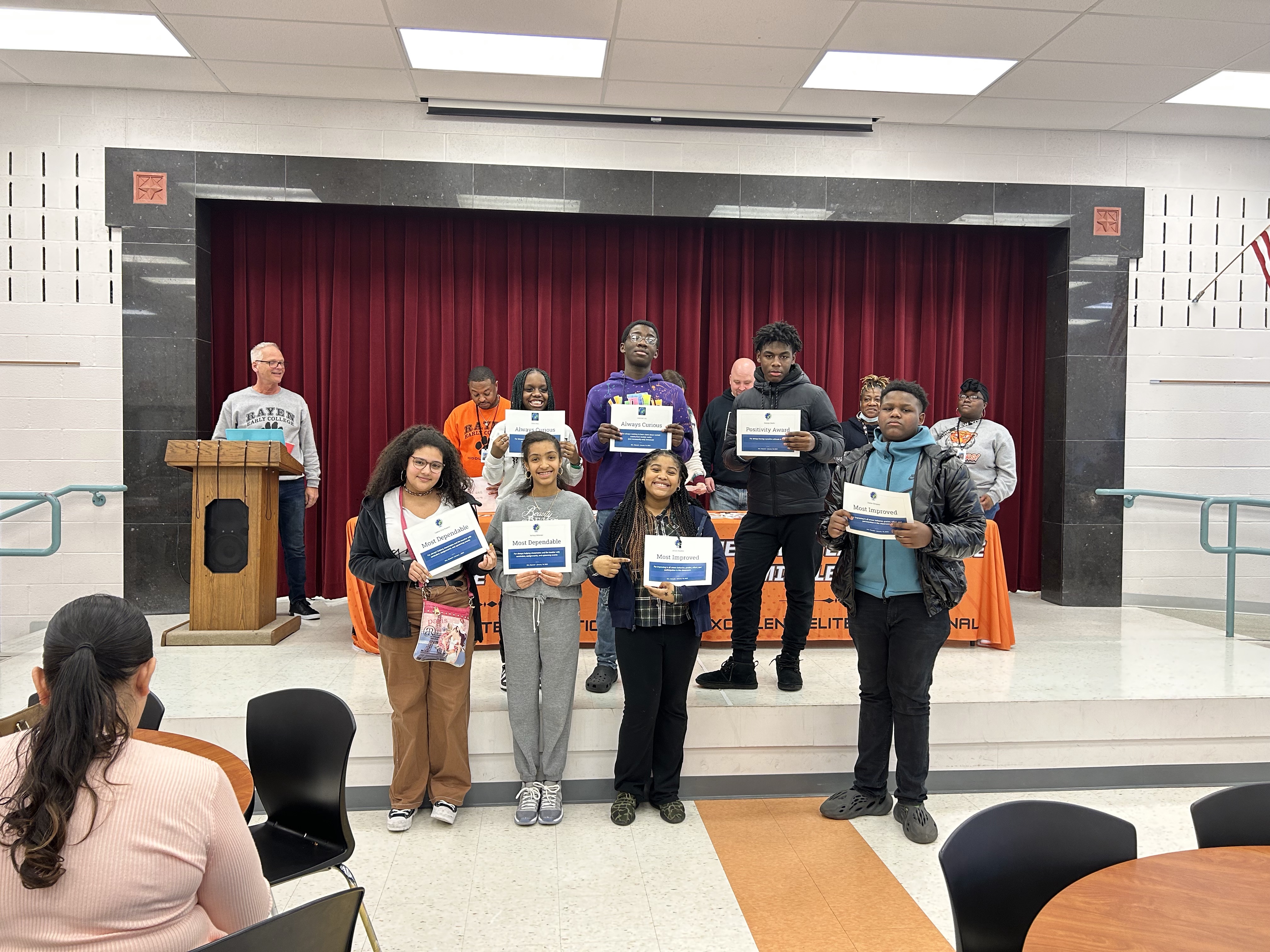 Crocheting with The Crafty Lizerd!
Career Tech Scholars experienced crocheting today with Liz, The Crafty Lizerd. Scholars in 5th, 7th and 8th grade classes were shown the basics of crocheting and hearing how she started her small business during Covid. Each scholar was given a starter kit to practice crocheting.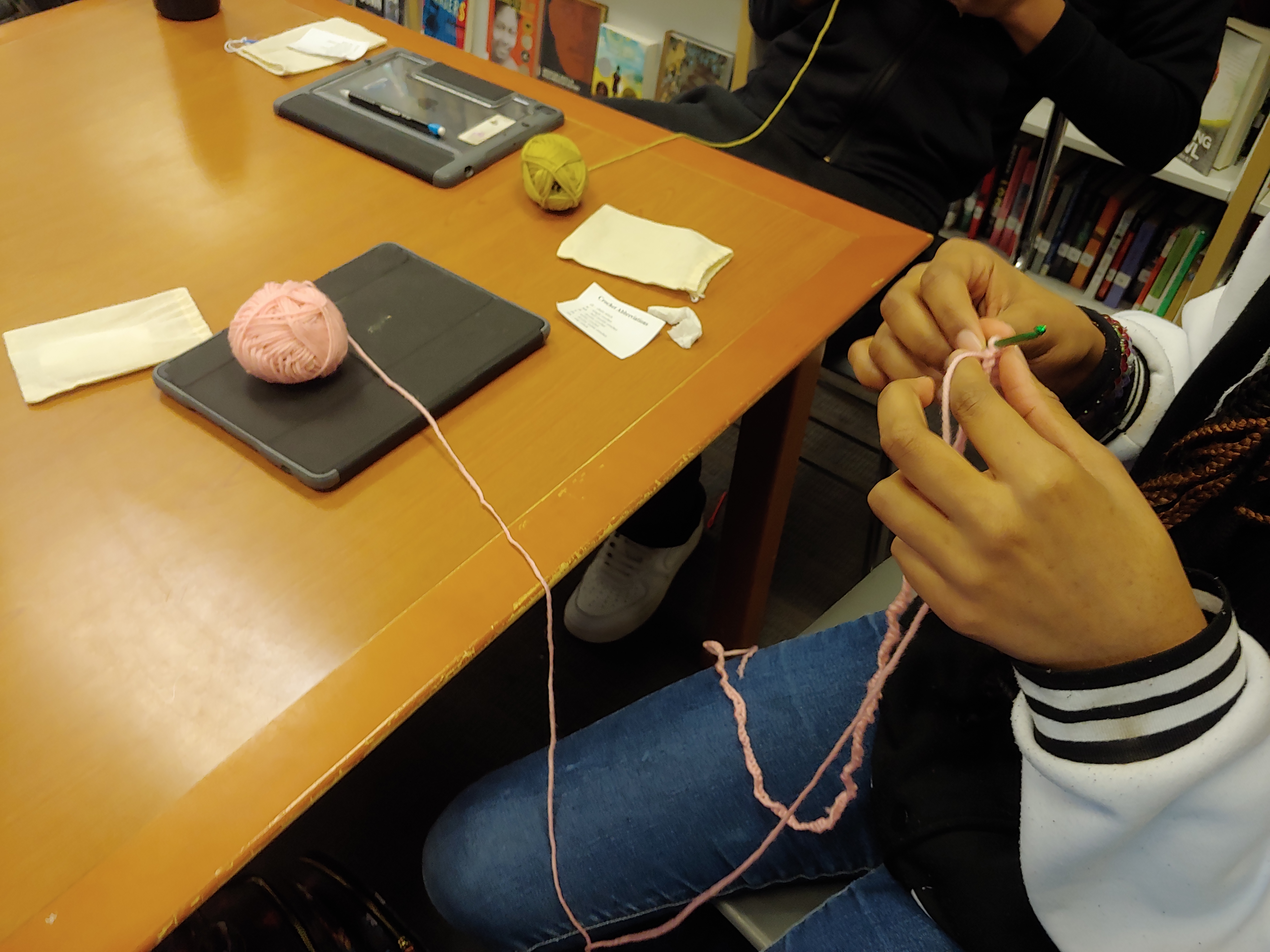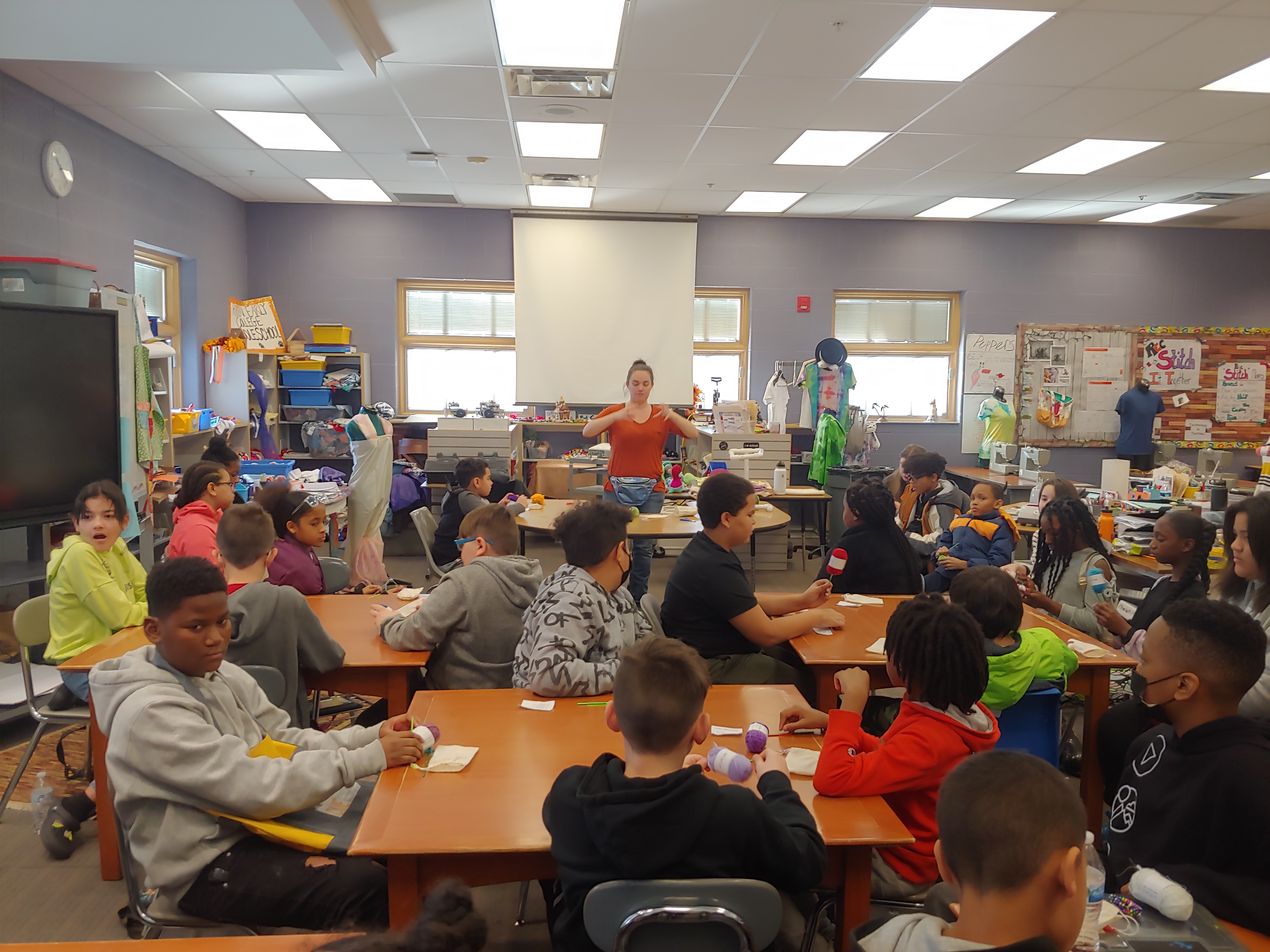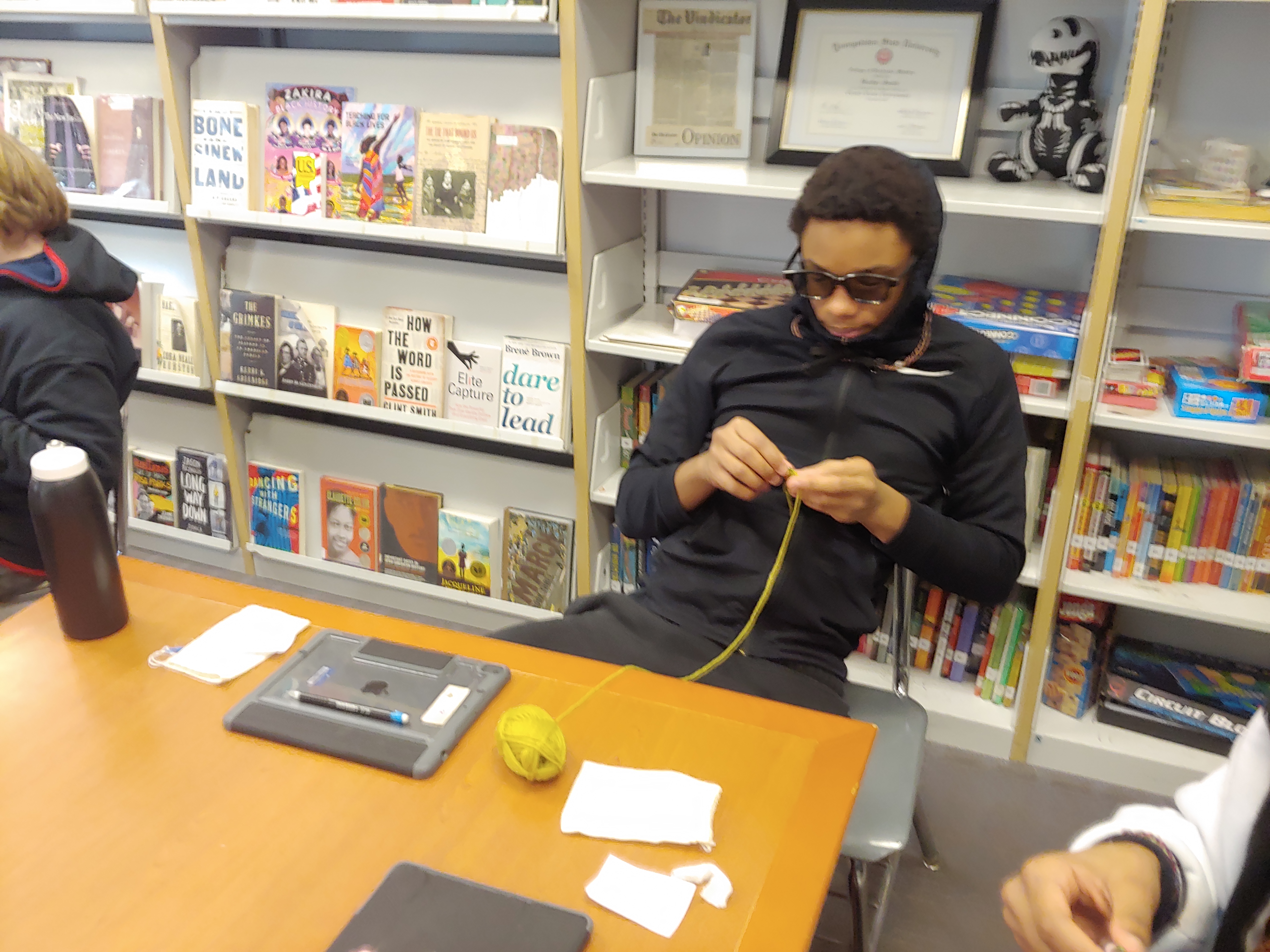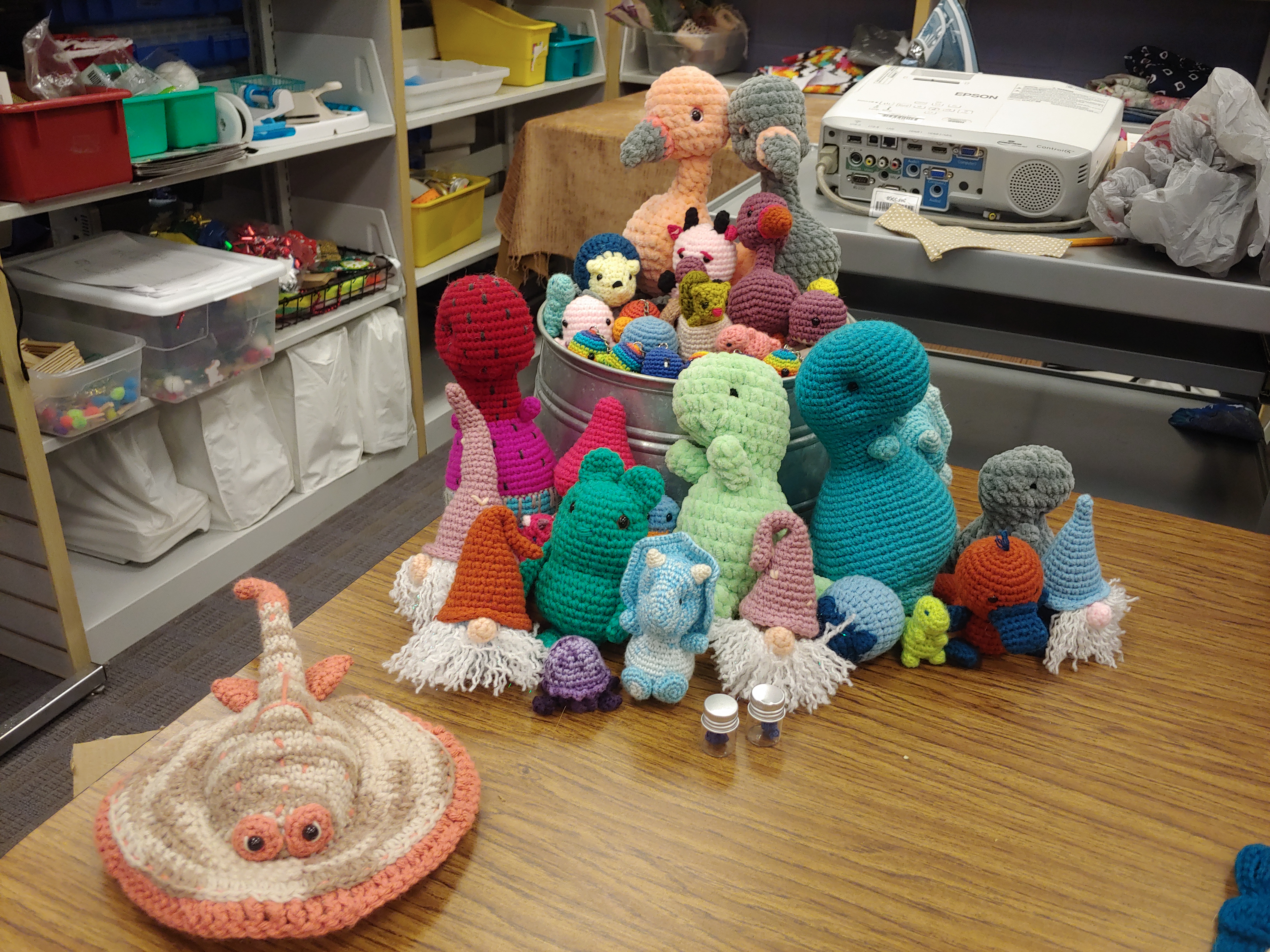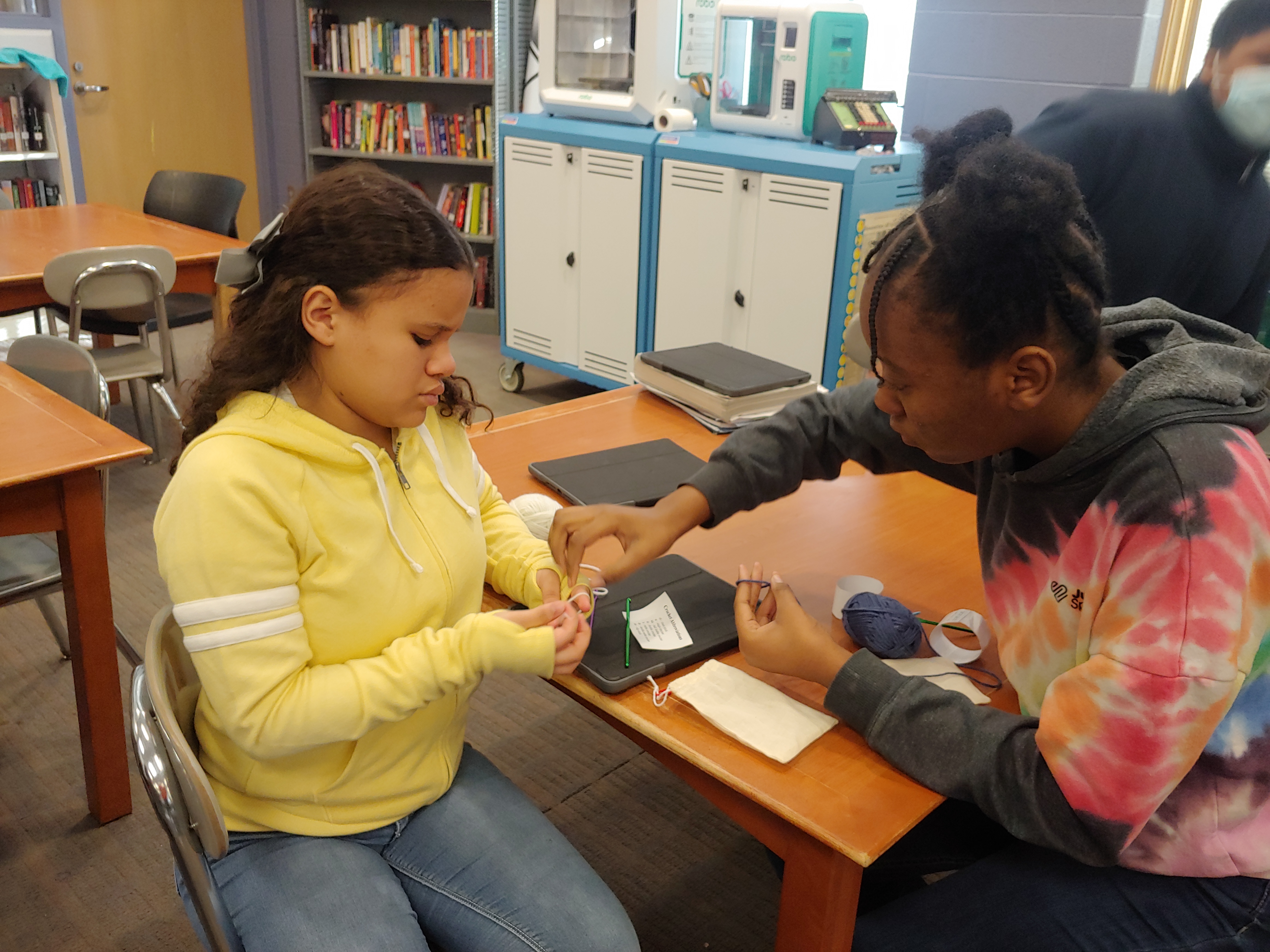 I Love My School Pep Rally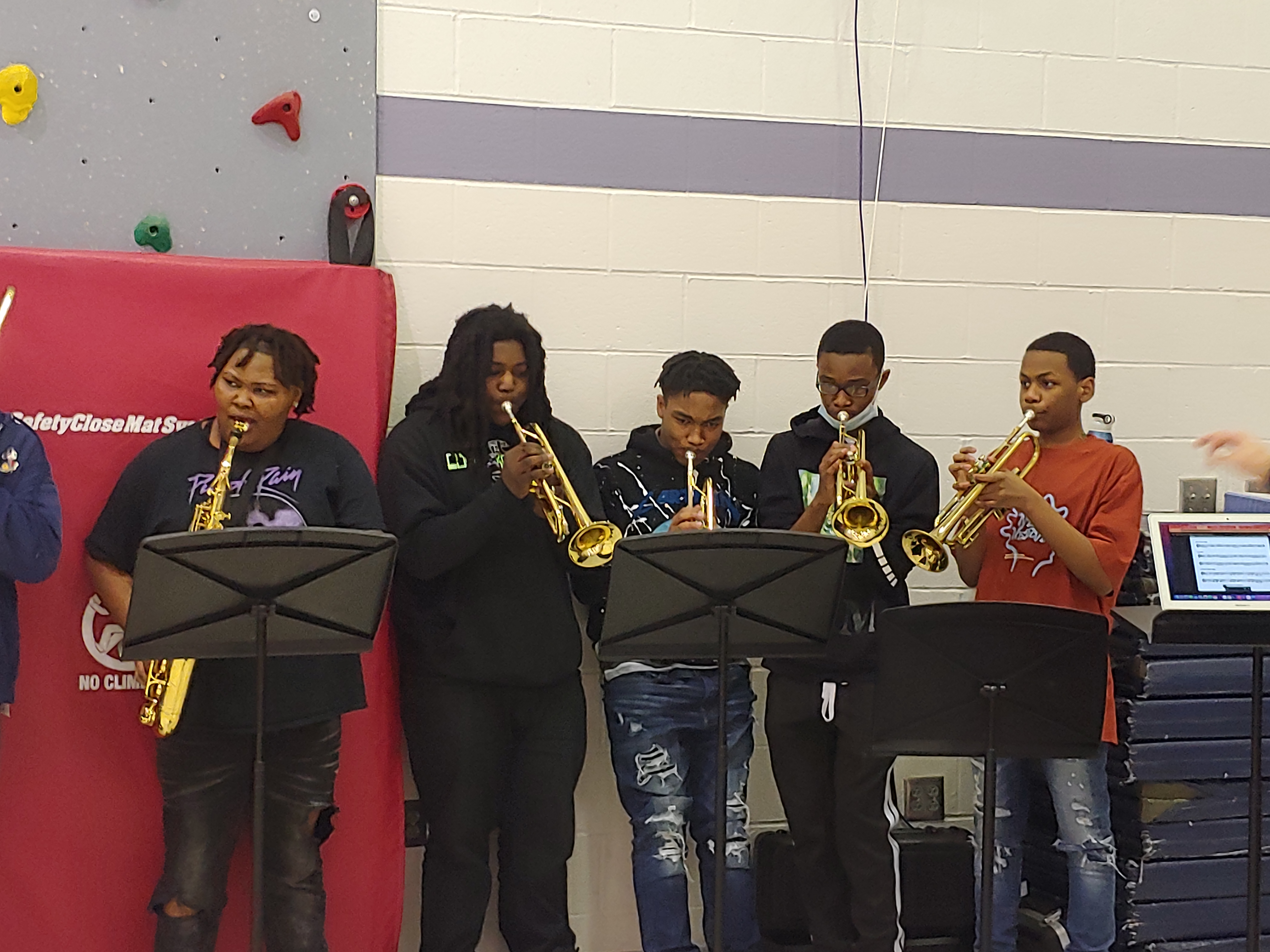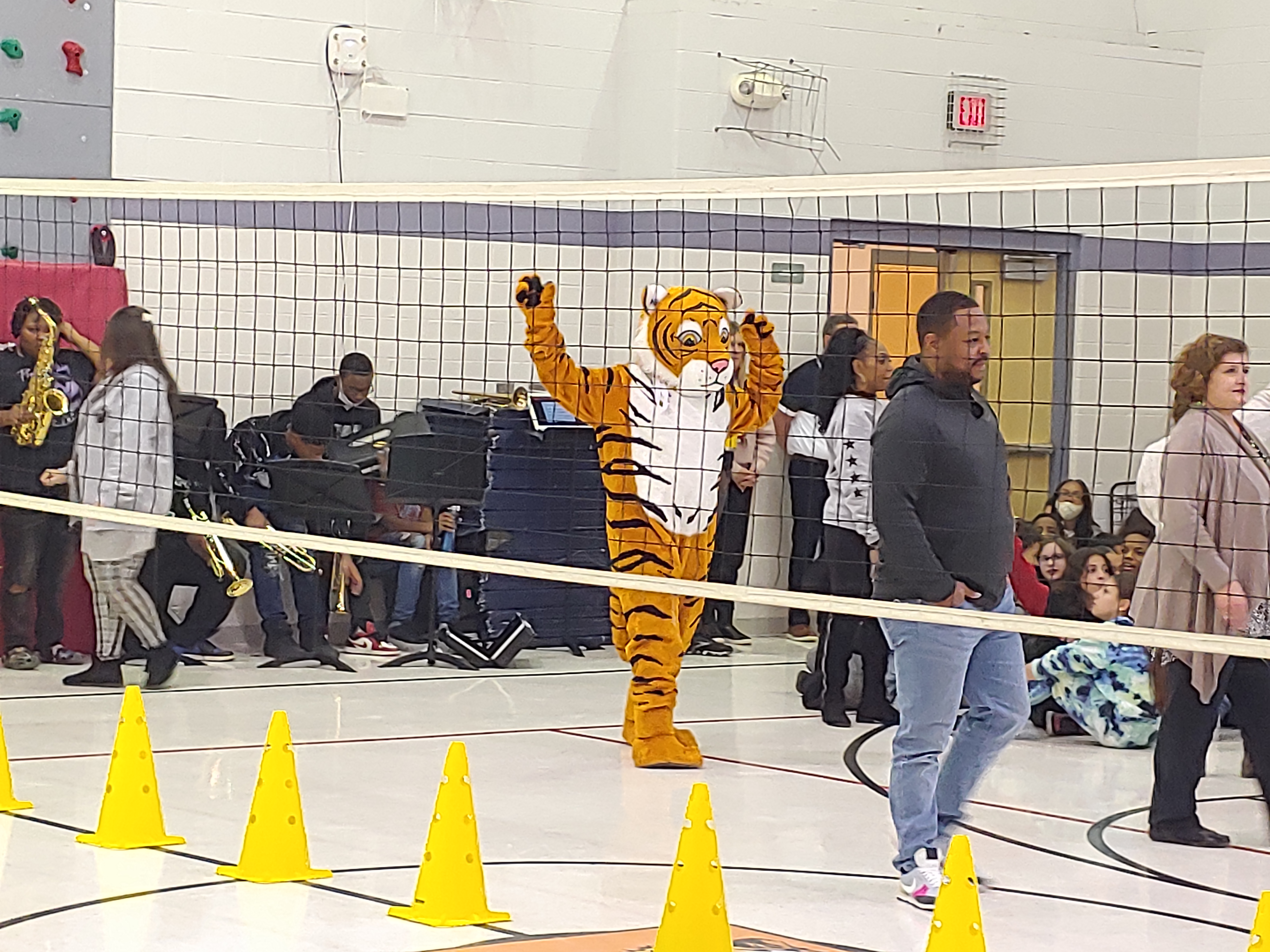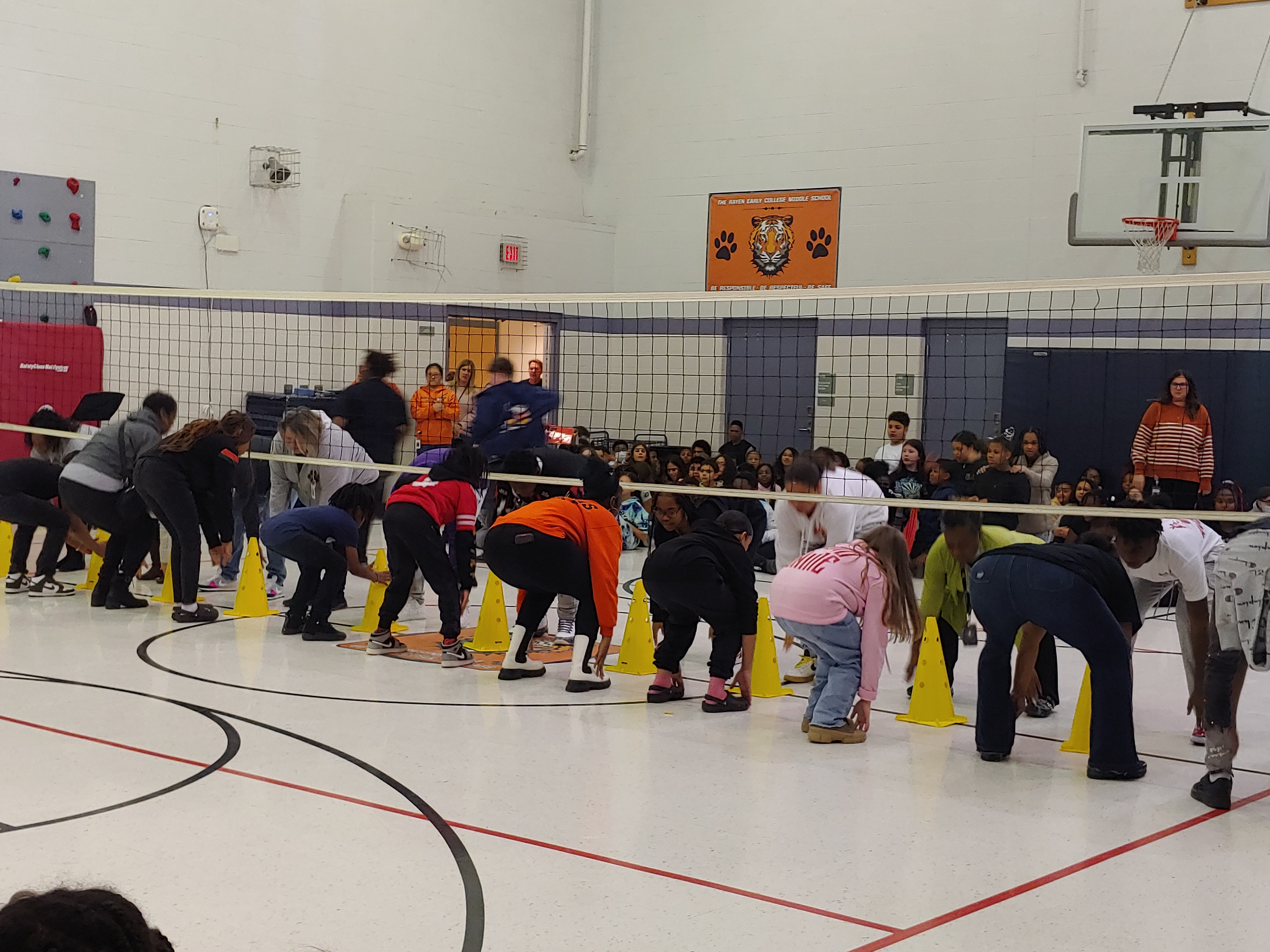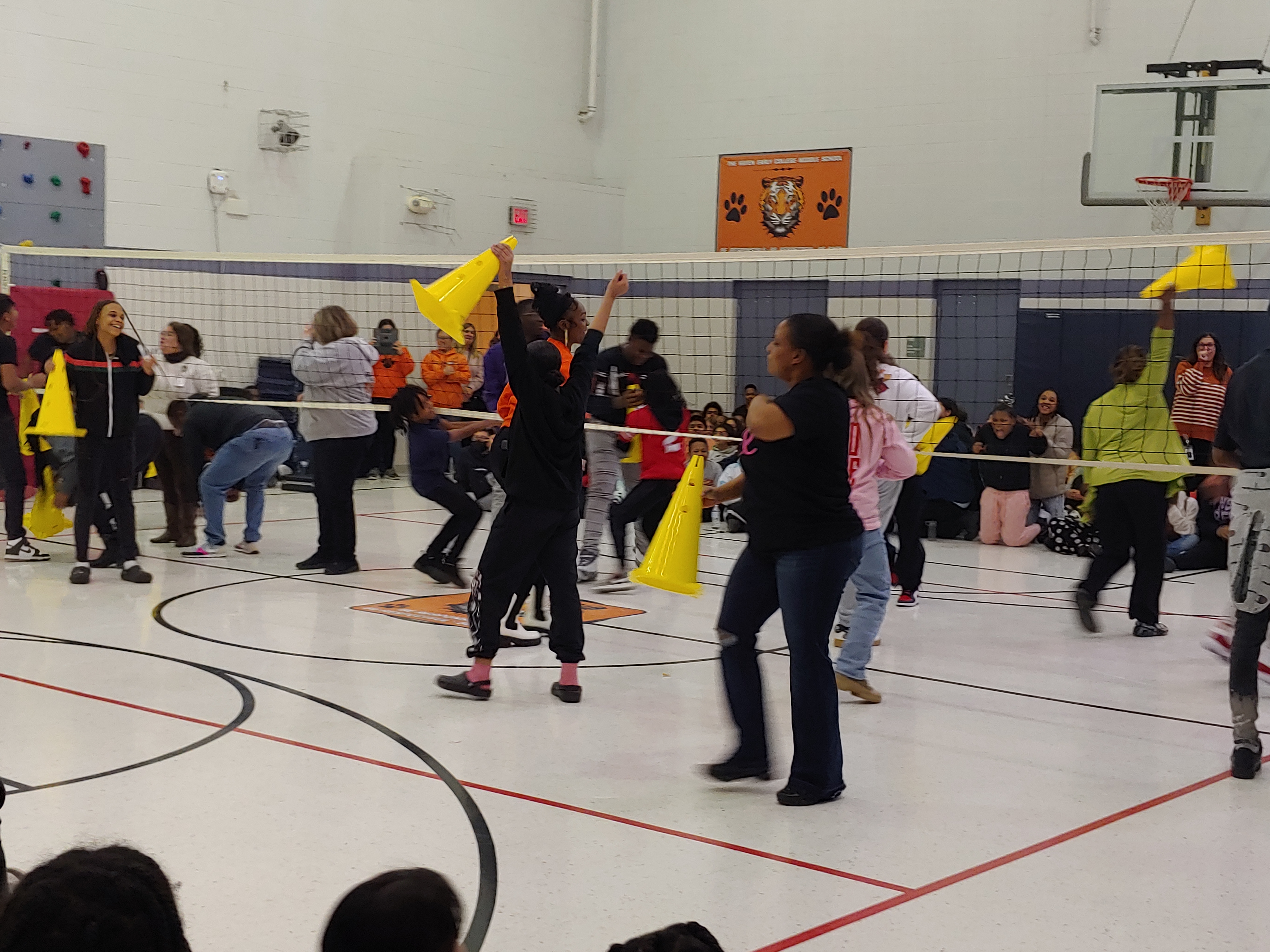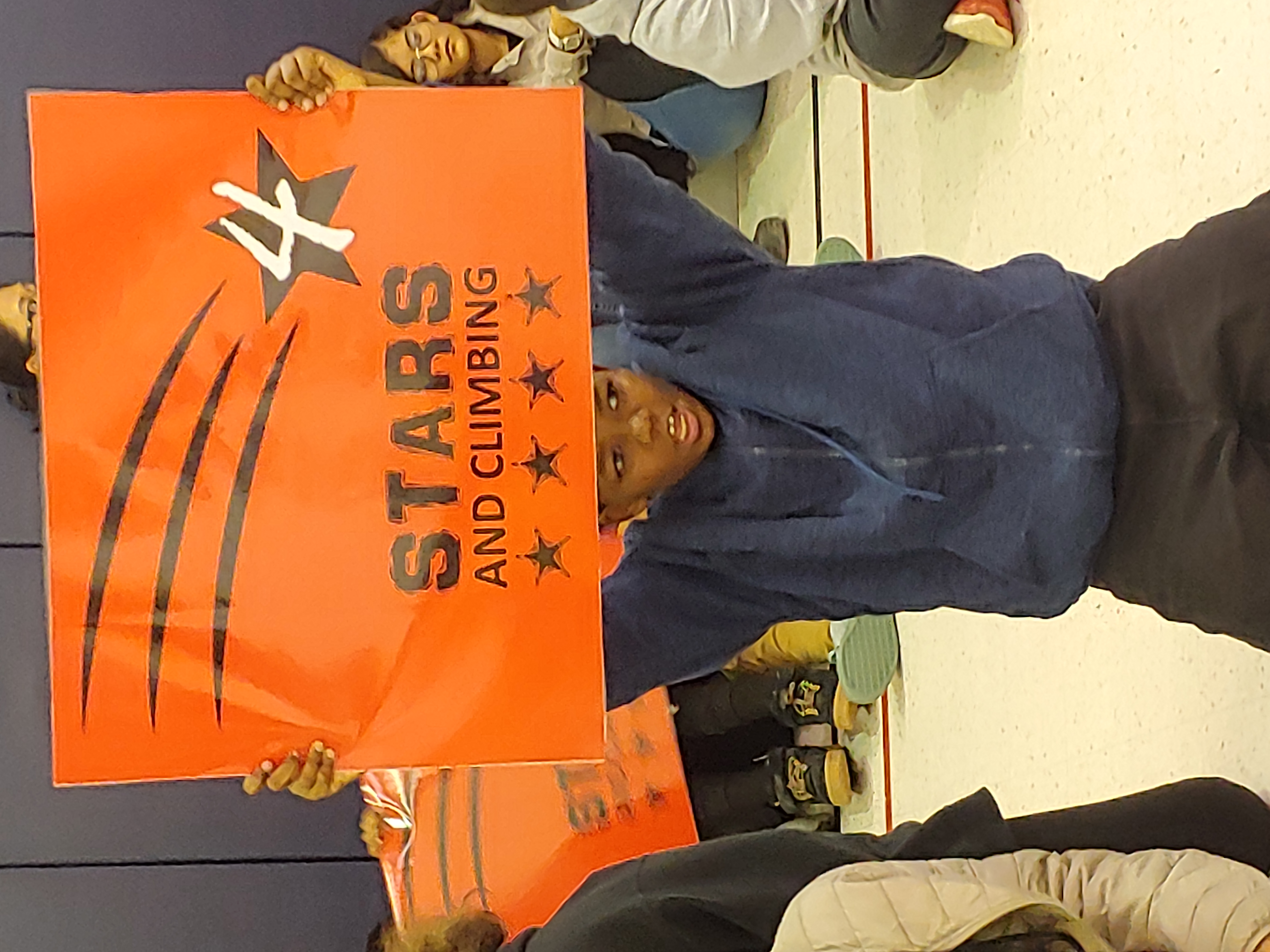 7th & 8th Grade Art Students Tour The Butler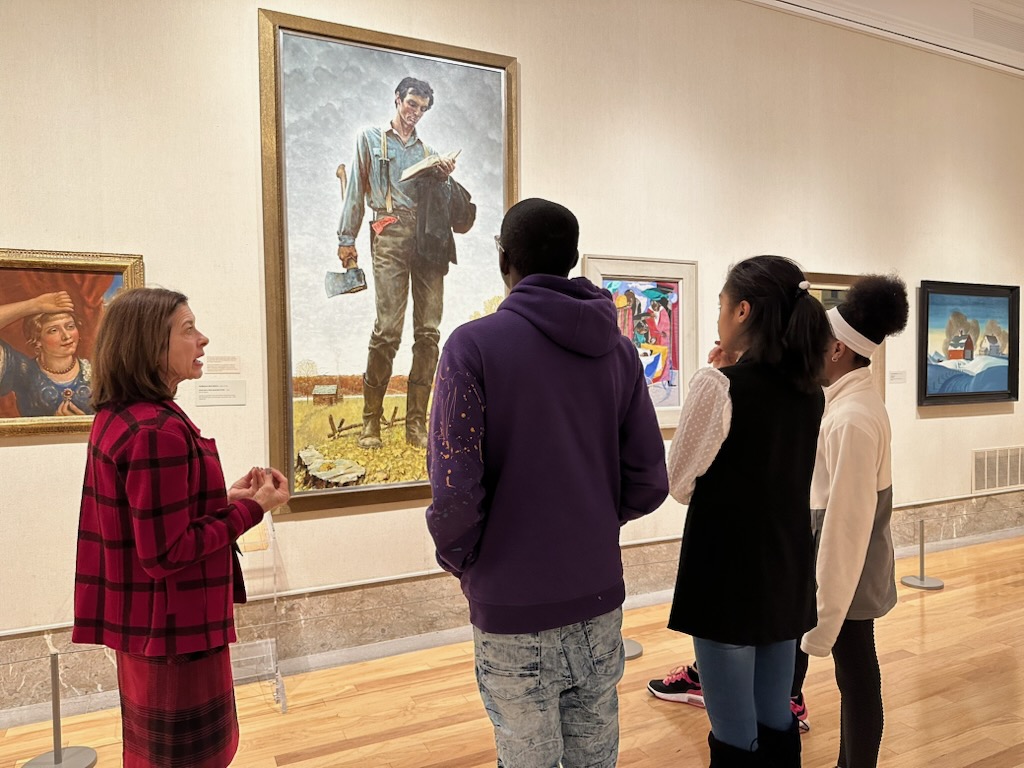 7th & 8th Grade Career Tech Scholars go to Invent2Make
Career Tech Scholars explored Invent2Make in downtown Youngstown. Scholars built rovers using 3D printed wheels and gears and created logos using Canva. The logos will be made and given to the scholars when they are completed. We are looking forward to participating in the Mars Rover Competition in April for our Engineering Unit.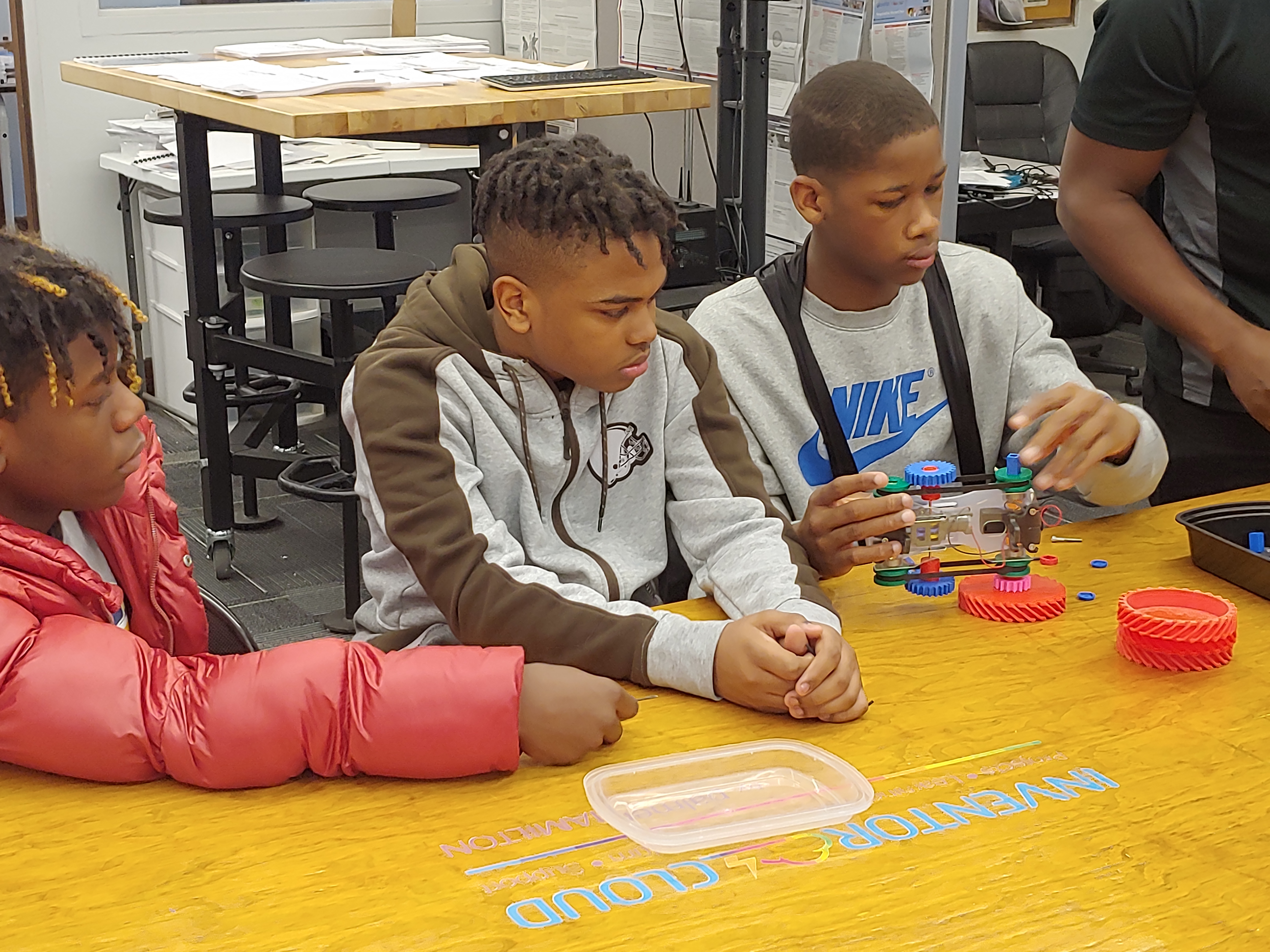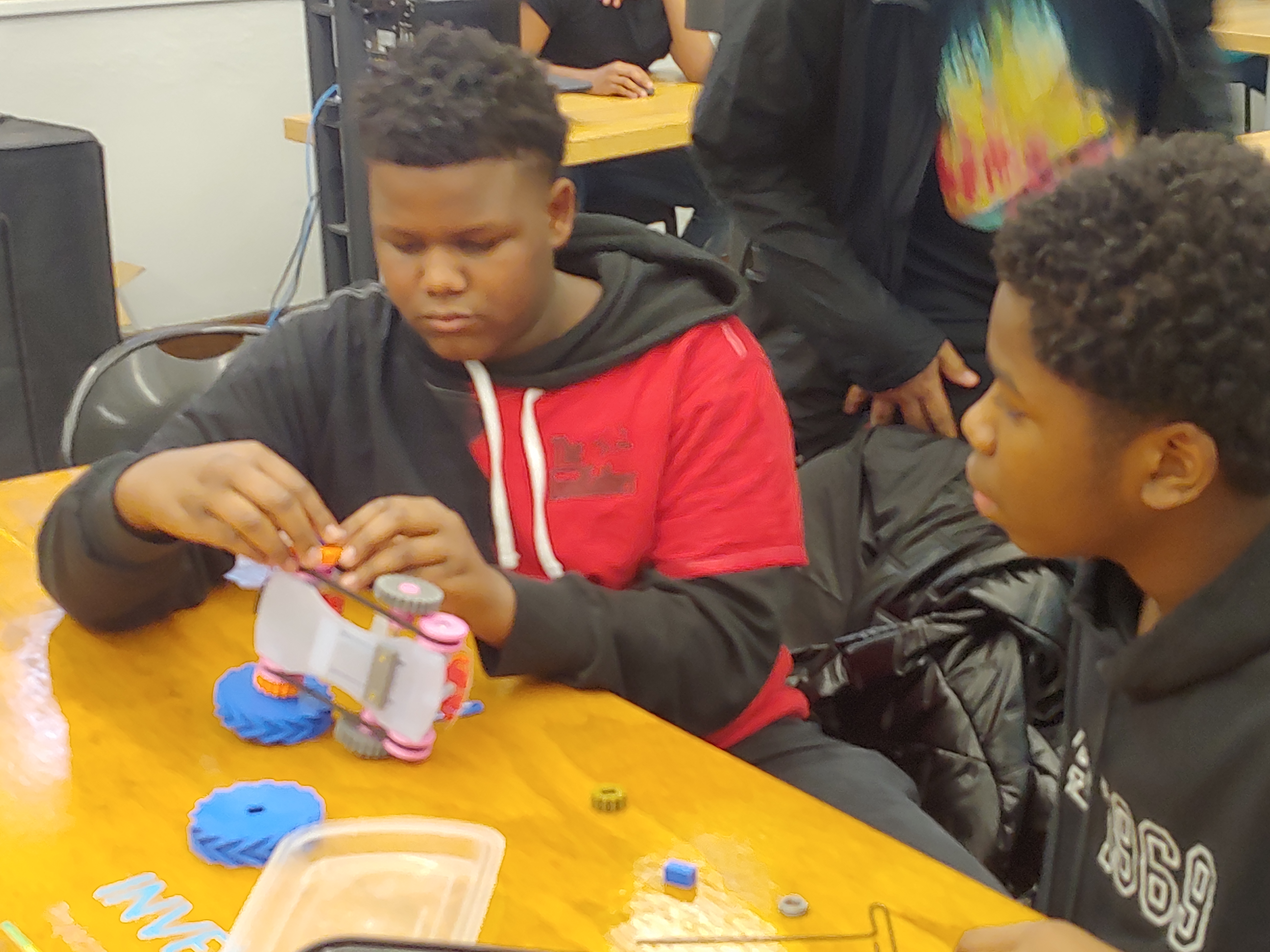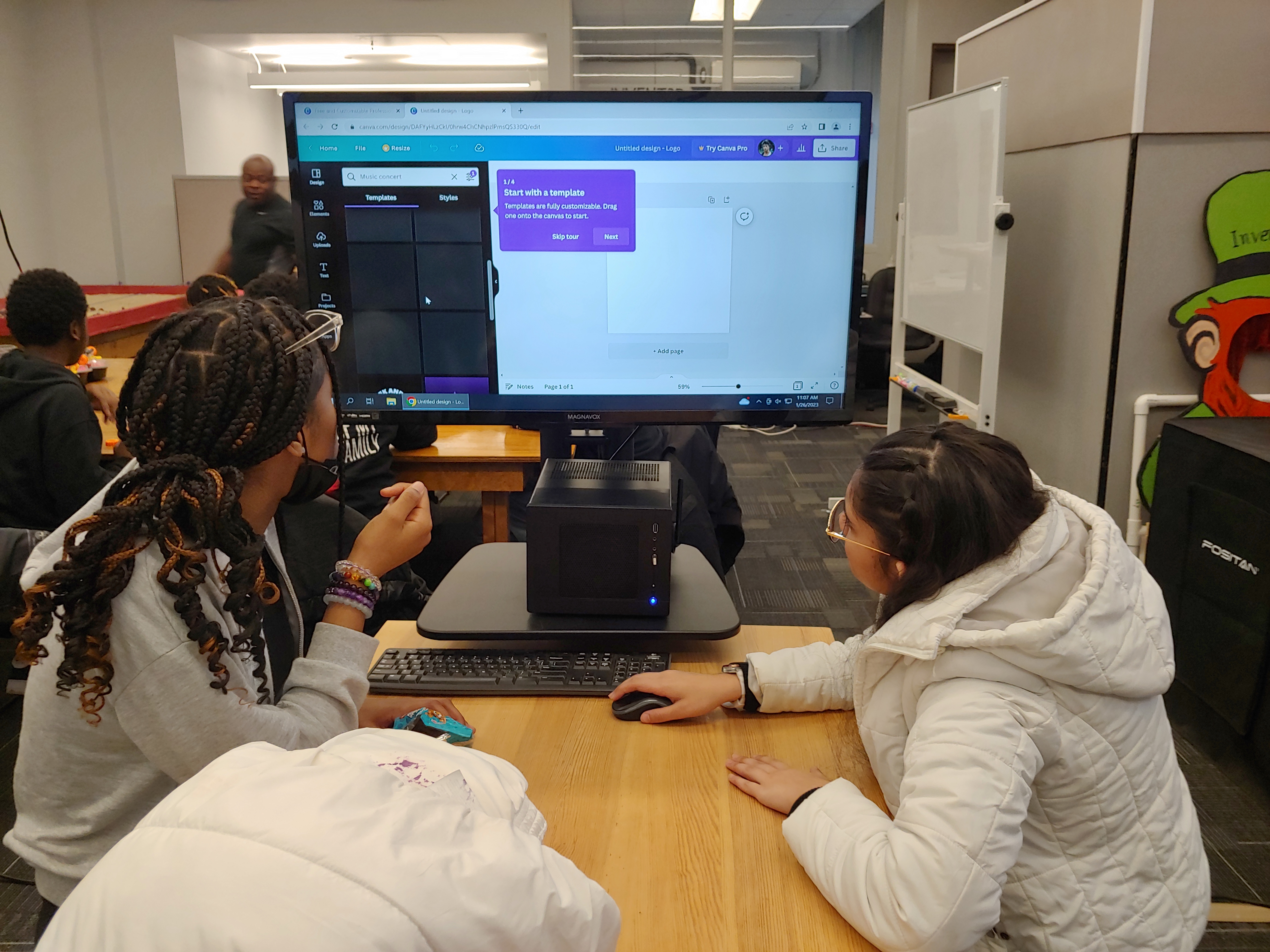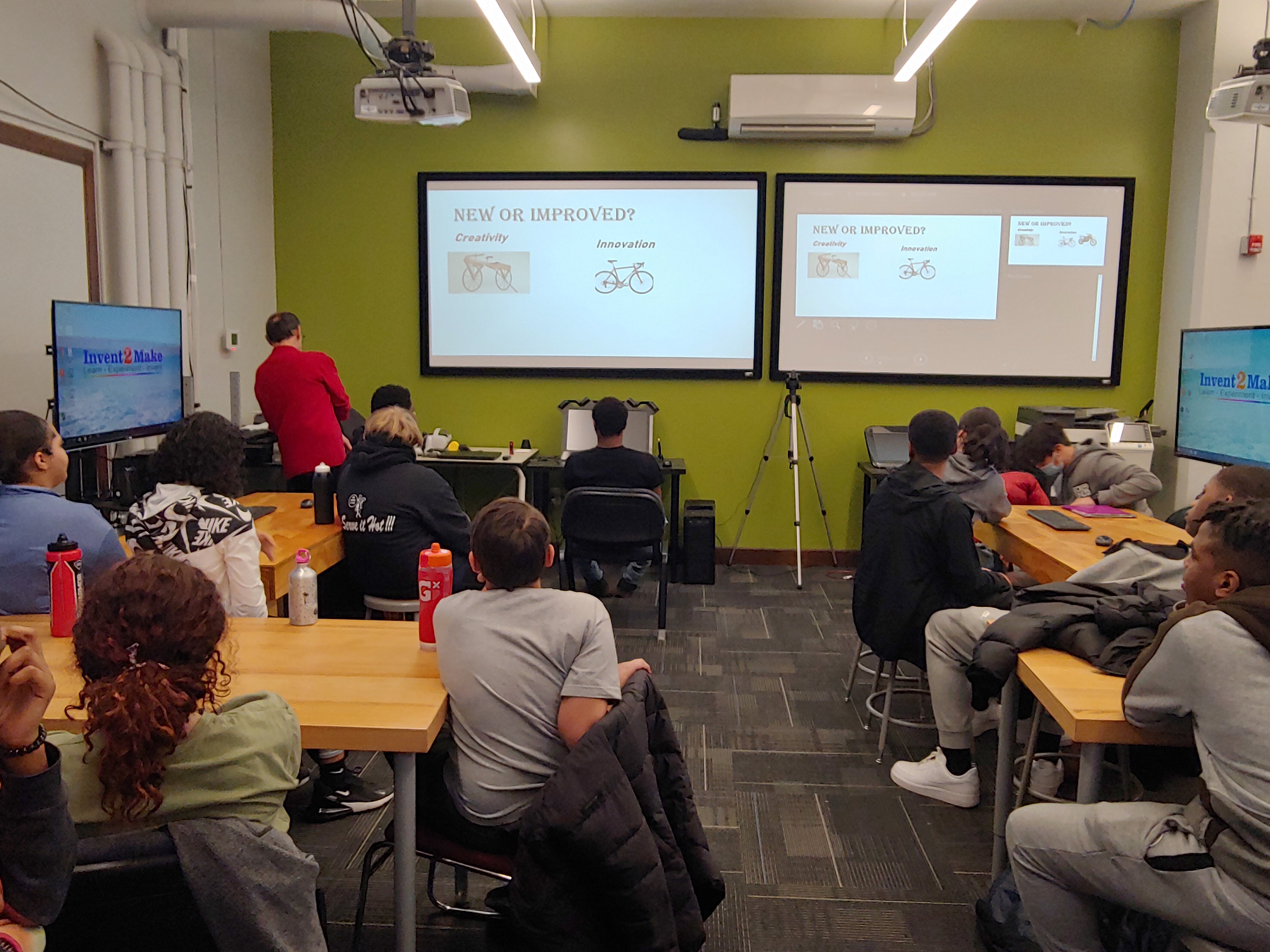 RECMS Students Go to the Theater for Hamilton
On Wednesday, January 11, 52 scholars and staff members went to see the Broadway touring production of Hamilton at Cleveland Playhouse Square. This tied in nicely with their social studies lessons, and they had to all addition to go by singing a Hamilton song to Dr. Donofrio:)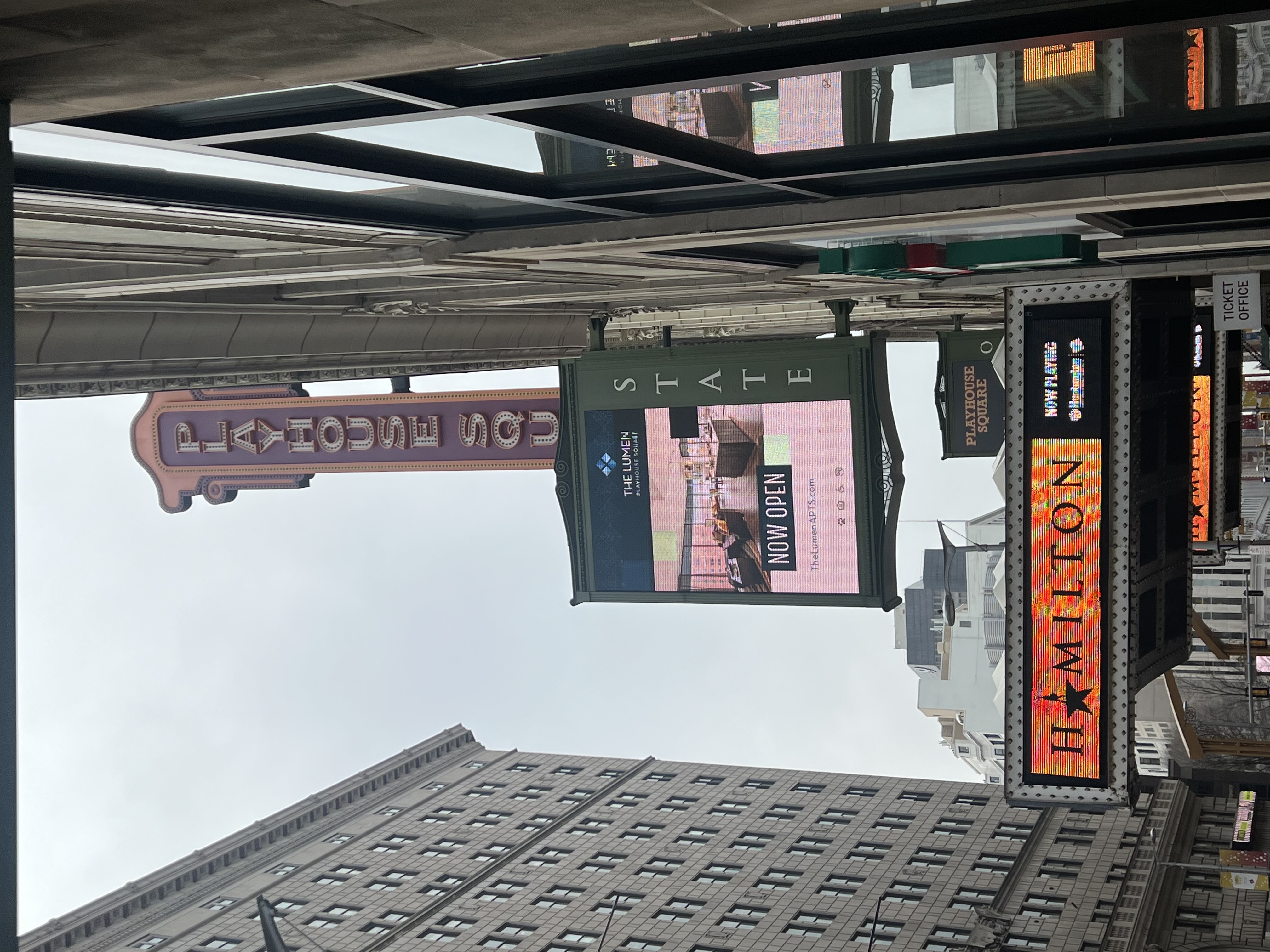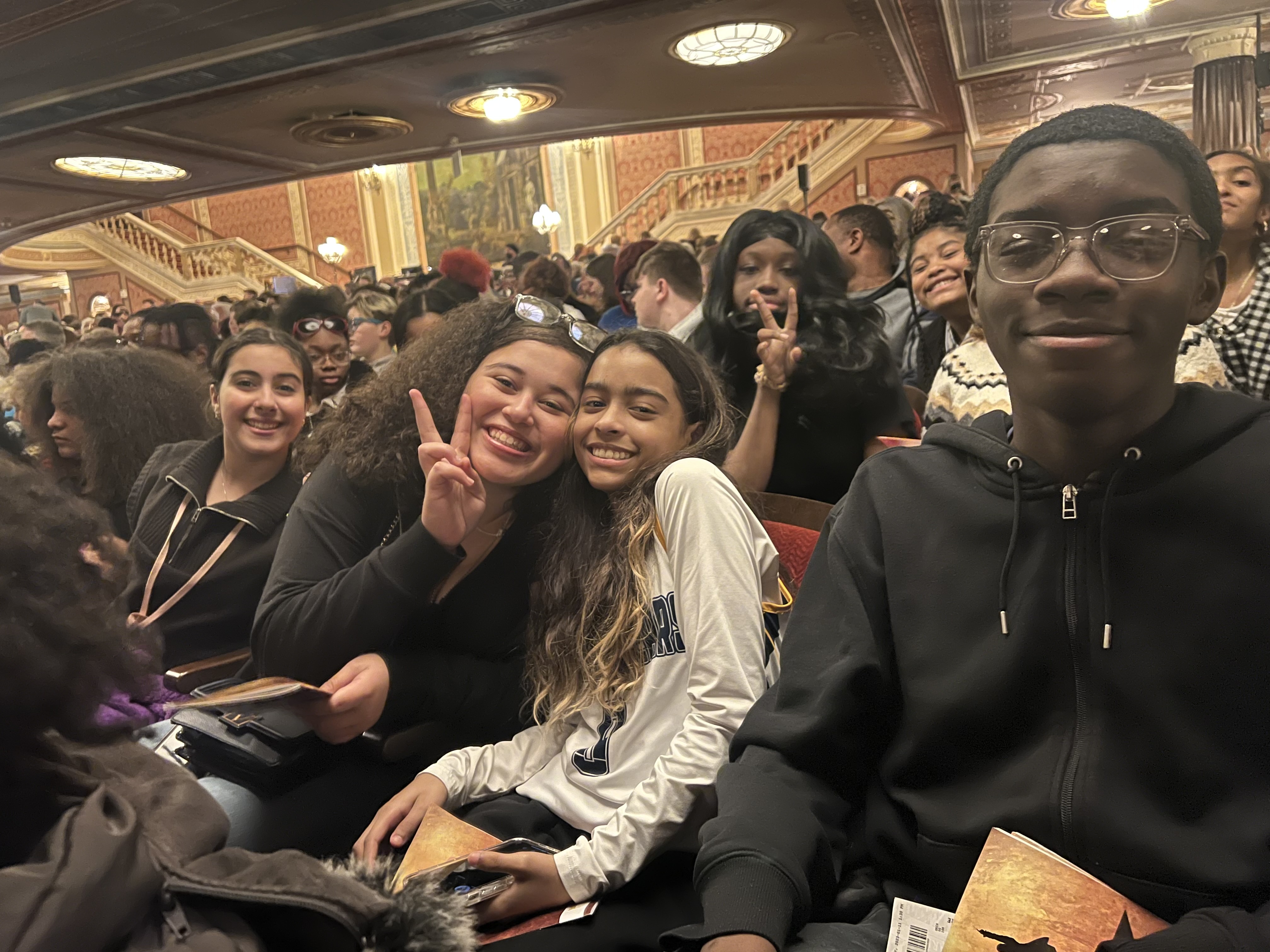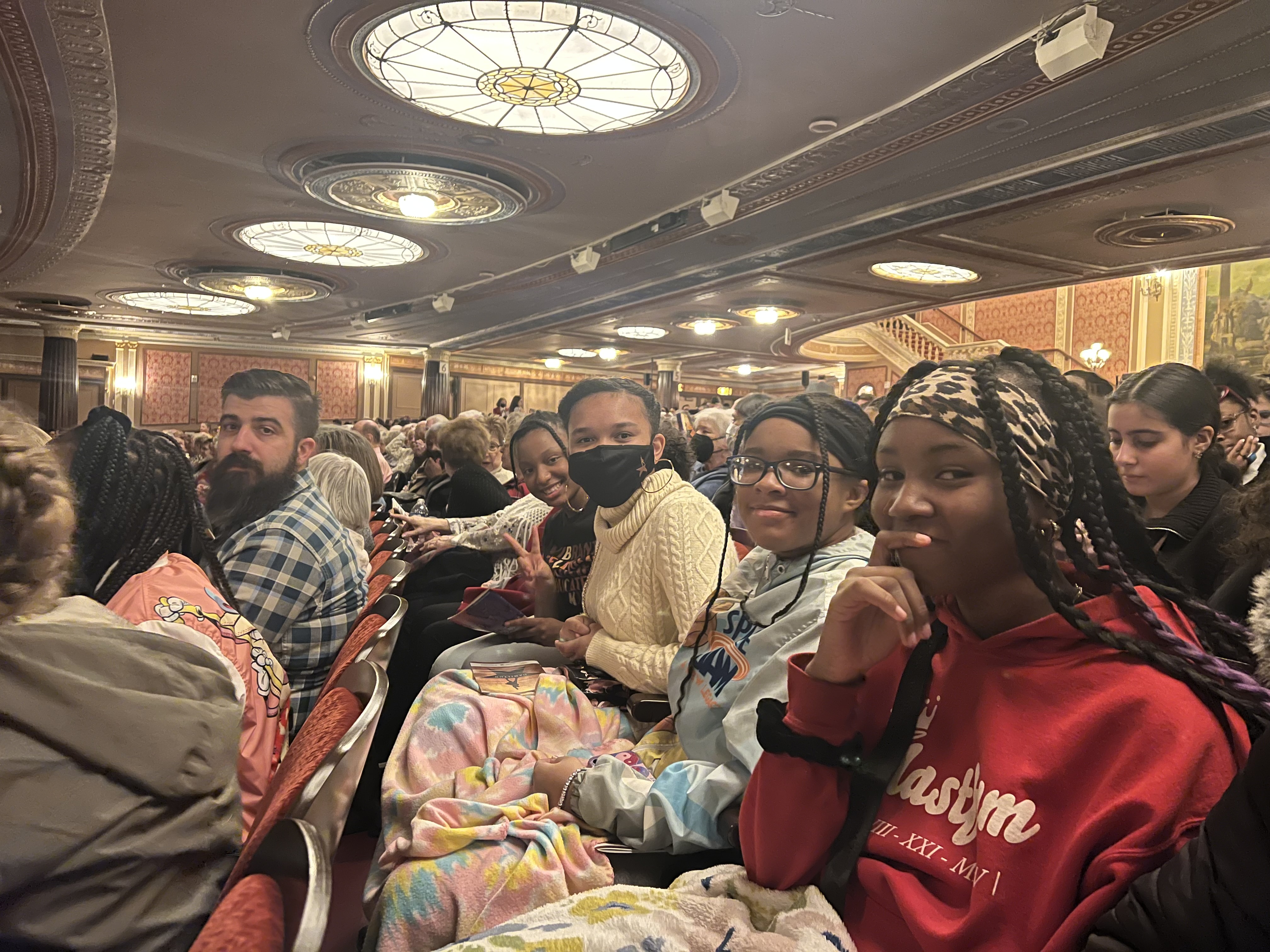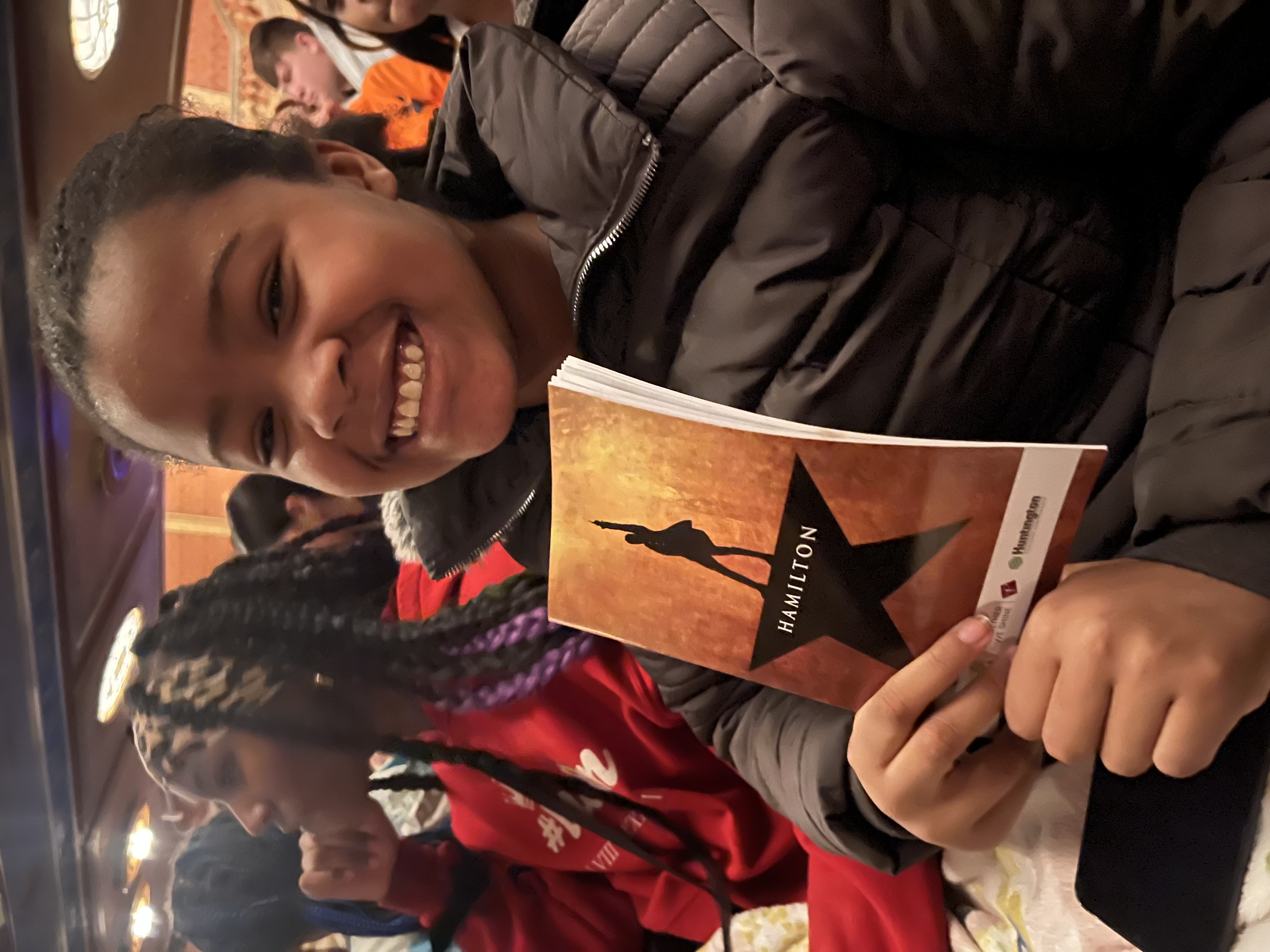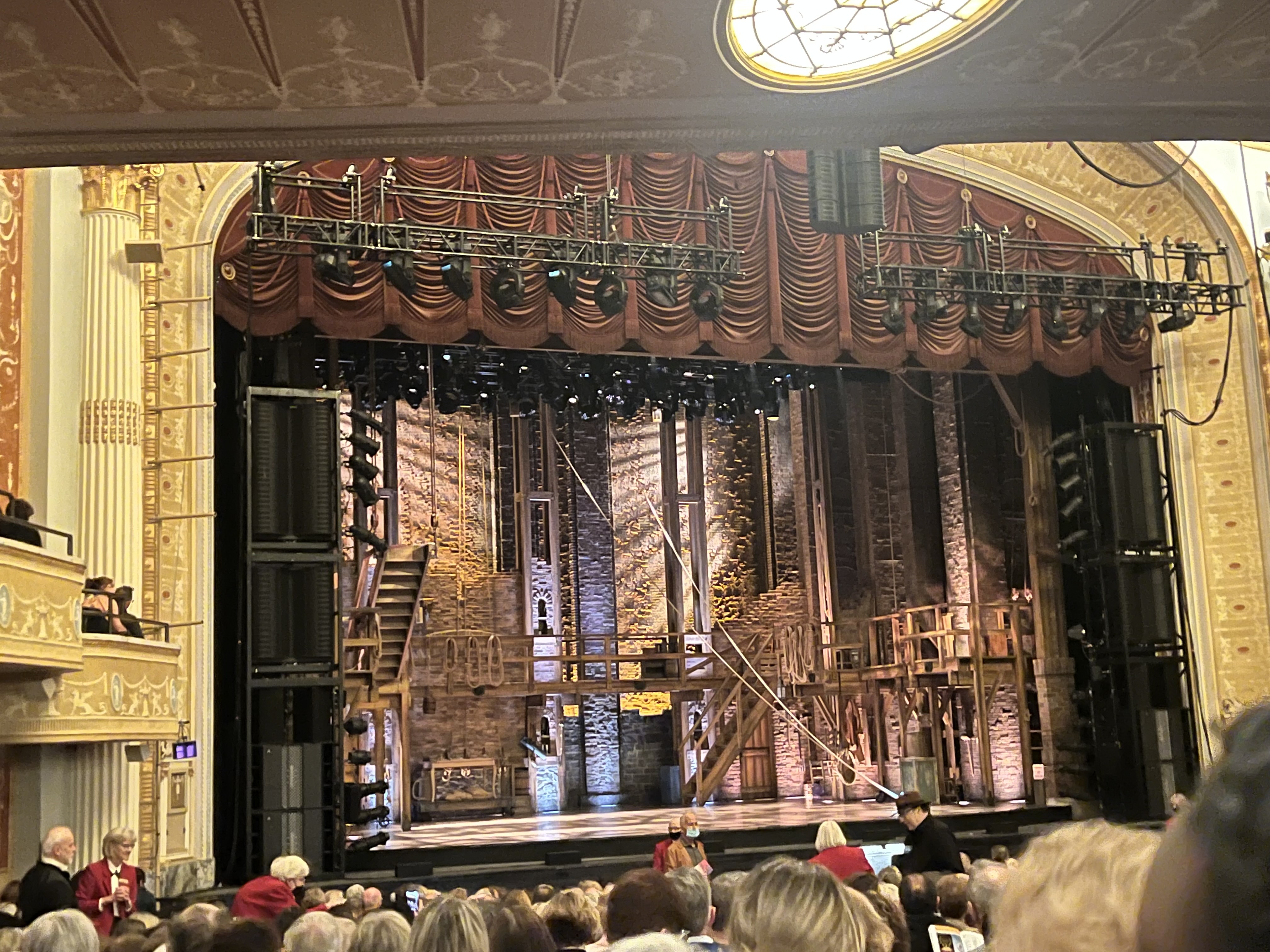 After 18 rounds, we have our Spelling Bee Champion, Makaila Rowland in 7th grade! She won on the word, "intubated" and then had to spell "seminary" to win!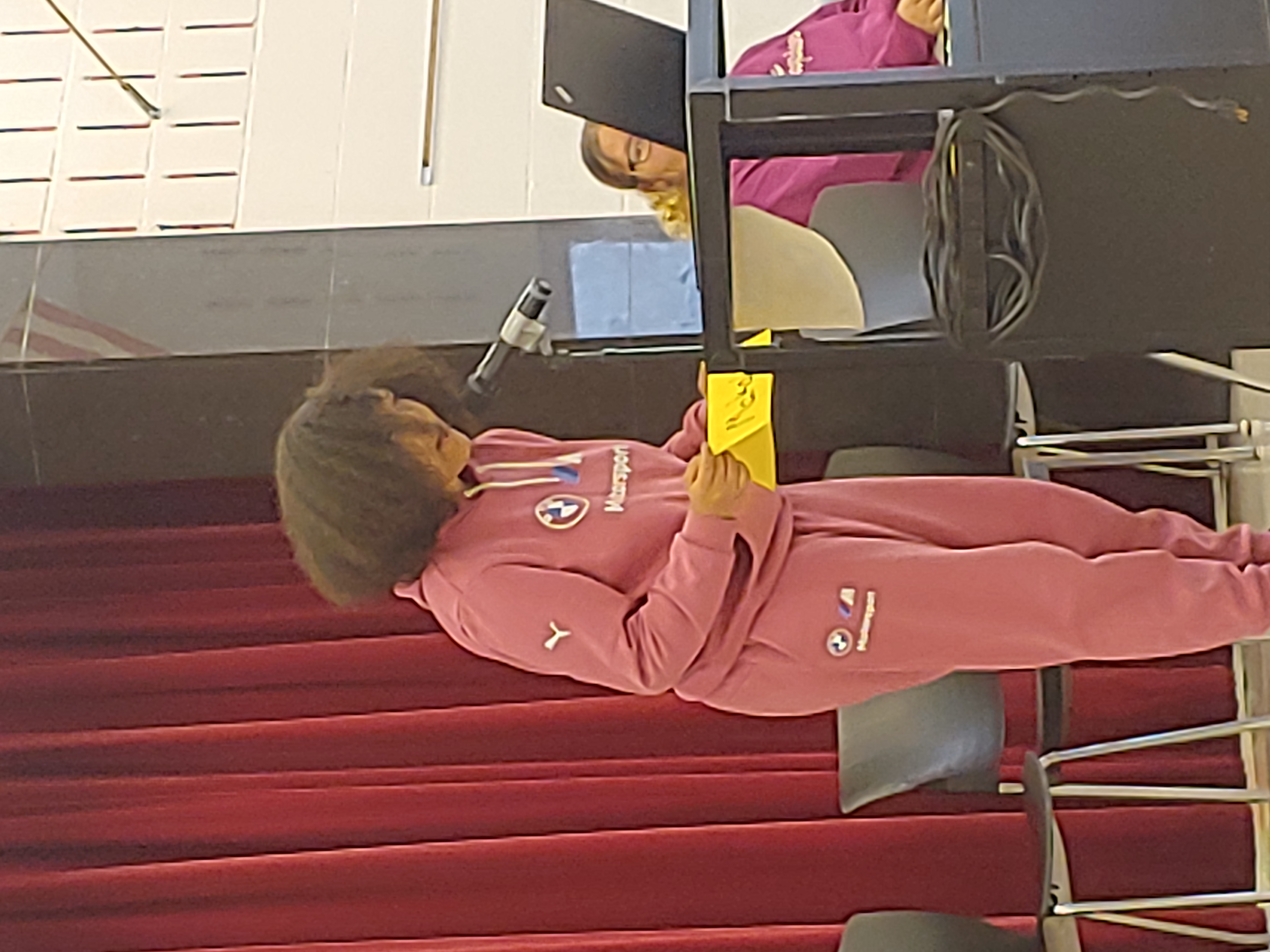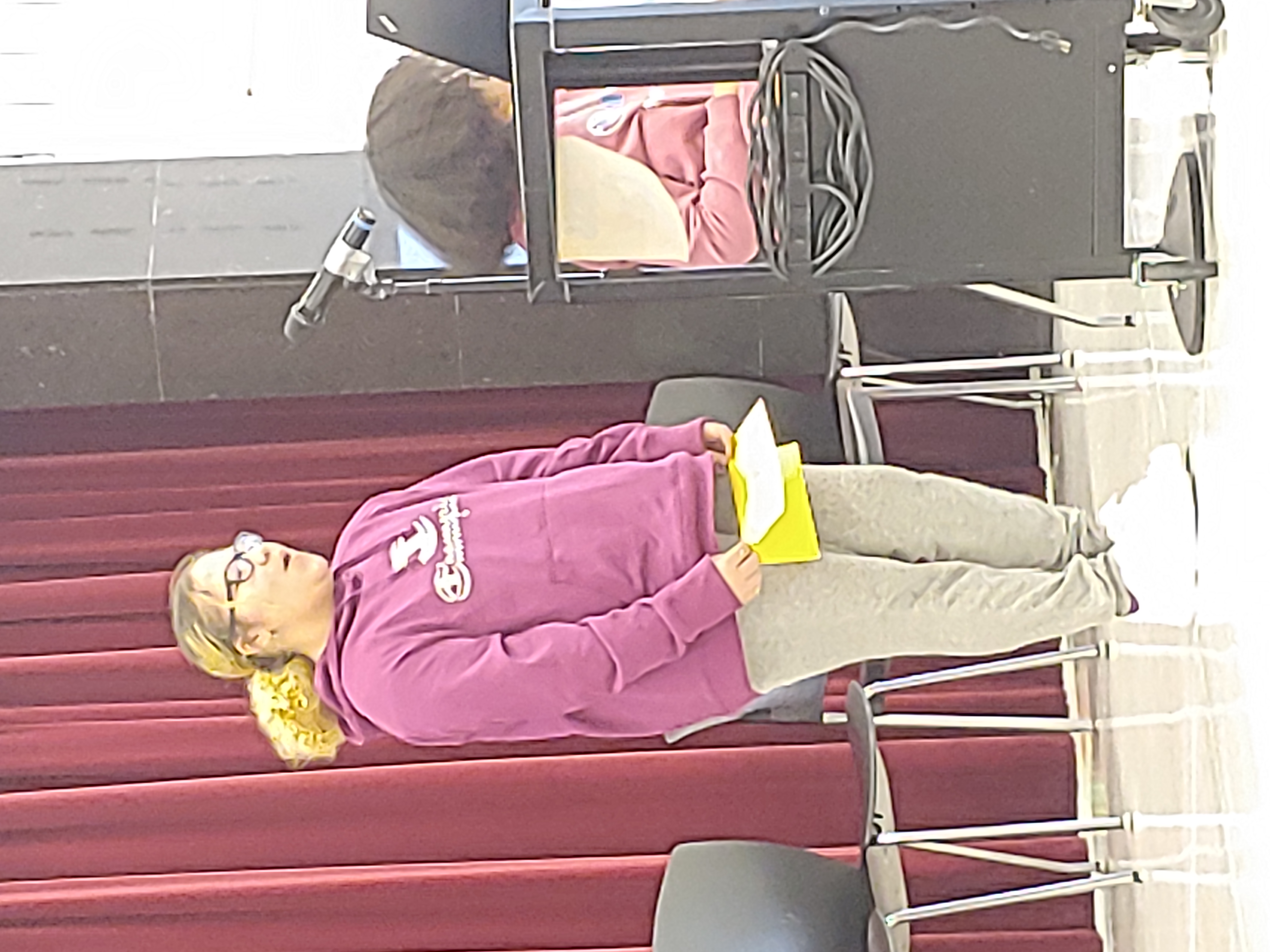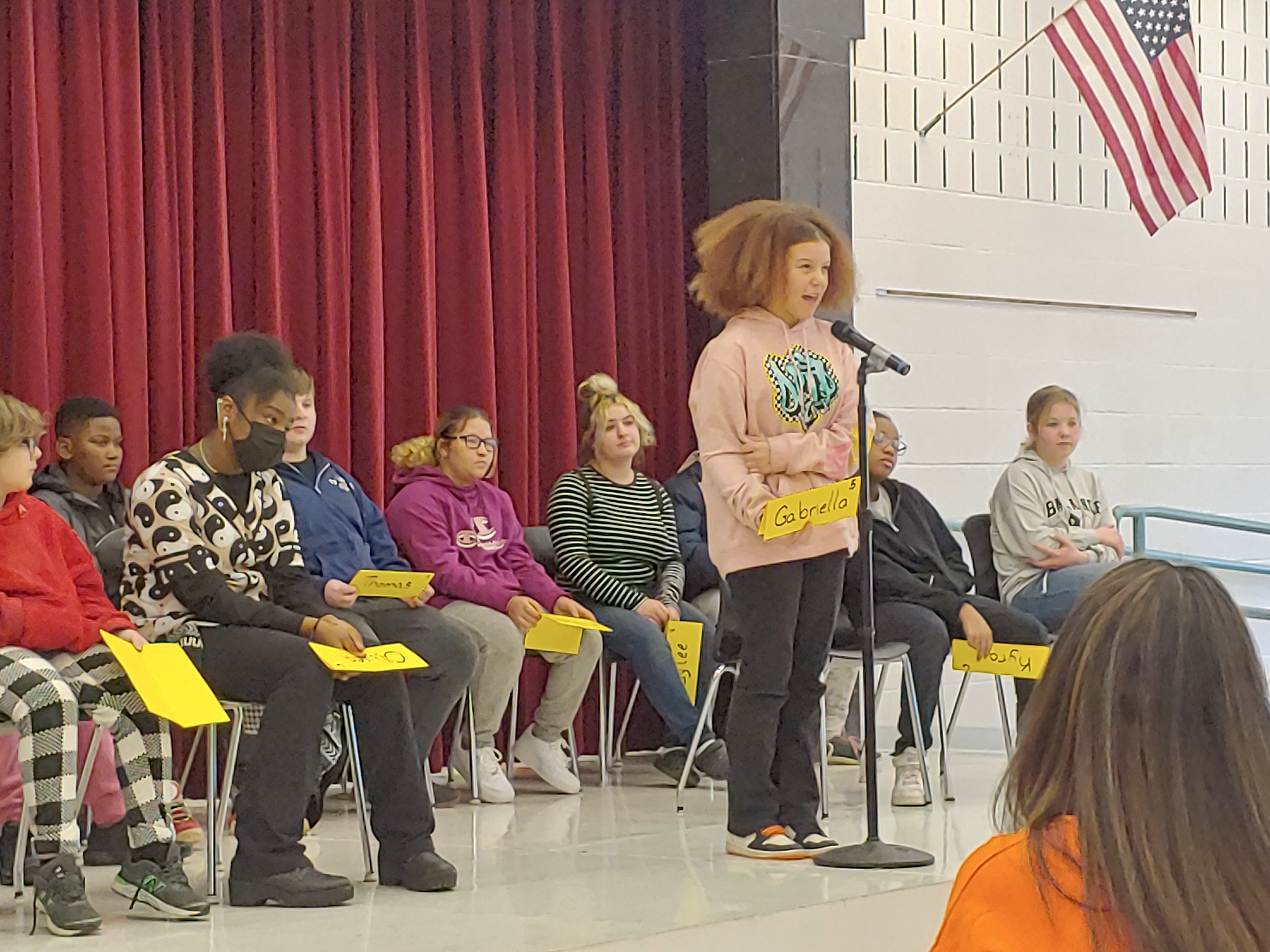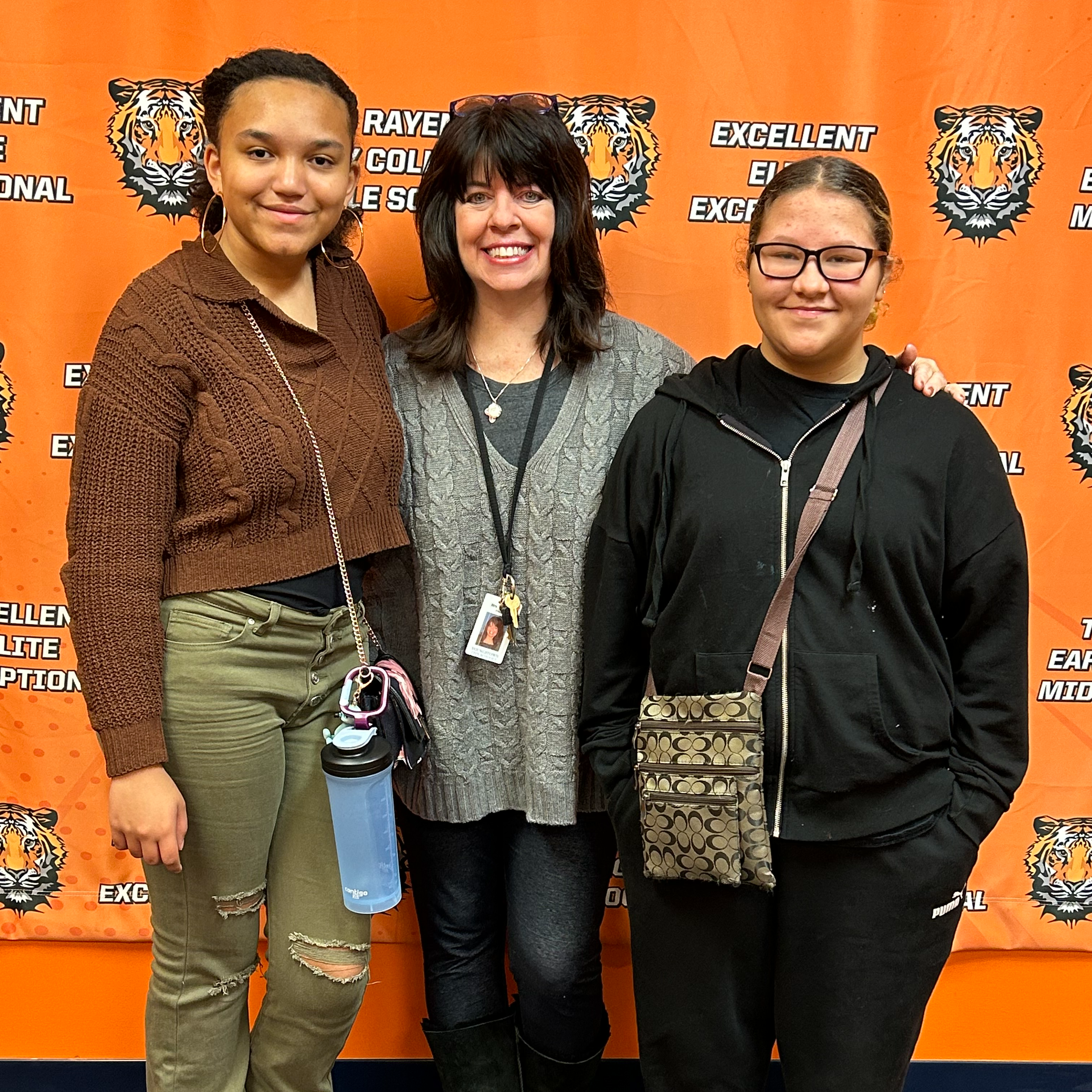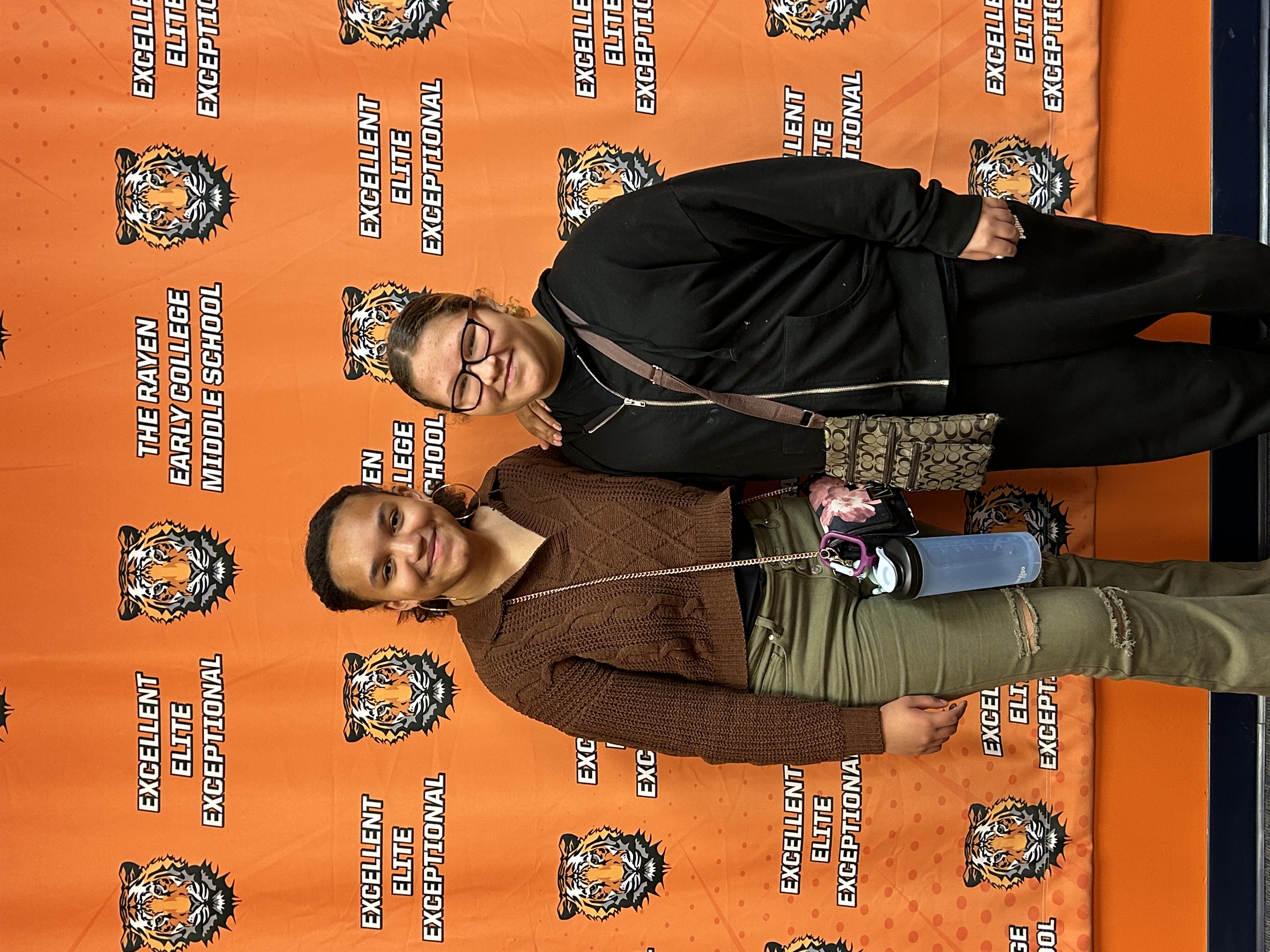 Winter School Fine Arts Show
Scholars put on a performance for the school on December 20th. It was a shorter show than the after school show held earlier this month and was full of talent! Way to go performers!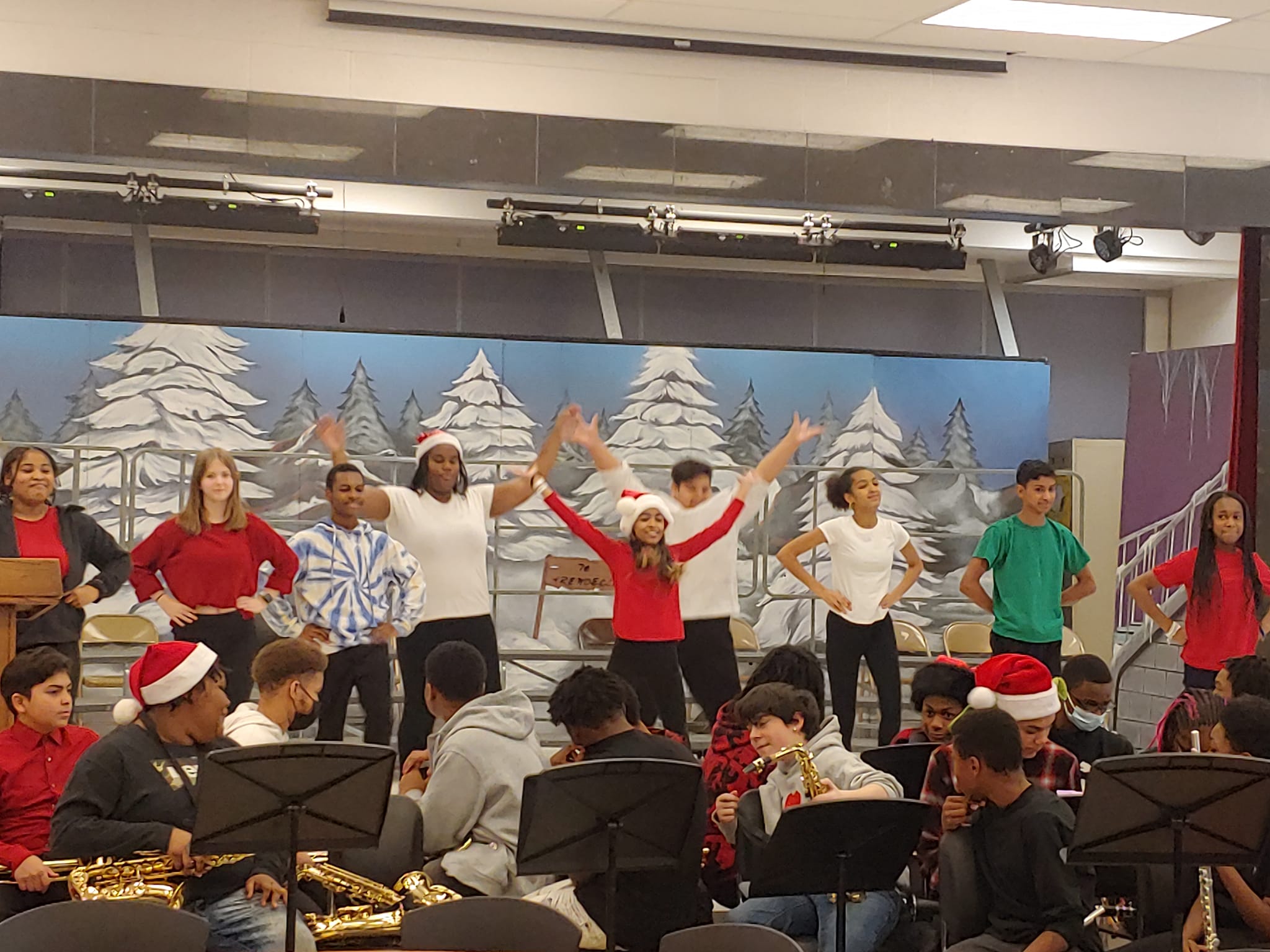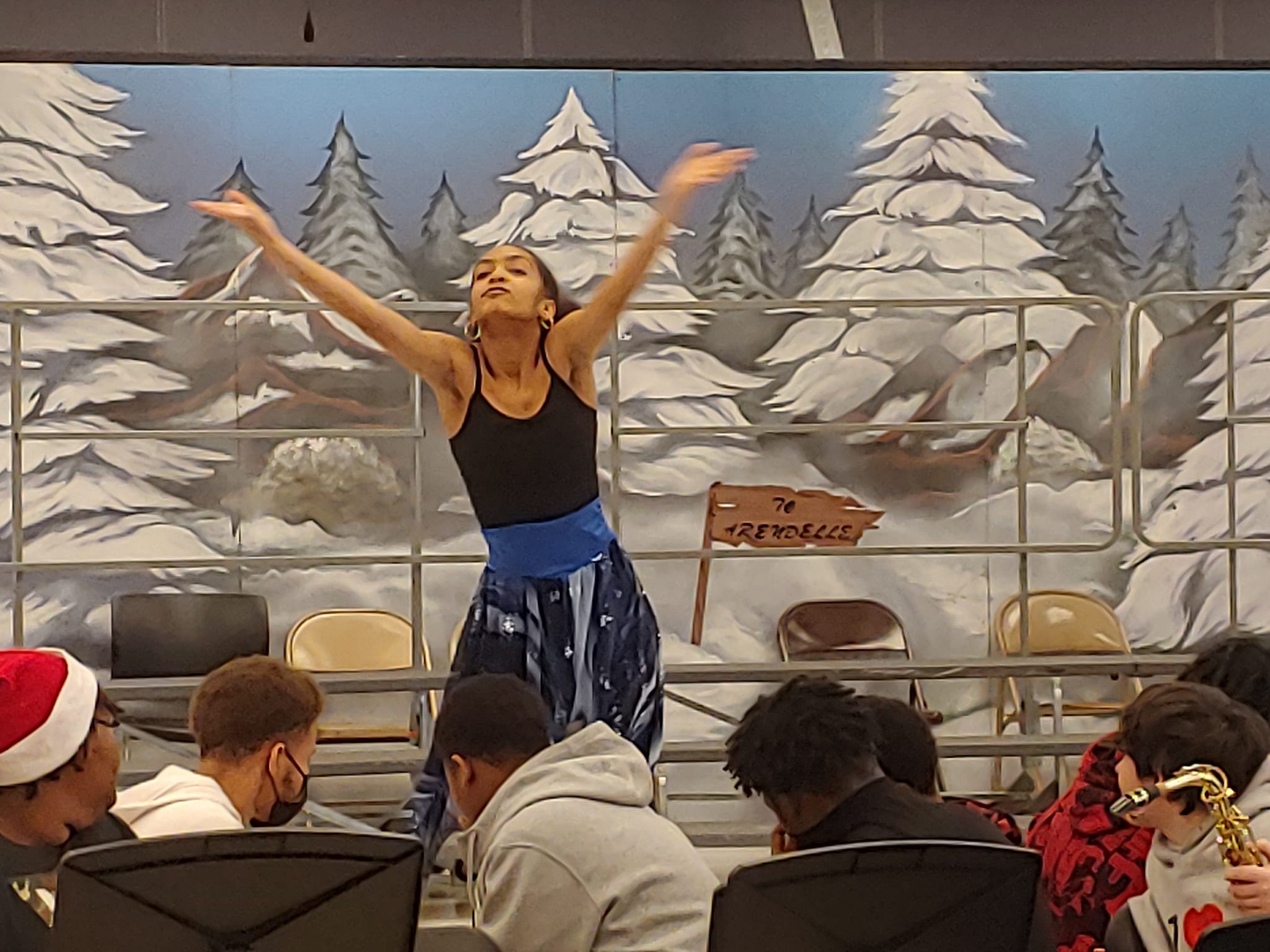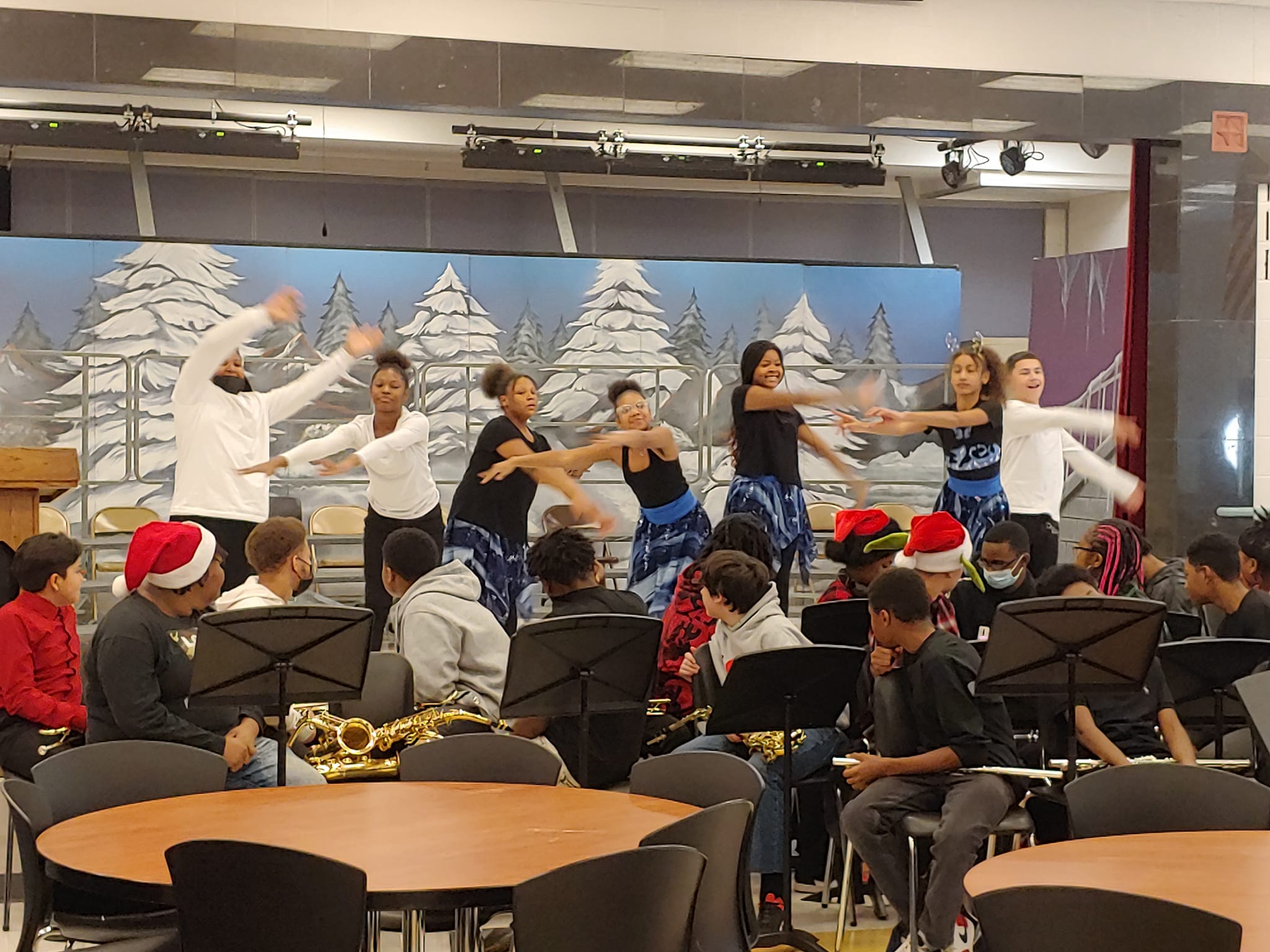 Here are some physical education students working on problem solving activities. Our sixth graders have been climbing across our new rock wall while our seventh and eighth graders have been working on cooperative activities. They had to reposition themselves on our balance beams without falling off and then had to get everyone over a four foot rope using only themselves and a wooden plank. These classes have done an amazing job all semester and they are truly finishing strong.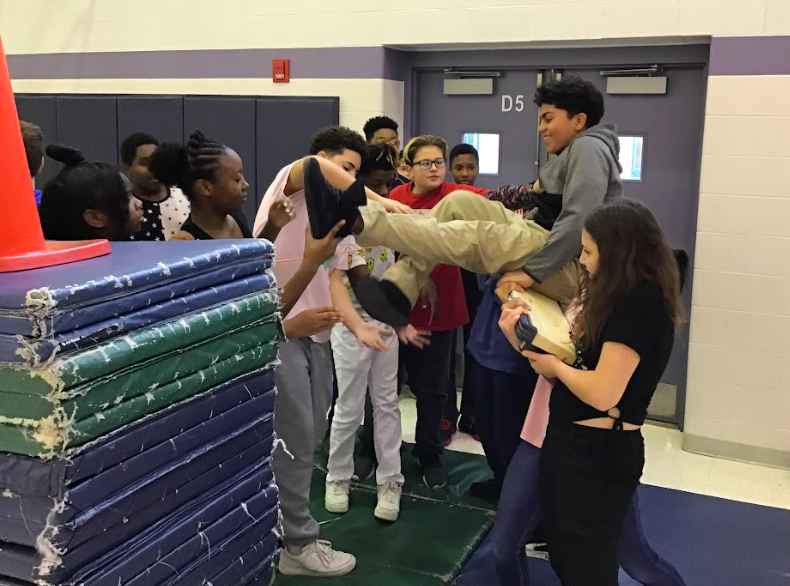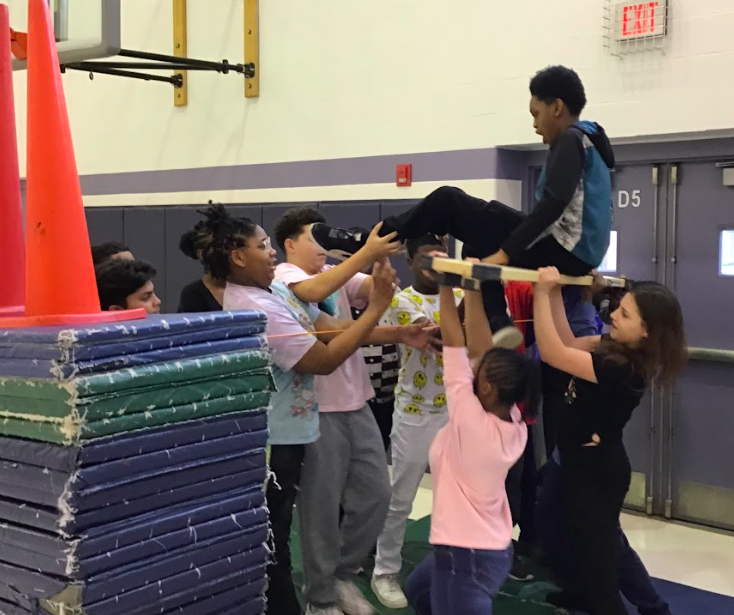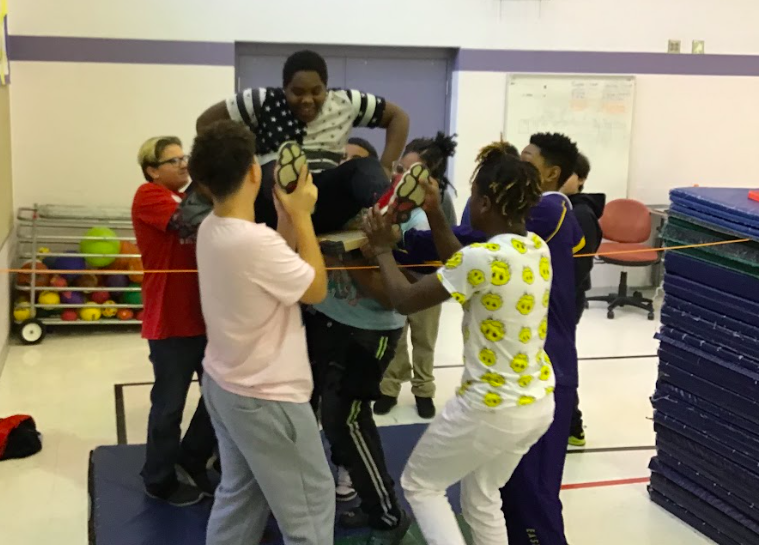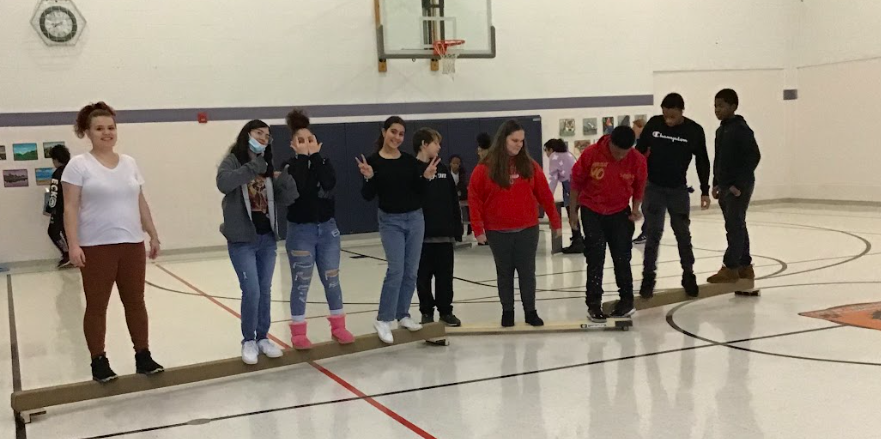 Whittle Climbing Equipment
Our RECMS physical education students got some hands-on experience with our new climbing equipment (The Whittle). These students used teamwork, cooperation, communication, and a ton of patience to complete some very difficult tasks.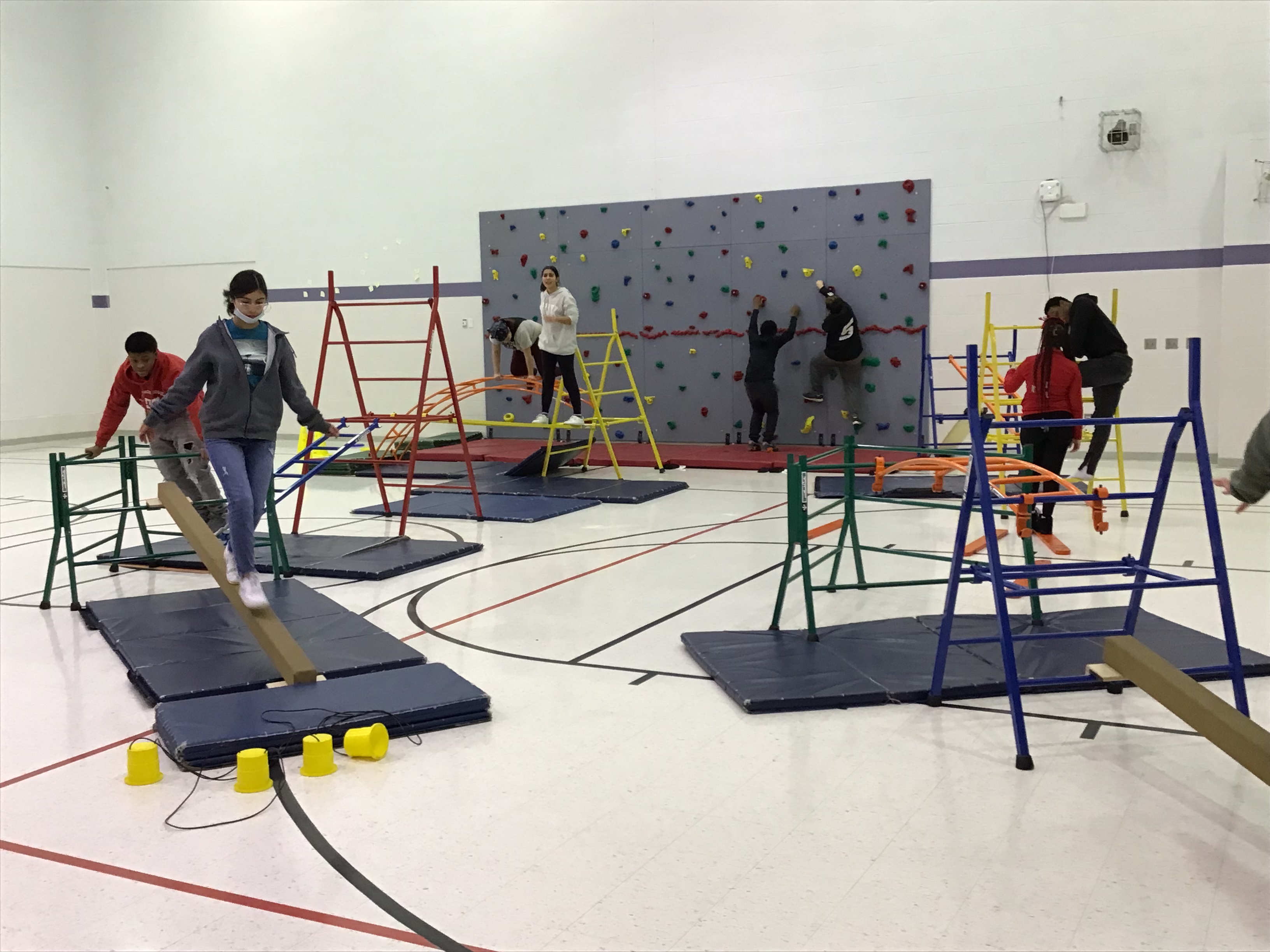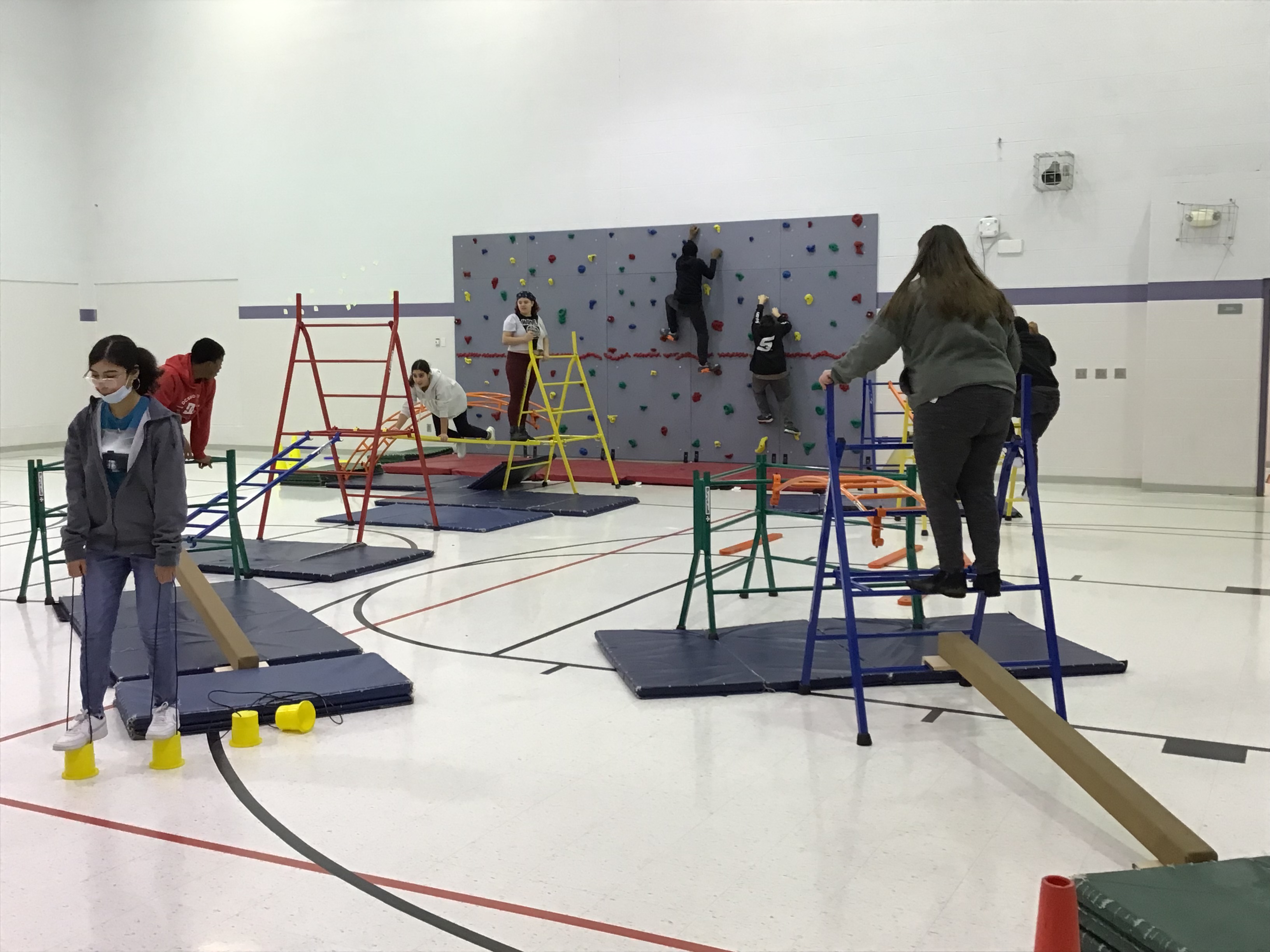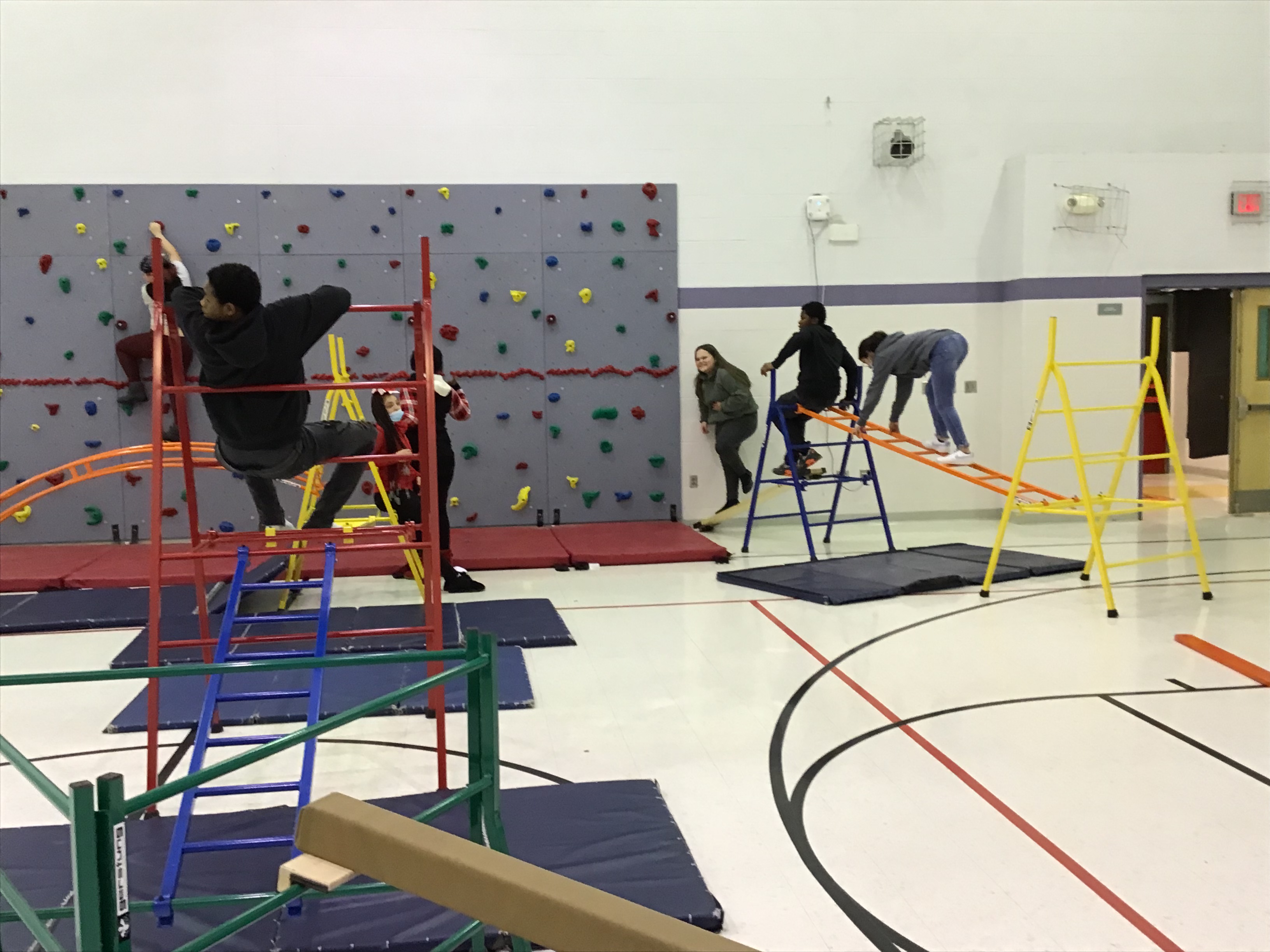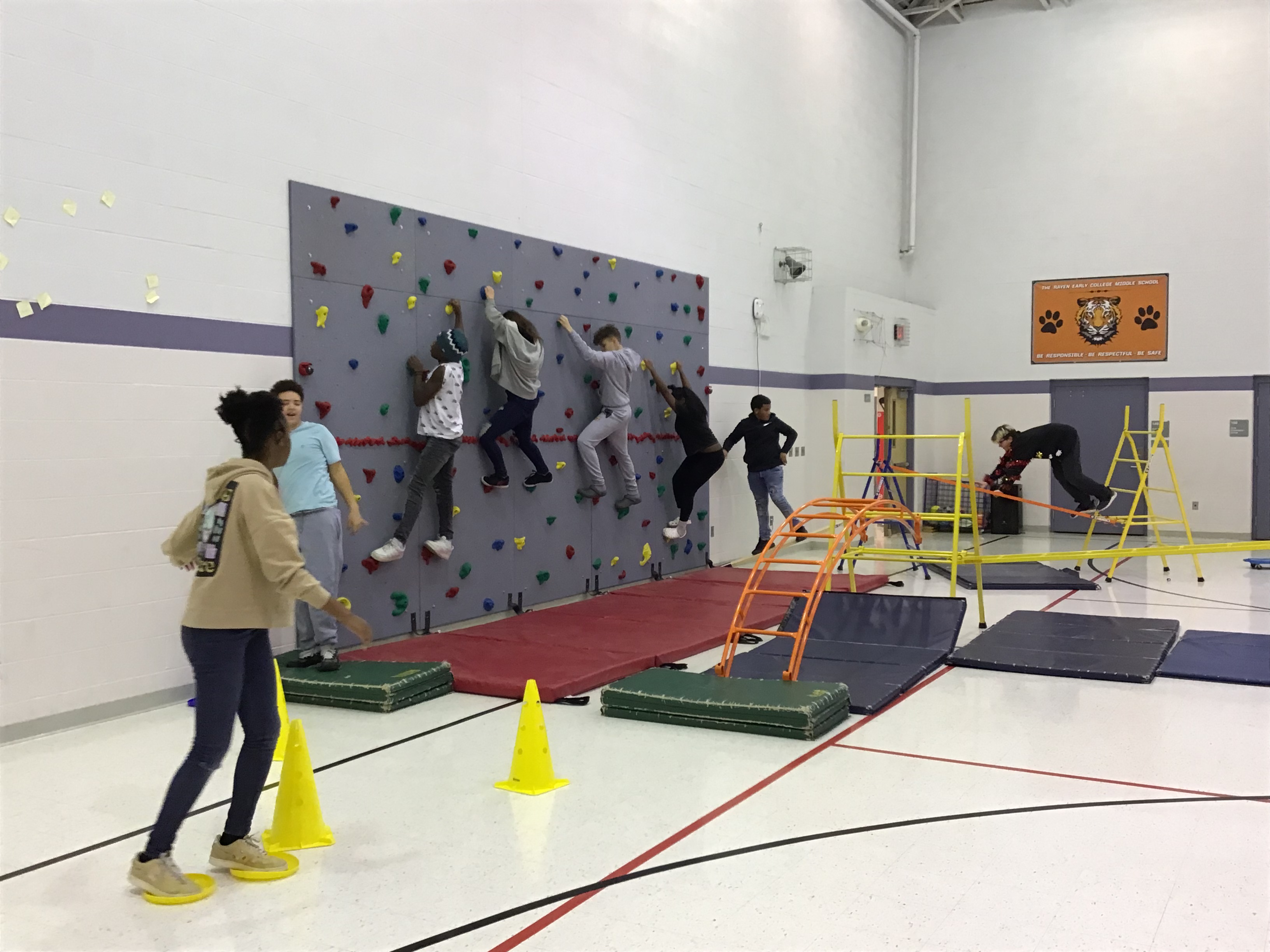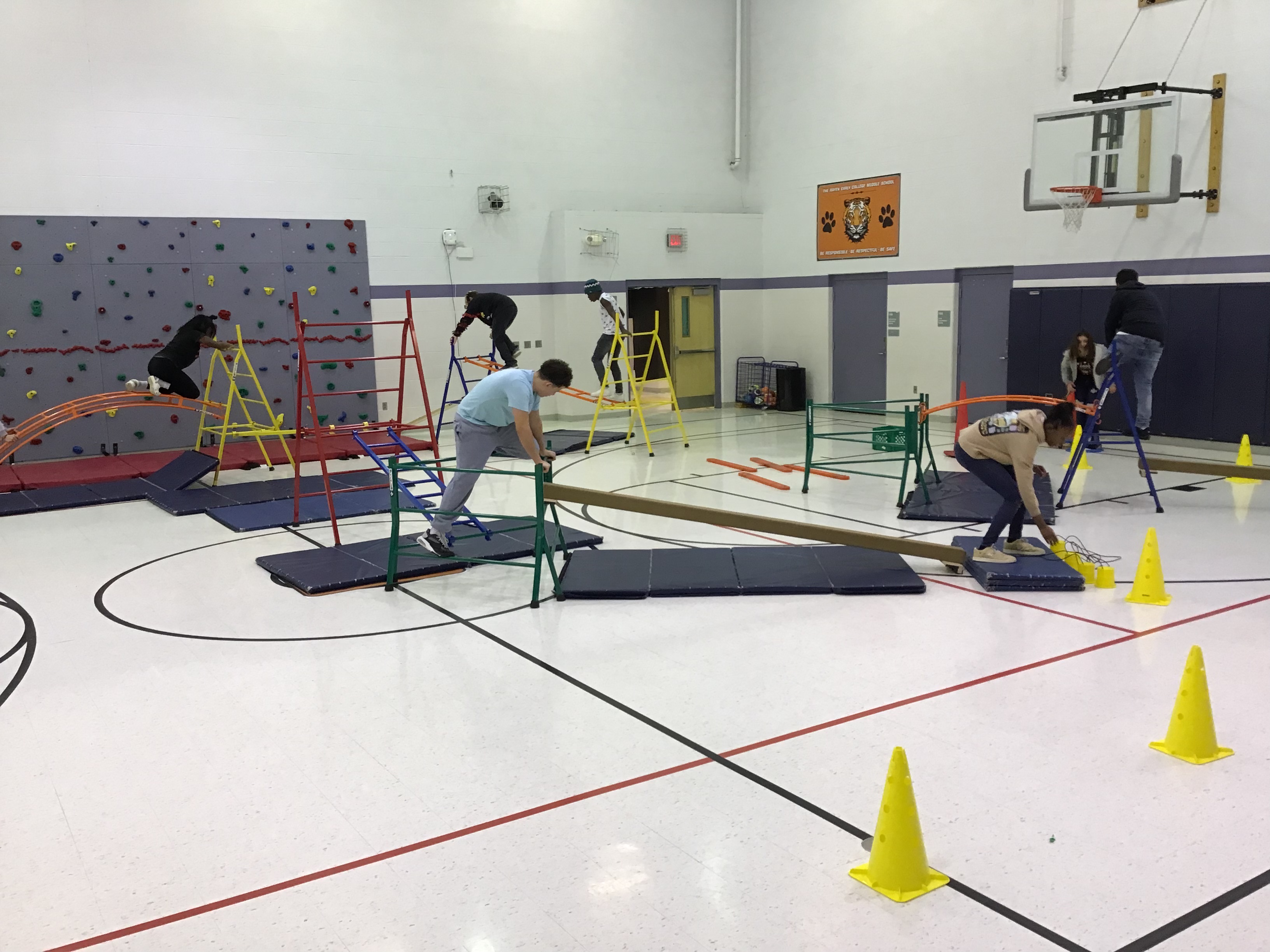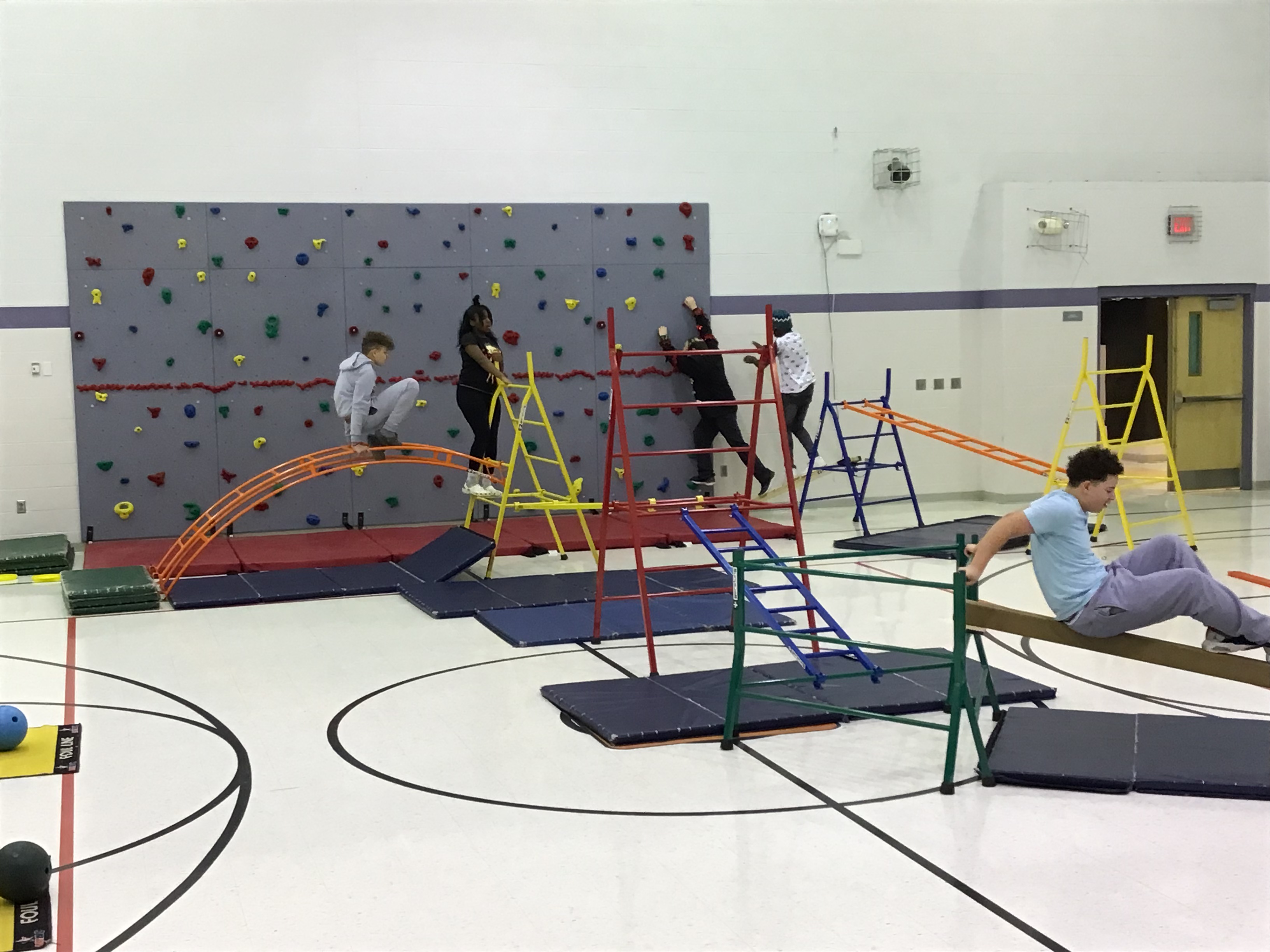 Winter Arts Showcase-Dec 8th
Thursday, December 8 scholars put on a spectacular Winter Showcase for the Fine Arts! Doors opened at 5:30 and it was a packed house! Performances by Choir, Drama and Dance were enjoyed by all and the Visual Arts by Art and Stagecraft were stunning. Career Tech students helped createThe REC Shop and run concessions.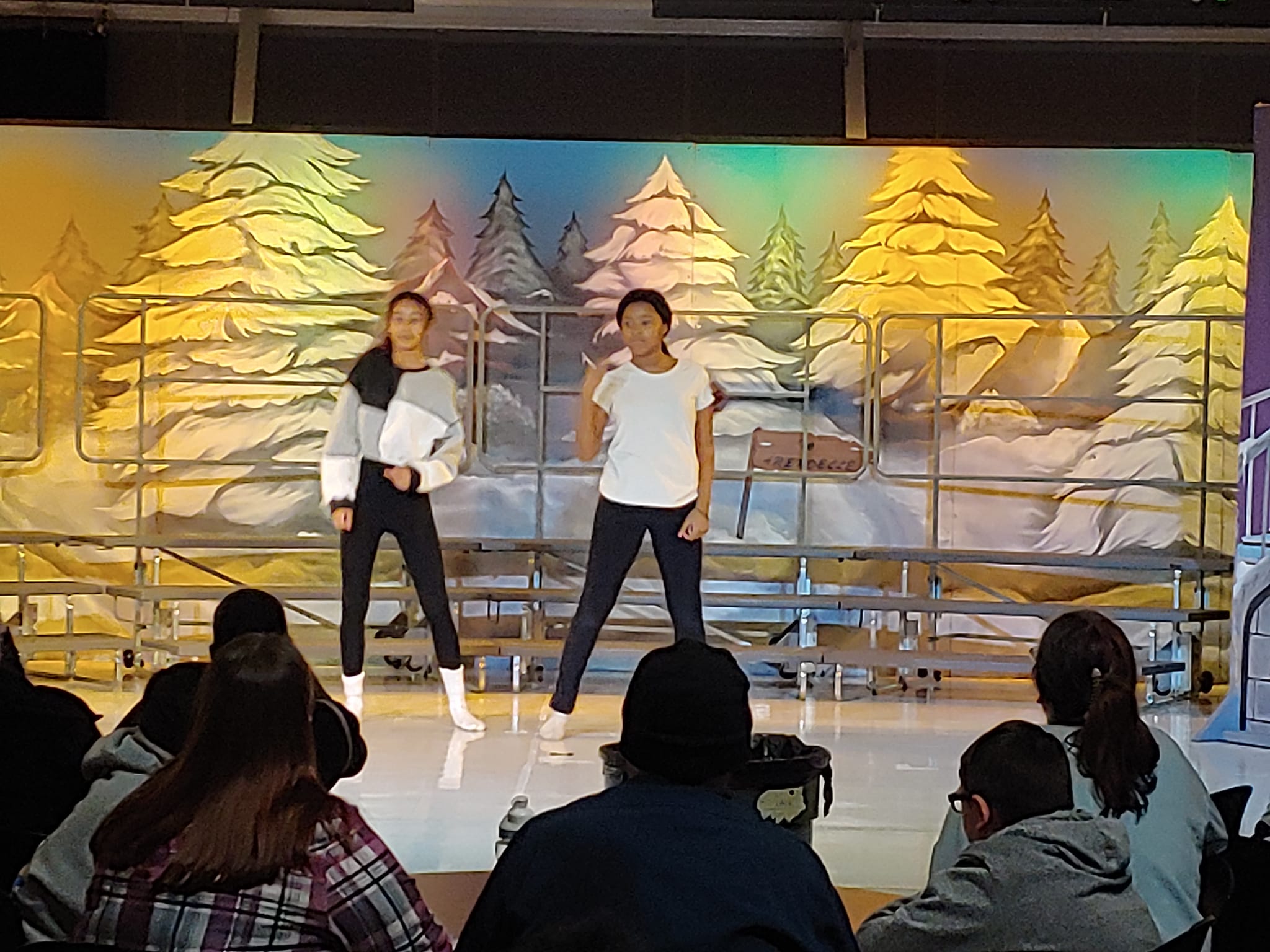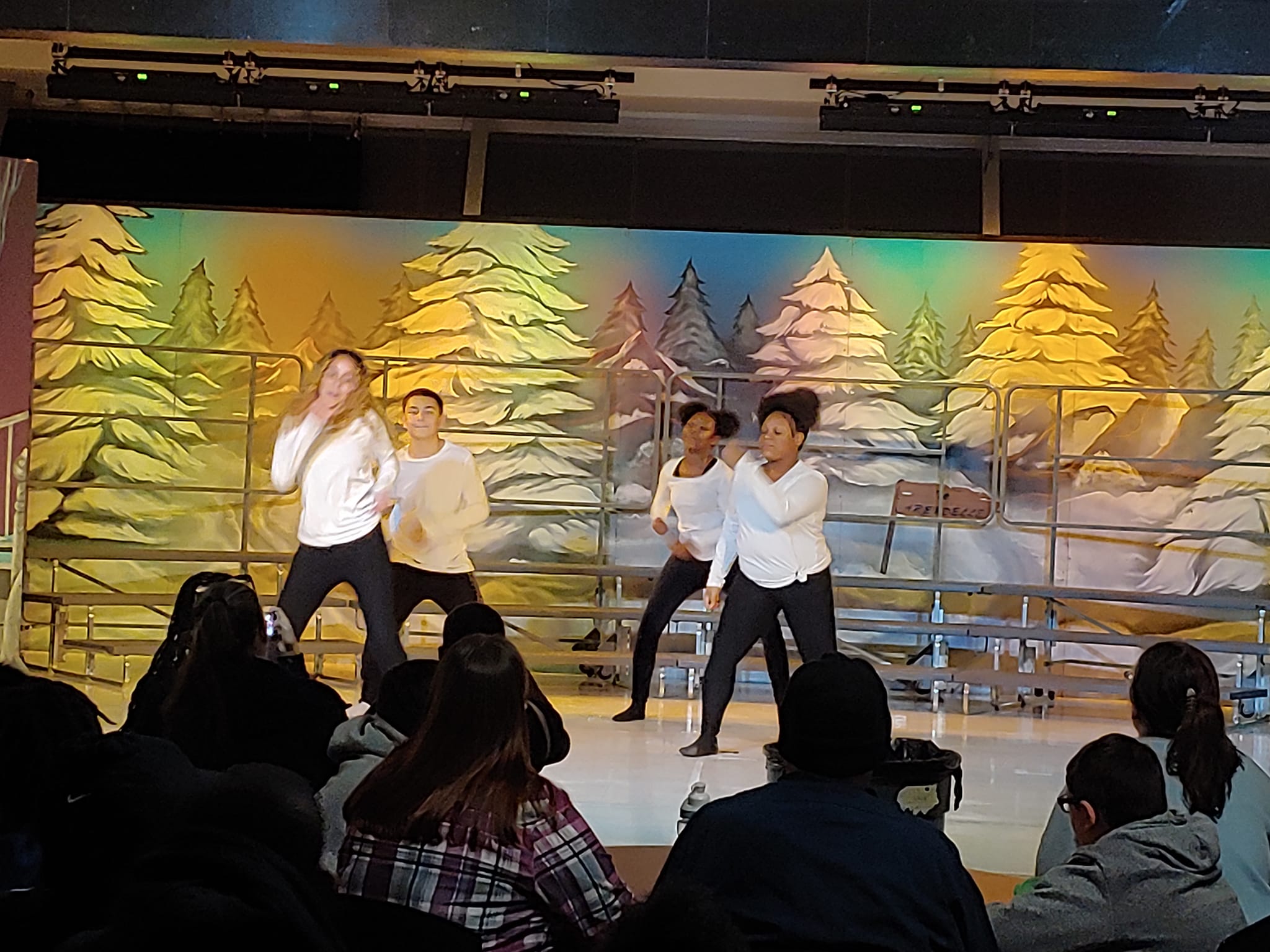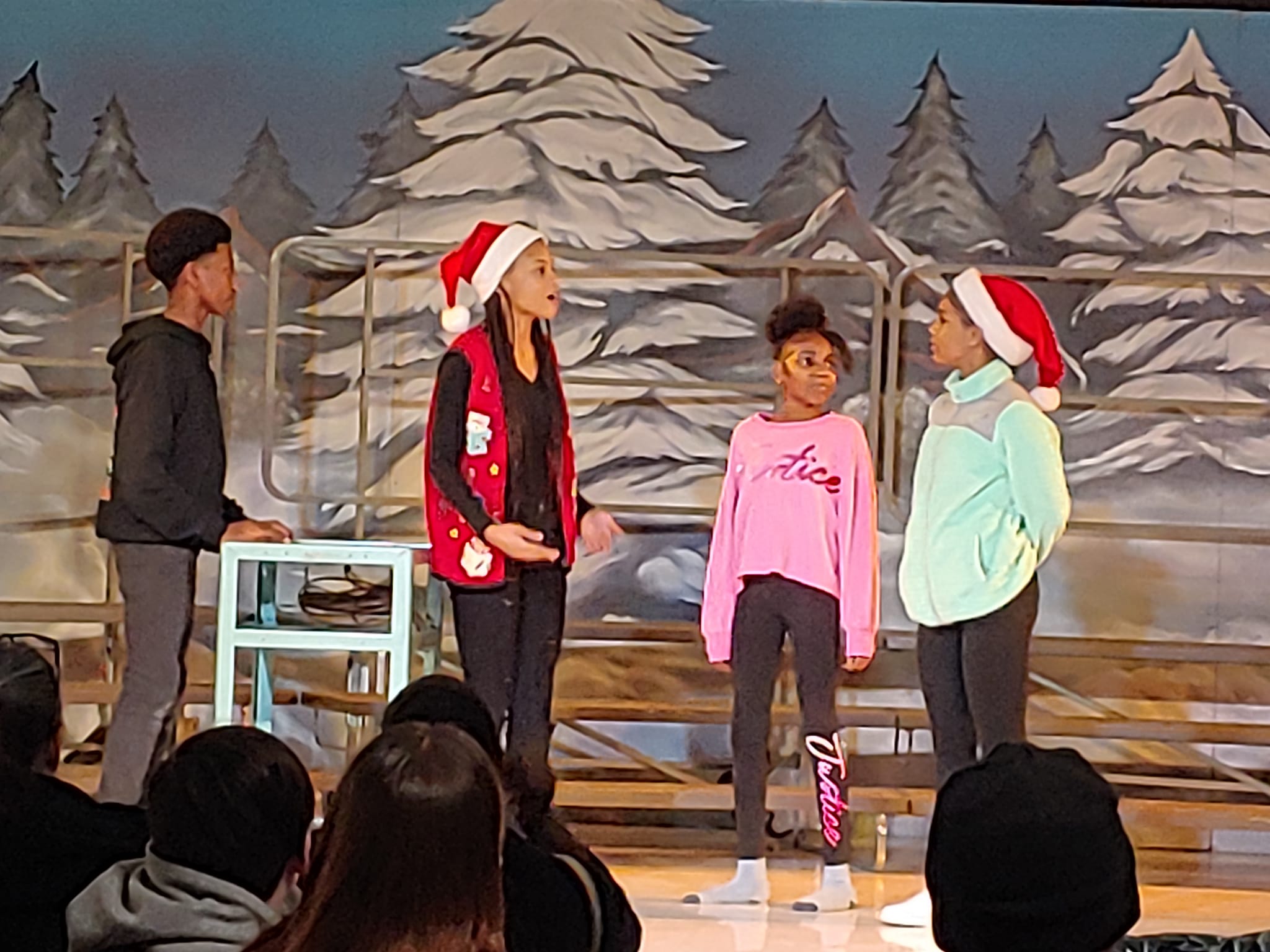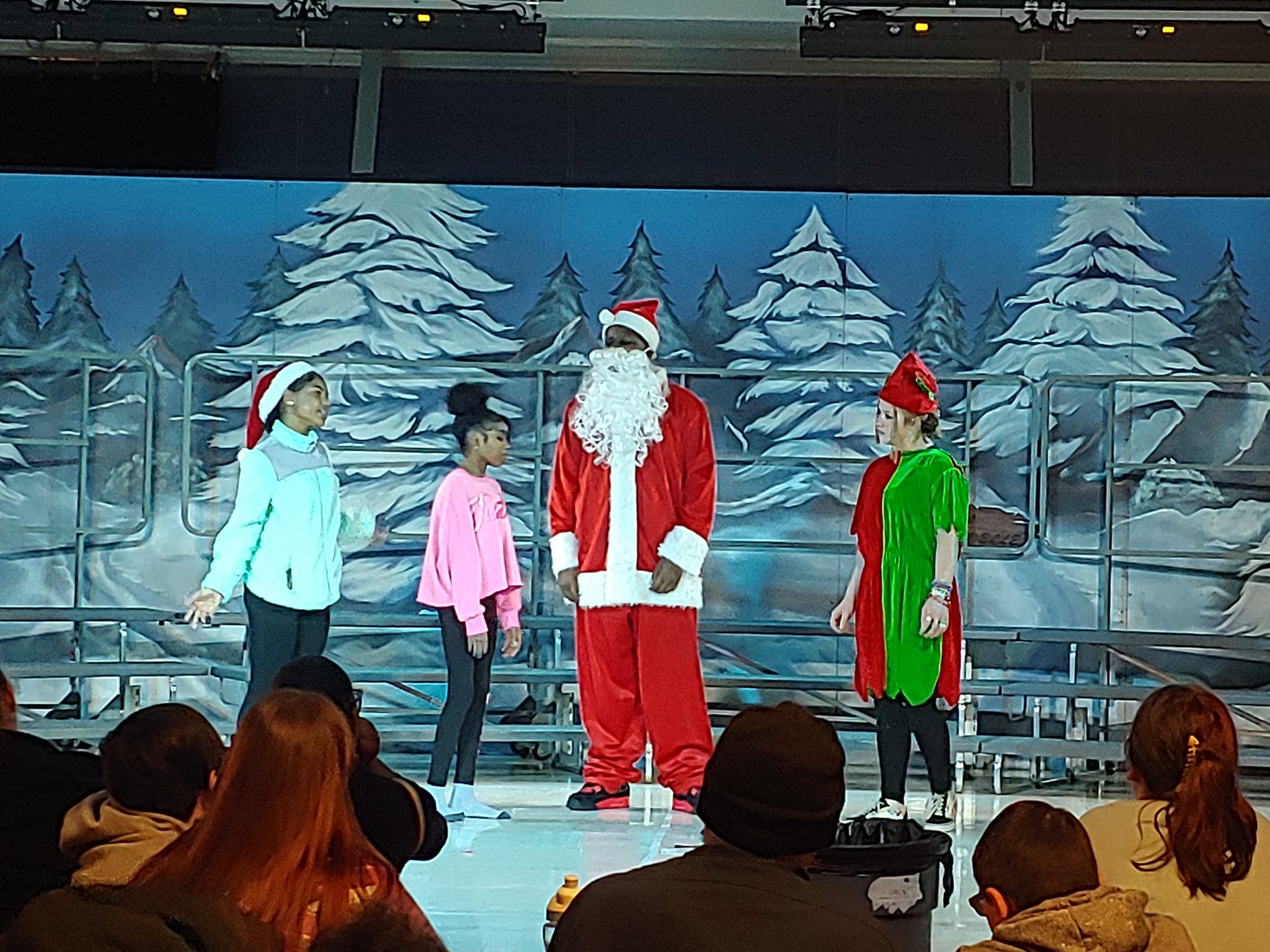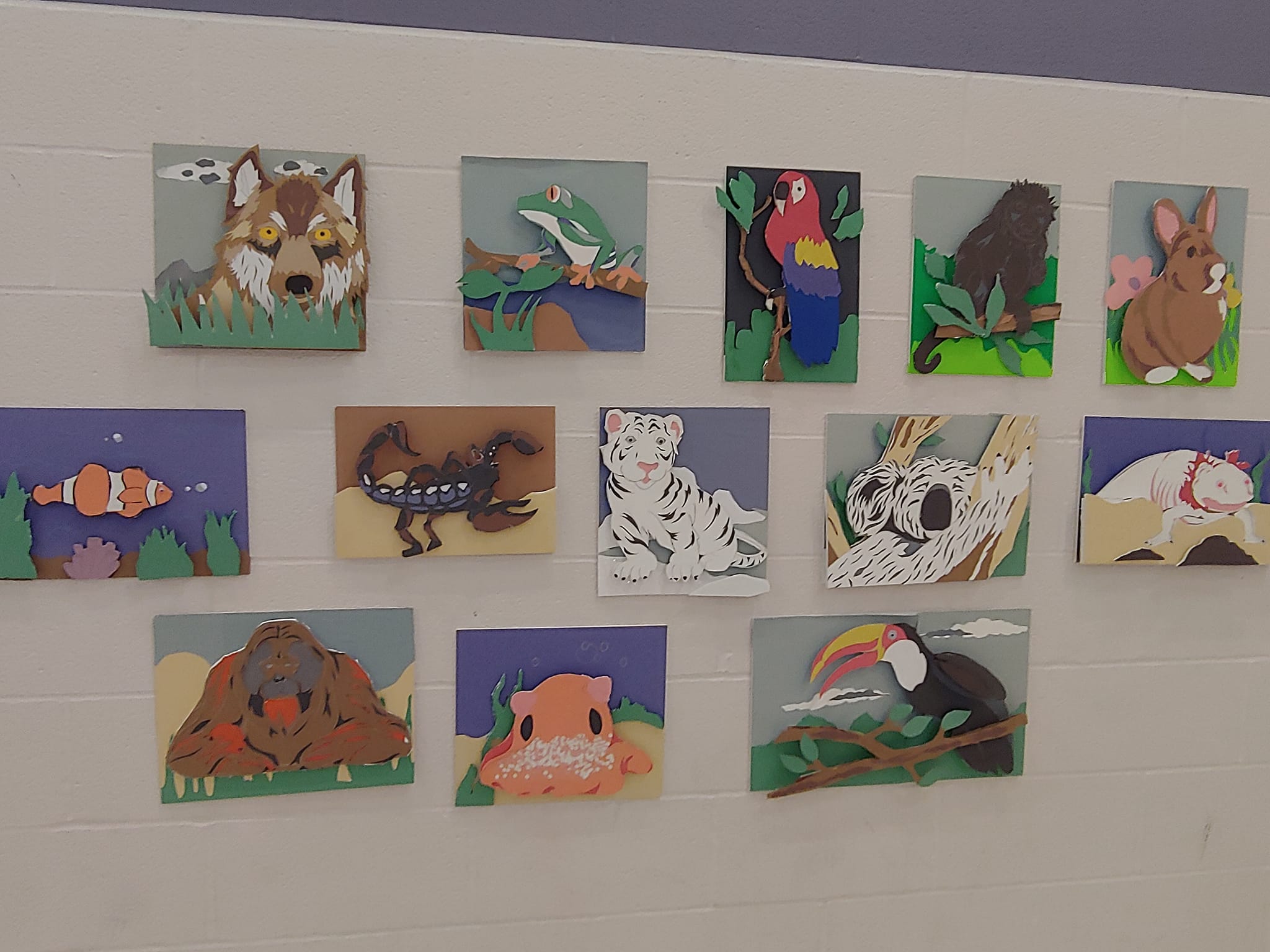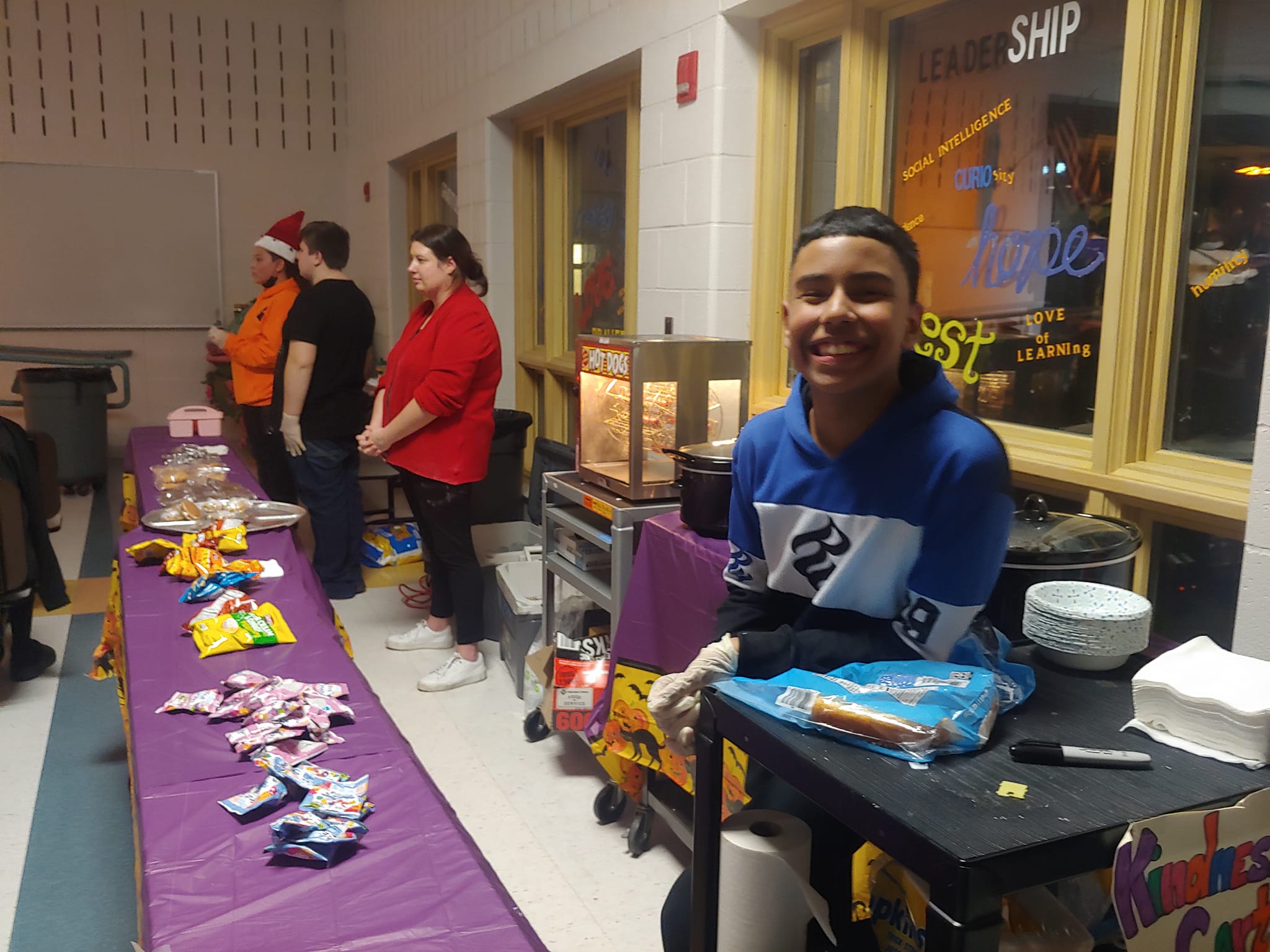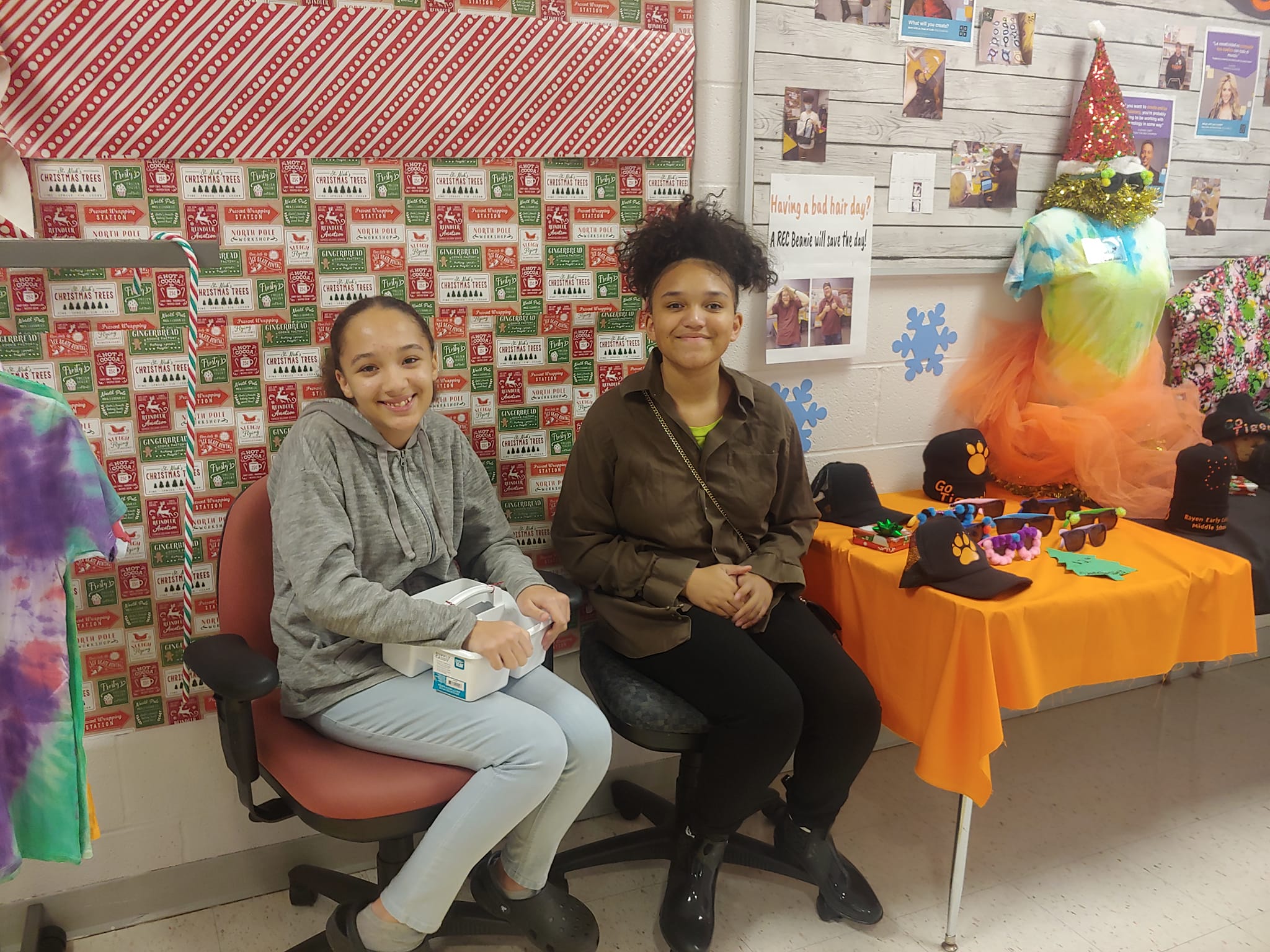 The RECMS Band Plays at Light Up Youngstown!
2022 marks the first time THE RECMS Band has played in the Light Up Downtown Youngstown parade! We were the only stand-alone middle school band there! The event was well attended and the kids had a lot of fun participating in the parade by either playing in the band, passing out candy and REC pamphlets or chanting, "Here we go Tigers, Here we go!"
Until next year...GOOOO Tigers!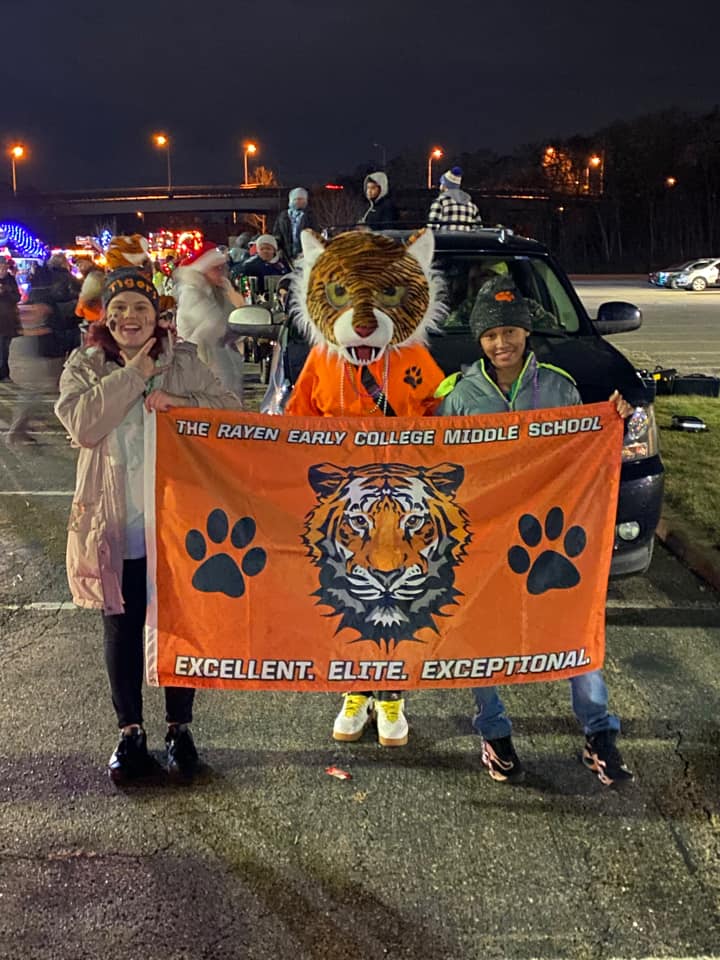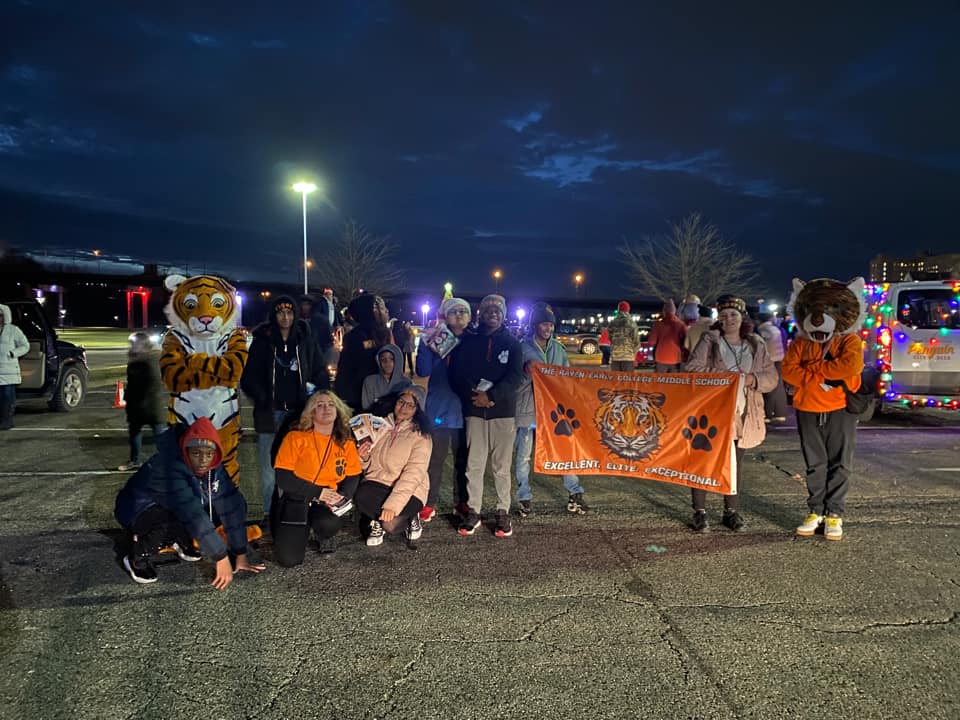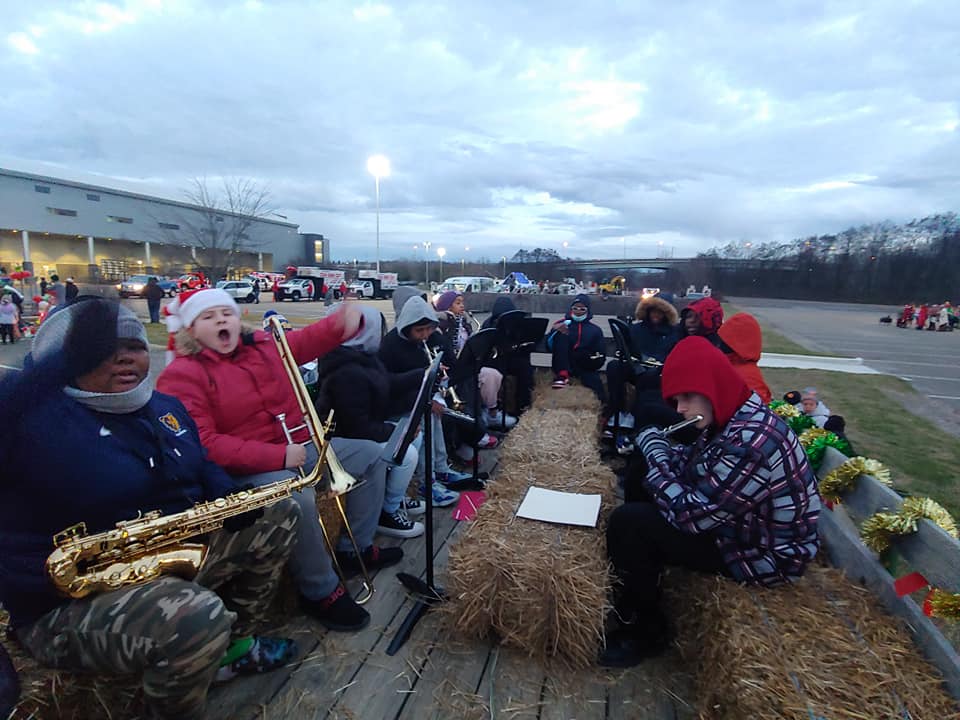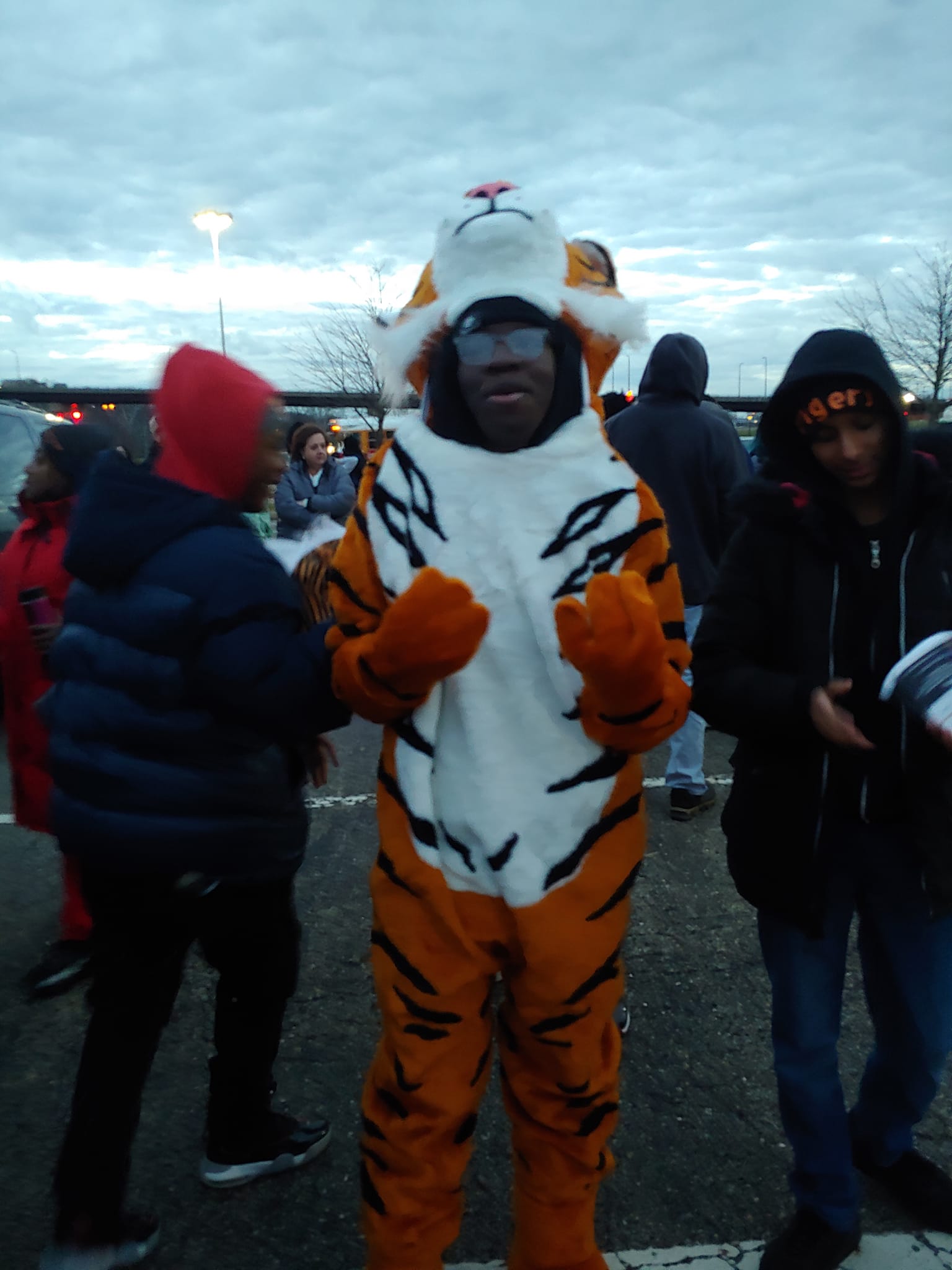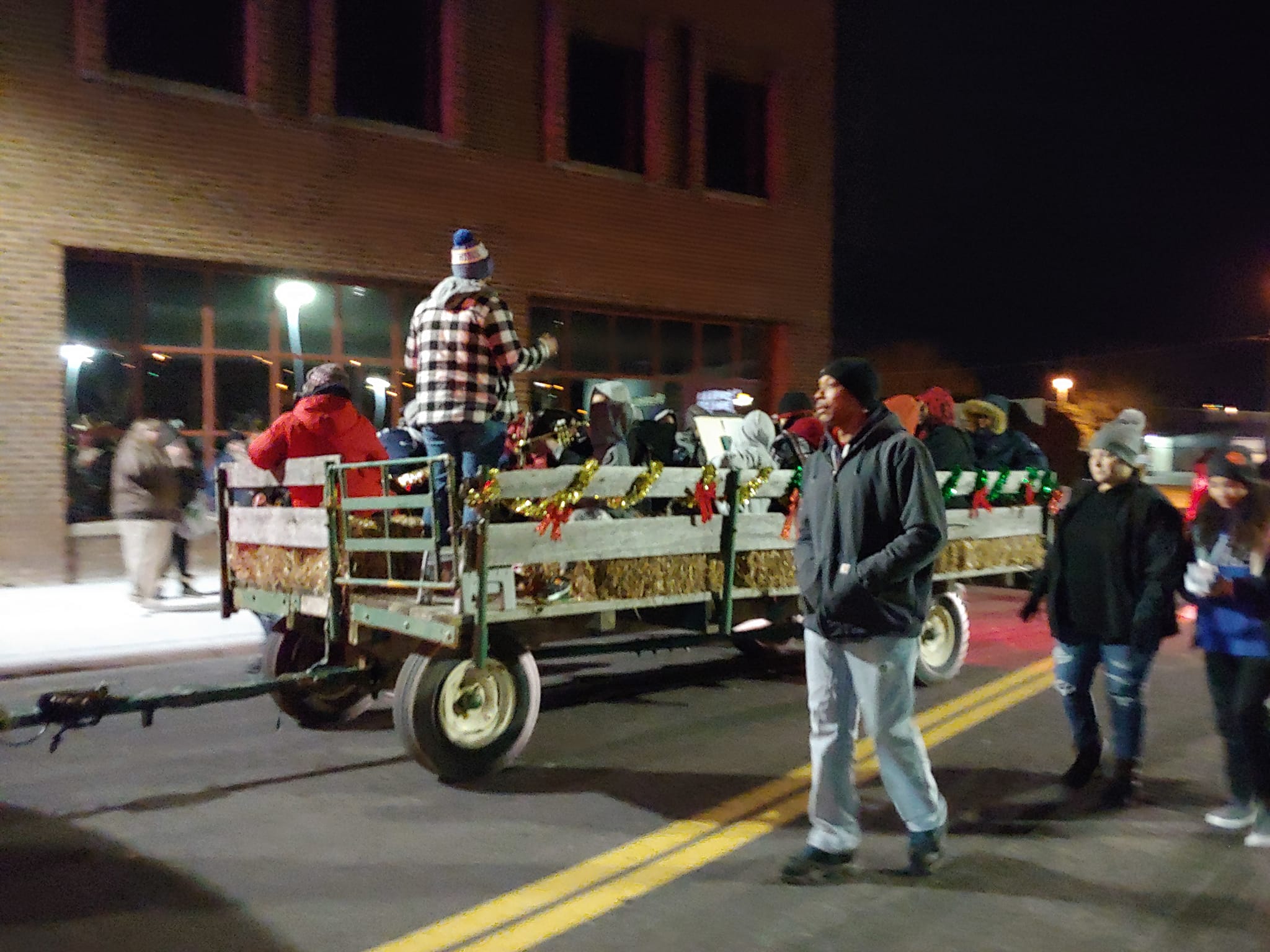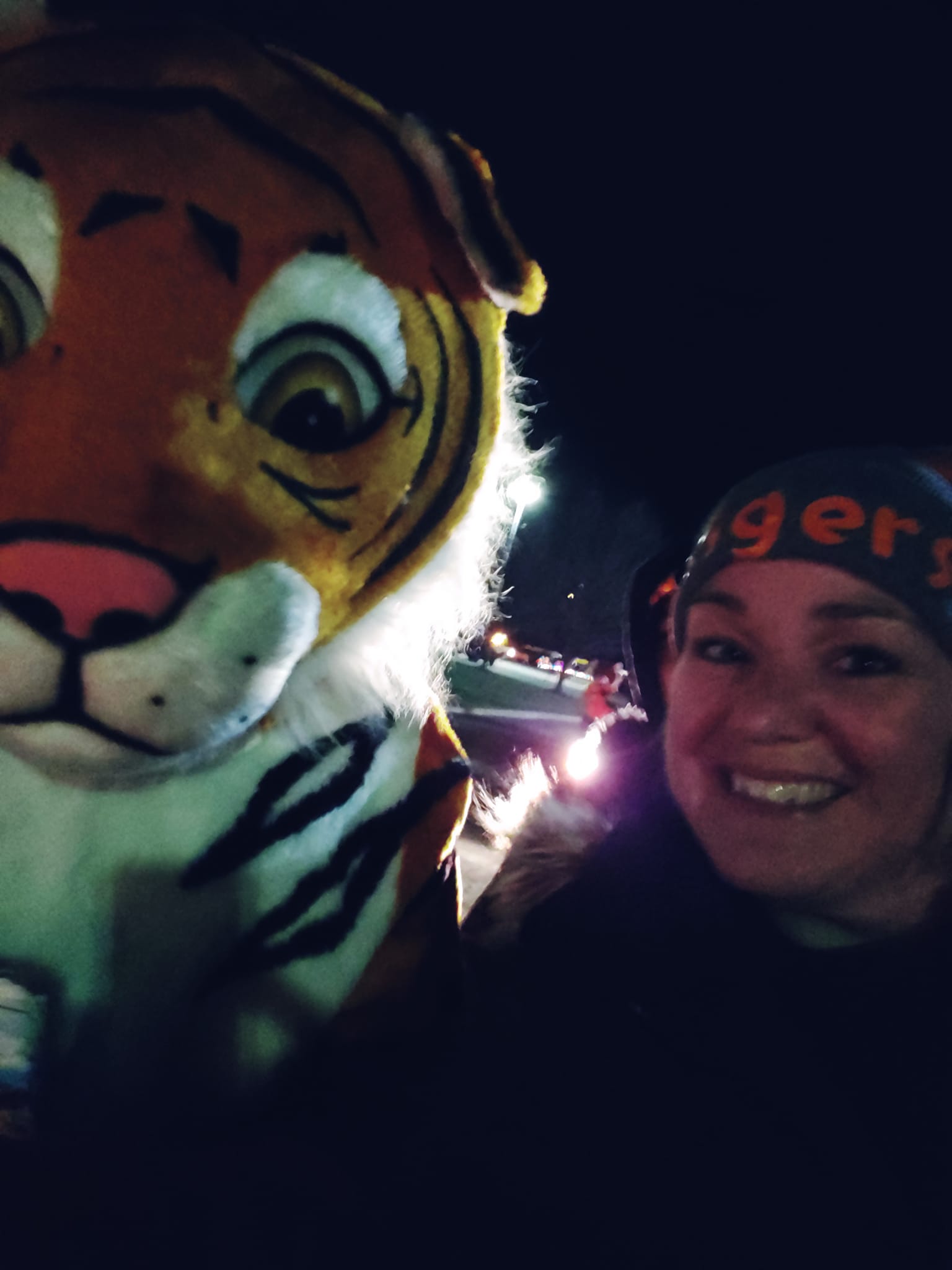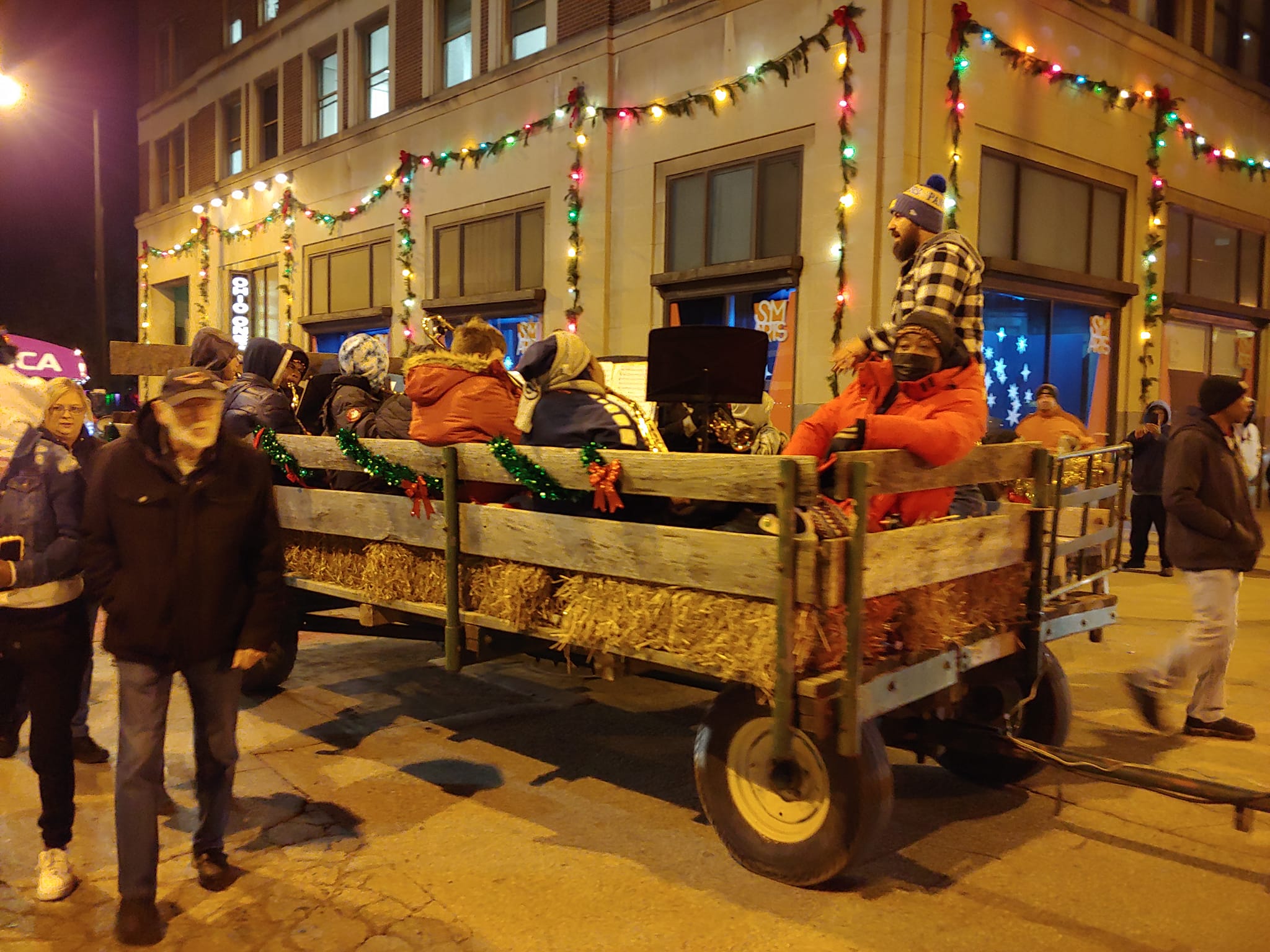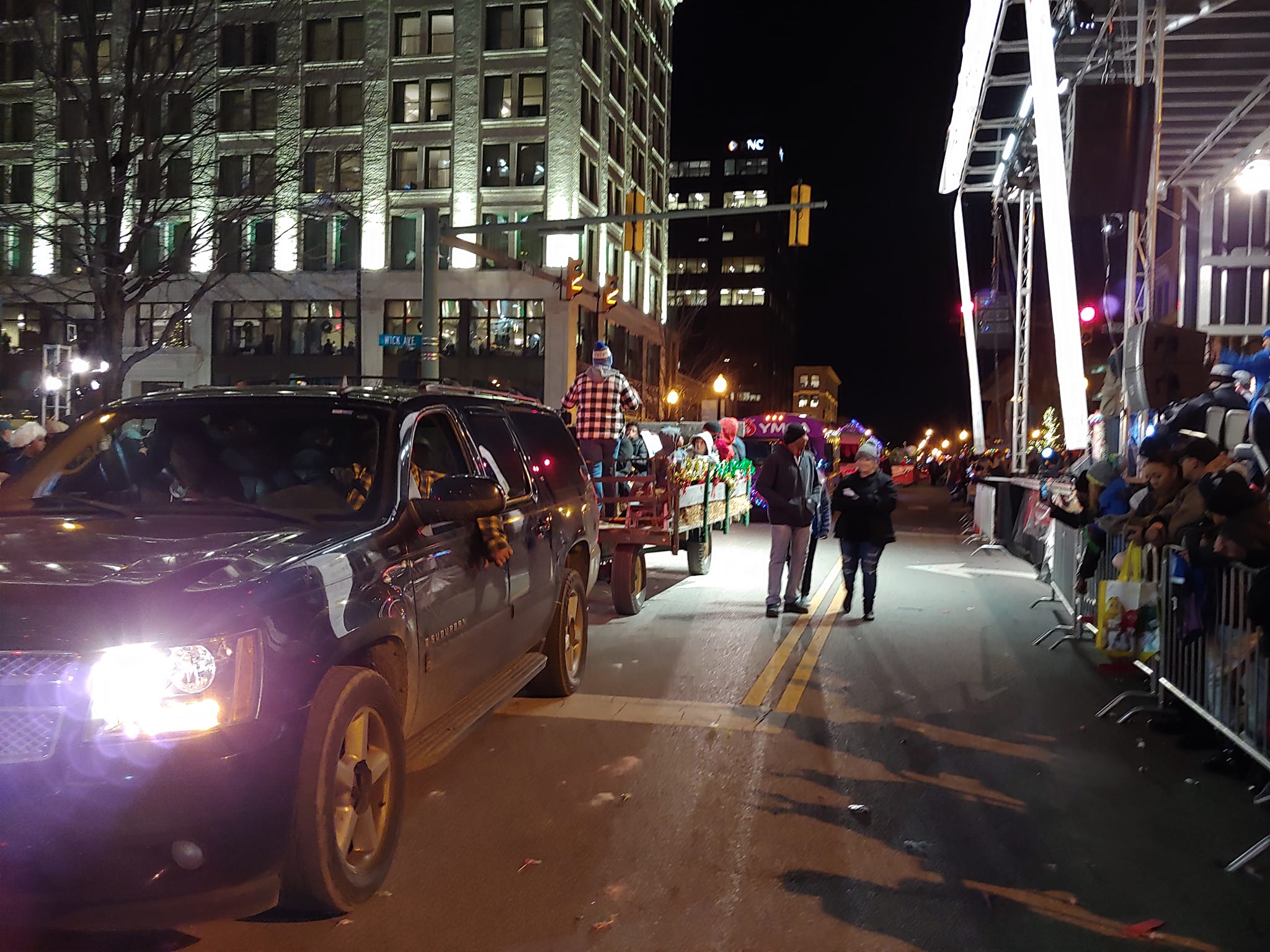 Youth in Government Goes to Columbus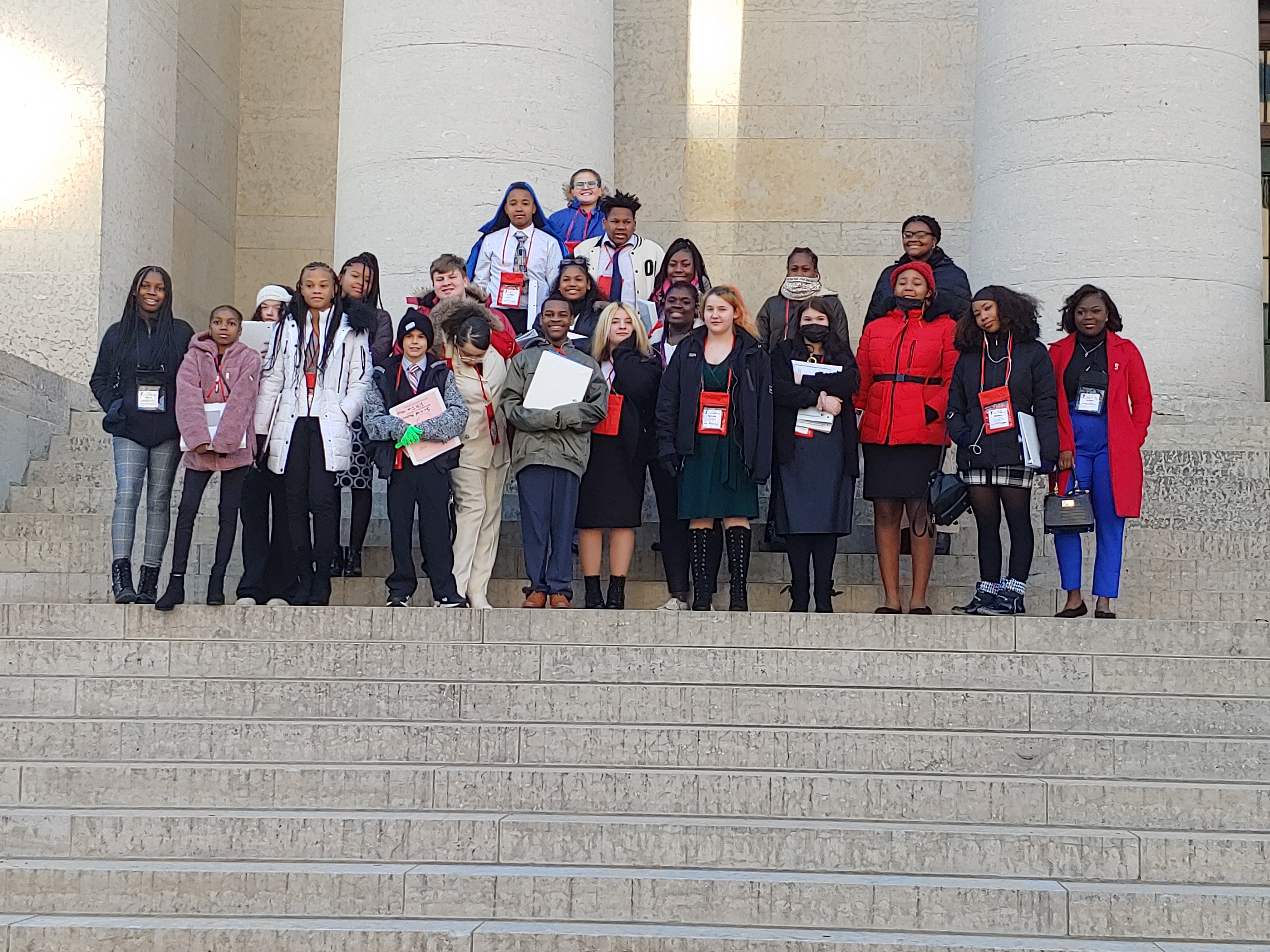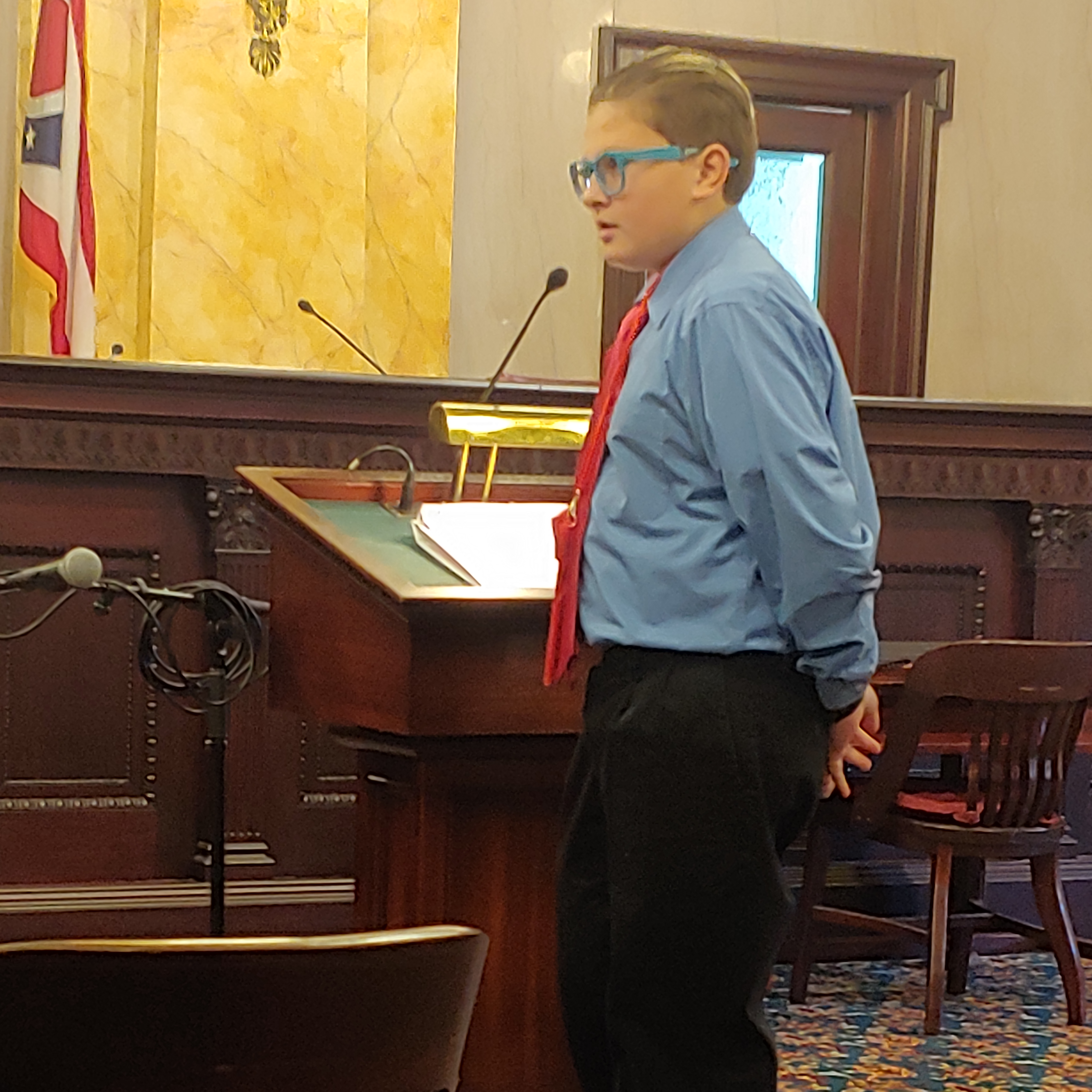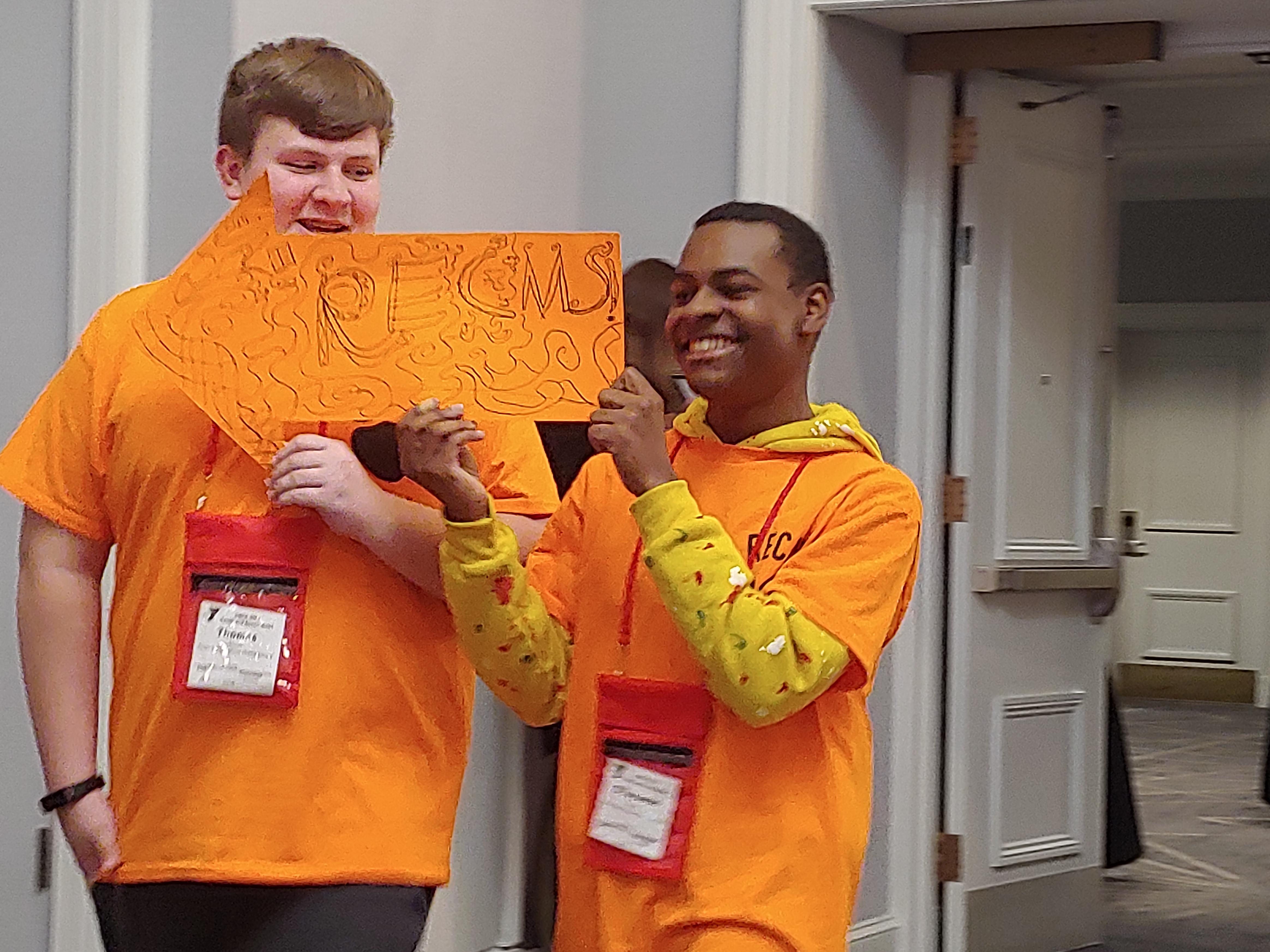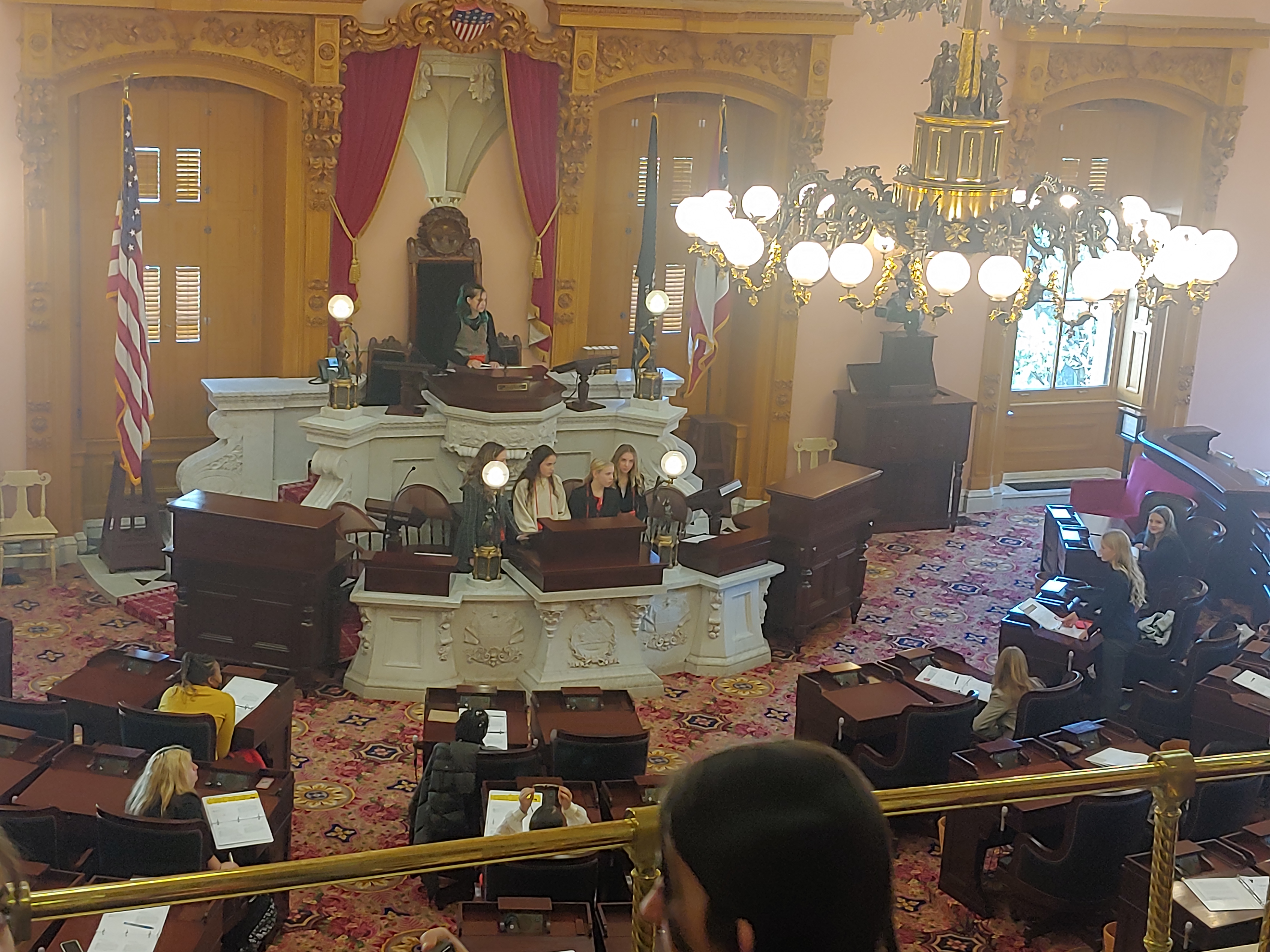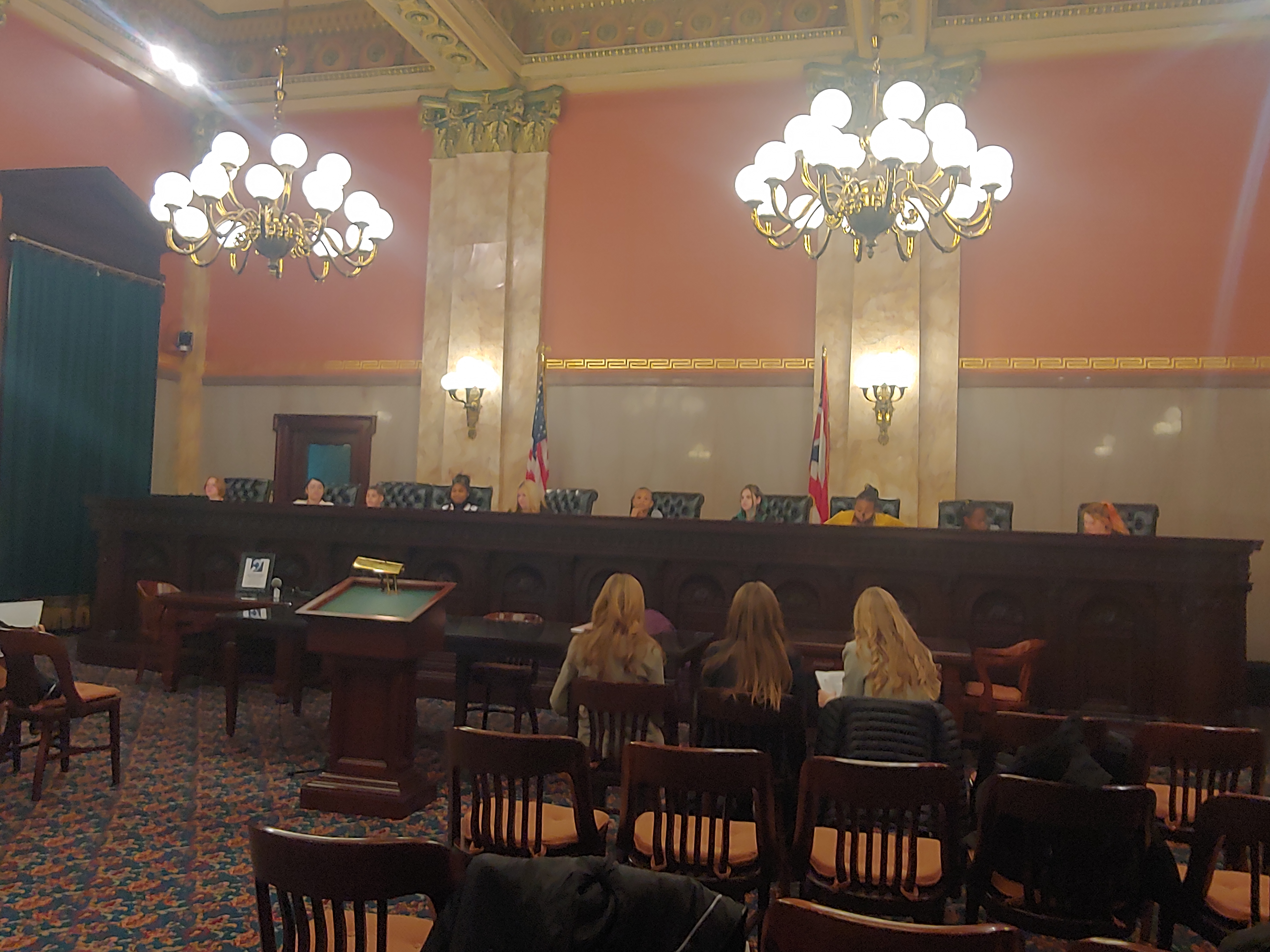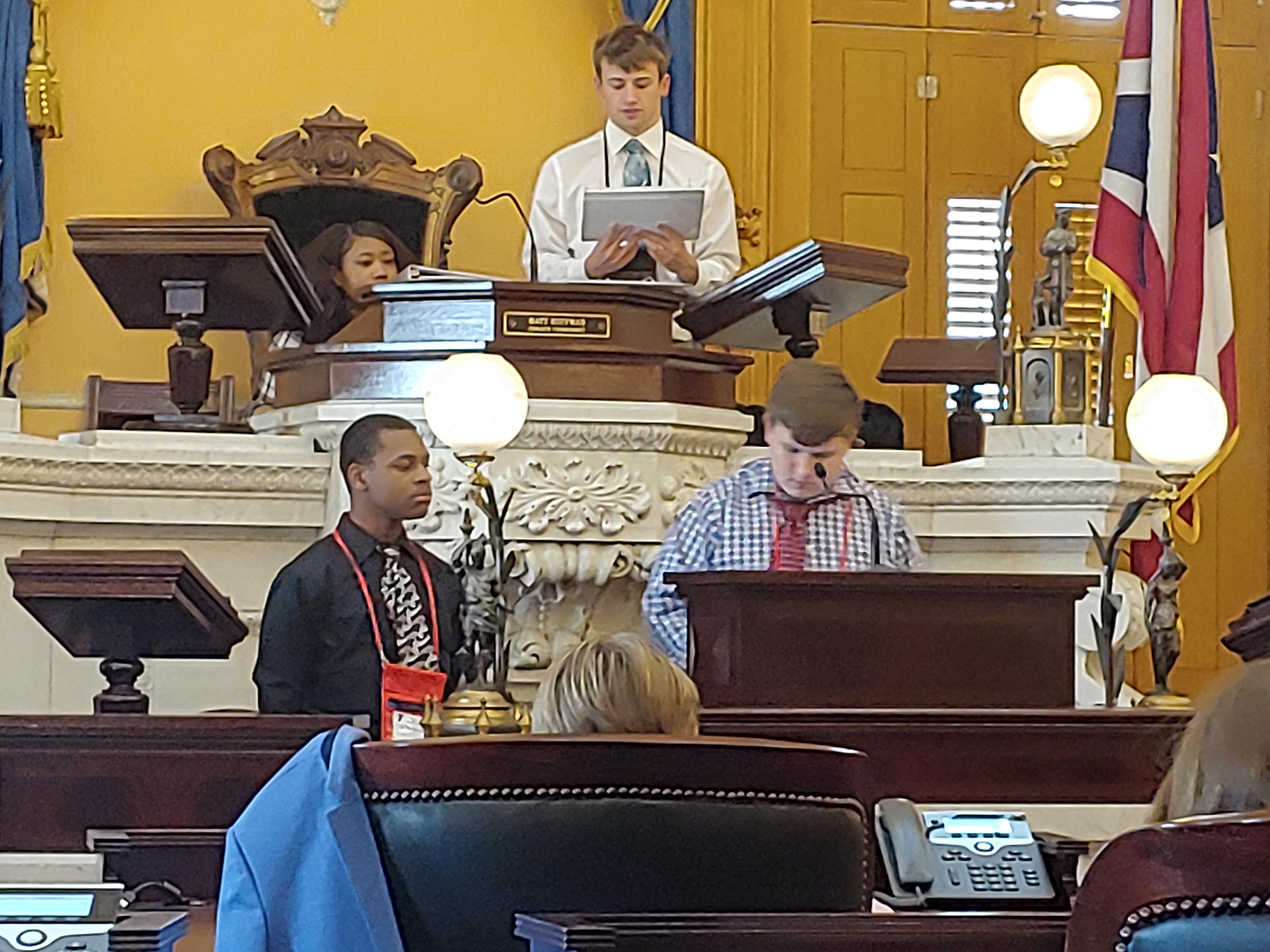 On Sunday, November 20, 2022, eleven students went to represent Rayen Early College Middle School at Ohio's Statehouse in Columbus. Scholars had the opportunity to write their own bills and go through the entire bill passing process with other Ohio Schools. RECMS took 6 pieces of legislation and Quenci Duckworth represented the 2022 Lt. Governor.
Scholars present and defend/debate the legislation with other Ohio schools in the Statehouse where they're permitted to use committee rooms & the Senate/House chambers. Ohio has 33 Senators and 99 Representatives that use these rooms and sit in the very seats scholars used.
Highlights include:
O'Tayveon Green was selected to sing, The National Anthem, a cappella, to kick off the event. This was his first time singing solo in front of a crowd and he was spectacular!

Porter Wilson's bill on schools providing a clothing stipend for low-income students was 1 of 4 pieces signed by the student Governor. He had a tough debate and did it alone!

Special Awards were given to:

Jenna Kent - Outstanding Senator &

O'Tayveon Green - Outstanding Delegate

RECMS ran for 3 offices and won them ALL!!! The 2023 winning officers are:

Taelynn Davis-Speaker of the House

Meliyah Edwards-President of the Senate

Jenna Kent-Governor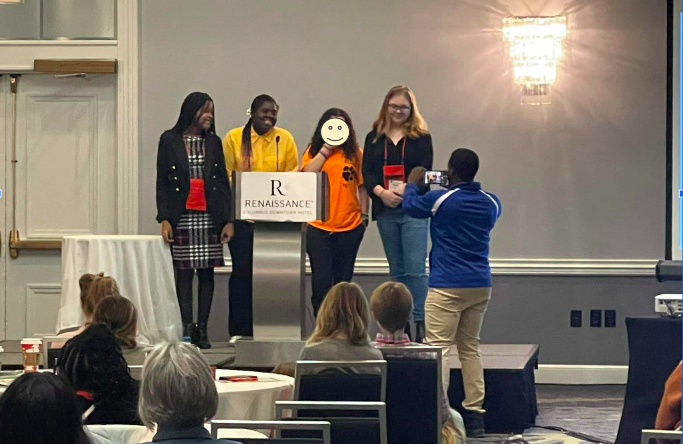 Sew What Matters Contest Winner is Announced!
Congratulations Yanuelis! You're the lucky winner of a brand new sewing machine and starter kit! We cannot wait to see the things you will create! Perhaps you will be able to help with some costume design for our Spring production of The Lion King Jr.
Thank you to all our sewing applicants for taking the time to write or record a response. Your words were heartfelt and we loved reading about your passion for learning something new or keeping family traditions alive.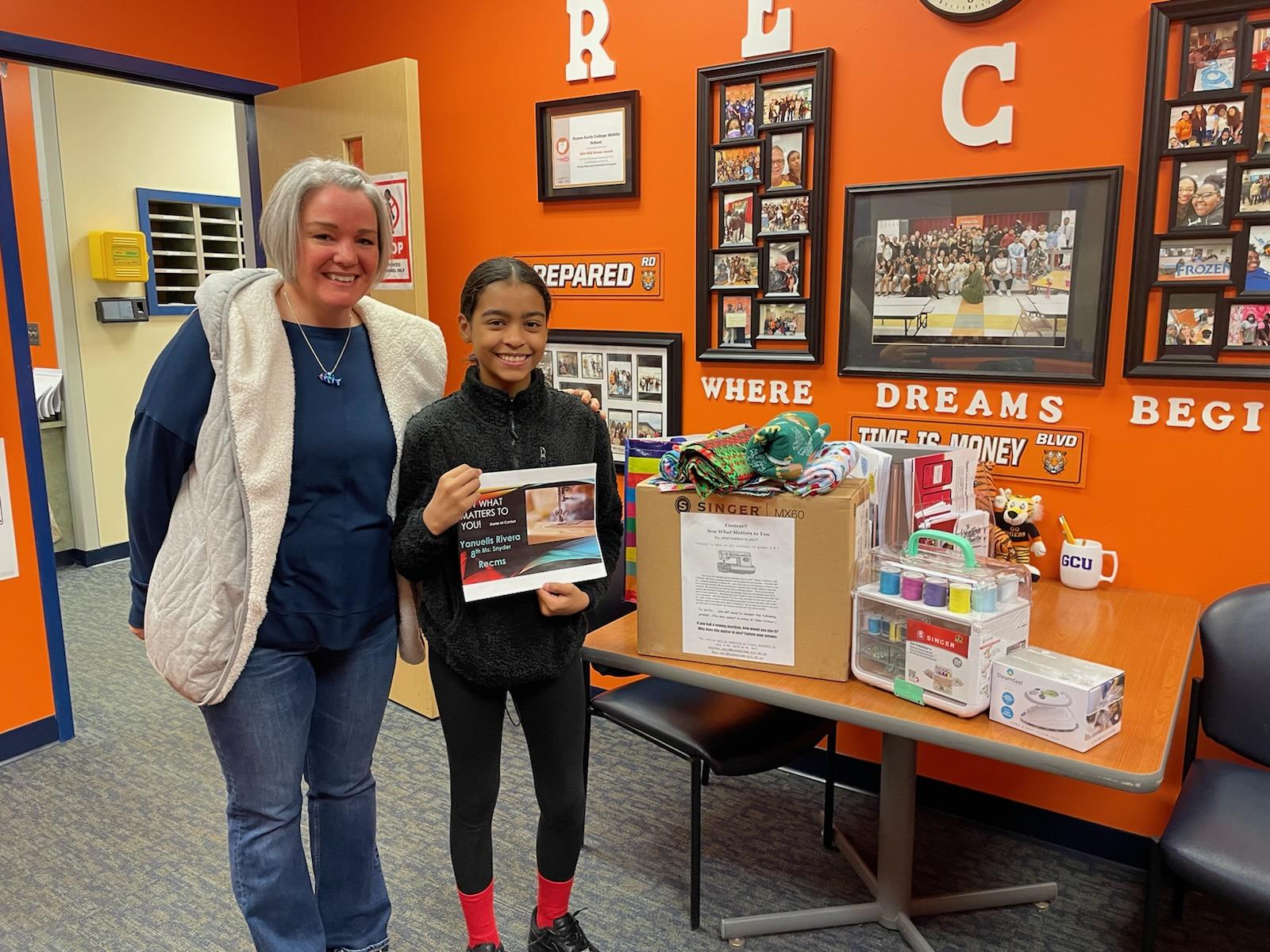 Operation Turkey is a Success!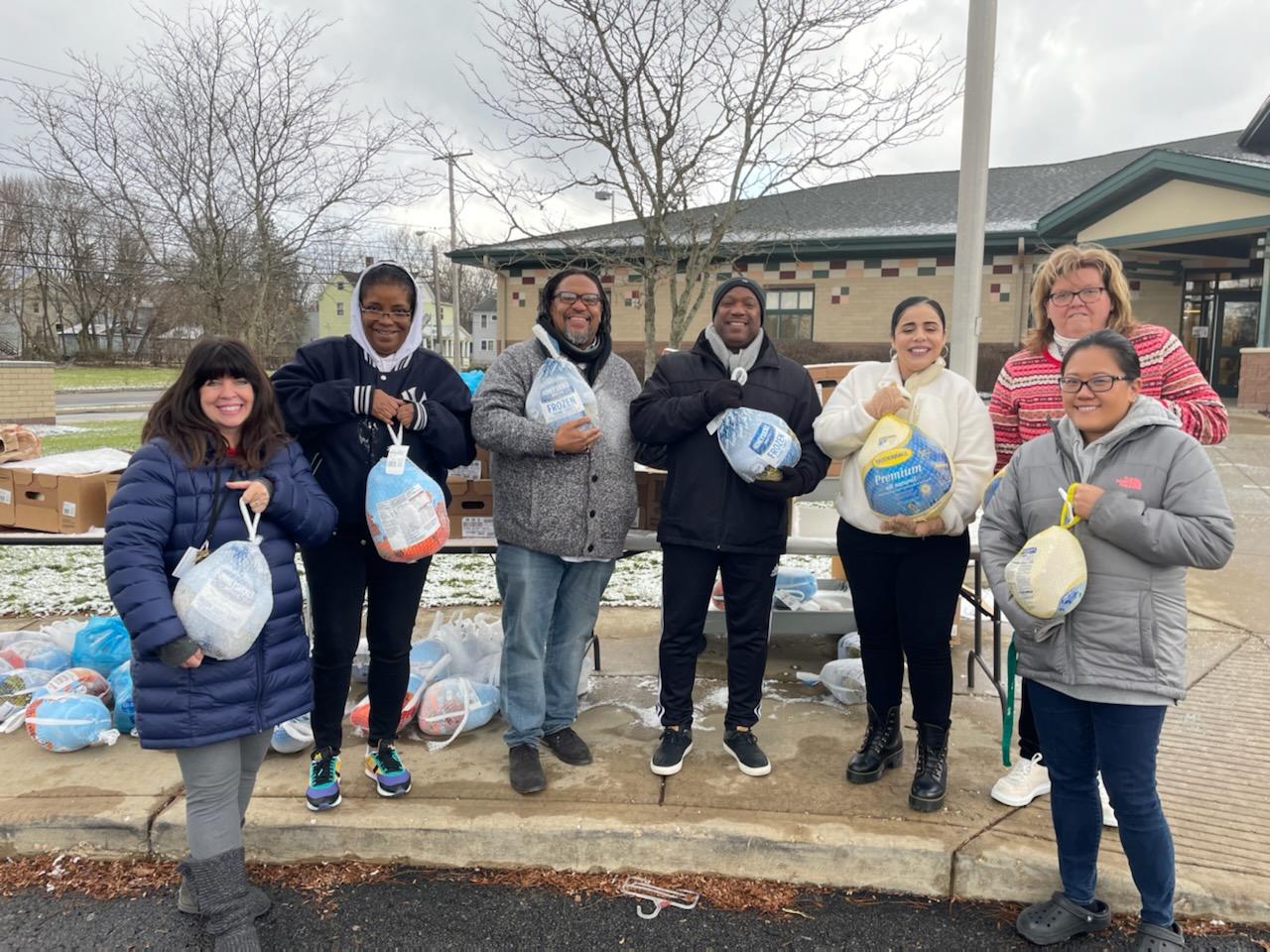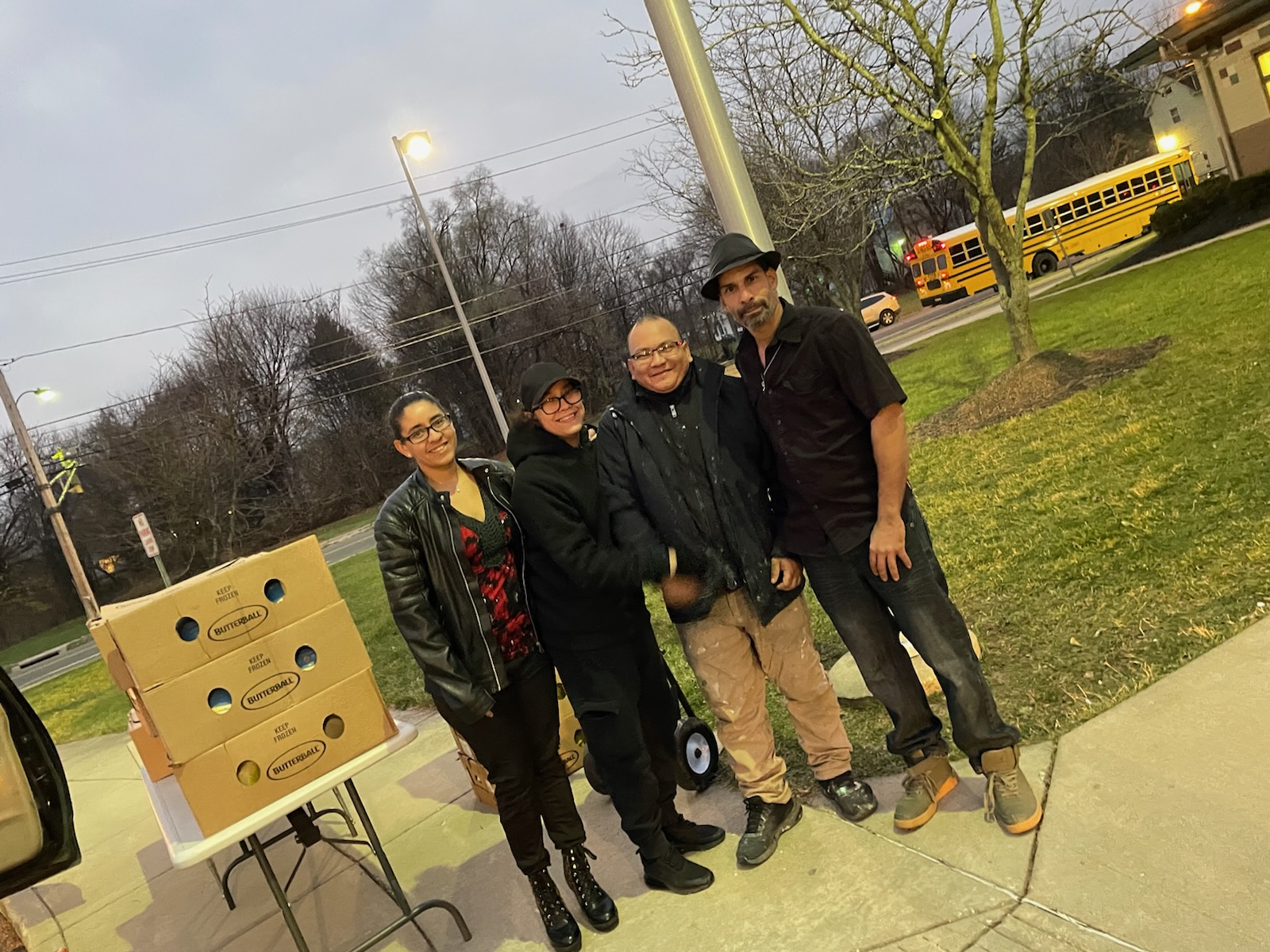 We gave out over 200 turkeys and had exactly enough! That was crazy! We had big donors such as RECMS Middle School parent, Miguel Rojas Nueva's, who donated 30 turkeys, John and Jackie French who donated 25 and Jimmy Venerosa who donated 6 WalMart Gift cards! Dr. Freeman, Mr. Matlock and Stacy Quinones helped to pass out turkeys! We even have additional gift cards to kick off our Santa's Workshop!
RECMS Attends YSU Basketball Game!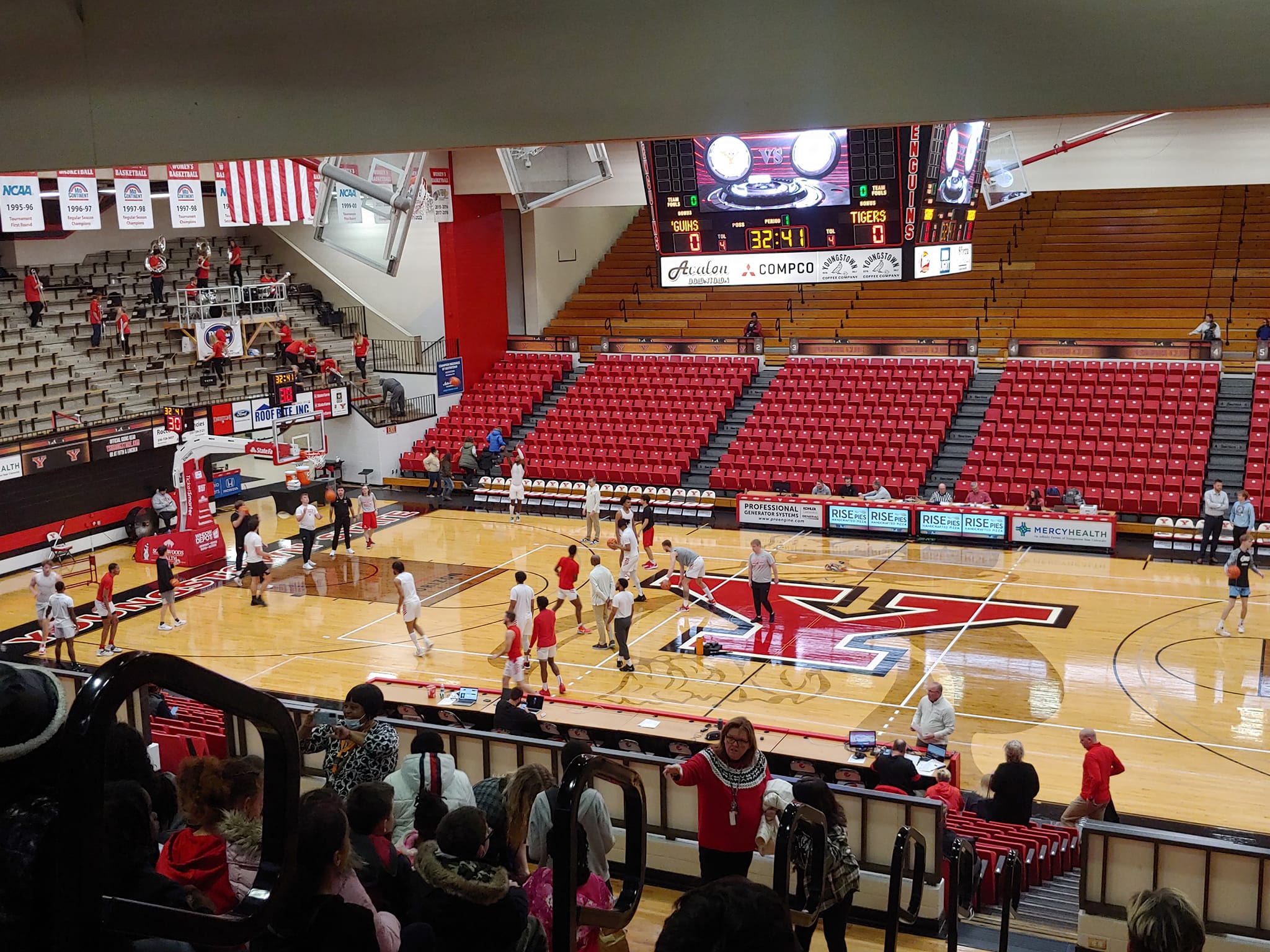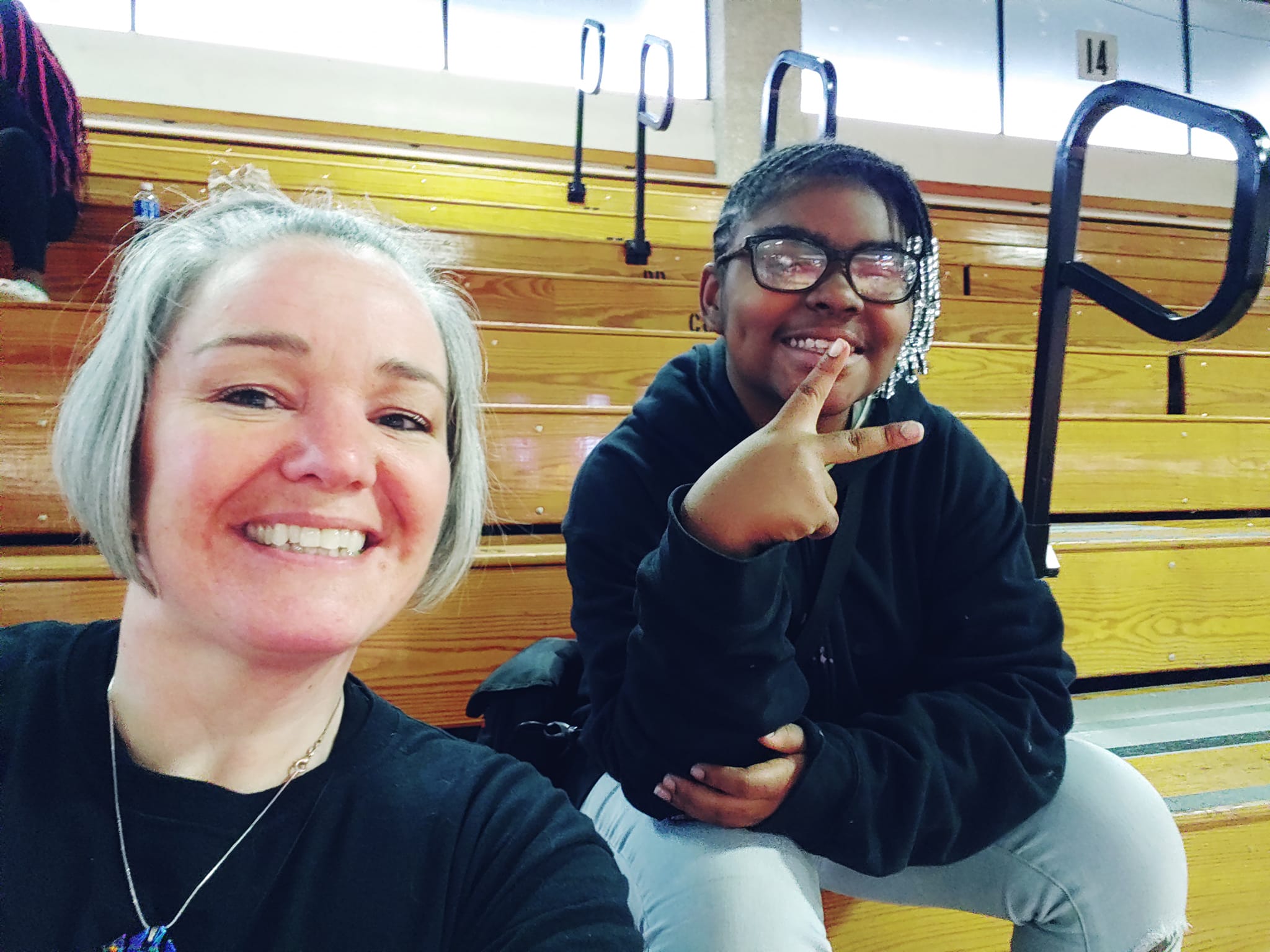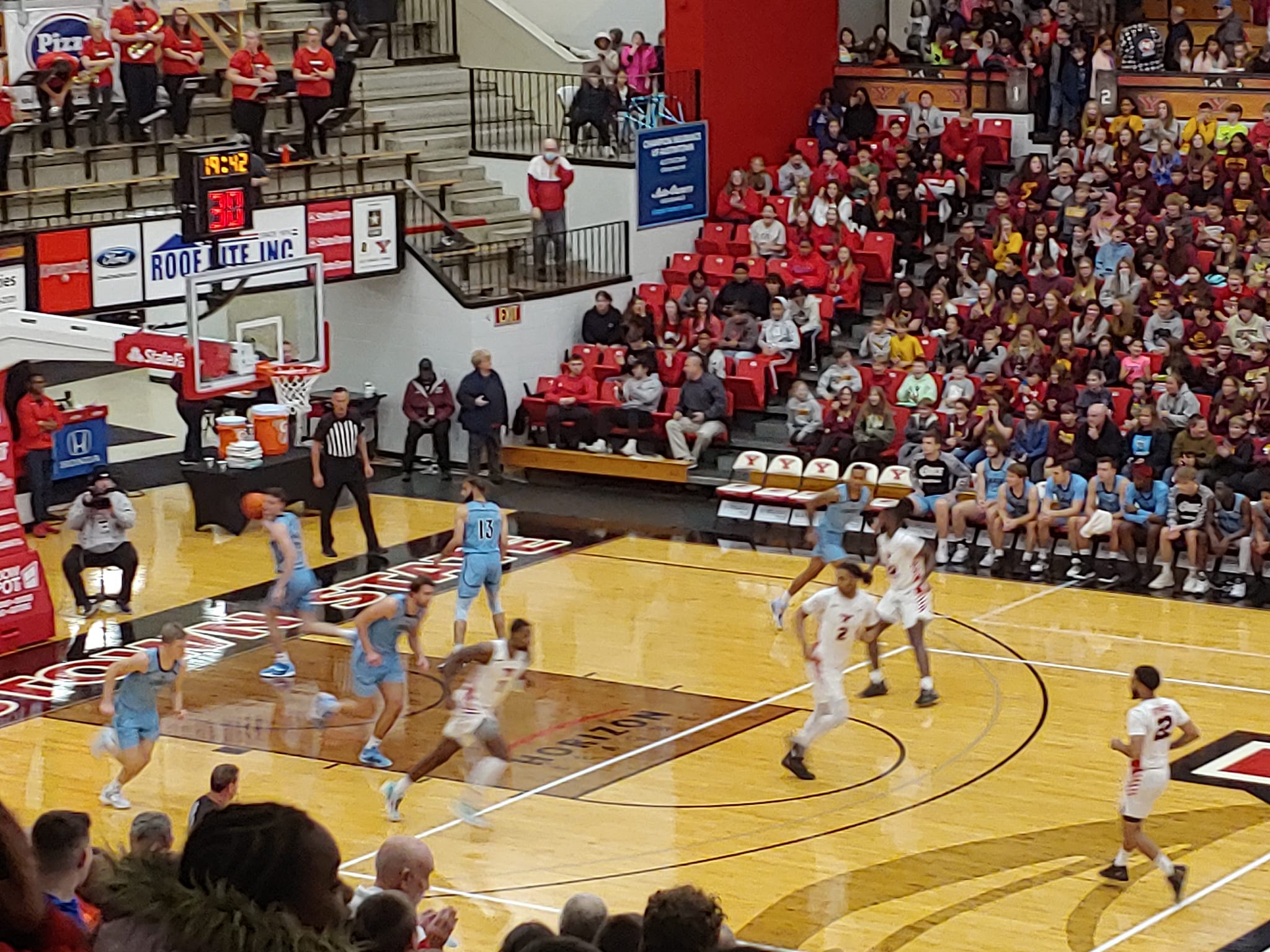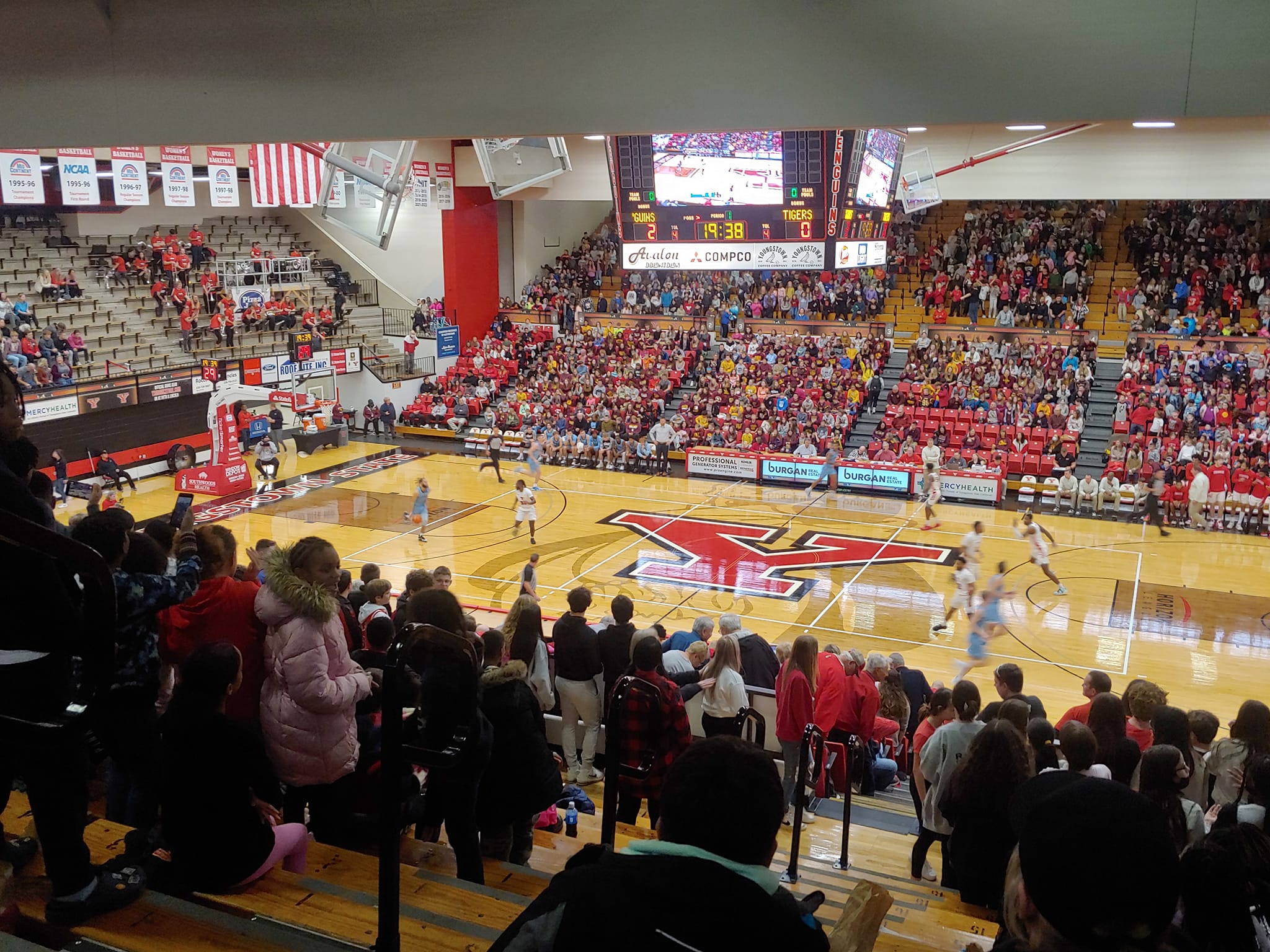 Today (11/11/22), Mr. Gregory and myself had the pleasure of taking our 8th grade choir and theater classes to see La Boheme! Wow! What an amazing show it was! We got to follow the story of Rodolpho and Marcello as they found new love, renewed love and dealt with heartbreak! A show sung in Italian may seem like a tough obstacle to overcome, but our scholars loved the show! Many of our scholars were so moved by the performance that they were crying or on the verge of tears at the end! I want to thank everyone that helped make this trip possible. I believe it is an experience that the scholars will be able to cherish, and that they can move forward with an even better understanding of the Arts!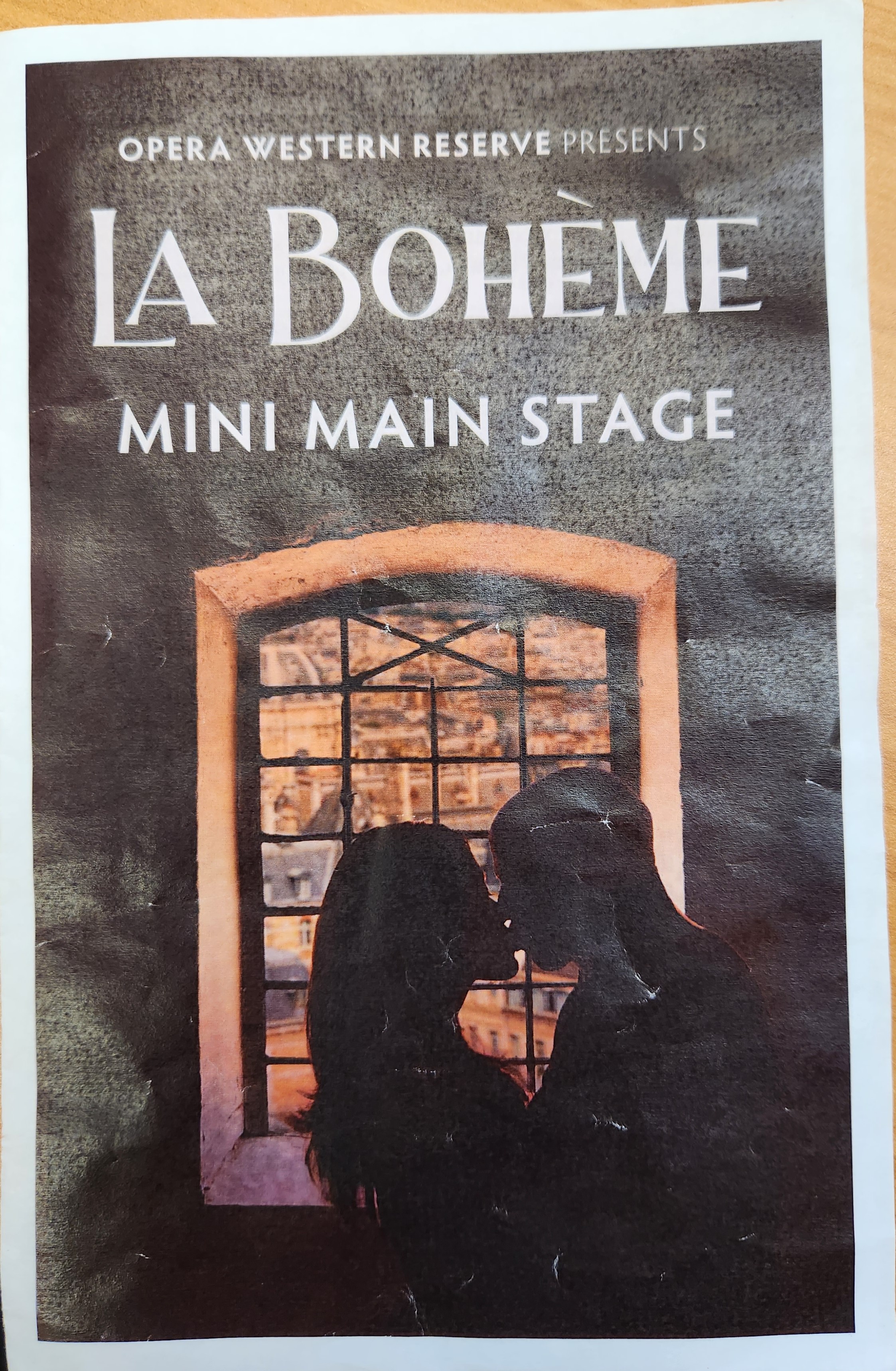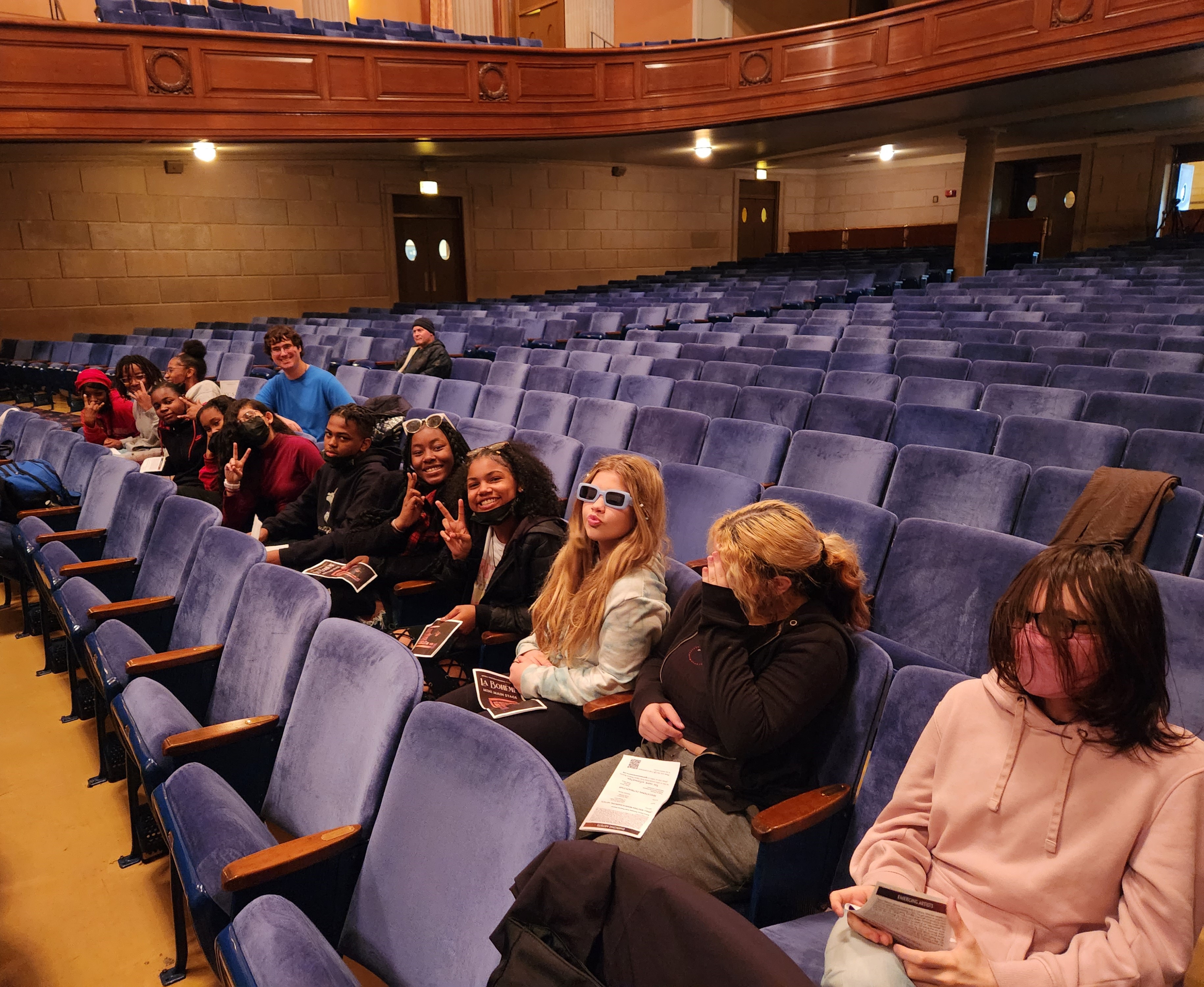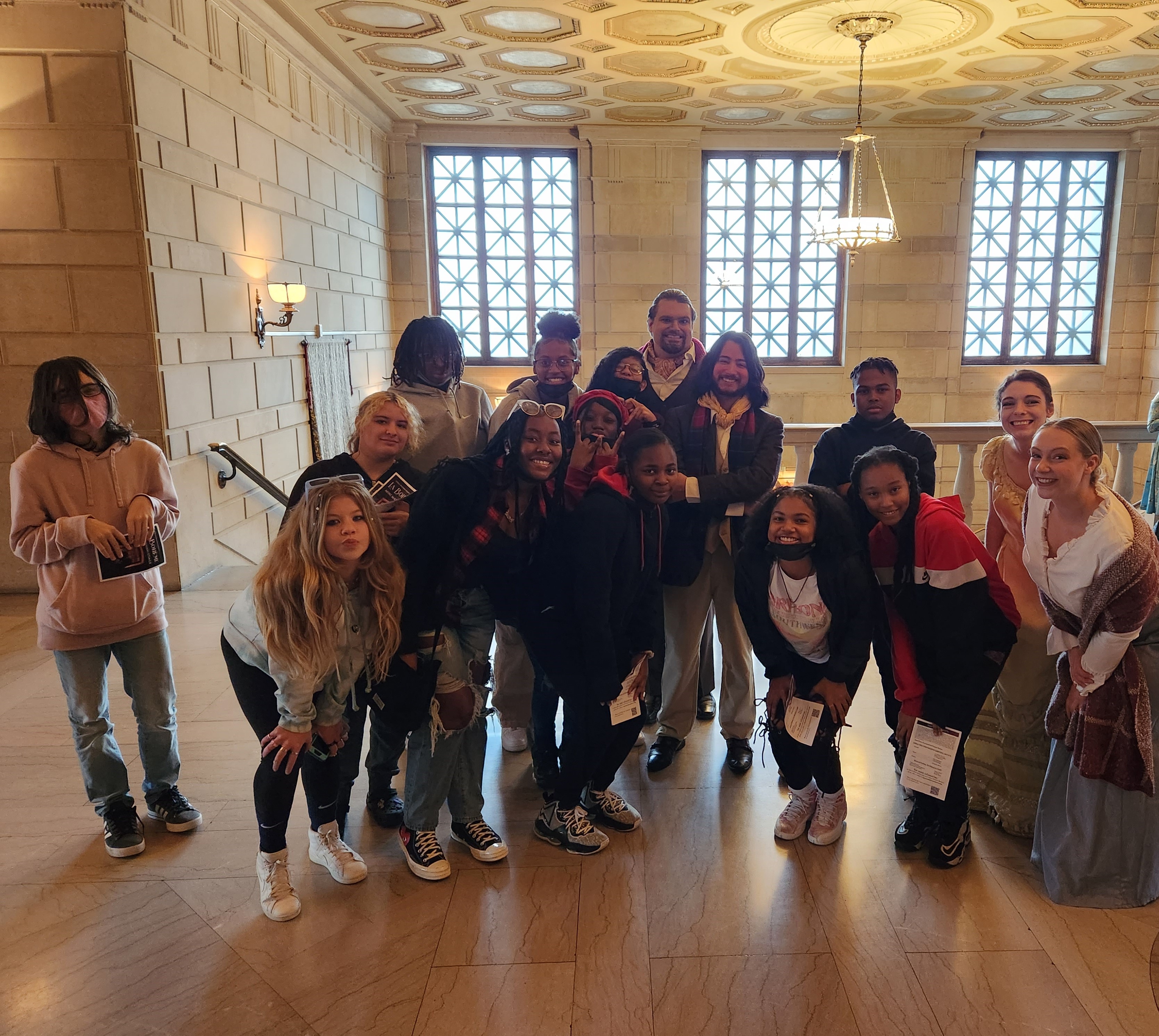 RECMS Scholars Perform Thriller!
Therapy Dog, Raven, Visits RECMS Scholars and brings out the SMILES!
Career Tech scholars learned how to sew, creating doggy bandanas to donate to a local animal shelter to give to pets upon adoption. All bandanas were made with LOVE!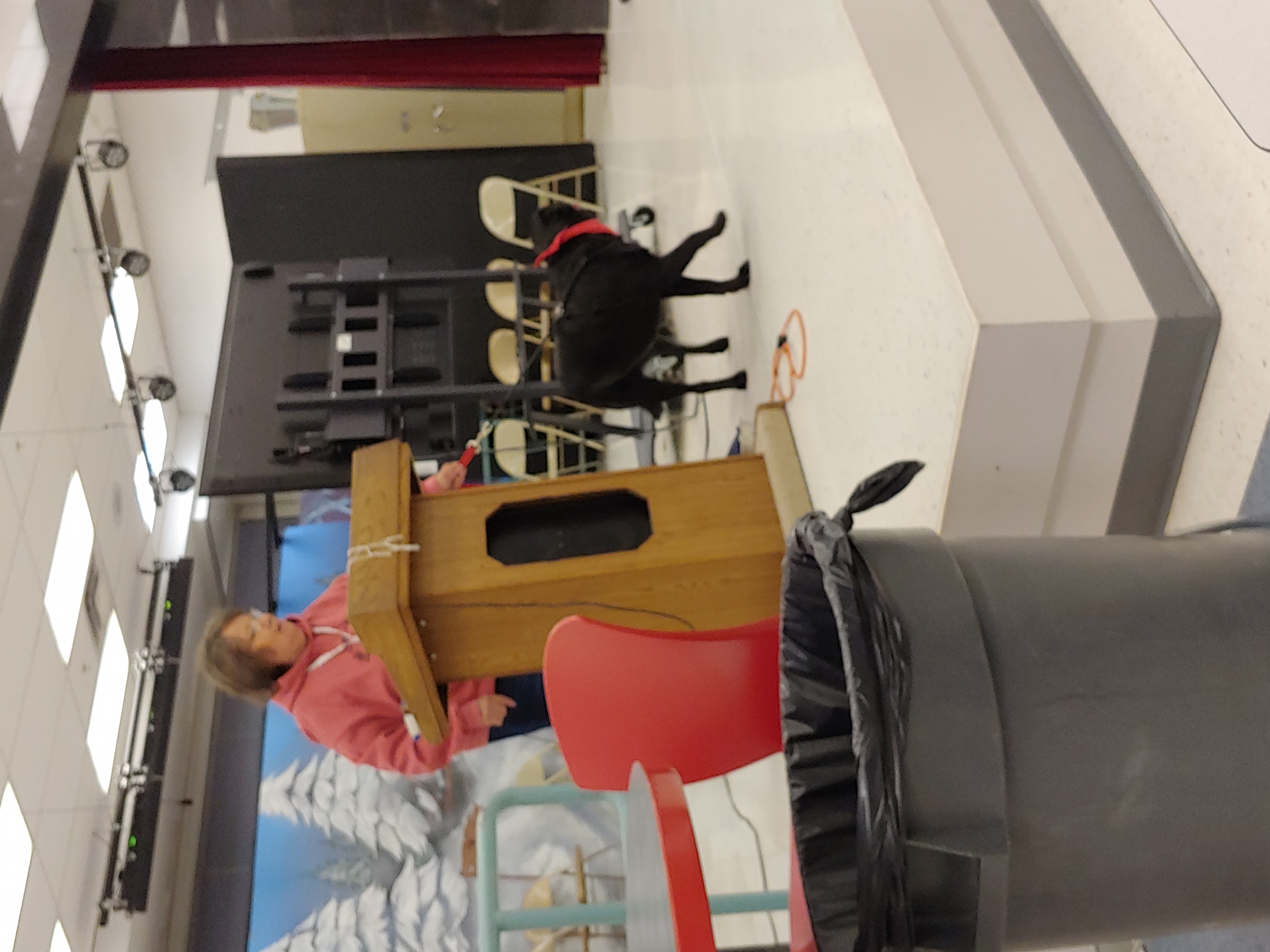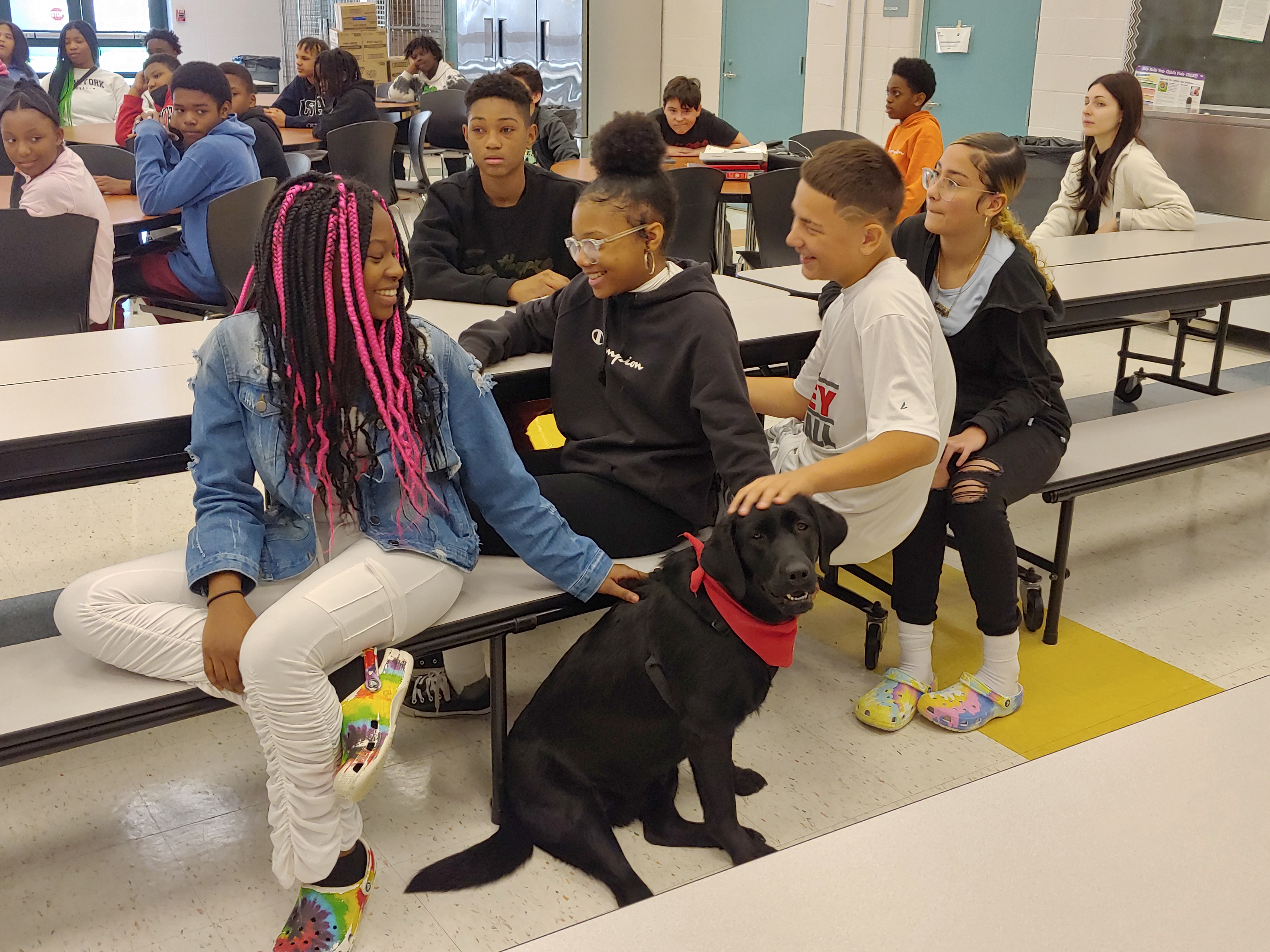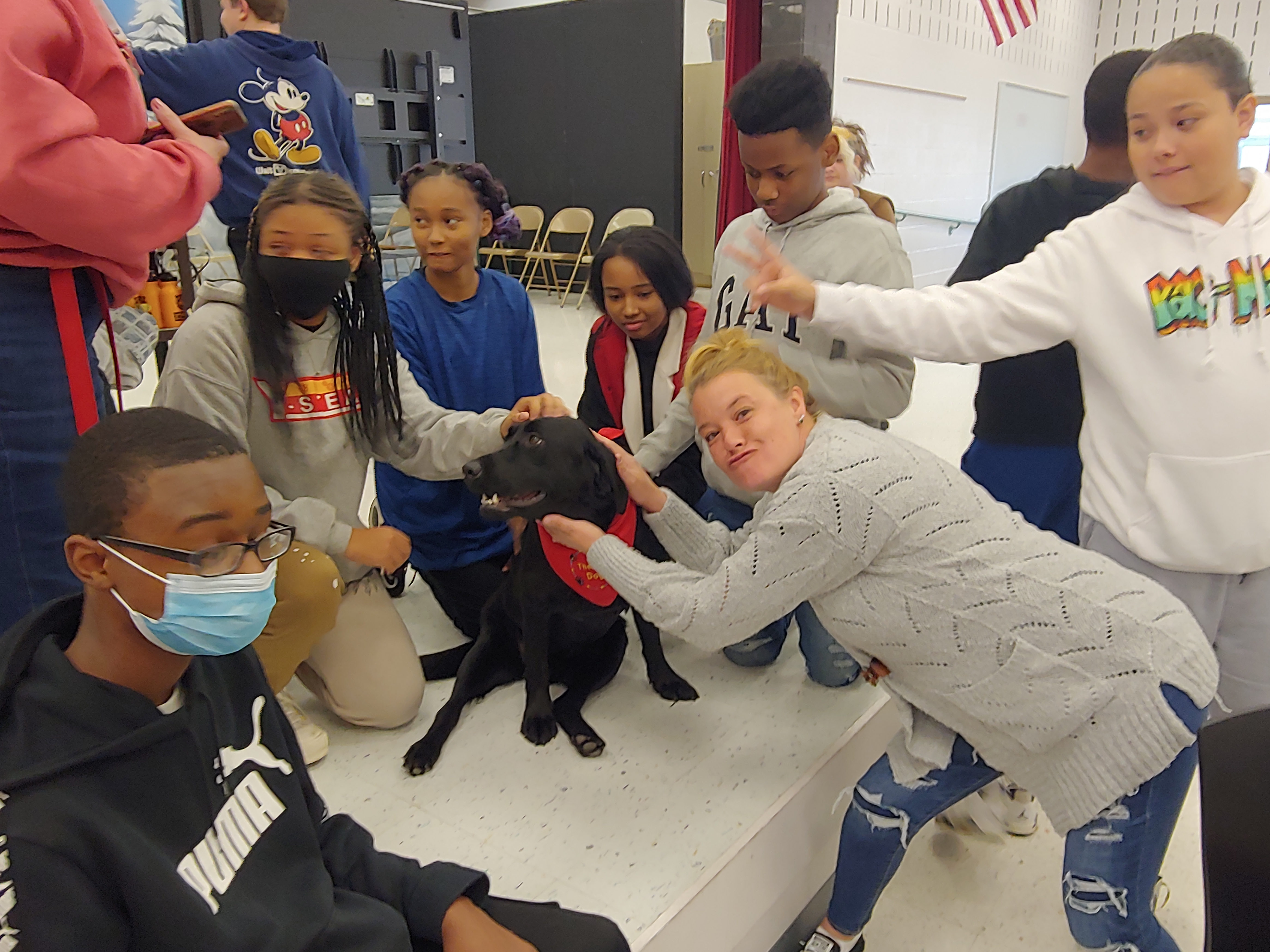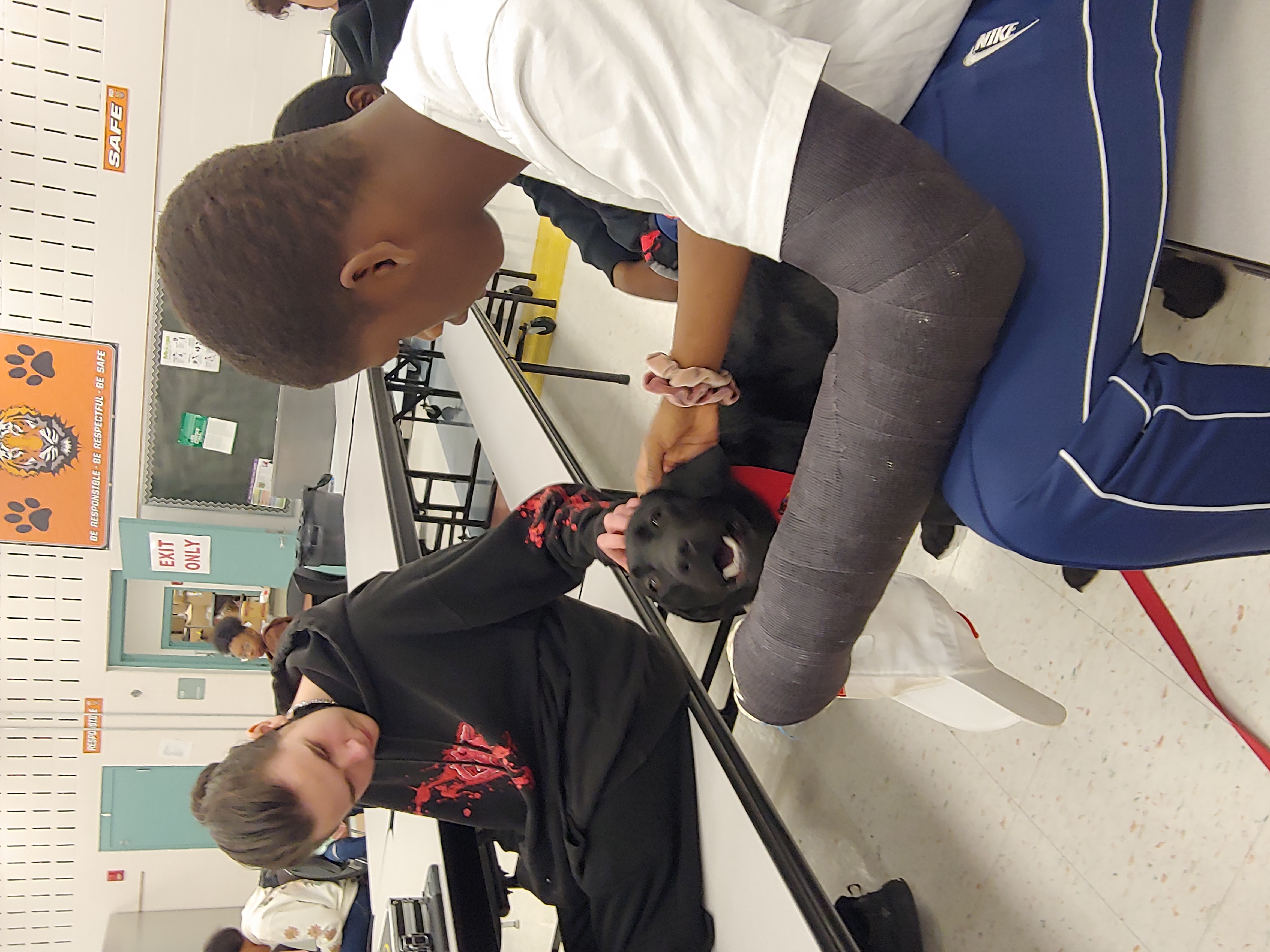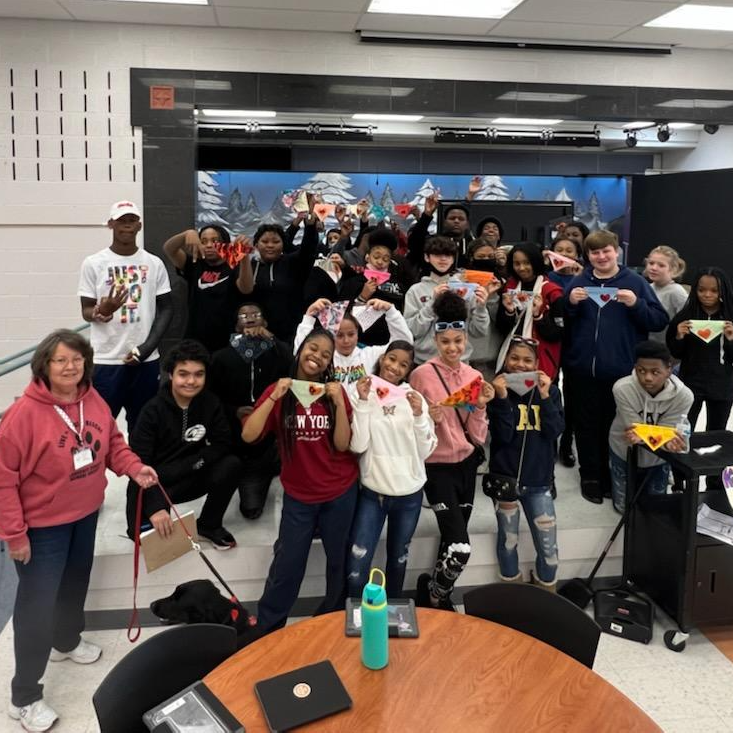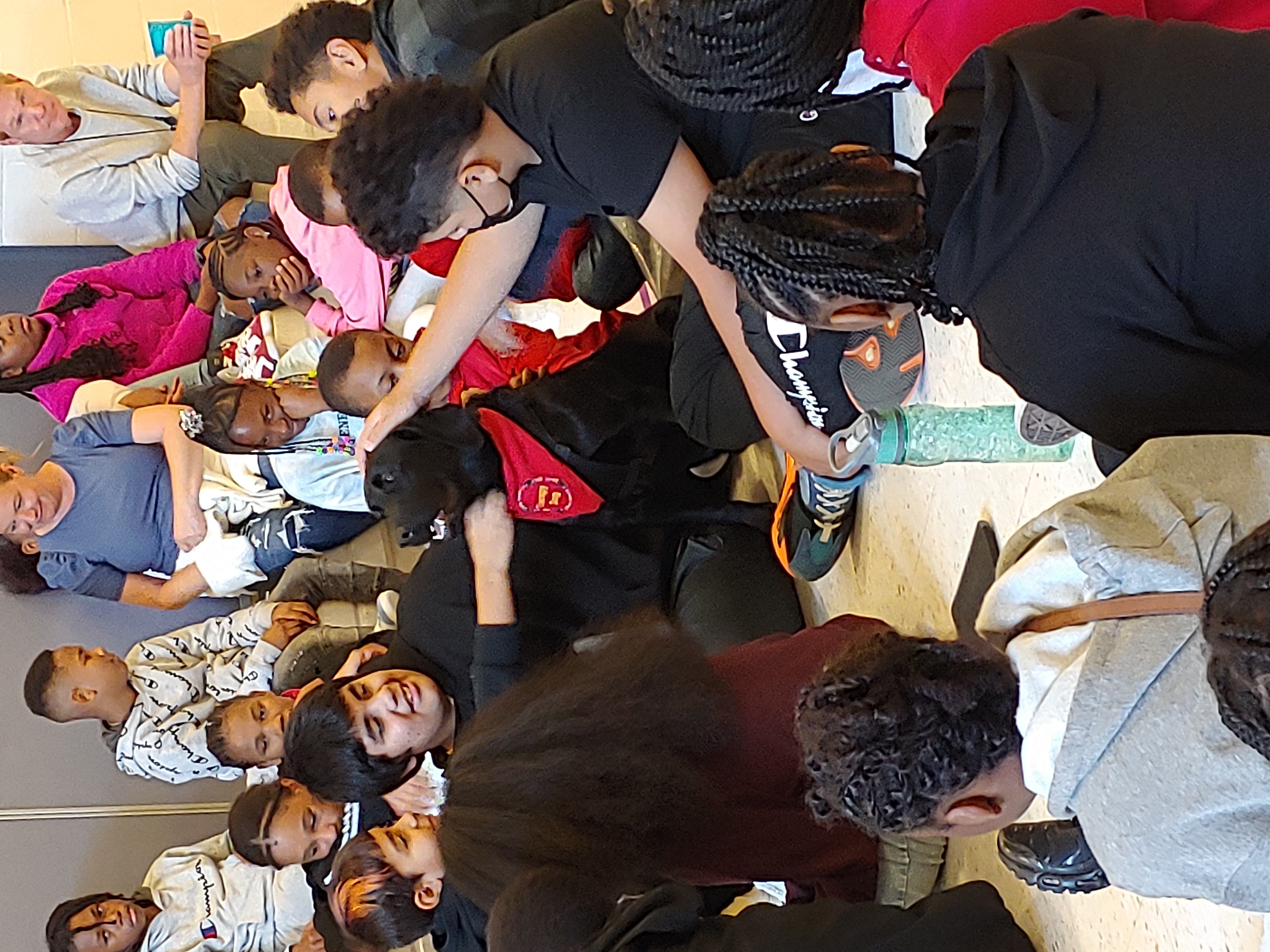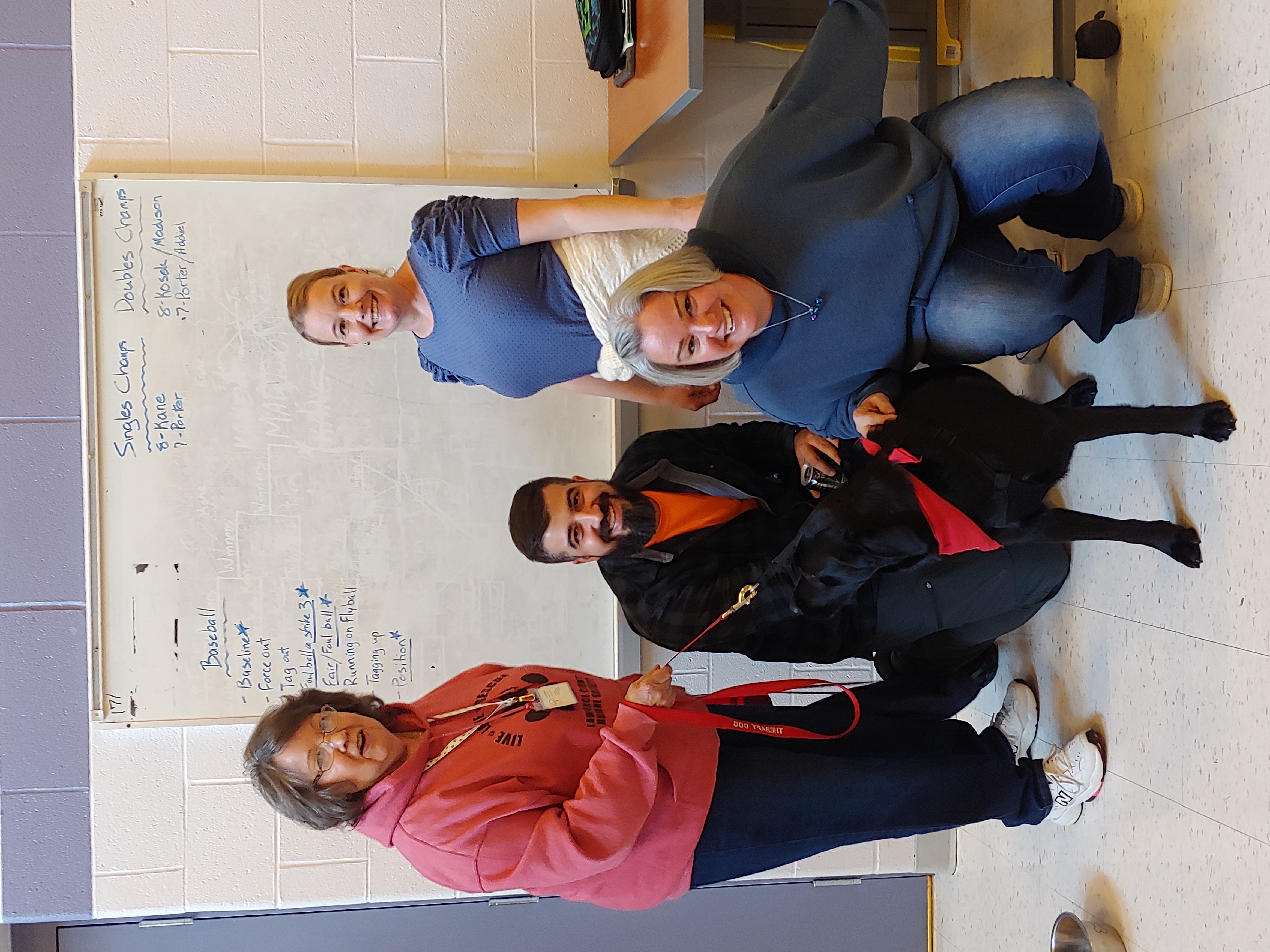 RECMS Wants Peace Acrostic Poems
Non-Violence Art Awardees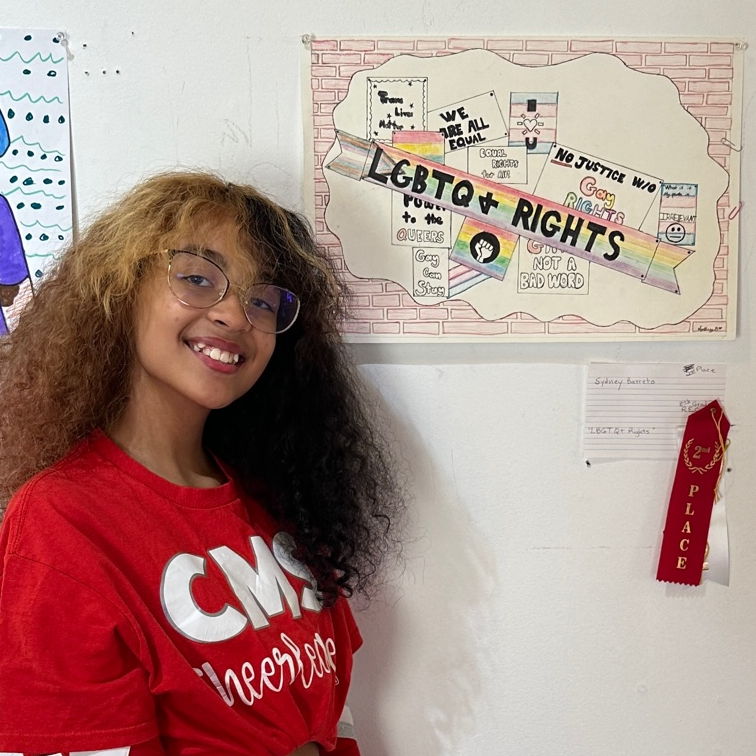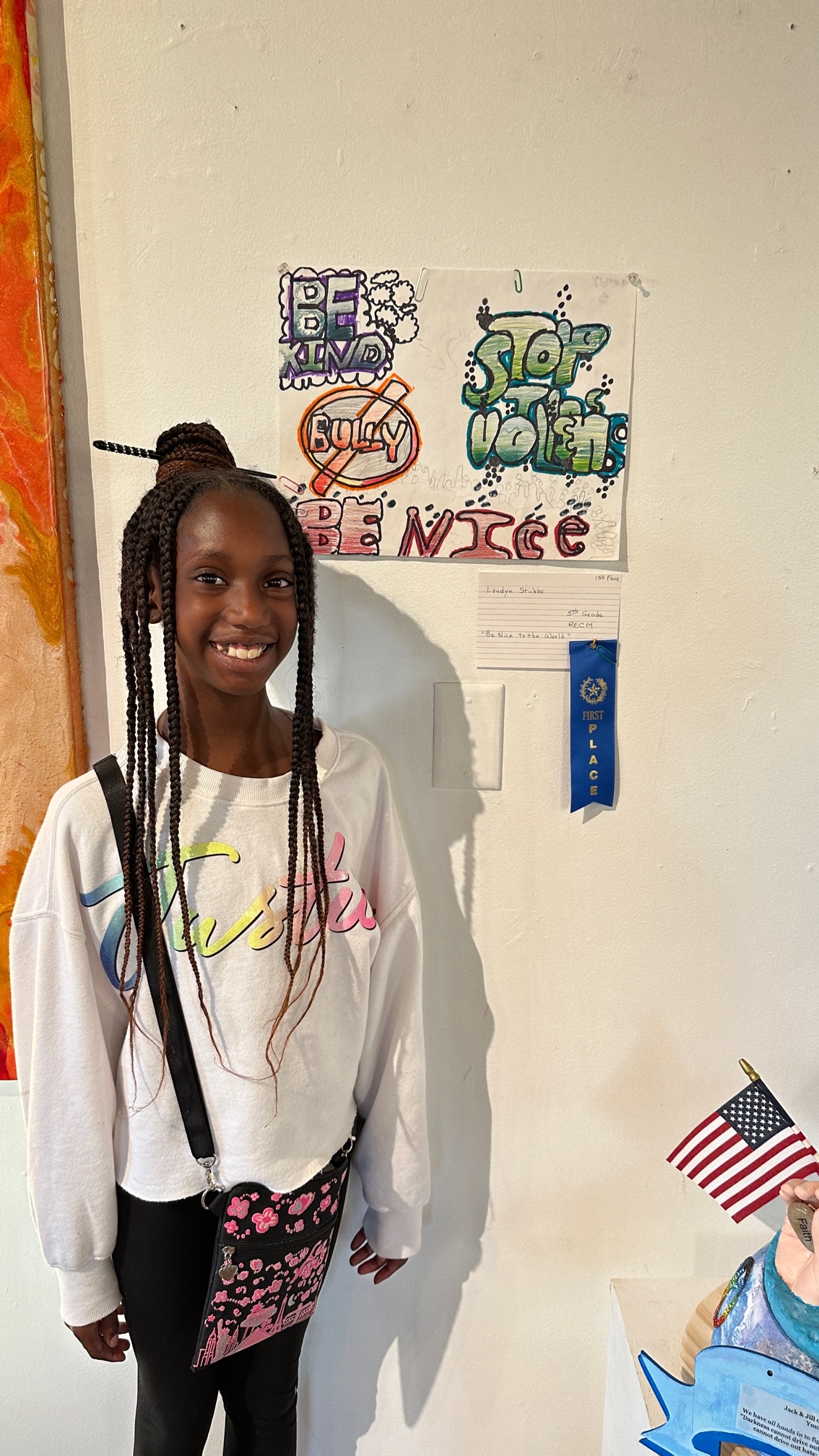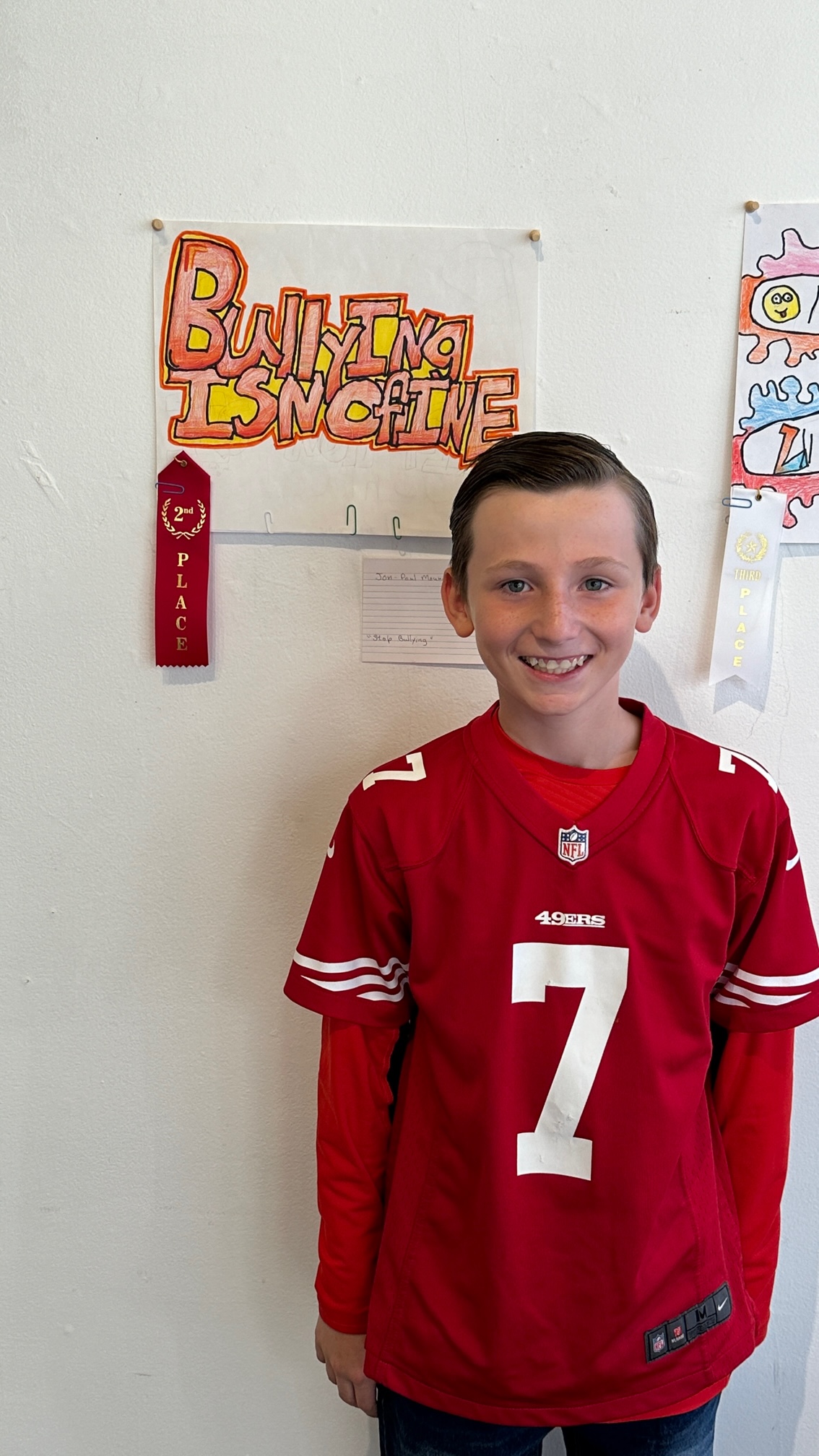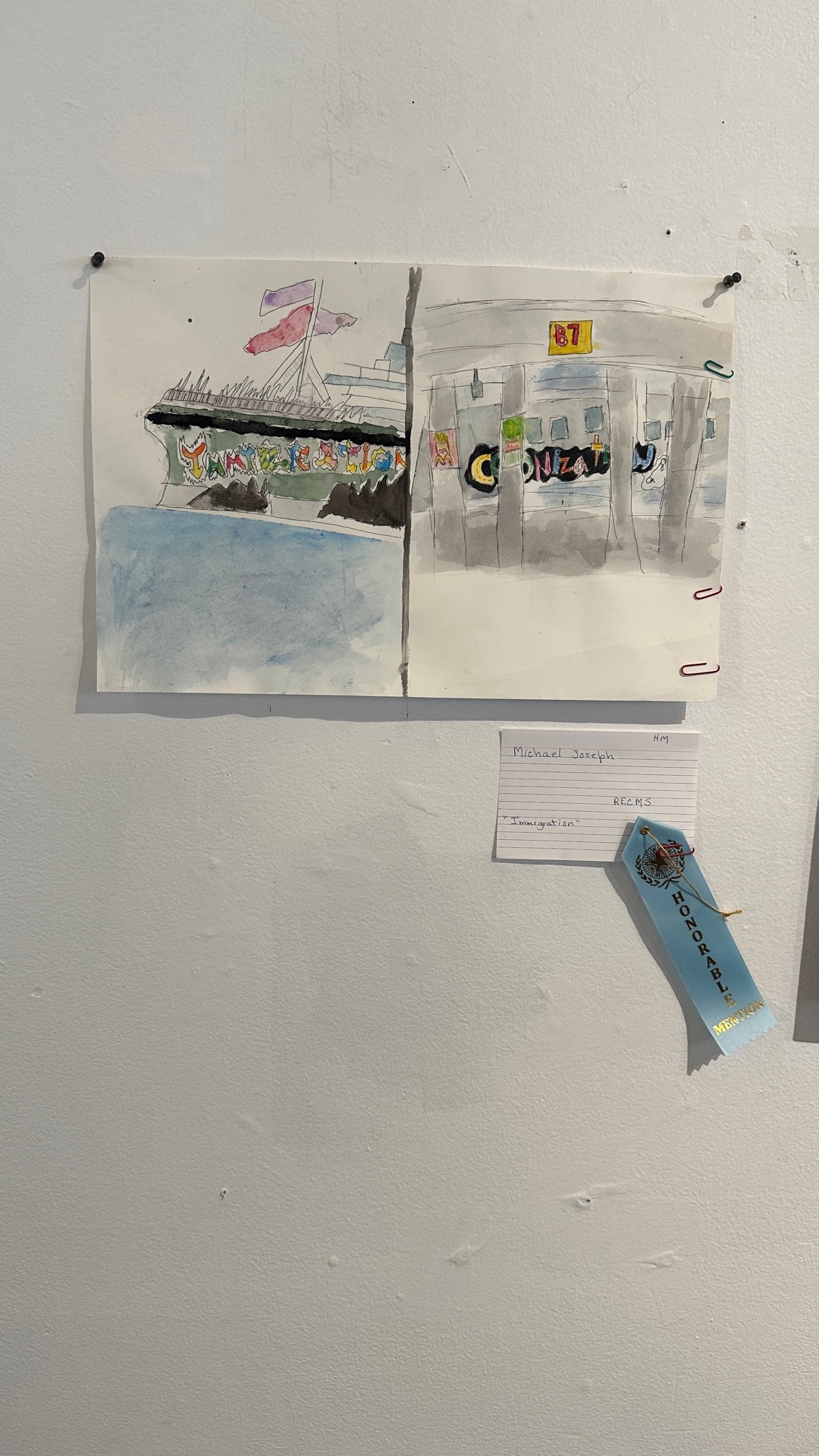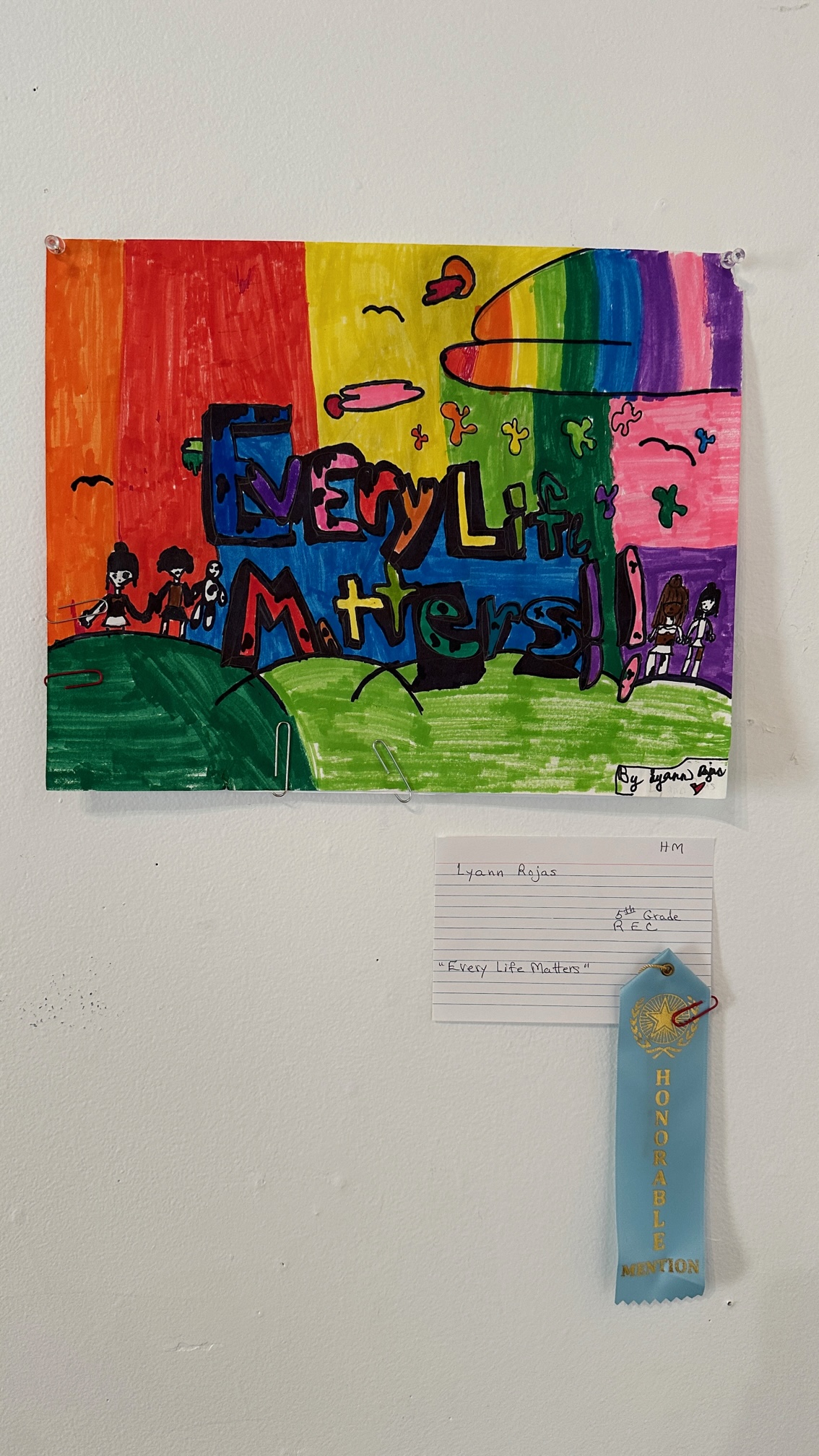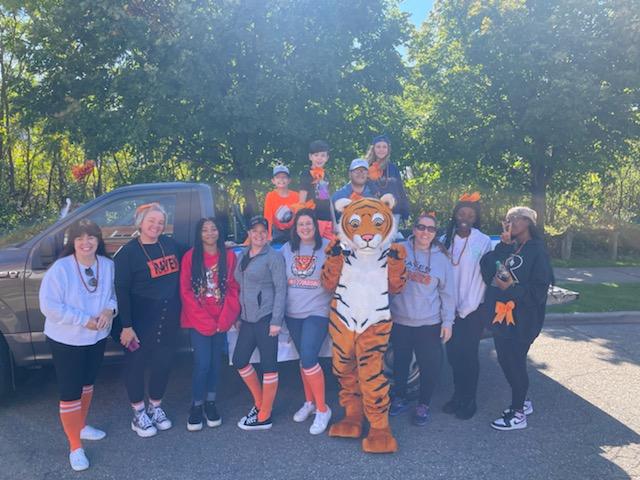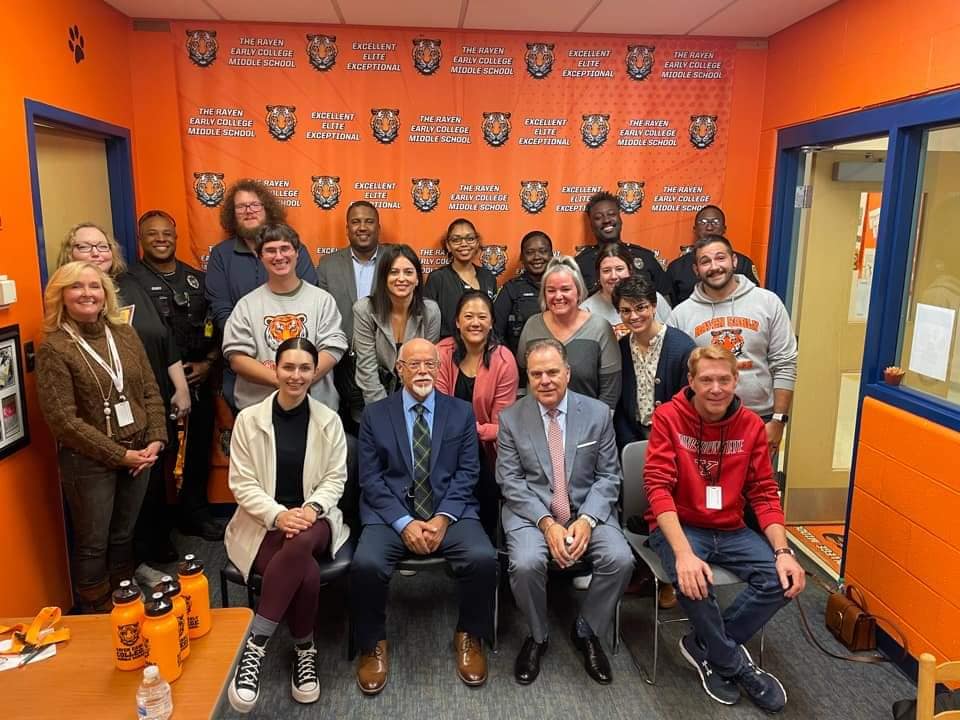 Judge Micheal Ryan Speaks to 5th and 6th Grade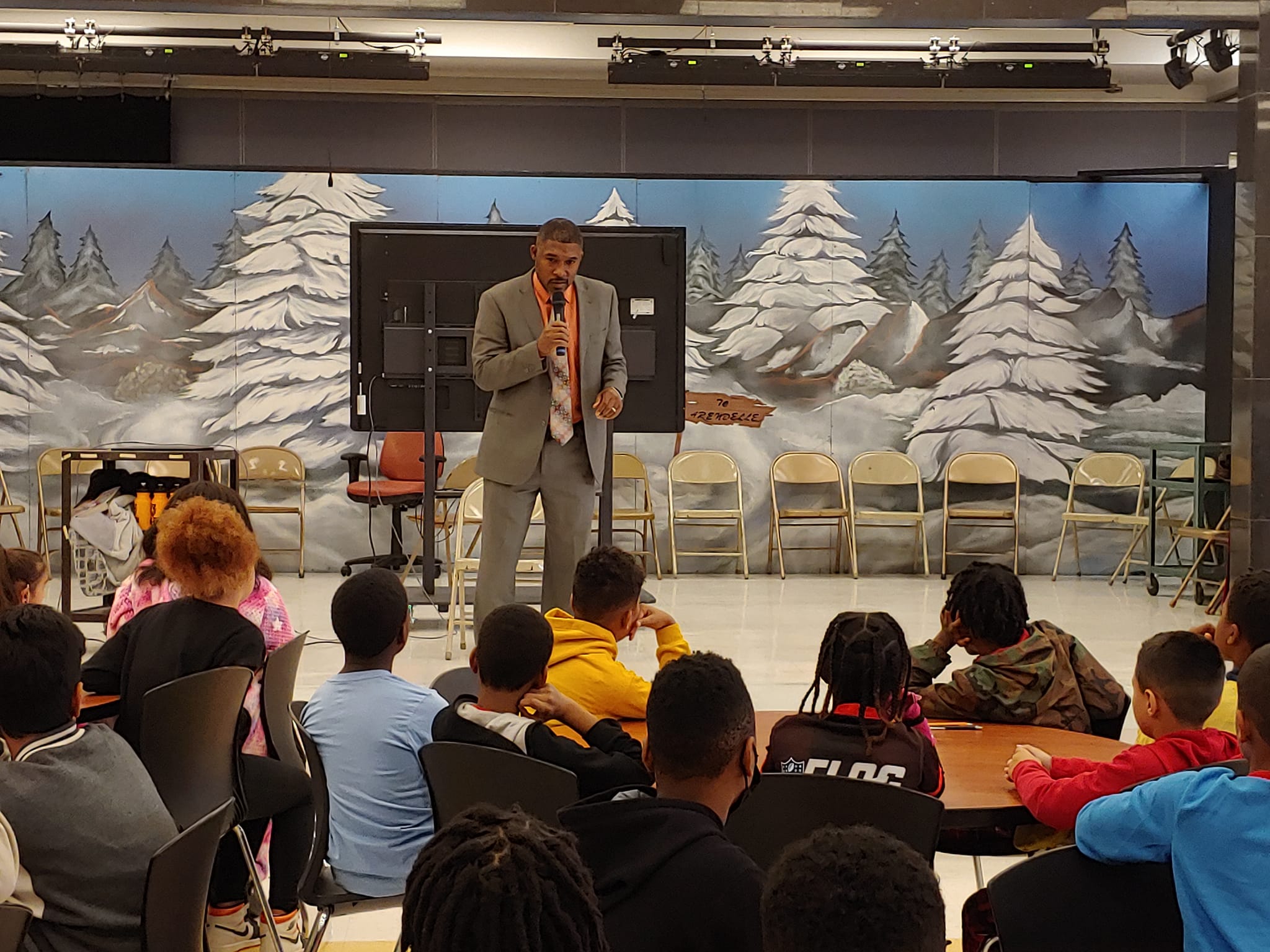 Ms. Jo Ann Bland speaks to 7th and 8th Grades